The quest to complete the neverending backlog Vee's profile
I used to have a pretty manageable backlog. Then I discovered bundles sites and SG, since then my backlog has been ever expending.
I decided to fight back, my strategy, I'll try to take it one game at a time. I've been trying to play my backlog for a while now, but I tend to get easily overwhelmed. The BLAEO group came at a perfect time, and I'm hoping that seeing how others tackle their backlog will give me some ideas and help get through mine.
Thanks to everyone in this group for having me !
Let's get gaming!
---
Progress Report #2: February
New and Upgraded Updates
This February has been crazy, so much snow but with March finally here spring is at our doors… at least here:) Also it's March break here so I have a whole week off, the perks of working in a school! I have a lot to do but hopefully I'll be able to put a dent in my backlog. I've been so busy lately with work and I'm also going to school to get another certification for work so it's been quite hectic for me lately.
Let's get to what we're all here for… gaming update!

My Highlight this month is The Low Road. It's a very nice point & click game, I love the retro atmosphere and the puzzle are all reasonably challenging without being frustratingly hard. The graphics are great and very unique, all in all a very underrated gem. Maybe not to everyone's taste but for fan of point & click it's definitely a must try!
I've also managed to finish a couple more games this months. Two of those (Epic Adventures and MiniGolf) are SG's wins but for some reason BLAEO is not registering them as such. MiniGolf was pretty fun but the camera is fix and without anyway to move it, the angle get quite awkward at time which made it difficult to play some more complicated course.
There's also a couple of game that are still are missing some achievements that I'll finish this month so March should be much more productive. And with the week off I should be able to finish a couple game before I have to go back to work!
Thanks for reading 😊
Progress Report #1: October
New and Upgraded Updates

First I hope you all had a great Halloween day, here we had to brave heavy rains to collect candies with my kids but we still had lots of fun! And November 1st brought such heavy winds, 100km/hour, that we lost electricity and we were in the dark for over a day. In fact there's still houses without electricity as I write this. That's when you realize how much we depends on it…
I've started reviewing games for a little gaming site a couple months ago so it's been slowing my backlog slaying a bit. The trade off is that I've had the chance to try some pretty great games I wouldn't have otherwise had a chance to play, the last one being Ghoul Britannia. A nice little point & click that's reminiscent of the classic 90s adventure games. Anyway if any of you are interested in the review, you can read it here.
Anyway enough about that, let's get to my progress report!
Since it's been slow going lately, this month I've concentrated on shorter and easier to finish SG wins.
Without further ado here the games I've managed to complete this last month!
My highlight is SOLITUNE a great experimental indie game. It's an extremely short but very beautiful and meaningful little game. If you have it in your backlog, you should definetely try it. A playthrough takes about 20 minutes, a bit longer if you take your time so you can't go wrong trying it out.
And I should also mention that Valentines Cafe was rather disappointing. I actually thought it would be a fun little puzzler but it was really not fun to play. Instead of a puzzle game it's more of a memory game and not a very good one at that. If I wasn't so obsessive about getting all the achievements, I would have stop after a couple minutes. Also since it was a SG win I wanted to give it a real chance. Lastly Pixel Puzzles Mosaics was a nice surprise. Instead of being a more traditional puzzles, you have to swap tiles to form the images. Some of them were offering quite the challenge, a nice addition to the Pixel Puzzles franchise.
Thank you for reading and have a great day!
August Update
I've played a couples games this month but since it's summer's vacation here, I haven't been at home as much as usually. I've enjoyed some quality time with my three wonderful boys, well really two boys and a teenager… I know it's cliche but damn life goes by so quickly… I hope you all had a nice month and great vacation for everyone who was lucky enough to have some :)
Since I had less time this month, I've play some shorter games that I could finish in an evening or two. Here is the result!
A good game as with most Artifex Mundi's games, this game is no exception. You have to find out what happened to Lilly, a journalist, who died a few years back. Graphic are pretty good quality and the story is very well written. The puzzles are fun and not overly hard, I really like the "Detective mode" where you have to find the clues in a scene and put them in the right order. It's a nice feature which give you a bit more of background story.
If you like point & click and/or puzzles game, you should definitely give this one a try!
genkicoll generously offered a couples key of this game and I was one of the lucky winner.
In Scarytales: All Hail King Mongo, you play the princess. Your father, the king has disappear and you brother who is being controlled by the evil sorcerer is now in power. You'll have to rescue them by defeating the evil Zarrar. A hidden objects game with a fair amount of puzzles Scarytales is entertaining. The graphics are not amazing for this day and age but fairly decent. the HO scene are challenging at time but not very hard so are the puzzles. If you get stuck on a puzzle at some point they are all skippable and there's a hint system you can use if you ever need help but as I said the game is not that hard when played on normal mode.
A pretty good mahjong game, nice relaxing music. It's not a very complicated mahjong and you can complete it to 100% in only an hour or two, but for the low price, it's a pretty decent game if you like mahjong.
And finally I've finish this and the two previous House of 1000 Doors games but the first two are not on Steam anymore so I've only reviewed the last one. If you wonder thought they are all pretty similarly good point & click, worth a try for fan of the genre.
House of 1 000 Doors: Serpent Flame is the 3rd game in the House of 1 000 Doors serie. Once again you play as Kate. Giant snake are coming up from underground and wreaking havoc across the earth, and you are the only one who can save the day! Your mission is to gather the elements needed to complete the machine that will destroy the ancient snake coming to destroy the world. To do that you will have to travel back in time to four different era. The story is really engrossing and the puzzles are just perfect; hard enough to be challenging but not too hard that they break the flow of the story.
I really enjoyed the House of 1 000 Doors serie and this installment is no different, it's a well crafted story.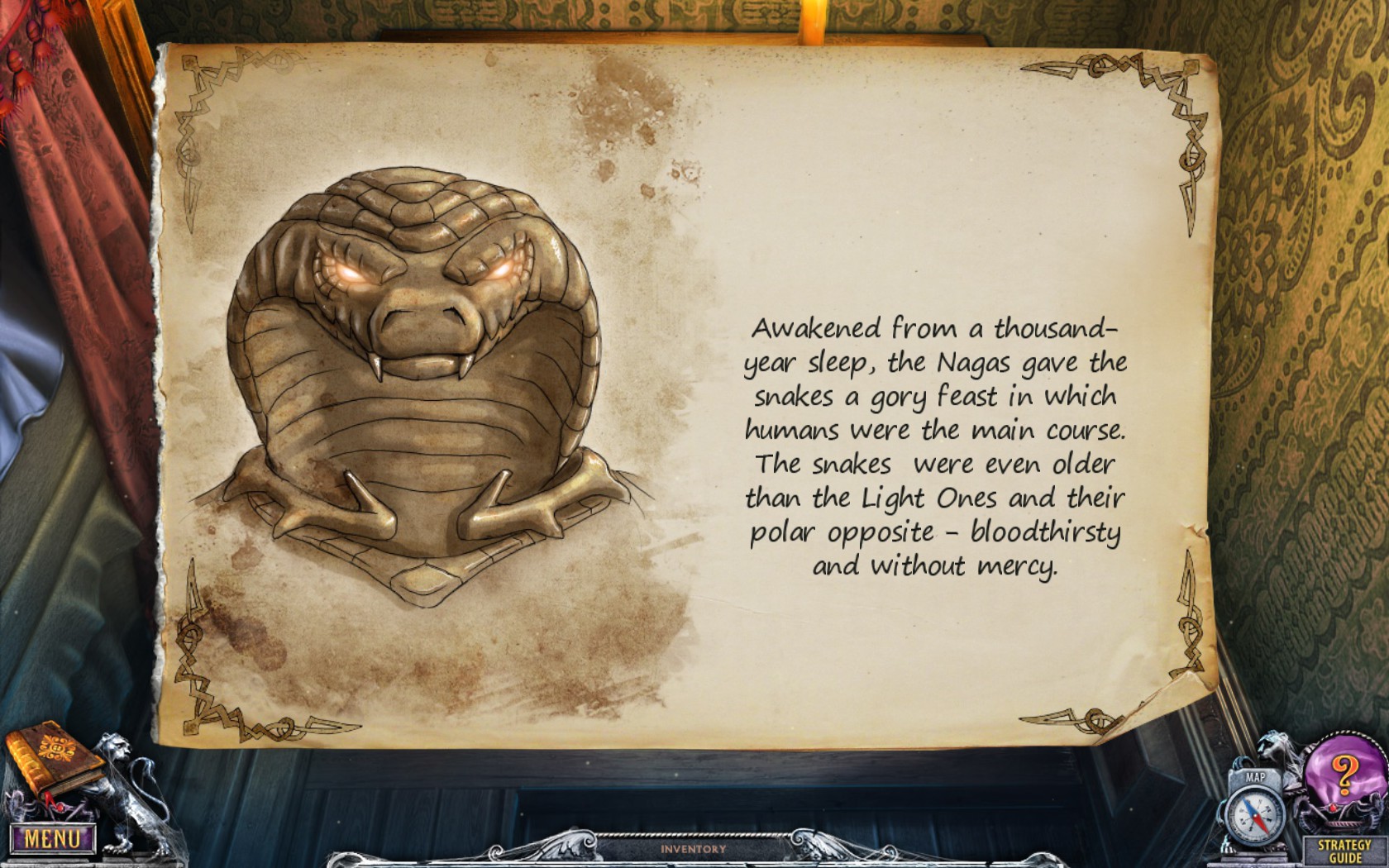 May Update
Better late than never… Three more games to remove from the backlog!
First one is Under Leaves, another 100% to add to the list.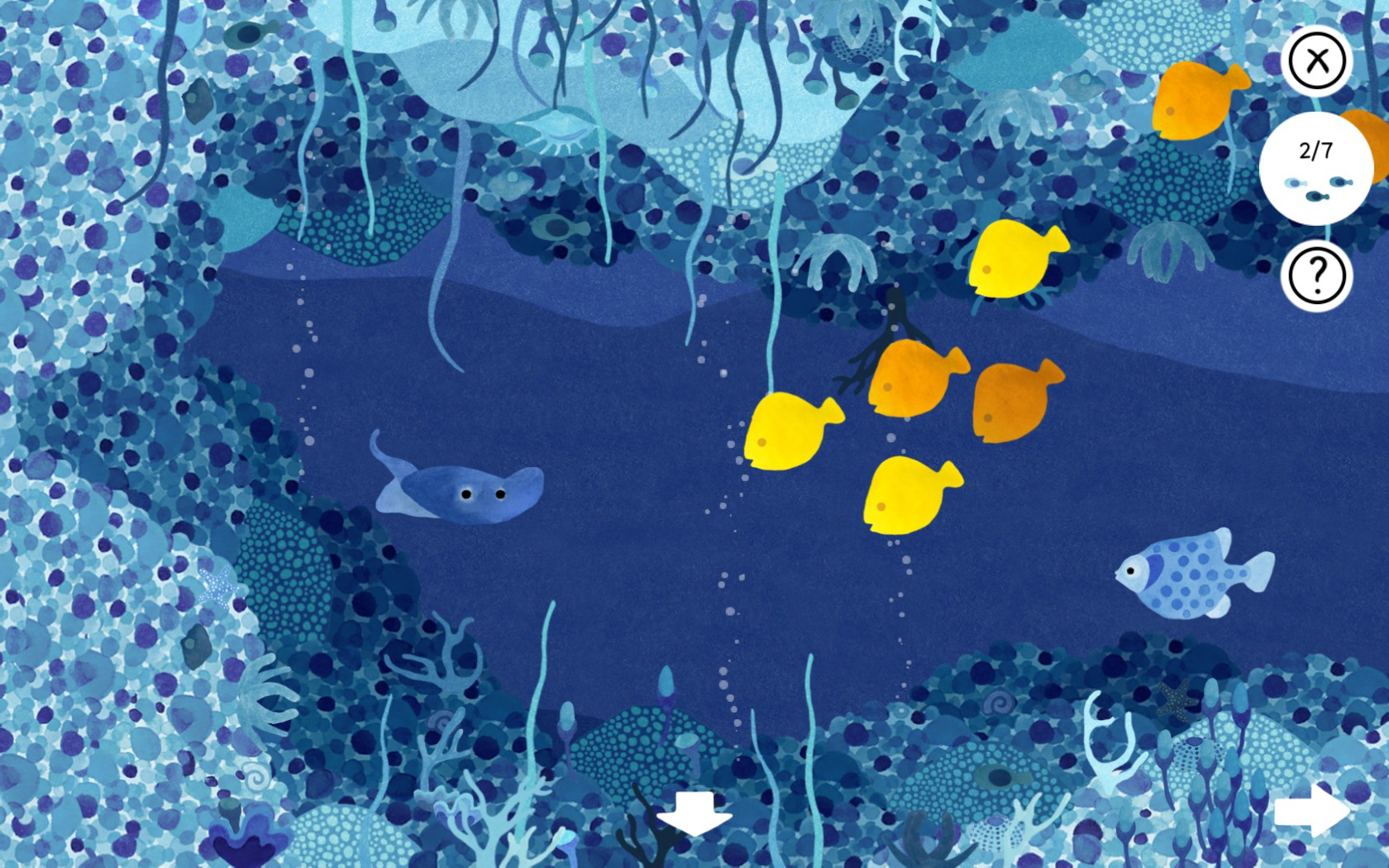 This game was such a nice surprise. This game was awesome, each stage was beautifully crafted and a real challenge. I really didn't think it would be that challenging but the style and monochromatic color scheme made the objects really hard to find at times. The fact that the objects are randomly generated adds some replayability. It made for some really beautiful screenshots for those who care about that kind of things. A must have for all lovers of the genre!
Second is THE ART - puzzle which was not great but a nice way to spent a hour of my time.
A fun little puzzle game, nothing exceptional but a nice game nonetheless. The art piece that form the puzzles are beautiful but I found the puzzles to be a little too easy. The great part though is that you can import your own image, that's a nice little extra that can adds as much content as you want. I haven't try to add anything yet so I'm not sure how well it works.
And a SG win that I've finally finish to 100% last week!
I really liked that game, the dice works really well with the tower defense type of game. It's a really basic game nothing fancy but really well done. It's a nice game, I really liked that I was able to play it 10-15 minutes at a time in between doing other things to change my mind or relax. Once you get the basics down it's really fun. I play only a hour and to 100% but I'm still way off finishing it, I consider it finish for the purpose of my backlog but I know I'll go back to it from time to time just to see how far I can make it. When I've started I really wasn't sure if I was going to like it, it could have gone both way but it really does the TD genre well, it was a real surprise. Thanks to boloxer for making me discover this nice little gem!
Back to finish the backlog
After taking a long break from Steam because of life issues that didn't leave me any time to play game. I didn't work too much on my backlog but I'm back on track slaying my backlog. I finished a couple of games lately, this last week I've finished two games:

This game was surprisingly a lot of fun for such a simple concept. It's a nice game to play for shorter period of time.
It's a tile matching game but with a twist, for two tiles to be matched, they have to connect with a line, which has two or less corners in it and no other tiles blocking the way.
I still have some achievements to finish but I've beaten the main game so I call it finish for now and will probably come back to it a bit later to finish it to 100%.

I won this game on SteamGifts, so I really wanted to give it chance.
It took a bit under 30 minutes and I had completed the game (and received the 42 achievements) and it's only because I took my time.
I could probably have finished it in about 15 minutes.
I didn't expect this game to be spectacular but as it is, you can barely call it a game. The levels design are horrible some of them don't even require you to beat the enemies to finish them because they're all on the higher platform so you can just walk to the door and finish the level in 2 second…
The quest to complete my backlog continues…
I've been busy lately so I haven't played as much as I would like. I still finished one game though. I finished and 100% Contract with the devil , so at least it's not a total failed.
Thanks to Unnatura1 I now own the whole Hyperdimension Neptunia series with all the DLCs, That's awesome, but now I must add three more games to my backlog. So the quest continues… hopefully this month I should be able to finish many more games:)
First finished game since I joined BLAEO
I've finished Always the same blue sky a couples days ago, all achievements earned!
It was a nice little visual novel, the storie was interesting and the graphics beautifuls. The only complaint I've had with this game is that to get all achievements you have to unlock both ending, I would have like the dialogue to be more varied. Even though both ending are very differents one good and the other bad, the dialogue to get you to each one is almost the same.
Well now up to the monthly theme. I don't have any Star Wars game yet, although I got to say the LEGO games at that price are really tempting me. Anyway back to my existing backlog, in keeping with the monthly theme, I will next be attempting to finish Redshirt.
I've already started and have earned 3 out of 20 achievements.