Hello. Zelrune's profile
I like fish. I have two aquariums. Nice to meet you.
---
I somehow got Sunrider Academy in 2016. I don't know where and I don't know why. I set it on the backburner until my group picked the game out for me to play it. When I realized most the game was garbage it was too late for me to toss it, and since I've already gotten most of the achievements my pride as a completionist could not let me set it aside.
Before we begin, I would like to mention this game has cheats, such as achievement.grant("X"). If you plan on getting all the achievements, I recommend you use this command to skip one of the routes. I wish I did. This game also features an 18+ patch for steam should you choose to do so.
I picked my routes based on how much of a first impression I had of the characters; saving the best for last. Asaga > Ava > Sola > Chigara.
Asaga – A huge perverted moron, who somehow against all odds, never managed to get kicked out of school. There was nothing remarkable or anything even worth mentioning about her route other than in the beginning it was a bit enjoyable, and snowballed down from there. Her route, without spoiling the story, was incredibly annoying to finish and at the end I was thanking a god I don't believe in that it was over. I would like to mention that she has an exhibitionist streak a mile wide and the entire time I was very uncomfortable.
Ava – At first your opinion of the Student Council president is very high and she is very much likeable, until the very. Moment. You. Start. Her. Route. The entire time she is very frigid toward you and hostile. She treats everyone like slave labor and eight months in you still feel like nothing has changed at all. She is very bullheaded and difficult to work with, and I ended up hating her more than Asaga. She goes out of her way to ruin everyone's mood and to run them into the ground. (including herself because on top of being a gigantic *** she has huge self-esteem issues.) She is incredibly Bipolar and I am most certain that she is a closet sadist.
I would also like to mention that this route has family violence, which FOR SOME REASON, the developers just brushed off. This is 100% not ok. Ava's father ties her up (literally.) and it is strongly implied that he beats her regularly. And at the end of the game, I kid you not, the MC says "I guess he wasn't a bad guy after all!" I STRONGLY suggest skipping Ava's route.
Sola – Her route was strangely unremarkable. While there were some interesting factors that made it more fun playing (compared to the last two.) I couldn't help but feel like it was incomplete. Most of her route was shadowing what happened in the original game (Sunrider Liberation Day; SR Academy is a spinoff.) and it felt like I was encouraged mostly into trying that game, rather than playing her route. In short – it felt like an advertisement.
Chigara – The best route in the game. I can say with 100% confidence that not only did her route have the most content, it was also the most rewarding playthrough in the entire game. While she is unusually shy, her reactions were relatively normal and sane compared to the last three routes. While it did get a bit bumpy around month 7-8, It was much more fulfilling than all the previous endings combined.
Ending thoughts: I would not recommend this game. Compared to other visual novels out there this one is garbage. It's insensitive and in some cases, extreme. Only one route was worth playing out of the four available, and while this is a spinoff of the original game, is very disappointing. I do intend to play the original game but using this as an experience, I have a feeling it will not be enjoyable.
This is my first post all year and I will try to be more active on BLAEO. Thank you for your time and have a wonderful day.
So it's been two months since my last post. Black Desert kinda took up a lot of my time. Just a bit.
Anyway lets get on with the show.
1.) TACOMA
A very lovely story. In this novel, you walk around and interact with objects and recover various pieces of information from desktops and from data left behind. Find out what happened to the Tacoma crew, and it's AI, Odin.
I really enjoyed the whole story. It takes around 2 hours to complete, and you can get all the achievements in one run. The characters were interesting, and I am very, very happy on how it ended. You should seriously play it.
By the way, the intro song is "Find me" by Szjerdene. Your welcome.
"5/5"
"Rather magnificent"
2.) Sparkle 3:Genesis
This game is absolute garbage.
If your just playing for whatever and not achievements, go for it. It takes about 20 minutes to finish the game. 8 - 12 hours for all achievements. Achievement hunters - Beware.
1.) You can kill the leviathan from day 1 without upgrading. Upgrading your status does not make you faster, stronger, increase absorption range or speed. The only reason you would waste your time putting points in is for the four achievements. They literally do nothing.
2.) I have actively tried to kill myself. You cannot die in this game, at all. This makes all fights pointless.
3.) The tutorial is annoying. For some achievements, you need to make a completely red, blue or green sparkle. Problem is, you may need to repeat the tutorial 10 times to get 3 of the same colors. I often ended up with 2/2/2.
4.) You cannot make this game completely mute from in-game. You can set the volume to 0% and it still makes noise, you need to minimize the game and go to your volume settings to mute it.
5.) the music is mediocre, forgettable, and non-existent. I suggest muting it and using a playlist.
6.) When you go through a vortex to go to the next area, you need to fight with it because even when you use the wheel to move down a level, it may move up one so your in this annoying back and forth war every level.
7.) once you complete a quest, you cannot re-do it. This means for the absorption competition you need to completely restart the game to get the like a boss achievement. On the bar it should tell you the percentages so you can end the game early instead of completely resetting it and re-starting with a new character.
8.) the labyrinths are annoying. They are not fun, just annoying and stressful and when you need to repeat them constantly to get a chance at the absorption competition it's just migraine inducing.
9.) The sparkles get WAY TOO BIG. Once they hit max level they literally take up half the screen. Good luck trying to get through a labyrinth or looking at your mini-map. It should be set so when you level you zoom out or something.
10.) While green is the easiest to move in the labyrinths, have fun trying to kill the leviathan with it. It's too slow and doesn't have the range to get the orbs on the tail-end of it. I gave up after 13 minutes. On a side note… blue is absolutely the way to go if you want to beat the leviathan in less than 2 minutes.
EDIT: I completely forgot to mention that I'm looking for people to add to my WL on Steamgifts. If you actually play the games you win and not a card idler.
1.) fault - milestone one
This, this was pretty good. The intro was nice and everything was just really well done. The characters had their own personality, and they were likable and intriguing. The story is pretty good and interesting, the music was wonderful. It took me about 3 hours to finish up, but it was fun.
2.) fault - milestone two side:above
This was hands down the best visual novel I have played. The beginning got me so EXCITED, as it showed me the best, and I do mean the BEST, "breaking the fourth wall moment" I thought possible. I didn't even know a game could DO that, and I was just really excited. There are supposedly two more novels coming out to finish up the series, "Silence the Pendant" and "Fault: Side Below" and I am eager to get my hands on them. I also liked the second novel for the same reasons as the first.
3.) Silence
Oh my god, this game is absolutely stunning. The art, is BEYOND lovely, and I enjoyed most of the characters as well. The story was pretty dang good, and It was a enjoyable experience. The only faults I have with it are a few things. One, you cant save. If you need to restart, you need to redo the entire chapter. I did this and it broke the game for me, as two chapters went together in the same scene and it was a huge confusing mess and I ended up deleting that file. Second, the achievements. I don't know how on earth people got three particular achievements, but I just cannot get them, period. One you need to play through the entire game without skipping a text, which I'm pretty sure I did, twice. and the other two are to not use the hint tool, which I'm also certain I did, twice. and the other is to skip every mini game, in which I cannot for the life of me find the skip button. I even watched others play for a walk through, and I see the skip button show up on their screen, but I cant find it on mine on the exact same scenes. So I finished the game three times, but I cannot get those last three achievements, which breaks my heart as I still feel it's incomplete. Apparently you can go into the save file whatever that means and get the achievements that way, but I haven't ever done that before and I have no idea where to do that. (If you know how to do it please tell me.)
Other than that, it was a great game. But please, please follow a guide unless you want to replay the game four times.
finishes three games. Adds three games to my library. Screams internally.
I was skeptical at first about this game, first few seconds of the video looked so boring I almost skipped over it. The overwhelmingly positive reviews changed my mind. It was on sale, so I thought, Why not.
This was surprisingly enjoyable. You are a customs agent of sorts, you deny or grant people entry to your country depending on their papers, or if you just feel like it. There are 20 endings to the game, and I played through most of them. You can join an organization dedicated to eliminating evils and corruption, help a friend with their drug trade, or be a good citizen and do your job. I also liked all the small story's you could find. There are a wide variety of people you would meet, and I quite enjoyed them. My favorite one is the guy who gives you the blue note. I usually let him pass. I liked Jorji Costava a lot, I think him and Sergiu were my favorites.
Anyway, it's a fun little game, and you should seriously consider playing it. I'm really glad I bought it.
Glory to Arstotzka!
1.) WORLD END ECONOMiCA episode.01
This one was ok. The first one focused more around the storyline and the characters, and the ending made me want to throw my coffee machine out the window. Do not play this if you have no intention of playing 1, 2, and 3. WEE basically explains the stock market, a bunch of technical terms and i kinda skipped through most of it because my math is crap. Words cannot really explain how I feel about this VN, but numbers can. 6/10
2.)WORLD END ECONOMiCA episode.02
This one was more enjoyable for the first, because it finally focused more on the characters and their character growth than the storyline. I'm annoyed they changed some of the characters names from the first one, but whatever. Still skipped a bunch past technical terms and more stock market talk, as staring at the explanation for 5 minutes didn't help me at all. The ending left me with question marks over my head. 6.5/10
3.)WORLD END ECONOMiCA episode.03
Oh boy do I have words for this one. I liked this one, the ending was wrapped up in a pretty bow, and most of the loose ends were tied up. The things that I didn't understand about the ending in 2 were explained in the beginning of 3, and some other things came to light. Story was well written, and it was a good ending to the series. I didn't really like Hal's choice of romantic partner at the end, but that's a story for another time. 7/10
**Major spoilers: **** **Major spoilers: ******Major spoilers: ******Major spoilers: ******Major spoilers: ****
Another time: FIRST OF ALL WHAT EVEN. Hal chose HAGANA over EVERYONE? for ** SAKE SHE HAD PRACTICALLY NO INVOLVEMENT OUTSIDE THE FIRST EPISODE. she just kinda shows up at the end to remind people that she still exists. He had like two other chicks that has more emotional depth than her. Take Chris for example, shes ADORABLE. Yeah, she loves money a little too much, but honestly who doesn't? She grew up so much and unlike Hagana, who has the emotional depth of a toaster, Chris actually never ran away and stayed next to Hal for a little over 5 or something years. and how can Hal still be crushing on Hagana anyway? It's been 8 years! He never really tried to find her! He gave up looking for her in 2 in favor of money making schemes, and suddenly she shows up in 3 and hes like " I NEVER STOPPED LOOKING FOR YOU! I NEVER FORGOT YOU!" like give it a REST dude! Even blond whats her face was sweeter! and the ending credits showed Hagana and Hal getting married like "yeah, that happened." Honestly there is another huge reason I hate her, (and I do mean HUGE. ) but i'm not even going to mention it as that would ruin the whole series, but DROP HER. SHES NUTS. Honestly the whole rating would have gone up if Hal found out she died or something while on Earth, because that "romantic ending" was *****!!
1.) Grim Legends: The forsaken bride
It was ok the first time around. Not so much the second, or the third, or the fourth. If you play it without any mistakes, you should be able to finish it within two tries. If you make a mistake though, you need to restart the entire game. It was ok the first time, everything else was just horrible. The story was unnecessarily long, you would not BELIEVE the work I had to do to put out a freakin candle. For gods sake, I had to make a water squirty thing from SCRATCH, rather than just licking my fingers and sucking it up. The amount of effort you need to put in to do simple, SIMPLE things, drove me insane, and probably increased the whole story line by a solid 2 hours and thirty minutes. Honestly, I would not recommend this at all. I get it, it's a HOG, but HOLY **. The THINGS I had to do just to do something so stupid. There in an entire chapter area of you attempting to get through a door when there is a BROKEN WALL/ WINDOW RIGHT THERE FOR GODS SAKE CLIMB THROUGH IT. Instead I had to go to this room, grab this, the next room, do that, do stupid elaborate things and just CLIMB THROUGH THE WINDOW. On the bright side, this is the first game I won on steamgifts (that I won a year ago. So, so, sorry. ;w;) which I finally managed to get to. It's not worth anyone's time unless you genuinely enjoy HOG's.
2.)Passpartout: The Starving Artist
This was very, very nice. I really liked the whole idea of the game and how the developers set it out. There are four different endings you can get, (And do the minimalist route first, if you do it last, they are stupid and say you have drawn this before when you swear you haven't.) Each leading to a different areas to paint. From a creepy alley, a studio, to a skyscraper and a castle, it's just a nice and lovely relaxing games unless you do the minimalist route last.
3.)Viscera Cleanup Detail: Santa's Rampage
I did this solo and I hate myself for it. I hate myself even more because for some reason I had this, while also having the complete edition, so I have to do this crap all over again. I only recommend this if you are playing with other people, and I am very much against it if you try doing everything solo, as it's no fun. You clean up body parts and blood and whatever that thing is in the corner.
I finally finished both of these. One was beaten but not completed and the other was unfinished, so huzzah.
Edit: I added on Belladonna because I just finished it, I'm on a roll.
Trying to not sound like a psychopath.
I really liked Lucius. I enjoyed the story a bunch, I enjoyed being the killer a bunch, and I thought it was lovely how they all scrambled to find the killer not knowing any better. I really enjoyed all the creative ways to kill everyone in that house, my favorite was the lawnmower guy. If you do your chores, you get a neat Tricycle. Some of the achievements were a bit annoying, like bike 10 miles. (I just weighed down the "W" and "D" keys to make him go in a circle for a couple hours) as well as the "play for 40 hours" achievements, considering you can get all the other achievements in less than 11 hours. (not accurate, I'm guessing. it's probably lower.) But it was fun.
Lucius 2 is a must buy. You can slaughter a bunch of people with only an oven, some gasoline to keep the fire burning, and perhaps a flammable bottle. One memorable event was an adult object, which was very creative. Later on you can grab a nail gun, I recommend using it for only difficult people who you have trouble killing. (Not near a open flame, near electricity, and WHY WONT YOU EAT THESE DELICIOUS DONUTS. One of my favorite ways to off someone was to change their medical files and watch as the nurse accidentally gives them a lethal dose of insulin. (hilarity ensues.) You can also use buzz saws, vials of acid, and personally, the elevator shafts were very popular.
The only thing I disliked was the ending where you have to beat a boss of sorts, and it literally doesn't tell you how. Look up a you tube video or a guide because I would have never connected those dots. That, and the game ended. I want a third game. You can get all the achievements in one play through. I recommend you checking the 100% achievement guide as well as Holy Diver guide because the 100% achievement guide doesn't really explain it properly. Plus the other guide is the fun and easy way of getting the achievement.
For Belladonna, I actually quite liked it. The story was pretty good, and the art was nice. The game was finished in less than an hour, but the ending surprised me. There were quite a few surprises during the game as well, if you have the chance, you should play this. I really liked the voice actors, especially the character you play as. Don't let the length of the game put you off, it's actually pretty interesting.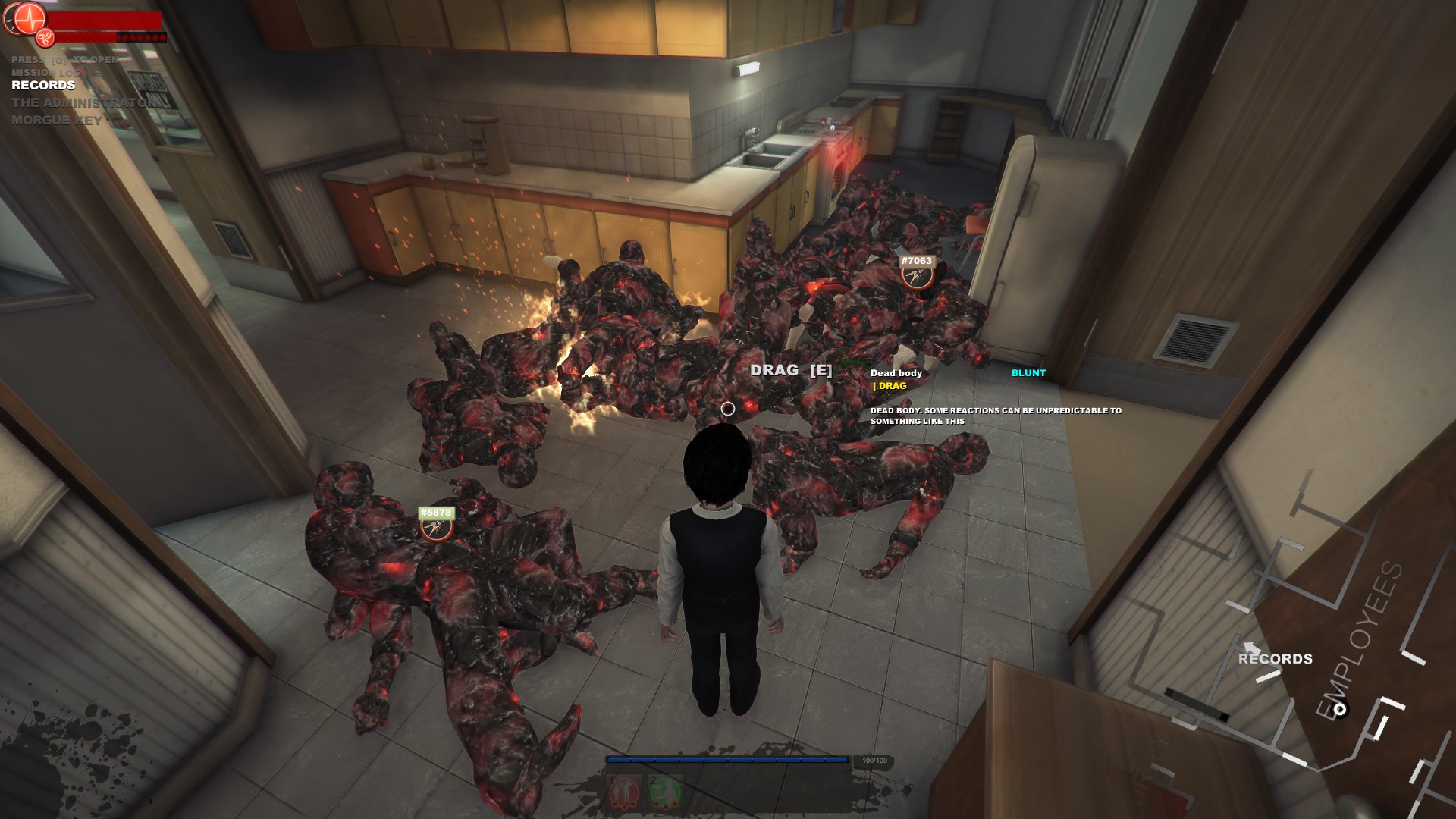 This is such a lovely game. The storyline is very engaging, and the music is PERFECT. Go for the bird achievement when you can, it was my absolute favorite achievement. (You listen to the birds.) I really appreciate the art, just playing the game you can tell a lot of love and labor went into it. I liked it when you jumped straight up-if you watch carefully- it looks exactly how a fox would have jumped. The way the crane slept, and just a bunch of things like that made me feel really happy.
This game is very peaceful and relaxing, I wish It continued just a bit so we could talk to the seed after the event. The entire time I was worried about her.
The only thing I would add is a option to look at all the flowers in the area on a single screen, displaying the status. For example - The Creek 5/5. Just a chart so you're not running back and forth trying to find the flower you missed.
I just finished Eden.
the story line was great, and the art was amazing. You will get attached to the characters. It was a bit slow at first but I was ugly crying at the end. Be prepared for tears.
If you haven't played it, please, please do. It's for $1 at Humble bundle right now.
This review is short because I really don't want to accidentally spoil anything. Just know, it will not end how you think it will end.
This story had a lot more depth then I thought it did. I honestly wasn't interested in it in the beginning, but it was the little things that were out of place that kept me interested, and I'm glad I stuck around. "One Thousand Lies" is certainly more "heart-felt" than most visual novels I have read before, and it was really lovely to read. The art was nice, the music was alright, but the story went deeper than I thought it would. It's hard to explain, you should check it out for yourself.