Jahaś jah.'s profile
So, after years of collecting games from bundles, SteamGifts, Steam sales, etc., in the middle of 2023, I finally decided to do something with that 1000+ collection. Thanks to this site i can see how many more I have to play… At least on Steam…
I mainly play indie games, but I'm always open for any suggestions.
My 2023 progress:
---
I planned to play a few more games this month, but still I managed to complete quite a lot of them… In the spirit of this month's theme, most of the games I played (except for one), at some point I've won at SteamGifts. Some of them are from 3 days ago, some have waited for 8 years…
P.S. I would like to share something with you. This month I attended my first movie festival! So for a movie freak like me it was a pretty big thing. This is why I played only games that were few hours long :D
Best game this month:
Worst game this month:
Biggest positive suprise:
Biggest negative suprise:
Summary:
October 2023:
So yeah, this is basically my first "proper" month when I tried to fight my backlog (not just play like 1-2 new games). I managed to play 10 games and beat/complete 8 of them. Here are mine thoughts…
Best game this month:
Worst game this month:
Biggest positive suprise:
Biggest negative suprise:
Summary: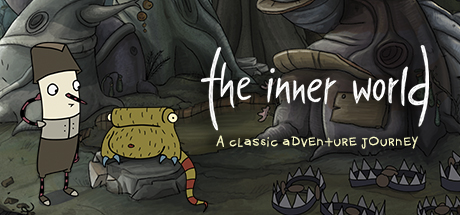 Was it great? No. Was it fun? Yeah, I guess...
The Inner World
66%
5.7 hours
23 of 23 achievements
More
This is one of the games I won on community train. Probably most of you already played it, or at least saw it somewhere.
From time to time I like to play some point'n'click games. So after looking what games I won recently I realised The Inner World could be pretty good for me. And after playing it for a few hours I can say it was not the best pont'n'click game I ever played but at the same time, it wasn't worst.
My biggest issue would probably be a character design. I don't mind world design (for me it was pretty cool) but pretty much all characters looked like crap… Maybe during gameplay it didn't show that much but at almost every cutscene this was really bad… And also a few times those cutscenes would glitch so yeah, this also didn't help…
But except that, this game was pretty ok. Story is pretty generic but not bad, puzzles also were pretty fun (except maybe for like one or two where I had totally no idea what to do) and music was fine too. In my opinion the best part was probably dialogues and humour in them. I genuinely laughed a few times when talking to some characters.
Overall was this the best game I played this year? Deffinitely not. Was it the best point'n'click I played this year? Also no. But was it a game that was pretty fun playing and I had a few laughs? Yes!