Welcome to Spitfyr's profile
Last Played Steam
Last Played GOG
| Game | Hours playtime | Achievements |
| --- | --- | --- |
| Beyond Good & Evil | 16 | na |
| Immortal Redneck | 40 | 80% |
| Ancient Enemy | 14 | na |
This is my backlog. I order it by releasdate because I take this into account what to play next with oldest first. Beside this I just follow my mood.
| Game | Hltc [h] | Releasedate | Comment | Added |
| --- | --- | --- | --- | --- |
| Dungeon of the ENDLES | 131 | 2014-10-27 | | 2023-07-25 |
| Remnants of Naezith | 41 | 2018-02-05 | | 2023-08-12 |
| EXAPUNKS | 100 | 2018-10-22 | | 2020-03-14 |
| ΔV: Rings of Saturn | ? | 2019-08-12 | Early Access | 2022-04-02 |
| Autonauts | 180 | 2019-10-17 | | 2023-03-15 |
| WRATH: Aeon of Ruin | 5 | 2019-11-22 | Early Access | 2023-03-31 |
| Neon Abyss | 85 | 2020-06-14 | | 2022-06-13 |
| Tin Can | 5 | 2022-05-12 | | 2023-09-06 |
| Ozymandias: Bronze Age Empire Sim | 77 | 2022-10-11 | | 2023-07-05 |
| Forspoken | 20 | 2023-01-24 | | 2023-01-25 |
| Game | Hltc [h] | Releasedate | Comment | Added |
| --- | --- | --- | --- | --- |
| Ghost Master | 24 | 2003-08-26 | | 2023-09-04 |
| The Witcher3: Wild Hunt – GotY | 293 | 2016-08-30 | | 2022-06-23 |
| Beholder 2 | 22 | 2018-12-05 | | 2023-06-30 |
| Mainframe Defenders | 7 | 2020-02-25 | | 2023-06-16 |
| Wasteland 3 Colorado Collection | 75 | 2020-08-28 | | 2023-08-08 |
| Game | Removed from Backlog | Comment |
| --- | --- | --- |
| Five dates | 2023-09-26 | |
| Pinball FX3 - Star Wars™ Pinball | 2023-09-25 | |
| Inside | 2023-09-21 | |
| Beyond Good & Evil | 2023-09-19 | |
| Ghostrunner | 2023-09-05 | |
| Immortal Redneck | 2023-08-27 | |
| Ancient Enemy | 2023-08-20 | |
| Tacoma | 2023-08-18 | |
| Unholy Heights | 2023-08-18 | |
| Zombie Driver HD | 2023-08-14 | |
| South Scrimshaw: Part One | 2023-08-12 | |
| Underrail | 2023-08-11 | |
| Book of Demons | 2023-07-11 | |
| Worms Revolution Gold Edition | 2023-06-15 | |
| Nihilumbra | 2023-06-05 | |
| Angvik | 2023-05-31 | |
| S.T.A.L.K.E.R.: Call of Pripyat | 2023-05-30 | |
| Deadly Days | 2023-05-20 | |
| Fobia - St. Dinfna Hotel | 2023-05-14 | |
| Haven Park | 2023-05-10 | |
| ScourgeBringer | 2023-05-08 | |
| Ghost of a Tale | 2023-05-04 | |
| Colt Canyon | 2023-04-28 | |
| Evergarden | 2023-04-08 | |
| Divinity 2: Developer's Cut | 2023-04-05 | |
| Gene Shift Auto: Deluxe Edition | 2023-03-19 | |
| Knight's Retreat | 2023-03-11 | |
| Wunderling DX | 2023-03-08 | |
| Bad Rats Show | 2023-02-21 | |
| Beyond Divinity | 2023-02-18 | |
| Through the Ages | 2023-02-09 | |
| Incredible Dracula: Chasing Love Collector's Edition | 2023-01-29 | |
| Fire: Ungh's Quest | 2023-01-22 | |
| Divine Divinity | 2023-01-21 | |
| Eliza | 2023-01-05 | |
| Wasteland 2 Directors Cut | 2023-01-03 | |
| Game | Removed from Backlog | Comment |
| --- | --- | --- |
| Dex | 2022-12-22 | |
| Tower of Time | 2022-12-10 | |
| Shantae and the Pirate's Curse | 2022-11-20 | |
| Nox | 2022-11-15 | |
| Dink Smallwood HD | 2022-11-11 | |
| Venetica - Gold Edition | 2022-11-08 | |
| Cyber Hook | 2022-10-14 | |
| Retrowave | 2022-10-07 | |
| Bloodstained: Ritual of the Night | 2022-09-30 | |
| Mafia | 2022-09-13 | |
| Death Skid Marks | 2022-09-05 | |
| Blood: Fresh Supply | 2022-08-27 | |
| Reventure | 2022-08-14 | |
| Match Three Pirates! Heir to Davy Jones | 2022-08-10 | |
| Sector Six | 2022-08-07 | |
| Plebby Quest: The Promised Land DLC | 2022-07-28 | |
| Outcast - Second Contact | 2022-07-23 | |
| Late Shift | 2022-07-14 | |
| Plebby Quest: The Crusades | 2022-07-12 | N |
| Fallback | 2022-06-16 | |
| Size Matters | 2022-06-14 | |
| The Bard's Tale IV: Director's Cut | 2022-06-12 | |
| Crying Suns | 2022-05-23 | |
| Evan's Remains | 2022-05-15 | |
| Pikuniku | 2022-05-14 | |
| Aviary Attorney | 2022-05-01 | |
| Game Of Mafia | 2022-04-27 | |
| Call of Juarez: Gunslinger | 2022-04-26 | |
| Bad Rats: the Rats' Revenge | 2022-04-17 | |
| Lovecraft's Untold Stories | 2022-03-15 | |
| The Stanley Parable | 2022-02-25 | |
| Hue | 2022-02-10 | |
| Jagged Alliance 1: Gold Edition | 2022-02-05 | won't finish |
| The Little Acre | 2022-01-21 | |
| Popup Dungeon | 2022-01-18 | |
Last Update: 26.09.2023
---
You no mess with Lo Wang
Shadow Warrior was one of the games in my backlog I was most looking forward to play. I liked the previous game from these developers: Hard Reset And I played the classic Shadow Warrior just a few month ago. There are a lot of references to the classic but also to Hard Reset and if you once was a player of Serious Sam you will find some allusions too.
You want to wash Wang? Or you want to watch Wang wash Wang?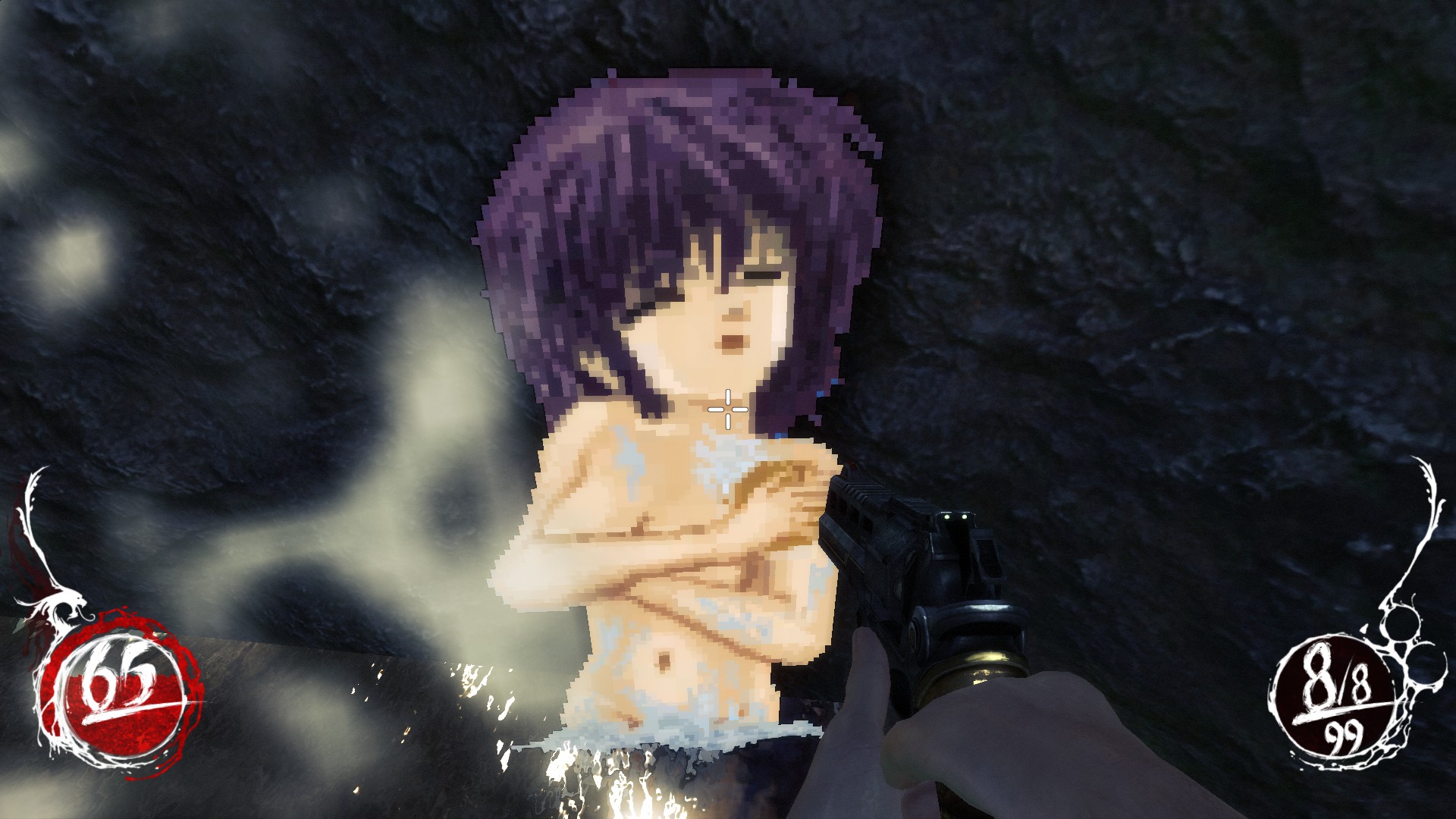 One can definitely see this is a child from Hard Reset. The game mechanic is the same: go fight from one arena like area to another, blow things up near enemies, use the environment to your advantage, move in the rhythmen of your enemies attacks, find keys and levers to proceed, find secrets, upgrade your stuff. Since we are Wang add a sword and some magic superpowers to our hero. I liked the game so much, I did a second playthrough just after the first with different difficult settings.
Overall this game feels like made from some guys, who just love to make a good shooter.
---
Joe Dever's Lone Wolf HD Remastered
I did play another game-book this year
The Forest of Doom
which was just *so so*. So I did not expect much from this. But it is surprisingly fun.
The writing and story is not worth a Nobel Price but for a game it is good and the translation is excellent. The turn based battles are not that easy as long you did not discovered yet how things are working best. I liked how you have to manage your skills and resources during a battle, to loot things and improve or upgrade my equipment.
I did a 2nd playthrough with other character building and decisions to see how the stories changes. As usual some parts may read different but for the important parts of the story you cannot change anything. Maybe one day I will do a 3rd playthrough for all achievements.
---
Another game worth to be mentioned:
Nova-111
this game has a lot of fresh ideas and did not feel like something I already played 10 times before. The difficult level is just right between relaxing and challenging.
After the first playthrough I was motivated enough to hunt some personal highscores. Still I was not motivated to beat every objective in the game. That is finding all scientist and secrets, which includes to bump into every wall whether there is a secret or not.
---
Other games I have proudly beaten
Hitman: Codename 47 beaten
This is the most difficult game I have played this year. Even Hard Reset on *Insane* was easy compared to this.
While games are usually designed to make you win and make you feel like a hero, this game wants to see you fail. It is virtually impossible to solve a mission on the first try. In addition it has some game mechanics, to which I had to get used to: like no saving within a mission. If you do a mistake you have to do the whole mission right from the start. That will happen again, and again, and again, and ..., because often you do not have a clue what to do next, since quest helpers that are common in modern games, do not exists.
All this made me nearly rage quit after the first hours, but after I got used to it, I started to like this game more and more.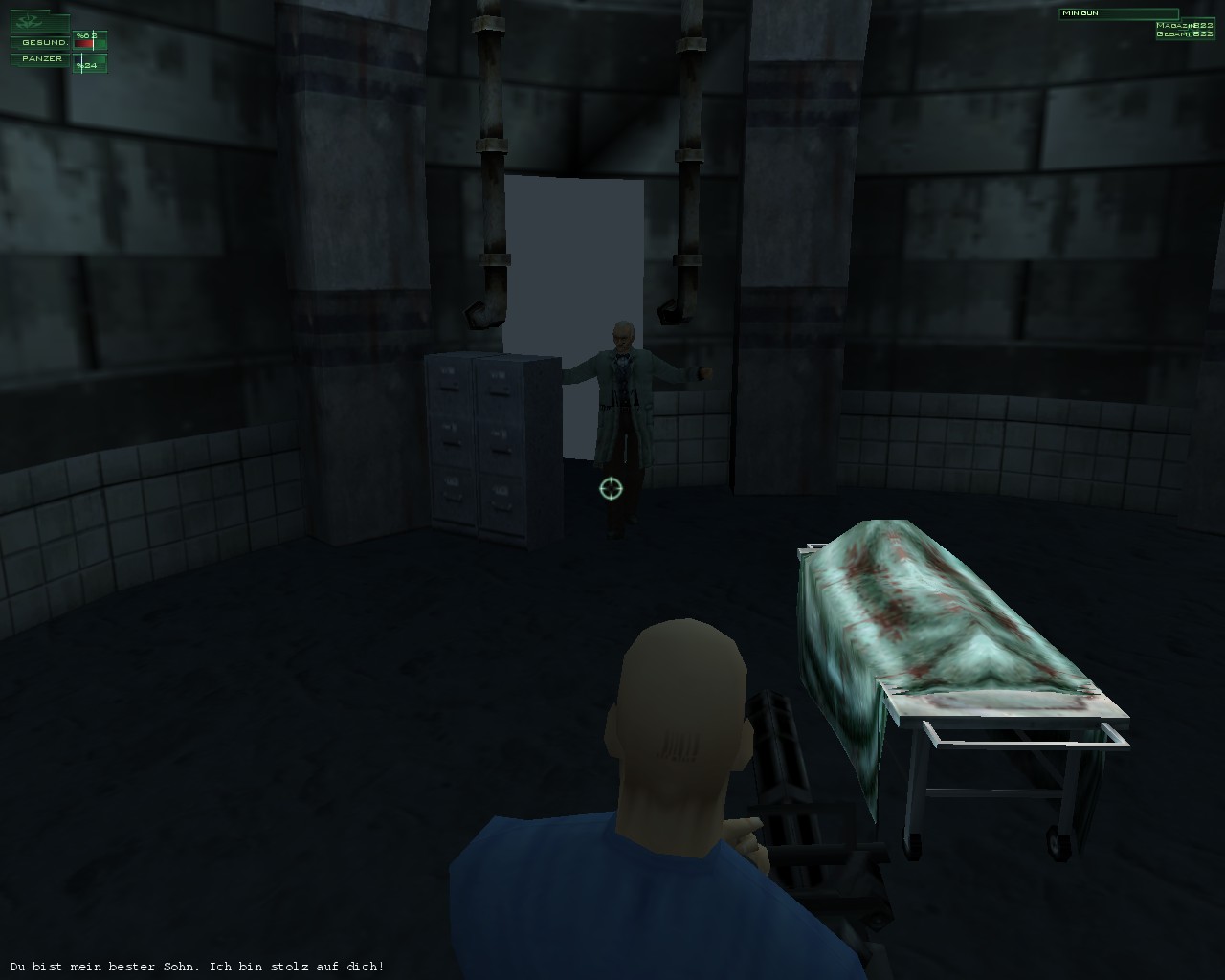 Next game I want to play is Shadow Warrior: Special Edition. I played Hard Reset from the same developers and it was amazing and from what I have heard Shadow Warrior is even better. Also I did play the original Shadow Warrior Classic (1997) not long time ago.
Thanks for reading and happy backlogging.
October backloggery
I was fighting hard my backlog for the last 4 weeks. Instead of writing about every game I played, this time I want to point out two little gems I found between a lot of just average and below average games.
Games I recommend
---
Silent Age This is a nice and short Point&Click Adventure. It has an interesting and gripping story, the theme itself is serious but not without an humorous eye wink now and then.

The puzzles are not difficult. And even when I was not sure what to do, the game is divided up into small episodes with just a few rooms, so trial and error does not take too long.

Most achievements you will get during playthrough. The few that are missing one can get by select some episode for a replay, you do not have to do a second playthrough.

Overall, even Point&Click Adventures are not my prefered genre, I enjoyed this game. There is nothing bad I can remember. This game has my recommendation.
Betrayer I cannot find the right drawer to put this game in. It is an adventure which lends some mechanics from Openworld RPGs, but is not one, as well you find elements from FPS.

At first one will notice the different kind of presentation, it shall be played in black&white with some red objects in between. Later I noticed there is some excellent ambient noise. Not only you hear the wind, the plants but also every enemy has some sound you will have to learn, as well being near a treasure chest has some special sound that gets more noticeable the closer you get. All over your time you have to keep your ears open, because the sound wants to give you some important information.

I liked the kind of combat. You have different kinds of muskets, pistols, crossbows and bows. They have to be reloaded after every shot. Different weapons have different range, damage and reload time. Some weapons like the bows are silent. The game rewards you, if you are sneaky. There are even achievements for it. If you instead decide to go Rambo at a group of enemies you often find yourself loading your last savegame afterwards.

The story is crude. It shows the worst in man. I guess only an indie company, that publishes the game itself, is able to dare such a kind of story.

Gameplay gets a bit repetitive after some hours, but it is finished after 10h anyway.

Other games I proudly finished
---
After one month I decided to crawl back to the surface to write some update to my backlog.
The door opens with a silent creak while I take a deep breath of fresh air. My eyes blink in the unfamiliar light of the sun:
Still playing X3 - Still no live.
Well, I cannot play the same game nonstop for 250h, so in between I finished these games:
Standard HOG published by Artifex Mundi. Nothing new if you already played a few of them.
This game was designed for multiplayer, but there are no other players online. I played through the single player. It is o.k. but it is not a game I can play for 10 hours. You are able to get some multiplayer achievements with local multiplayer.
A little adventure, that plays like a HOG but without HOG and only a few minigames. Easy 100% and quick playthrough. I liked it.
This game is often compared to Zelda, which I never played. It is a nice game, worth the time playing, but it is not good enough I would recommand it to my friends. While the boss fights are really, really good, the rest is a little bit too shallow for my taste.
I did not go for 100% because that only means backtracking every area.
Pretty funny "change story with your decisions"-game, designed a way, you want to have a few playthroughs, just to see how the story develops with different decisions. Ridiculous characters, a lot of humor, does not take itself too serious. If you you have it in your library, I recommand to play it.
I did not go for 100% achievements because this means a few more playthroughs where I allready have seen everything and only a few seconds will be differnt.
This is one of the best HOG I have ever played. If you like HOG, get it. And it is not from Artifex Mundi, so you do not will get the same mini games you already solved three times before.
You may easy miss 100% achievements with one playthrough since at some point you cannot go back to some areas and find some missing collectibles there.
I liked the story mode and for me it was a lot of fun, even a little bit addictive. Though gets boring very quick as soon as you have a perfect playthrough. For a game with this price tag, 5 hours of fun are o.k.
It is not a bad HOG, but after playing Portal of Evil this one feels below average. Easy 100% and quick playthrough.
That's all. Thanks for reading. Now I am going back to play X3.
Hello X3! Goodbye life!
X3 is the game from my backlog I had the most respect. Despite his age It has a lot of positive reviews from guys, who have 200h, 400h, 500h playtime. Will I get bored after a few hours - or worse - be hooked by this game? Well at the moment it looks like this:
And I feel I just started, I am so addicted, I cannot stop playing this game. Goodbye life. goodbye backlog.

There are so much things to do. Quests, missions, trade, fight, produce, discovering, … it is like an open world game, but in space. Often it is pointed out, that this game has an overwhelming amount of stuff to learn. But the good about this game is, you do not have to know everything. In fact even when I had no clue about trading and production and only know 5% of everything, I can enjoy the thing I just do, and learn something new every day.

Prior I got these removed from my backlog:
Easy 100%. Quite entertaining for a few hours. Worth the time playing, but nothing I would pay 10€ for.
The shooter part of this game is nothing special. What this game makes more interesting - without spoiling too much here - the story builds up like some anti-war-movie from the 80th, where at some point a happy end is not possible anymore. While games usually are designed to make you feel good with every decisions you do, this game wants to feel you uncomfortable.
I have played Braid three years ago but just finished it to 80%, because I did not want to spoil some solutions. For the monthly theme I started a new go.
This is one of the most beautifull games I ever played. There is so much creativity and one may see the will for perfection. The kind of indie-game I like indie-games for.
This time I watched some videos for the two/three parts I was not able to solve by myself, instead of shelving the game for another three years.
Oh no! Two wins on Steamgifts put back my backlog to previous size:
| | |
| --- | --- |
| Nidhogg | Has positive reviews but I am not sure if it is fun as single player only, since maybe not enough people are online for multiplayer. |
| The Emerald Maiden: Symphony of Dreams | A HOG. Artifex Mundi. Nothing can go wrong with this. |
Hello Everyone!
Long Live The Queen was the first game of this genre I played. What surprised me, the gaming mechanic of this game has a different approach, than other games. While usually games are designed to keep the player to success in everything he/she does - after all we are the hero - in Long Live The Queen you cannot success in everything. In fact if you want to see all endings, get all text and get every achievement, you have to fail at the right moment just to able to success in another. Do the unreasonable and do that thing you would never do in a video game because you know your character does not have the right skill!
This also makes it difficult to find everything out by yourself. To be honest, for the last 40% of the achievements I peeped into a Wiki.
A great game, the over 90% positive reviews are well earned.
I already played the predecessor last year, and that was a great game. Zeno Clash 2 is not that good than the fist part, since the brawling mechanic is not that fun and the fights are less challenging. It is called an *open world* game, but you can not do much more than following the main quest, there are only very few side quests. Somehow this game feels they wanted to make something bigger, but at the end the resources have been missing
While all this may sound a little bit disappointed, it is still a good game with all these kind of weird ideas one knows from the predecessor.
This is the first game of this genre - Point and Click adventure - I ever finished. The story starts a little bit too naive and childish with the first act but gets a lot better afterwards. All in all I enjoyed it most of the time but it also reminds me, why I usually don't play these kind of games, when I reach a point I do not know what to do and I have to do a task which is not really logical.
Oh by the way, this is my very first game for a monthly theme. Since my backlog is not that big, this will not happen that often.
Oh no! Three wins on Steamgifts put back my backlog to previous size:
Spec Ops: The Line
</td>
There are not many shooter that have positive reviews over 90%, I also like the genre. So nothing can go wrong with this game.
</tr>
Portal of Evil
</td>
A HOG. I play these kind of games, when I need something relaxing.
</tr>
Bit Blaster XL
</td>
I guess everyone will win this on SG one day, who likes. Over 95% positive reviews, should at least fun for some hours.
</tr> </table>
Hello Everyone!
Today I finshed UnEpic. This is one of the best games, I have played this year. The over 90% positive reviews are well earned.

If you have it in your backlog, give it a try.

Before I was not sure about the platform part of the game, because I am bad with platformer, but this element was pretty easy.


And by the way: Wow, the end is really cool.
Oh no! Three wins on Steamgifts increase my backlog:
The Forest of Doom
</td>
The forest of doom is a so called gamebook. I am not really sure what to expect.
</tr>
Crawl
</td>
Over 95% positive reviews, what can go wrong?
</tr>
The Night of the Rabbit
</td>
The Night of the Rabbit is a point&click adventure game. Since Maniac Manson and Monkey Islands, when my friends were raving about these kinds of games, I tried to like them but it did not work.

Last one I tried a few years ago was Edna & Harvey: The Breakout. It started funny but then again I was not able to beat half of it. This year I will try again, with this one, that has over 90% positive reviews.
</tr> </table>
Hello Everyone!
| | |
| --- | --- |
| | Finally I beat the campaign of Tropico 4. I enjoyed this game a little bit more than Tropico 3. I don't own the DLC, so I may play this again sometime with DLC. For now after 40 hours I have enough of this. |
| | I had a little hangover last sunday and therefore needed some easy gaming. The perfect time to chose a HOG from the backlog. You can beat Dark Arcana: The Carnival within 3 hours in expert mode. Standard Artifex mundi qualitiy, nice pictures and story. It is the most easiest HOG I ever played. It has achievments for hidden object pictures as well as for their replacement: a so called "Monaco" card game. So for 100% achievments one will have to play the main story two times, what I did not do. |
| | In between I played Epsilon corp.. Did not write a review for a long time, but this game was bad enough I had to (only german though). |
Oh no! Three wins on Steamgifts put back my backlog to previous size:
| | |
| --- | --- |
| | Long Live The Queen For the screenshots I would not buy this game. I mean is it the right game for a man of my age where you have to decide how to dress a 14 year old girl? But this game has over 90% positive reviews, looking forward to play this. |
| | Avernum 2: Crystal Souls I already played the first part of this, so I know I will like this game a lot. |
| | Hero of the Kingdom II: Well over 90% reviews, RPG, this cannot be wrong for me. |
Good bye, and here is some evil attack to your backlog as well.
Hello everyone and welcome to my first activity feed.
Hard Reset is a game I allready played three years ago. It is one of these games I like so much I wanted to play it again sometimes. The Release of Hard Reset Redux put it back into my attention, so I played it again and did some achievement hunting.
I can recommend this game to everyone, who like a fast, not to easy FPS. At normal difficulty it may just be played like a normal shooter, but what the game makes special for me is the way of controlling the enemies with different weapons and to use the environment for my advantage.
So what next?
I won Tropico 4 on Steamgifts. I like it but it is not the kind of game I can play every evening, so this will hang on my backlog for some more weeks till I will have finished the campaign.
In between I will play UnEpic Very positiv reviews + RPG + funny + Metroidvania - sounds very promising. I just hope it is not to difficult. I am very bad with platformer!