Battle for the Backlog... TerinHD's profile
Welcome!
I am TerinHD, a software engineer in my day job but when I come home I dabble in video games as hobby. Whether it is playing them or creating them that's what I do.
I know what type of gamer I think I am, "Achiever: 60%, Explorer: 87%, Griefer: 20%, Socializer: 33%". Based on Bartle's Taxonomy. I know that I won't finish all the games 100% achievements, but I have been becoming more and more focused on those.
My backlog has been piling up so I am working on bringing it down to size. I have had previous attempts at it, but with your support I know I can do it!!!
My Strategy
Hold the line! That is my strategy, play what I want as I want to but always focus on playing more games then winning/buying games. As part of understanding myself, I will focus on 2/3 games at once and switch almost on a whim if I am not feeling it. I understand this will lead to many more Unfinished games then Beaten/Completed, but I find it as a stepping stone. I think it is great to just pick up a game start it and understand the mechanics of it, even if I enjoy it for only an hour or two.
---
TerinHD's 07/06/20 Update!
1,997 Achievements (+342)       10 Perfect Games       28% Avg. Completion Rate (-2%)
---
Checking in...
Life has been crazy over the last two years... bought a house, my wife got sick, been pushing to get a promotion at work, and just generally living life. DnD has really taken priority in my freetime which is great but I do miss playing video games as much. I took to being a DM/GM for awhile now which really consumes me. World building is fun.
With all that being said, I figured it was time to make another post on here. In the last 4 months, my progress here has hit a huge road block. Covid-19. Particularly, it has become a big cathartic release to buy video games. Mostly again in the form of bundles. This came about typically with the issue of one of my bank accounts. I get a much better interest rate if I have 12 purchases on my debt card... before it would be a soda here or there. But since Covid, it has been about 12 cheap games a month... along with that the bundles got me again. I am not a Choice Subscriber on Humble again. The one month was a great month and I wanted 8 out of the 9 games, but it suckered me in.
With all this being said, I just need to find a way to move forward with games and dealing with the backlog here. Not sure, hope some of you might have some ideas. But I wanted to look at some stats again to really see them.
How is everyone else?
---
Overall Backlog Progress (Last Updated 06/09/18)
Talking about the stats a bit here. I did go through some reclassifications in the last 2 years. Beaten has now become, I beat it and would like to replay it. Completed has now become, I have beaten it and I am satisfied. This comes with the realization that I cannot perfect every game or even come close to it. Won't play is a catch all for games I don't want to play any more, but haven't beaten. This could mean, I enjoyed the game but am done with it or that I think the game is terrible. All of this has skewed the metrics here but its important to look at them in my opinion.
| Games | Current | 2 Years Ago | 3 Years Ago |
| --- | --- | --- | --- |
| Own | 453 | 275 | 245 |
| Beaten | 10 (2%) | 37 (13%) | 17 (7%) |
| Completed | 49 (11%) | 18 (7%) | 5 (2%) |
| Won't Play | 141 (31%) | 44 (16%) | 21 (9%) |
| Unfinished | 68 (15%) | 101 (37%) | 105 (43%) |
| Backlog | 185 (41%) | 75 (27%) | 97 (39%) |
TerinHD's 06/09/18 Update!
1,655 Achievements (+209)       10 Perfect Games       30% Avg. Completion Rate
---
Back to the Passion!
It has been a while since I posted here, about a year actually. Life has been a bit crazy in the past year and my motivation to post has been at 0%. I have been getting back to trying to crush my backlog and working through that. I also made a deal with my wife recently that has my passion spark back to life. I sold all my old game consoles and handhelds to buy a Nintendo Switch. I think it was a great move as I wasn't playing those systems any more and now I have the new hotness.
As far as my progress over the last year on the destorying of the backlog, it was a long road but I think I made massive strides to completing it. The biggest part is that I made a real impact on the games I have gotten for free from SteamGifts. This is highly important to me as I feel I should appreciate those as people have freely given them to me.
Part of me has been dreading this post as there is so much that I want to do but I know I shouldn't push it or my motivation to make these posts will return to 0% again. So, going to try doing some new things in my posts to limit my posts a bit and we will see how it goes. The first thing I want to try is getting feedback from you all on what I should be playing next and what you all want me to write a review of next. This will probably be met with only a bit of participation and I don't think I will mind that too much.
---
Statistics, Tables, Charts, and Polls OH MY!
Games Played Last Year
7% won't play
48% unfinished
44% beaten
What I have played in the last year? Lots of games actually, I just haven't felt the want to post. Part of that is because in July I broke my New Year's Resolution last year and bought Albion Online. But I don't feel too terrible about it as I got 6 months of play out of the MMO. It was fun but I got tired of it around January of this year and my new coworkers talked me into getting The Witness. Well, you can read later what I think about it if you want later. And then in March I started to pick back up on slaying the backlog as well as getting those Steam trading cards. Anyways if you click this list icon next to the following progress bar you can see all the games I played within this past year. Let me know if you want to talk about any of them. In addition to that I have started Zelda Breath of the Wild and Mario vs Rabbids on the Nintendo Switch.
Overall Backlog Progress (Last Updated 01/06/17)
What should I play next? What should I review next?
I mentioned this earlier, I have a poll here for both figuring out what I should play next as well as what I should review next from a list of previously beaten games. Both will be on my next post here on BLAEO!
---
Let's talk about a few games!
My coworkers at my new job that I started back in September all got me into this game. There were many discussions around how all the games mechanics worked. It helped make this game what it was for me, a puzzle solving delight! It definitely takes sometime to figure out some of the puzzles as they can be a bit abstract. But overall, I was really happy with the game as it made me think about all the mechanics at play. The only downside is the ending, it was a bunch of BS. We can talk about it in the comments with spoiler tags if anyone wants to.
And she's dead again... was the theme of me playing this game. I started to chuckle everytime at my own ineptitude at the games quick fire, button sequences. But boy is this game pretty, I think this and Just Cause 3 are the first time I am really starting to get the best use out of my now out of date graphics card. I think solely for the purpose of seeing this game's art it is worth a purchase. The gameplay is great, but it is really the game as a piece of art that makes this game standout for me.
Wowza! XCOM 2 is brutal. I thought I would have an easier time since I played a lot (for my standards it is a lot, 138 hours) of XCOM: Enemy Unknown & Enemy Within. But man it really brought the feeling of desperation back. The struggle is real to even get a playthrough going, but I love it so much. I am a huge fan of controlled randomness in games, I think I like it so because of the challenge of mitigating the randomness. Mix that with the awesome theming it is definitely going to be up there on my list of like top 25 games of all time. Once I finally beat it, I will definitely be writing a review of it. It does have some issues here and there though, mainly little bugs that seem to manifest themselves over time.
It is hard to say much about this game. It tries to be a successor to FTL, but it falls flat in pure polish. I think if the wrapper was a bit cleaner it could have really gone somewhere. But as it is I just feel meh about it. I don't think it has enough in it to carry me long term within the game. I might end up going back and beating it, or it might end up on the Won't Play list purely out of mehitude.
TerinHD's 06/28/17 Update!
1,446 Achievements (+32)       10 Perfect Games (+2)       30% Avg. Completion Rate
---
Trying to simplify my life...
What can I say? I am just trying to get through some very intense and stressful times, and part of me thinks there will always be another hurdle to jump. I just feel like I am juggling a million things all at once. I think I am killing it but it is definitely taking a toll on me emotionally and physically. I need to figure out how to make sure I get my video game time in. My wife does a great job at helping me accomplish that, she is definitely the love of my life.
But onto my passion... the games! I really want to know how everyone's Summer Sale is going! Any fantastic purchases that you have already consumed? Any purchases you are super excited about? What about those you are waiting on? I am really tempted to use the steam funds from all the Trading Cards I've sold to buy Shadow of Mordor... but I don't know how I feel about it as part of my New Years Resolution... no purchasing of games...
And as always I am messing with the layout of my posts... hopefully this all makes sense. Click the Steam icon to go to the steam page, the Photo to see screenshots I took, and Thumbs up or down to see my review on steam. I think this will help me create more concise posts and save me time in the end. Hopefully you like it! And if you think of anything else you would want to see on a game I have in my list below let me know!
---
On to the Games!
I finally finished this up this month... it seemed to take forever to get the final mission done. It was pretty crazy and almost boring. I would say the last 25% gets really too grindy to be fun. But I still love the premise of the game. There is still a lot that I think the developer can do with this franchise moving forward. The ending definitely sets them up for another version of the game to come out in the future.
This took a while to complete too, but I decided to go back to it. I really focused hard and went full bore and just completing the achievements while having fun along the way. The expansions really helped the game out as far as content, and I hadn't played them before. This game me a fresh take on Skyrim that was needed for me to keep going and going and going in the game. As most games I decide to 100% I was getting rather tired of the game by the end...
Really didn't get too far into this. I think I am technically still in the tutorials... but I can see it might have potential or it could fall flat rather quickly. I also feel like this is a game I can pick up in short sessions rather than long drawn out sessions. But in the description is says it is roguelike... I haven't been exposed to that part of the game yet and it has me really curious.
Pillars of Eternity seems like something I can really get into on days I want to really just consume games, but it might not work so well on days I don't have much time. It seems to take a bit to pull myself into the lore and such. I think this is because it is a lot of reading. Reading is nice, but sometimes you just want to crush something with a warhammer... but I am enjoying it non-the-less. But apparently... they raised their prices for the summer sale and are getting the hate from the internets... rightfully so.
TerinHD's 05/29/17 Update!
---
| | | |
| --- | --- | --- |
| 1,414 Achievements (+65) | 8 Perfect Games (+1) | 30% Avg. Completion Rate (+1) |
Real Life... always getting in the way.
It has been a busy/rough few months with a lot of stress and a bunch of time spent doing real life things more than anything else. Still dealing with a really long commute 3 days a week, and it is taking its toll on me. On top of that I had a job opportunity popup that had me focused on it for about a month before it fell through. Oh well not the end of the world, but as one door closes another one opens. On top of all that I wanted to help my inlaws move and had to deal with what bit Dungeon II calls it "Grief Forest", as my grandfather passed away.
But as the gif/video shows I plowed right through and am doing much better now! More opportunities are presenting themselves and there are bright things in the future. My wife and I are upgrading to a larger apartment in July. We have a friends wedding and a couple vacations to look forward to this summer! Very exciting times. I am also hoping I will have a bit more time to actually play games and get through this backlog! Got to just keep pushing on the backlog, not getting too stuck on a single game like I have been the last few months... I am looking at you Space Run Galaxy.
---
On to the Games!
TerinHD's 03/17/17 Update!
---
| | | |
| --- | --- | --- |
| 1,349 Achievements (+14) | 7 Perfect Games | 29% Avg. Completion Rate |
Very interesting week or so... Monday was a very relaxing day at work and then Tuesday a snow storm rolled through, giving me the first snow day of the season! pretty crazy in real life. I have also been thinking about my desires to get through my backlog and the issues I face with that. I think I need to stop entering for games on Steamgifts... woah drastic... I know, I guess I could just go for games on my wishlist after I really crop it. I just think it will stop the inflow of new games so that I can focus on what I have. I have probably thousands of hours of games to play just in my steam library. I think it will be hard to stop though...
With all of that here is my question for the week, if you could select one game that every gamer should experience what game would it be?
My answer currently would have to be Kerbal Space Program. It is amazing and has so much educational value to it. It really helps someone experience the depths of our struggle as humans to explore even our solar system. Most of the time it is hilarious and ridiculous. Even if you never get your rocket in orbit, it deserves those few hours to purely experience the mayhem. But if you really get into it, you can lose yourself in exploring and learning. Of course it has its bugs and such, but the core gameplay is so rewarding when you figure out what you are even trying to do that it totally absolves the game of it's flaws.
---
TerinHD's 03/08/17 Update!
---
| | | |
| --- | --- | --- |
| 1,335 Achievements (+110) | 7 Perfect Games(+1) | 29% Avg. Completion Rate(+1) |
Another fun week and a bit more... I am a bit late on this, I got the flu and I slept 50-60 hours over the course of Wed-Fri. Feeling much better now, but it let me just focus on a game on Saturday when I started to feel better. I really just consumed it. So that was fun, been really looking at my format on here and I haven't been happy. It has been good, but I just feel like there was a more elegant way to show what I have been up to so I update my format here.
I found this guy
as I was working through my newest format here, figure I could use him... to show when I am really excited about something for some reason or another. He is from one of my most recent conquests, Steamworld Heist. He is a diver, and only speaks in "blubs". I just was really drawn to his character as I am currently listening to Moby Dick on my way into the client site sometimes (into work - 1.5 drive). By the way I use Libri Vox to listen to old public domain audio books, it is truly awesome so think about using it!
With the new format, my question(s) are how do you like the new format? What other information would you all like me to share on each game I come across?
---
25% never played
25% unfinished
25% beaten
25% completed
I JUST WON THIS ON STEAMGIFTS THIS WEEK! I am so excited, I found it via NorthernLion the youtuber... like about a year ago and his video here:
I can't wait to get into this game, but I have decided to try to get through Nova-111 before I dig into it. Just so I can move my steamgift wins along in playing them.
SO Excited for this!!! Have more of this face:
So I recently started playing this as I just won it. The concept is pretty need, it essentially boils down to a pipe/water flow game where you have to create the path through the board in the quickest amount of time. This has some appeal to me, but I find it a bit clunky for what it is. I don't know, there is just something about it that is a tad bit off that I am not a fan of. I will figure it out at some point and verbalize it as I play the game more.

So this is the game I just consumed on Saturday/Sunday. It took me about 16 hours to play through the entire game, I found it to be a decent ARPG. The story was very blah, simple. It had a ton of action though, and plenty of different ways I could have built my character. I decided to take a brawn approach with my character (side note... I have been doing that a lot recently... my most recent Skyrim character has been brute force kinda guy and my couple newest DnD characters have been Barbarians). This maybe where I struggled a bit, as I tried to max/min the character to a bit but still tried to get as many achievements as I could. This could have definitely tainted my experience with the game.
Overall, I think the game controlled great, never cheated me or anything of that nature, and definitely had a fluid nature. I absolutely adored the fact that I could send my ghost back to town and she would just sell all my crap loot without the need to stop play. I think that is something more ARPGs could handle better, is the amount of loot you attain. But with that being said, I never had that ah ha moment where I just felt like a badass that could slay anything in my path or that I really accomplished anything in general. That with its perceived that it had a shallow system of progression melee or range with a few different types of kickers with the perk system. That's why I would give it a 3/5 stars, but if you are looking for some loot grabbing, enemy smashing, you could go much worse than Van Helsing here.
Short little top down shooter here, much in the vain of Hotline Miami. It was very fun to go through at perfect this game. I completed it a Sunday 02/26, and spent about 5 hours with it.
The game controls just fine after you get through the awkward first phases of understanding the control scheme. At the start I really hated it, why did I have to just pull back the hammer of the pistol or pull the bolt on the rifle all the time. But after sometime with it I really enjoyed the controls as it really let you feel like the old west. I think that is really where it shines in my opinion is getting the player wrapped up in the setting. This is not without it's downfalls however, three main ones. The first is the art style, this comes as a double edged sword. I really loved the visuals of the game, the pen and paper feel is crisp and fresh. However, one of the huge downsides is the lack color as a descriptor for enemy/friendly. I think if the enemies were a different color and the pen and paper feel was simply a dual tone between the two it would help the gameplay out completely. The second and third major downfall are tied hand in hand, there was a lack of depth to the game and no difficulty progress. I usually felt myself dying just because I didn't see an enemy because he blended too well into the scenery, more than me dying simply because I made a stupid mistake. Bah, the art stuff with the enemies could play into my immersion the game brings...
I did find one game breaking bug along the way however, which further holds it back as well... The rifle would give me infinite ammo. This really jarred me out of the immersion that I had grown accustomed to. The bug came with a nasty visual sore that I got a screenshot of:
Overall, I really enjoyed the game. But it's flaws really hold it back from being a really great game. I think a few tweaks here and there and a sequel could be a true competitor to Hotline Miami series. With that, I would give it a 3/5 stars and I would recommend it if you are into the Hotline Miami type of gameplay with a bit of Red Dead thrown in for flavor.
</div> </div> </div>
TerinHD's 02/24/17 Update!
---
| | | |
| --- | --- | --- |
| 1,225 Achievements (+11) | 6 Perfect Games | 28% Avg. Completion Rate |
Wooo a fun week! Not as much time to play steam games... but I got some time in this week. So it's going to be a short list of games played this week. Been playing a lot of Pokemon GO as Gen 2 came out, have yet to get a Larvitar... :( Spent all day Monday playing it, I have 44 of the new pokemon caught. Waiting on a few more good pokemon to do a mass evolution.
With all this, do you play other games outside of steam? What do you all play?
| # | Game | Achievements | Playtime |
| --- | --- | --- | --- |
| 1 | SteamWorld Heist | 40% (19 of 47) | about 21 hours |
| 2 | Starward Rogue | 6% (3 of 49) | about 5 hours |
SteamWorld Heist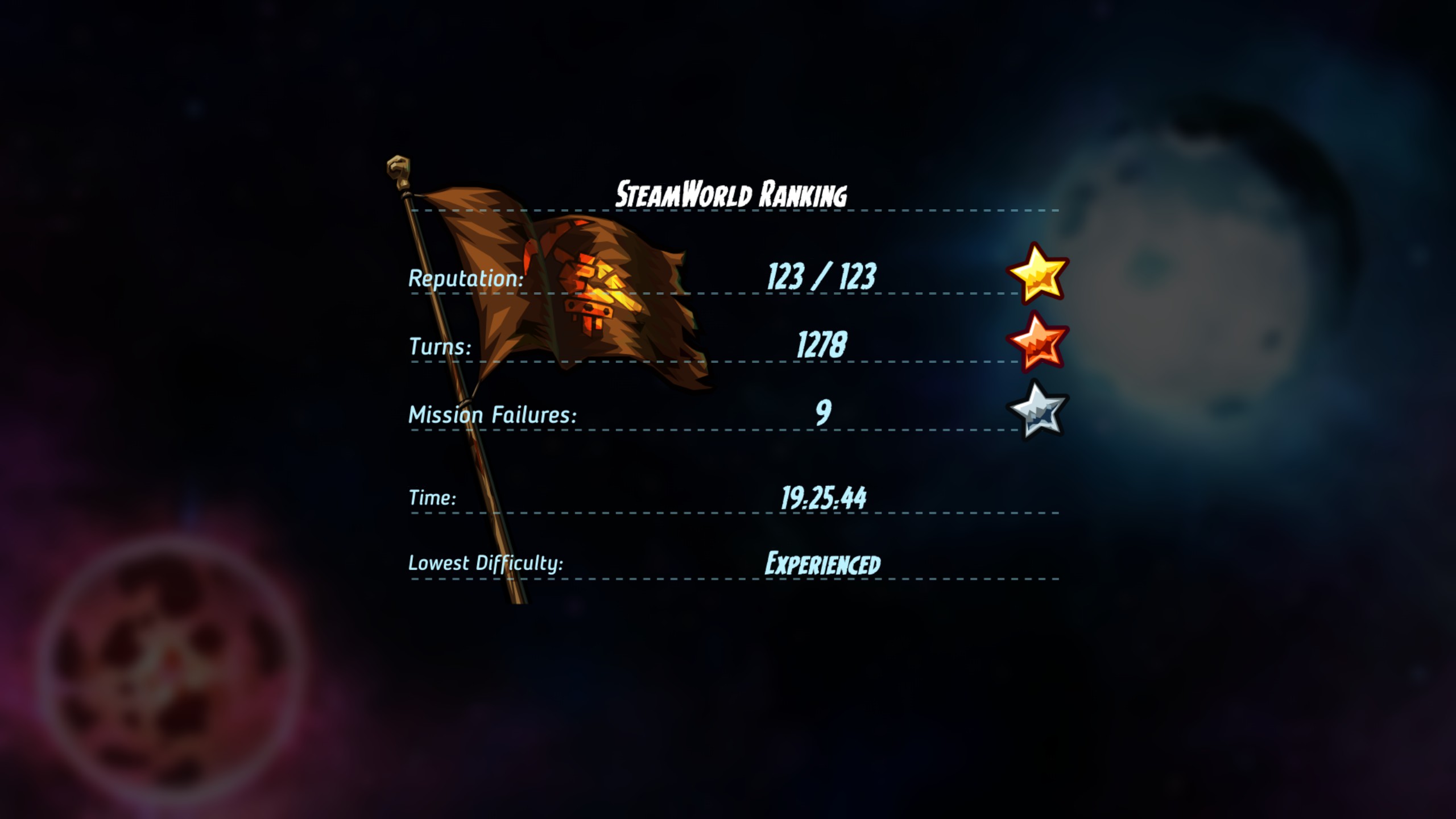 I AM STILL LOVING THIS GAME! But I beat the game with all Gold Stars... :D I definitely need to go through and beat it on a harder difficult but I think it is time to move on for the time being. I like the humor in the game, and the references in the game. The boss battle at the end was rather intense and very satisfying. I have a bunch of achievements to attain in the future on this, I am pretty sure this is one of the games I will never get a perfect in but it is a really satisfying game for me.
Thank you EvilBlackSheep for the game!
Starward Rogue
Played a single run in this... I took a terrible risk that didn't pay off. I was curb stomping took a risk that cost me 9/10 health to bring my damage way up... well 2 rooms later. BAM, Shield down... tons of bullets coming my way... and then death. Anyways, this is my random pickup game for a quick match game when I don't want to invest a ton into the game. It is really good for that.
TerinHD's 02/17/17 Update!
---
| | | |
| --- | --- | --- |
| 1,214 Achievements (+16) | 6 Perfect Games | 28% Avg. Completion Rate |
Another tough week on my personally, but good news! Pokemon Go Gen 2 came out recently... this will put a bit of a hurt on my progress here. The upside is that I will be out getting some exercise. Steamgifts has been great, recently bought the Freedom bundle for everyone else. I think it went pretty well, I also picked up a couple games via winning them. As far as games I have been doing great on my oath to not buy any new games for myself... the only issue will be Horizon Zero Dawn... it looks soooooo good. Bah... guess it has to wait. Hopefully my wife gets some hints and buys it for me... :P
So here is my discussion topic for today... What game in the near future are you most excited for?
| # | Game | Achievements | Playtime |
| --- | --- | --- | --- |
| 1 | Starward Rogue | 6% (3 of 49) | about 5 hours |
| 2 | Mars: War Logs | 71% (10 of 14) | about 9 hours |
| 3 | SteamWorld Heist | 17% (8 of 47) | about 11 hours |
| 4 | Supraball (closed testing) | 8% (6 of 79) | about 7 hours |
Starward Rogue
Working through this slowly... the roguelike aspect of it makes it great for a quick game if need be or playing as I am watching youtube or something along those lines. I really enjoy this one, it does still have its issues.
Mars: War Logs
I finished this up. It was a very simple and repeative game. I would classify it as competent but not necessarily fun.
SteamWorld Heist
I AM LOVING THIS GAME! It is so much fun, like a 2D Platforming XCOM of sorts. THe progress seems fine so far, I am only in the second section of the game but it is really great. It is so satisfying to have Sally go off and kill like 5-6 enemies in a single turn.
Supraball
Marking this as "Won't Play" because the community is dead and there isn't much for me to do in game. No way to get achievements either...
TerinHD's 02/10/17 Update!
---
| | | | |
| --- | --- | --- | --- |
| 1,198 Achievements (+15) | 6 Perfect Games(+1) | 28% Avg. Completion Rate(+1) | 56% Steamgifts Beaten |
This has been a better week for me on a personal level, but as far as video games it has a pretty lite week. I only got in about 10-15 hours of game time, which is a bit disappointing. But in the overall scheme of things it isn't a big issue. As far as wins, I was so excited that I got Steamworld Heist this week off of Steamgifts. Really freaking excited about it, I haven't started it but I fully expect to this upcoming week.
This leads me to the question I have this week for all of you, what game have you been most excited about winning in Steamgifts and why?
| # | Game | Achievements | Playtime |
| --- | --- | --- | --- |
| 1 | Knights of Pen and Paper +1 Won on SteamGifts | 100% (42 of 42) | about 40 hours |
| 2 | Nebula Online Won on SteamGifts | 37% (10 of 27) | about 7 hours |
| 3 | Starward Rogue Won on SteamGifts | 6% (3 of 49) | about 5 hours |
| 4 | Tower Wars Won on SteamGifts | 9% (3 of 35) | about 4 hours |
| 5 | Mars: War Logs Won on SteamGifts | 14% (2 of 14) | about 1 hour |
| 6 | Life is Hard Wait for Patch/Updates Won on SteamGifts | 27% (11 of 41) | about 2 hours |