creedocide's profile
Not an achievement hunter, would be content just to finish most of my games, the really good ones will get the extra time. Sticking to an attack plan, making that list might just be the little nudge that is needed to push me on the right track.
My TV-Shows : Site doesn't allow much customization for the public profile, lots of great ones not showing up there. Some of them: Westworld, The expanse, Stranger Things, Atlanta, Quarry, Black Mirror.
Spotify: Nothing organized, just random songs that get stuck in my head.
---
Update #6 - Another month over
Crysis 2
⏱ 5.5 hours - 🏆 -/-
It was a great fun playing though this sci-fi/action FPS. A lot of things are done right (graphics, gameplay, different approaches, story), sadly more linear and no longer open world as the first game. Couldn't play the steam version, my AV was going nuts. Worked fine on Origin.
---
Abzu
⏱ 1.5 hours - 🏆 4/12
Beautiful ocean exploration with wonderful orchestral soundtrack. Wouldn't consider this a game, it has no difficulty, clear narrative or challenges. Simply put, it's a swimming simulator that works well as a relaxing experience.
---
Plans going forward: The Witness and Jotun are on the shortlist, haven't decided on anything else yet.
Mid-Month update
Finally finished story mode, half the time was spent on the last boss. After one too many runs repeating the same actions mindlessly I've decided to give in and switch to easy mode (which I barely managed to beat, damn rats).
Voice acting, music and the general atmosphere is great. The encounters and storylines are interesting, when you are seeing them for the 100th time the texts and animations become time-consuming annoyances. Would have loved an option to skip them entirely or at least speed them up.
Difficulty scaling felt off, jumping from effortless to frustrating on the last mile. Presumably, the game expects the player to revisit earlier levels and the endless mode to gradually improve gear and the encounter cards. Didn't went that route myself. Don't mind the challenge, however, it had plenty of non-RNG frustration. Most significant being the introduction of QTE for the final boss where a mistake is an instadeath, was playing on the couch with the lights turned off, rip that run. Spent the last hour watching twitch streams while replaying the first two levels until lady luck rolled me an early "Nymphs of the Sweetwoods", that gave me plenty of time to gear up for the final battle.
Even with its faults, it deserves a recommendation.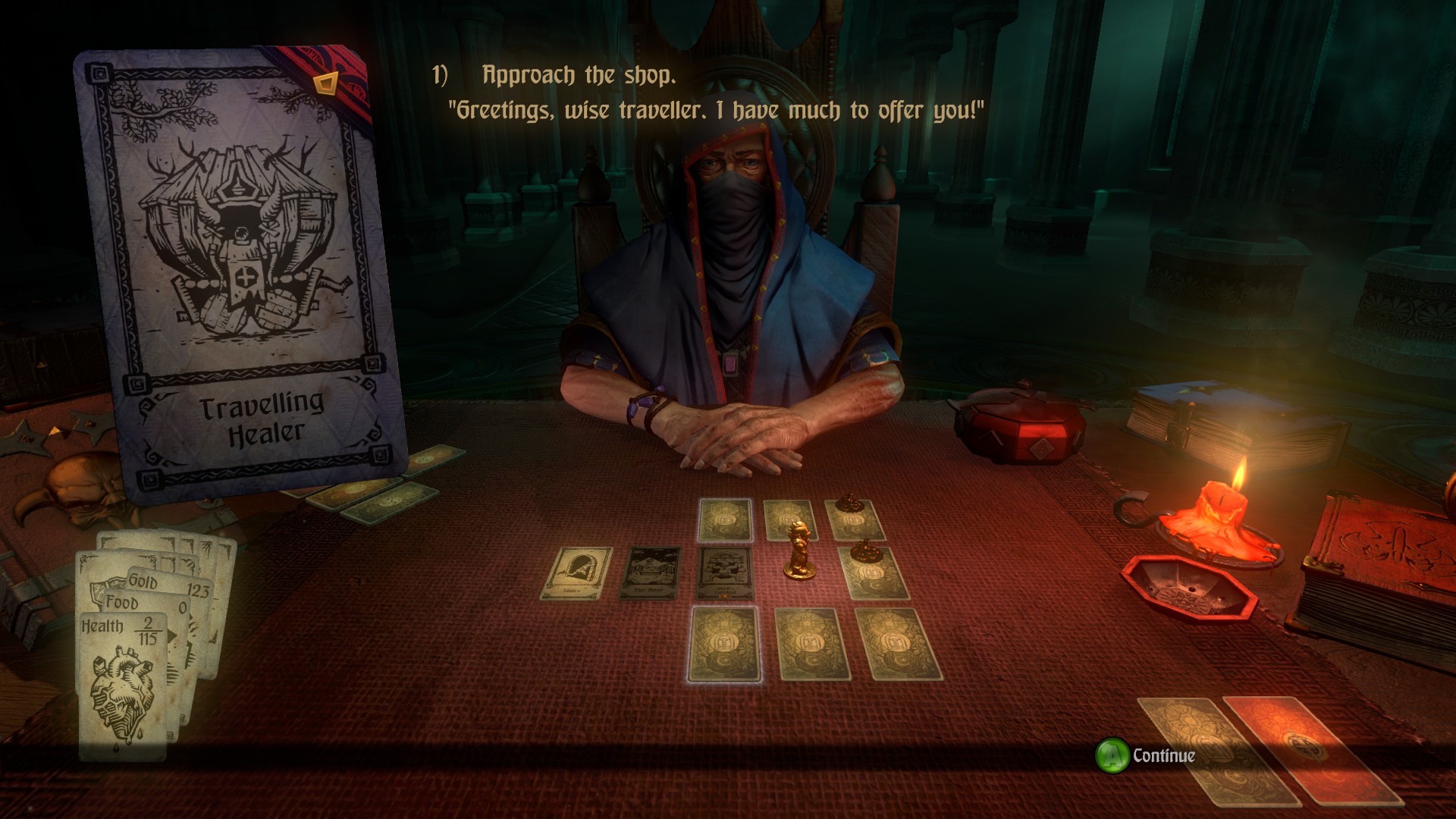 That moment when you reach the shop with 2hp
---
Fast paced, polished and fun platformer with a good story. You will journey through beautiful environments with your special suit to track down your uncle. A combination of jump,power jump,sprint jump and grappling (up to 3 charges) are used to complete the stages.
Apart from my single achievement, didn't face any difficulty throughout the game. I'm guessing the real difficulty lies in those, luckily I'm not a completionist. Would have loved more variety from the levels/puzzles (apart from the falling boxes and eye of danger, nothing really stood out), its great mechanics felt underused.
It is really short (around ~2-3 hours, not sure, played some in offline mode), quick assassination is guaranteed!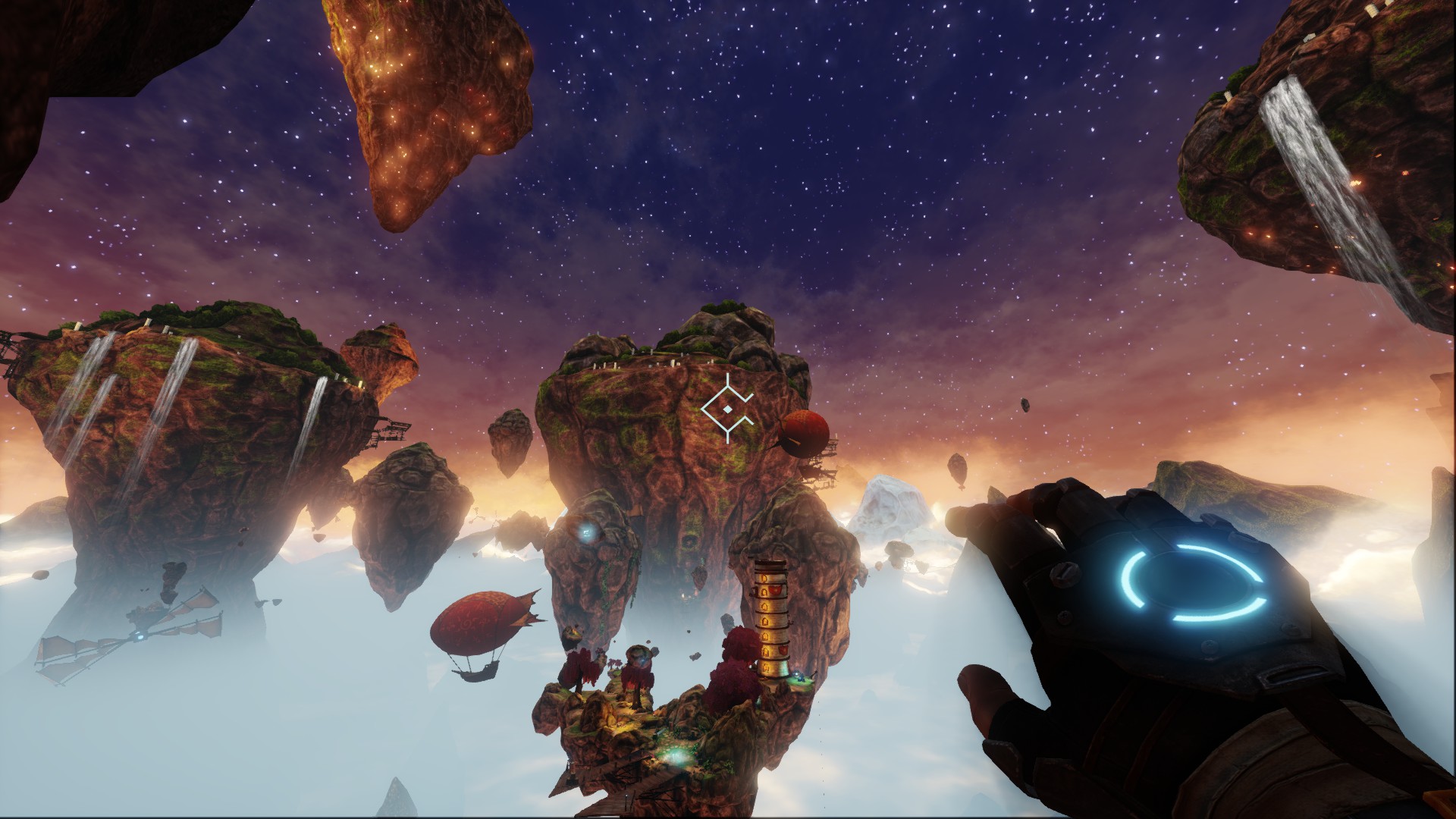 Beautiful environments to grapple and jump around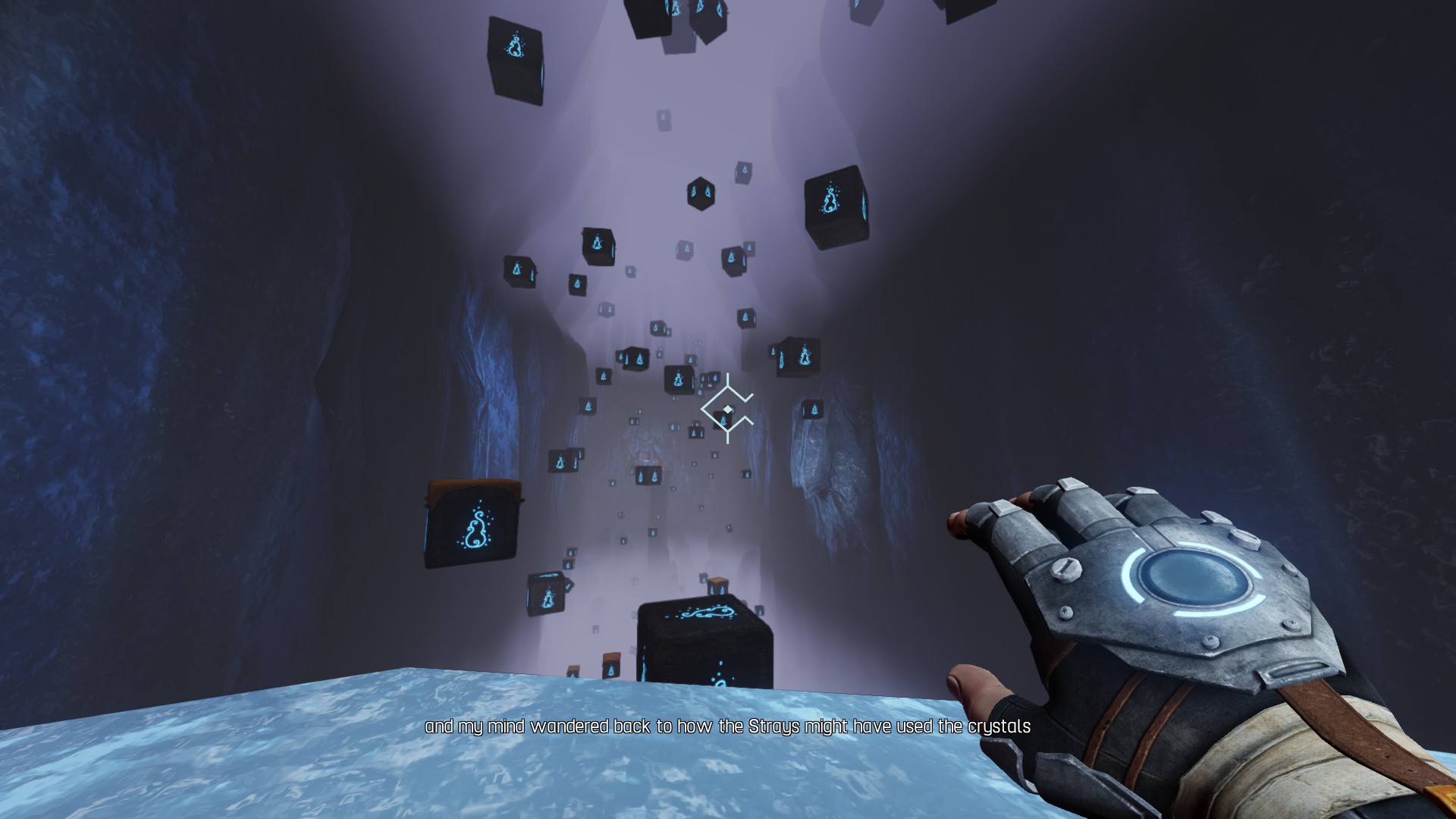 Loved this part
---
In this neverending B-movie you play the role of detective Tex Murphy, who wakes up with the last 7 years erased from his memory. Contains many puzzle elements, but the main focus is the story, playing it in casual made it felt like a visual novel. In this mode the flashlight will reveal essential objects, hints are available via the menu and puzzles are skippable after a period of time.
Puzzles came in many variations but felt unsatisfying for the most part, jokes fell flat, and the ending was unsatisfying( obligatory save the world, turns out and you don't need your memory back as in the past 7 years you turned into a horrible person).
Never played the previous games, can't call myself a fan (presumably where most positive reviews come from), my strong backlog clearing will was the only thing that made me push through it.
Lots and lots of cutscenes
---
Been playing a lot of Paladins on the side, it's a broken game held together with duct tape. Hi-Rez is dedicated to breaking it, even more, one patch at a time. As long as you have friends to joke around while playing, it's not the worst way to spend a Sunday. I'd never launch it to play alone.
Extra games for february
Wasn't the most productive second half, but managed to squeeze a couple games in.
Very polished third person adventure game. Runs very smooth and looks beautiful, heavily relying on QTE gets repetitive but it didn't bother me much as the game is relatively short at only 6 hours. Definitely enjoyed the game and time well spent, quickly followed by re-watching my favorite scenes from the Gladiator.
The last boss left me disappointed, didn't manage to beat the game with the suggested method (couldn't get consistent counter-blocks), eventually won rolling around a lot.
---
Got a Double Dragon vibe from the gameplay trailers, holding a special place in my memory from arcade days made it a must-buy (must-get?). Challenging, especially towards the end (downed the difficulty after getting frustrated). Would have been even better with friends over to play with (wouldn't mind a co-op replay). Pixel graphics is not my cup of tea, that said it looked more than decent on the TV, the soundtrack is excellent as well.
Highly recommended if you enjoy retro beat-em-ups like DD or Streets of Rage.
---
Far Cry 3 [ ⏱ +3 hours - 🏆 x/x ]
According to HLTB (- current playtime) there were only 3 hours left to the main story. Finished the last couple missions and finally saved my friends. Ran into a a small unretrievable objective glitch.
In Proress:
GemCraft - Chasing Shadows: Looked simplistic at first, after a few hours new customization and features are introduced and it's a lot deeper than previously perceived.
Activated a bunch of new games from trading and bundles, plenty of games to play, these made the shortlist for the upcoming month: ABZU, Crysis 2, Hand of Fate, A Story About My Uncle and The Tesla effect.
Mid-month update, with new additions
Games were a bit shorter than expected, got through them fast. Will focus on the new additions for the rest of the month.
The first game I've gifted on steam, still the best co-op game we've played.
It's aged really well, just as enjoyable as the first playthrough. Considering going for achievements just to unlock additional lines of dialog. Four years passed since my last experience with Portal, even with my terrible memory puzzles clicked almost instantly. There are 83 developer comments in the game, not sure in what ratio are they divided between the single player and co-op part. Their focus is the reasoning behind design choices, modifications that were made based on their initial play tests.
Initially bought it for the multiplayer on a good deal, but lost interest quite fast. The campaign was a really good experience, fast paced gameplay, great graphics and voice acting (feat Kevin Spacey, Troy Baker). The story is predictable, lots a QT events and explosions, it felt like watching an action movie.
A lot better than the overall score might suggest.
In Shelter 2 you play a mother lynx and experience the circle of life. Had to restart it a couple of times but eventually figured it out and made it to the end (with 2 cubs surviving, wolf attacks and crossing a frozen lake resulted in casualties #sad). The art style and the soundtrack's beautiful, the emotional impact is there (not as strong as some reviews indicated, this is subjective). Enjoyable for a playthrough, the positives outweigh the repetitive and limited gameplay.
Complete challenges in an open-world to level up your license, the burnout license being the top one to complete the game. My main focus were the races, while each one starts out at different spots, every one of them ends at the same 4-5 location, not a challenge once you familiarize yourself with the map. Played road rage (take down x cars) and marked man (go from A to B while staying alive) events to make up any missing points. Didn't do much stunt runs as those were the most punishing.
Apart from the horrible fixed camera angle (had to wedge a coin on the "home" button to force a better viewing angle) and somewhat repetitive races (events reset after each license, you complete the same events with different cars), a really good arcade racer with lots of content.
New additions:
Got the first tier bundle for Enslaved, and managed to trade for Abzu and Ryse: Son of Rome.
Also bought the humble monthly just to trade it, no idea why Warhammer has such a high trade value/demand, some are paying the full monthly price for it on steam trades. I'll get the rest of the games for free (minus fees, went for keys myself). Not a bad deal at all.
January mission accomplished! (Sort of)
Barely finished with the plan (made a separate post for metro), watched a lot of great CS games during the major, grinded some hearthstone gold and introduced a few friends to paladins, overall little to no time was wasted on the never-ending games. My thoughts/impressions:
This is a great point-and-click fantasy adventure game to play before bedtime, the puzzles are easy (except for a few rare occasions), the story might be cliche, but the way it's delivered (with great voice acting, dialogue, lots and lots of humor) makes it a great game. Guaranteed to put you in a good mood. The second part is getting a bump on my wishlist.
Once my interest in the show faded (there are many better shows to watch, my TV backlog is at ~300 episodes), the same happened for the second part of the game. Not looking at the game as a fan of the show, the flaws are starting to show more, a lot about the story is poorly written and feels forced just to advance the game into a direction. Clementine is the centerpiece of the game(again), and they do a good job at eliciting empathy. At one point or another every character in the game blames you/clem for everything, this 11 y.o. girl that does everything for her group seems the be the root of all problems. The story is a step-down from the first one, still worth a playthrough if you enjoyed it.
Simple mechanics, cruising though the game without any difficulty, only to ramp it up to puzzles and anti-cubes that don't seem to have any clues. There is no middle ground. The navigation system does not help.
Done with the story and won't be returning for more, can't say I enjoyed the latter part of the game once the rotation mechanic got old.
Unplayable. It looked good on steam with good reviews on first glance, didn't notice that it doesn't have single player, would have checked steam charts otherwise.
Only one active server with 6 players, not even possible to play if the other players don't accept the challenge for a duel. Being multiplayer-only, this is as close as you can get to a dead game. Mistakes were made.
Plans for the upcoming month:
The latest SG win (Shelter 2 - 2h), my puzzle solving skills paying off.
A replay with developer commentary (Portal 2 - 9h+), always wanted to replay this, and listening to developer insight should be fun.
And a couple that didn't get enough attention in the past (Burnout paradise - 14h and Adwanced Warfare SP - 7h). Can't remember if AW was dropped due to performance issues, will delay and switch if that's the case.
First game finished , yay!
The story and environment is well done. Performance issues despite being released in 2010, felt the frames dropping hard when multiple enemies appeared.
The game lets you progress to the next zone without buying gas mask filters. Rushing for the next checkpoint usually saves you, unless you are on the surface, in that case checkpoints will save but you will start out suffocating and dying within 10 seconds, tough lesson. At least I got that shiny weapon upgrade.
I usually sway away from anything that even hints at horror, but that post-apocalyptic itch needed a scratch. Overall a decent game that I'd recommend (Go for the redux version if you can).
Now the wait for F4 and that eventual PC upgrade begins.
Progress on other games
The Book of Unwritten Tales : 3 chapters down and really enjoying it , lots and lots of humor and fourth wall breaking jokes. The difficulty level is beginner friendly.
Fez: Around 40% done and it seems to overuse the same mechanic, the biggest challenge so far is the navigation, not the puzzles.
I just copied the code for the game header btw, if there is a syntax that generates those automatically someone needs to tell me.
Greetings Assasins!
I've decided to take a break from games that are huge time sinks (Burnt-out on Overwatch, CS hasn't had a content patch in 10 months), and work on that backlog. Looking to mix up the genres, in case I need to switch up. Finished categorizing, set up the steam category for the games (hid the rest), ready to hit that play button.
January plan focusing on SG wins, with an estimated 40h playtime (no info on blade symphony,not sure how accurate HLTB is).