the Traveler's profile
Hello, friend, and thanks for checking out my profile.
---
Like everyone else here, I've amassed games via bundles and sales. I prefer co-op games and heavy story-driven ones, but I'm also a fan of puzzles and niche oddballs. My overall game goals are casual and experience oriented rather than competitive and time-demanding. I'll try anything once though.
Aside from games, I also have a book backlog that I'm working on. Other interests that compete for my free time are: going to night school part time, hitting the gym 5-6 days a week, geocaching/hiking when the weather is good, and board games/escape rooms when I have friends available.
Always taking friend adds. Also interested in joining online games for completion. I am in GMT-5 and generally only play after 8 PM for a few hours.
---
Book-Game Challenge for 2019
| | | |
| --- | --- | --- |
| January | Orwell: Keeping An Eye On You | 1984 by George Orwell |
---
---
UPDATE 18 January
Sadly, I have nothing exciting to report this Friday. Again. I've been busy. Really busy.
I actually wouldn't have posted at all except that I had decided I'd try to make weekly posts here to keep on top of my backlog. So here we are.
---
Played:
I ran one Conan dungeon with my friend, which earned me another achievement towards completion.
Also played a few hours on Destiny 2. Just ran the weekly Flashpoint and a few Bounties.
That's about all the gaming I did this week.
---
Book-Game Project update:
I finished the book 1984 before I have even touched the game, amazingly enough. I'm pleased with that.
Next up is to actually play the game!
---
My area is forecast to be hit with a winter storm this weekend and the flu has been running rampant in my social circle, so my real life plans for Saturday have already been canceled. I do have school work to do, but I might have some extra game time coming up. Hopefully.
Have a great week, my friends!
UPDATE 11 January
I don't have a whole lot to report as far as my game backlog. It's been a week… with a nasty case of pink eye, night school classes started again, and so on.
---
Played:
Only played a couple times in the past week, one of them on my own as my friend is away traveling. Knocked out a couple more cheeves alone last Monday but haven't been online since. Have started prepping for the 'beating the game' quest though that is still a ways off from where I am right now.
In full disclosure I did briefly log onto a few games looking for screenshots for the ABC Challenge, but I don't consider that actual play time.
---
Book-Game Project update:
I have reinstalled Orwell: Keeping an Eye on You but have not played it yet. I think I'll wait until I've finished the book.
I am about halfway into the book 1984 though. Very easy to get into, and while it is obviously dated I am amused by how much Orwell did anticipate about the future. Telescreens = smarthome pods and Alexa? How cool is it that he conjured it up in 1949?
---
I did play another offline game this past weekend with three other people and we quite enjoyed it:
Co-operative card game based off of one of the old retro Choose Your Own Adventure books. While it has some additional gameplay mechanics in place such as varying levels of Danger and Psychic Awareness to manage and a smattering of luck via dice rolls to decide outcomes of actions (aided by bonus cards earned through Challenges), it still remained true to the idea of the book - it's broken down into chapters, you read story cards and are allowed to make story choices as a group. They even kept the font and art style the same as the books.
I think we all enjoyed it and stayed engrossed by the winding story. Chocolate milk and cookies eaten during the session also were engrossing.
---
I'll probably hop on Destiny 2 for a tiny bit tonight as it's Xûr day again. Beyond that, I don't have a solid weekend game plan at the moment. Just going with the flow.
Have a great week, my friends!
UPDATE for 1 January
Happy New Years to all and welcome to 2019!
---
I've been kicking around a new idea as a yearlong challenge, just to make things even more interesting for me. I am not only a member of this backlog gaming group - I've joined an online book reading challenge group for the next year as well. And so I've hit on the idea that perhaps I can combine the projects by choosing related items from each.
So to that end, my very first selections for January will be:
| | | |
| --- | --- | --- |
| GAME | Orwell: Keeping An Eye On You | est. 9 hours playtime (HLTB) |
| BOOK | 1984 by George Orwell | 328 pages |
Now I won't promise that all my matchups will be perfect. Due to working off this group's varying monthly themes and trying to tie my existing game library with my existing book library, it could be an exercise in creativity. In some cases they might only tangentially be related, perhaps by similar settings or genres. But I've already got a solid running list of possibilities and I think it could work. Talk about immersion, folks!
And so, my Assassin friends, it begins here.
---
Games played over the weekend:
Update 29 December
---
Holiday gaming
I'm back home now from my holiday trip. Needless to say, I did no Steam gaming at all this week.
The only game I did play was an offline escape room table top game with my family, and we had a blast doing it: all of us sat around my mom's kitchen table working together to solve the puzzles, wine glasses and mugs of cafe canela in hand after an awesome dinner of fresh tamales and tres leches.
Legitly chill Christmas eve, my friends, even if no pixels were involved.
---
I got a couple things from the Steam sale for myself, along with a handful of gifted games from good friends to add to my backlog. I'm not daunted; I'm a Backlog Assassin.
And on that note, I returned to see that my group membership acceptance came in while I was away too. I'm official! Thanks for having me.
---
New Years
The new year is on the horizon, and I know everyone is thinking about resolutions and goals for the new year. I'm not particularly a fan of new years resolutions, as I feel that right now is always the perfect time to implement changes and goals if you want to do such things.
And so I don't have any new gaming goals in mind as we head into 2019, as I think I'm already on a good track:
Finish Conan Exiles 100%. This will take a couple more months at least, at my rate of play. Once that is done, my partner for that game has already heavily hinted that she wants to 100% Stardew Valley together next. I own and have tried SDV, and it just did not click for me - I guess I'm just not really sold on planting and farming. I don't even like to do yardwork around my own house let alone on a game lol. So we will see how that goes.

Continue with weekly updates here, even if I don't have a whole lot to report. Posting keeps my mind from wandering, and thinking more about what I should play next.

Continue with the Monthly themes here. So far I've only selected one game per month and since that's working out well for me, I'll keep doing that.
Now if anyone knows of a BLAEO for books, please hook me up with that info… ;) (EDIT: Just signed up with a challenge group on LibraryThing)
---
That's it for now.
Have a safe and excellent New Years Eve, fellow Assassins! Keep slayin it!
Update 21 December
---
Completed:
Was more creeped out by Irony of Nightmare than I had expected to be. It was a cheapo bundle game so I assumed it'd be utter garbage, but I'm satisfied with what I got for the pennies it cost. If you've got it kicking around your account, try it late at night in the dark with the sound turned up for some holiday spooks.
---
Everything else I played this week:
On Conan I built Santa's Workshop for a friend as a Christmas surprise:
Santa's sleigh!
Toy workshop!
Winter lodge
---
Destiny 2: Spent one evening playing some of Destiny 2's holiday festival event. I got my Destiny Grimoire physical anthology in the mail this week having pre-ordered it back in September. Started reading, and have been in a mood to really explore on that game. Wish I had more free time available!
---
Sale
So far I purchased two DLCs as gifts for a friend, and I might gift another good friend Spellforce 3.
I have bought nothing for myself yet, though I have my eyes on Attentat 1942 and The Town of Light because the historical settings interest me and with super short playtimes I'm likely to finish them despite the 'life sucker' games I'm otherwise playing.
I am open to suggestions for story-driven/unique settings/historical/casual games with tiny playtimes though, if you've got any hidden gems. :)
---
I'm flying across the country this weekend to stay with family over the holidays. I have no intention of gaming while gone, so I'll probably be back to hitting the backlog after the new year.
I wish you all a happy season and a great new years!
Update 14 December
---
Newly acquired games this week:
Tombeaux: Could not resist, it's just a perfect storm of interests for me: based on real world history, an educational walking sim that lets you wander around and explore, created by one single guy under an artists program, and 100% of the profits goes to the charity this sim is based on.
Beat Hazard 2: Just was really wanting something similar to Audiosurf, which I was a big fan of years ago as a chill game for stressed out nights. Sadly Audiosurf is unplayable for me since I've long moved away from MP3s and instead only use streaming for music. Beat Hazard 2 was pricier than other games of its type, but it allows full access to music sources and it both looks and plays pretty good so far for being Early Access! Retinal firestorm and I love it, no regrets at all buying. See myself playing this a lot!
New World: Also got accepted into the alpha test for New World, being developed by Amazon (yes, that Amazon.) It's under a NDA so I won't be sharing much about it (though, hilariously, there have been leaks via PornHub.) I'll just suffice it to say that as I've been playing a whole lot of Conan Exiles in recent times, this game feels extremely familiar but with new clothing.
---
Everything else I actually played this week:
Viscera Cleanup Detail: Santa's Rampage: My Monthly Theme Pick, finished and 100%. Fun at first, gets repetitive very quickly. Might have been a lot more fun in co-op. I did enjoy reading all the letters left around, a few were good for a chuckle. Most likely will never load this game up again.
Conan Exiles: Still chugging along with my friend. Have not played it very much this week. A new DLC released but I haven't bought it. Next time we play I think there'll be a focus on dungeons and boss hunting, as those are the main achievements we seem to be missing yet.
7 Grand Steps: First on my ABC Challenge list, decided to install and give it a whirl one night. It's not too bad. Just a boardgame based on luck and very light strategy, you try to keep a family lineage alive and prosperous throughout the span of ages. RNG can be a devil, but I didn't find it overly frustrating. Putting it on hold as I have too much on my gaming plate right now to invest myself in all the game's instructions and rules explanations.
Destiny 2: Spent one evening playing some of Destiny 2's holiday festival event. I'd like to play it some more because you bake cookies for all the main characters essentially, but I'm not sure how much time I'll get to play before it's over.
---
Think that's all I've got to report. The rest of the month is spotty for me; will be flying across the country for the week of Christmas and so I won't have any playtime at all.
Have a great week!
Update 7 December
---
I had an off week: stomach bug for a couple days, a final for school, and other stuff going on.
All I worked on was my ongoing game with a friend and my Monthly Theme pick, neither of them finished yet.
Highlights of my playtime were the really nice looking looking house my friend made for us on Conan and after several attempts with heartbreaking topples, I finally got the stool jenga achievement on Santa's Rampage.
---
I believe today is when the Humble Bundle Monthly rolls out, so I'll have some new games incoming to add to the backlog. I'm ambivalent about it right at the moment.
Also signed up for a new Epic account with all the hype. I already own both free game offerings, but I guess I'd like to see real competition to Steam and so far I like the curation Epic has shown - no asset flip games, yet.
---
As I've seen several people around here do, I too created an ABC Challenge list with gifts from friends and wins. I can't see myself playing those games back to back, but I think I'll use it as an in-between suggestion list if I have extra time.
Have a great week, all.
Updating for 1 December.
Finished off a few small games this week. I did enjoy every one of them, despite them being very short and extremely niche.
Still chugging along with a couple games that I'm playing with a good friend to 100%. Also have played non-Steam Destiny 2 this week.
And have newly chosen my Monthly Theme game. It's one I bought years ago and briefly played with another friend for a few laughs, but we never 100% the game. So this time I'm going for all achievements so I can be fully finished.
Have a great week!
Small update. It's a holiday weekend here so my days have been a bit busy and I'll be going hiking this afternoon.
---
Going all in on 100%ing Conan Exiles.
Rented a small private server for my friend and I to play on – we started on a co-op game but it really limited me because I could never log on and play when she wasn't online. Plus the game keeps your character tethered to the game-save owner's character, which was a nuisance when you want to harvest crafting supplies. So I ponied up for the server, tweaked the server settings to be livable for a casual non-survivalist player like me (upped the harvest multiplier, toned down death penalties, slightly faster XP, etc) and we've set ourselves up with a pretty nice starter base along the river.
The long game with this is not only to 100% the Steam achievements, but (hopefully) finish off the game's Journal Steps and to officially beat the game. It will be a multi-month project since this is an open-ended game that I'm setting definite goals for.
But, we ran our first dungeon last night and had a blast too! Got our thralls killed though.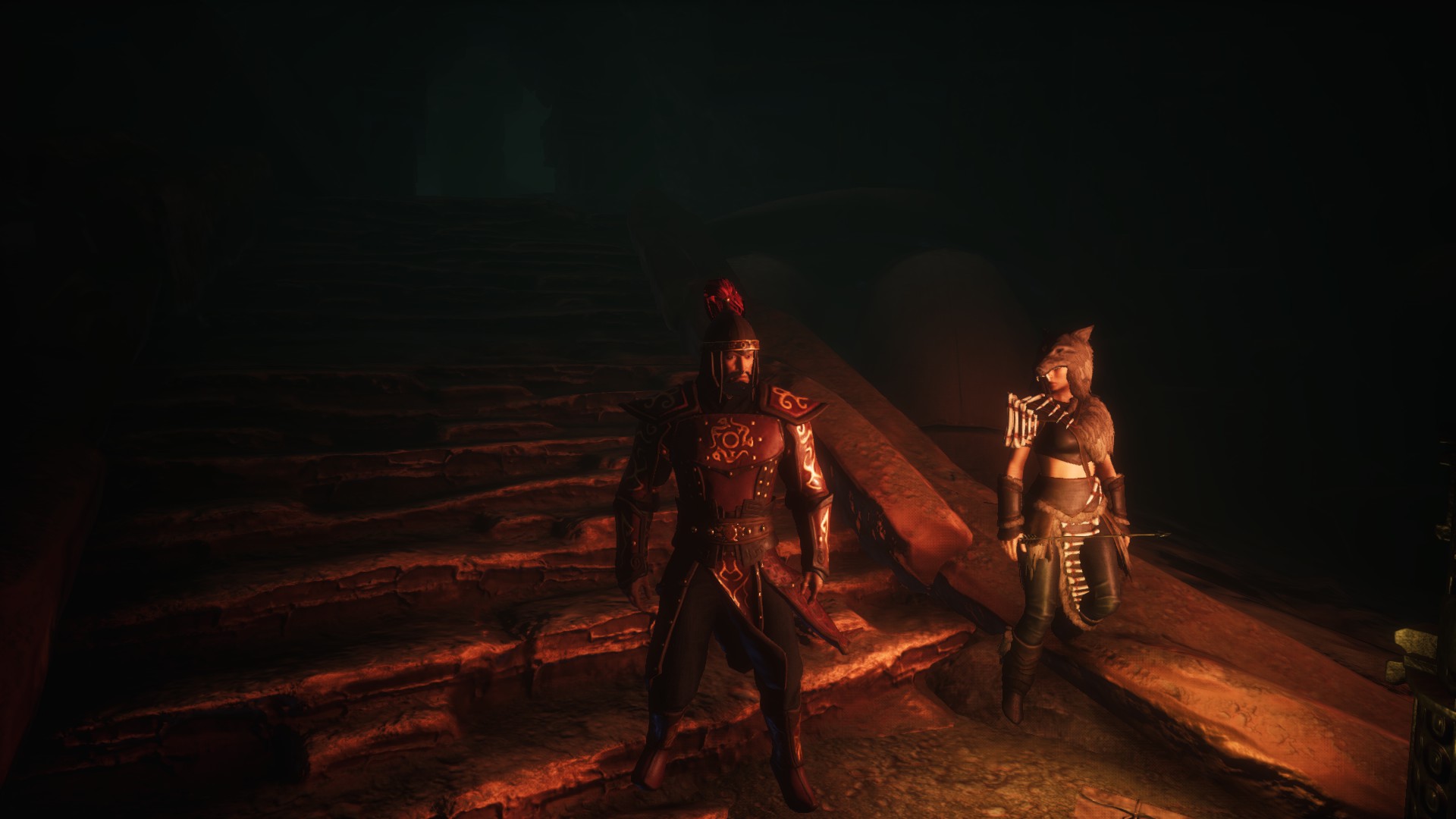 ---
So far, I have not been tempted by Steam sales. This is progress. I've seen a lot of cool stuff the folks on my friends list have been buying, and I may have wishlisted a couple things. But right as it stands my cart contains only two DLC for short games I'll be playing in the near future. [EDIT: Bought 2 DLCs and a few movies that were cheaper on Steam's sale than on Amazon Prime which is my usual streaming service.]
Feeling pretty good about this all, despite not having too much measurable progress to share yet.
Have a great weekend, BLAEOs!
Finished my Monthly Theme game and got around to topping off the saved game of a gift someone gave me a few months back.
Guardians of the Galaxy - love the movies, game was okay but I would not recommend buying it. Seasons 4 & 5 have some performance bugs that will never get fixed as Telltale Games is gone. Skip it and go watch the movies again.
Quell - was a birthday gift. I like casual puzzles. This one was fine. No gameplay problems. Music was nice and relaxing. Not sure about any sort of story behind it, just seemed to be straightforward puzzles. More a mobile game than one for PC, probably would 'feel' better if it was played with a touchpad.
---
Going forward in the near future, my plans are:
Playing these with one specific good friend.
I gifted her a Conan Exiles DLC recently for her birthday, so I think next time we play I'll ask her if she's down to play Conan more frequently so I can unlock the achievements to 'beat the game.' I'm sure she'll be fine with that. Conan Exiles is a game I've started and stopped so many times already, playing with different people for a few days and then setting it aside, even before official release (and it's why I'm missing so many achievements - achievements rolled out later on and were not retroactive, I've moved servers many times, etc.)
She also loves Monster Prom so I know I'll have no problem at all getting her to play that with me more.
---
I'm also playing Destiny 2 a lot lately with a different friend, which is non-Steam but I love it so much since the Forsaken expac. Just got this gun and I'm ridiculously excited to just tear sh*t up with it lol
I have so much to do on that game now and I always have fun playing it. Also the Black Armory content releases December 4th! Doesn't help my Steam backlog in the least but we all got to live some, right?
---
I'm not sure what else I'll be working on in the interim until the next Monthly Theme. It's a holiday coming up here and I have my hands full with an exam on Tuesday, going to gym and just keeping up with social and life responsibilities. Don't want to overschedule things. I'll probably plug away at either Destiny 2 or maybe Meadow when I'm alone this week.
Any Meadow players here? :)