the Traveler | ♥ to NZ's profile
Hello, friend, and thanks for checking out my profile.
---
Like everyone else here, I've amassed games via bundles and sales. I prefer co-op games and heavy story-driven ones, but I'm also a fan of puzzles and niche oddballs. My overall game goals are casual and experience oriented rather than competitive and time-demanding. I'll try anything once though.
Aside from games, I also have a book backlog that I'm working on. Other interests that compete for my free time are: going to night school part time, hitting the gym, geocaching/hiking when the weather is good, and board games/escape rooms when I have friends available.
Always taking friend adds. Also interested in joining online games for completion. I am in GMT-5 and generally only play after 8 PM for a few hours.
---
Book-Game Challenge for 2019
| | | |
| --- | --- | --- |
| January | Orwell: Keeping An Eye On You | 1984 by George Orwell |
| February | Conan Exiles | The Coming of Conan the Cimmerian by Robert E. Howard |
| March | Playne: The Meditation Game | Stress Reduction for Busy People by Dawn Groves |
---
---
Update 8 March
Progress on my book-game challenge:
Still going strong here. Just hit the achievement for a 14 day streak. I can't think of many things besides essentials that I do every single day without missing, so hopefully this is a good sign.
As an aside, the dev is very involved with the project and even thanked me for uploading screenshots from the game to Steam. This is a real passion project here.
As an FYI: previous months' book-game wrap-ups are linked on my profile page if you're interested.
---
BLAEO Monthly Theme pick:
I have had more people on my friends list message me about this game while I'm playing it than I can recall about any other game. Pretty much it always goes something like, "Hey that's an amazing game! It was so fun!" but apparently there's some mixed feelings on the sequel which I put on my wishlist.
---
Otherwise played this week:
So I've never had much luck with visual novels. Thanks to bundles and gifts I have a bunch of them and I've played a few, but despite liking story-based games and reading, none has ever made me think, 'wow what a great game that was.' I don't know if what I tried was just crap or if it's just a me thing. But I wound up cross referencing my Steam library with tsupertsundere's tsuper VN list and decided I'd try to work through those when I get time.
---
After some waffling on what to play together next, my Conan Exiles buddy decided to download Destiny 2, which she got free when the devs gave away the vanilla base game for a short while to PC players.
Played a good while last night together. No idea if she'll stick with it - I've never known her to be a FPS player - but she did pretty good last night in the short missions we ran together. Who knows.
---
Love to New Zealand ♥
Update 8 March
Progress on my book-game challenge:
This has been a really nice change of pace so far. I've been keeping notes for my wrap-up post on how my progress on Playne has been making me feel. While I was unsure at first about this type of "game," I've settled into having this be a part of my evening routine fairly well.
As far as the book, I've gotten two chapters in and so far there's only been a small bit of suggestions applicable for me personally. Will jot notes down for what I do try out.
As an FYI: previous months' book-game wrap-ups are linked on my profile page if you're interested.
---
BLAEO Monthly Theme pick:
Been a fun ride so far, just as I expected it to be!
---
Otherwise played this week:
I think we've said our goodbyes to the Hyborian Age, and I'll be shuttering my private server this month on Conan Exiles. It's been fun, but there's thousands of other worlds to see and experience.
I haven't loaded up Mountain since last year, and one night when I was pretty fatigued I just plinked at getting a couple more achievements. I had no idea at all that the devs had overhauled the game and updated it in the interim - it looks a lot nicer!
---
Have a great weekend!
Update 1 March
Going to kick off my post with my March 2019 book-game challenge :
| Game | Book |
| --- | --- |
| Playne: The Meditation Game | Stress Reduction for Busy People by Dawn Groves |
After a very hectic February, I decided that I'm really in need of some sweet R&R this month.
I'm hoping to find moments of peace and learn new skills for well-being with my selections this time around.
As an FYI: previous months' book-game wrap-ups are linked on my profile page if you're interested.
---
BLAEO Monthly Theme pick:
Will be disregarding multiplayer achievements, I don't have time for that.
---
Otherwise played this week:
---
Have a great weekend!
Book-Game Challenge for February 2019
To briefly recap, I chose to play and read this month:
| Game | Book |
| --- | --- |
| Conan Exiles | The Coming of Conan the Cimmerian by Robert E. Howard |
As a reminder, I am not doing straight up reviews of either the book or the game; you can find plenty of those easily online. Instead, my wrap-up posts are focused on how the two forms of media portrayed the same ideas and how they meshed for me personally as a consumer who enjoyed them concurrently.
---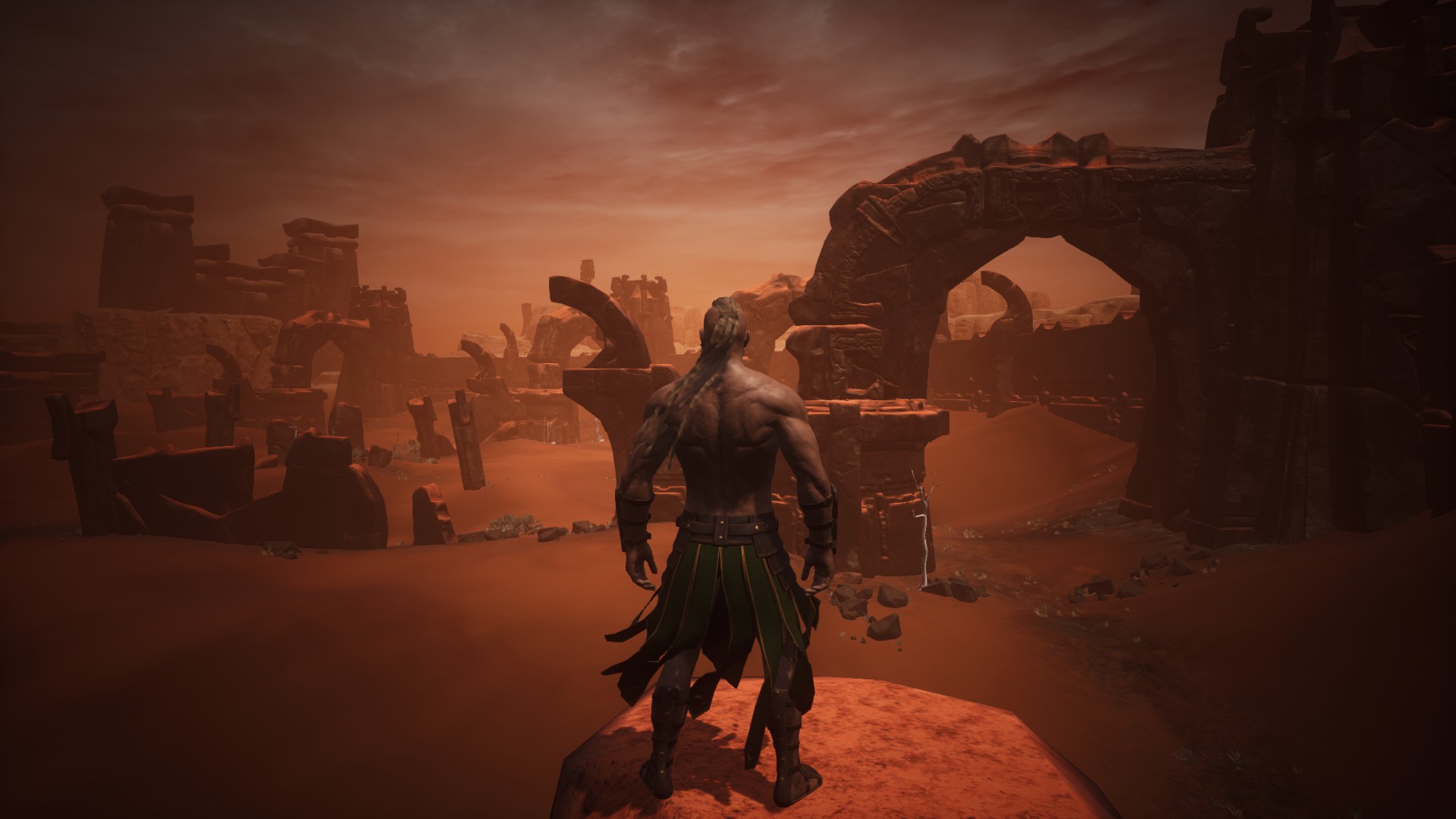 He stood, the one atom of life amidst the colossal monuments of desolation and decay. Not even a vulture hung like a black dot in the vast blue vault of the sky that the sun glazed over with its heat. On every hand rose the grim relics of another, forgotten age: huge broken pillars, thrusting up their jagged pinnacles into the sky; long wavering lines of crumbling walls; fallen cyclopean blocks of stone; shattered images, whose horrific features the corroding winds and dust-storms had half erased. - Black Colossus
---
Now just as a quick overview of both products for any reader who is not aware of their basic premise, courtesy of Wikipedia:
The Coming of Conan the Cimmerian is the first of a three-volume set collecting the Conan stories by author Robert E. Howard; the set is noted for presenting the original, unedited versions of Howard's Conan tales.
Conan Exiles is a survival video game developed and published by Funcom. The game is set in the world of Conan the Barbarian, with the custom playable character being rescued by Conan, beginning their journey.
---
Ah, Conan the Barbarian. The ultimate Gary Stu. How you've turned my head round and round this month with surprises both appealing and unfortunate.
As you're probably aware, Conan the Barbarian has been a fixture in popular culture for decades, having been portrayed by the likes of a 1980s Arnold Schwarzenegger on the big screen and just recently brought into the Avengers fold with Marvel comics. There's games and books, toys and Halloween costumes available for anyone enamored with the world's favorite loincloth-clad swordsman.
But what you might not know is his real origin: he was brought into existence by a man named Robert E. Howard, a 20-something regular Joe living in rural Texas in the 1930s, whose means of livelihood depended on selling fantastical short stories to the popular pulp fiction magazines of the time, notably one named Weird Tales. Howard is considered the father of the sword-and-sorcery genre, and while Conan was not his first heroic fantasy creation (Kull the Conqueror of Atlantis takes that title) he is by far the flagship hero. Howard's works are solely short stories meant for periodical publication; many ghost writers have since expanded on Conan's world and story over the following generations which attests to the character's wider appeal.
The world of Conan is brutal and bloody; this is not a setting for pacifists or utopians. While Conan himself seems to have his own rogue's code of honour, I knew going into this that I'd be addressing other issues along the way: violence, sex, slavery, misogyny and racism. Though it's not within my scope here to write a treatise on social equality, I would be doing a disservice to both works if I ignored those undercurrents as it is all so very ingrained in the setting.
---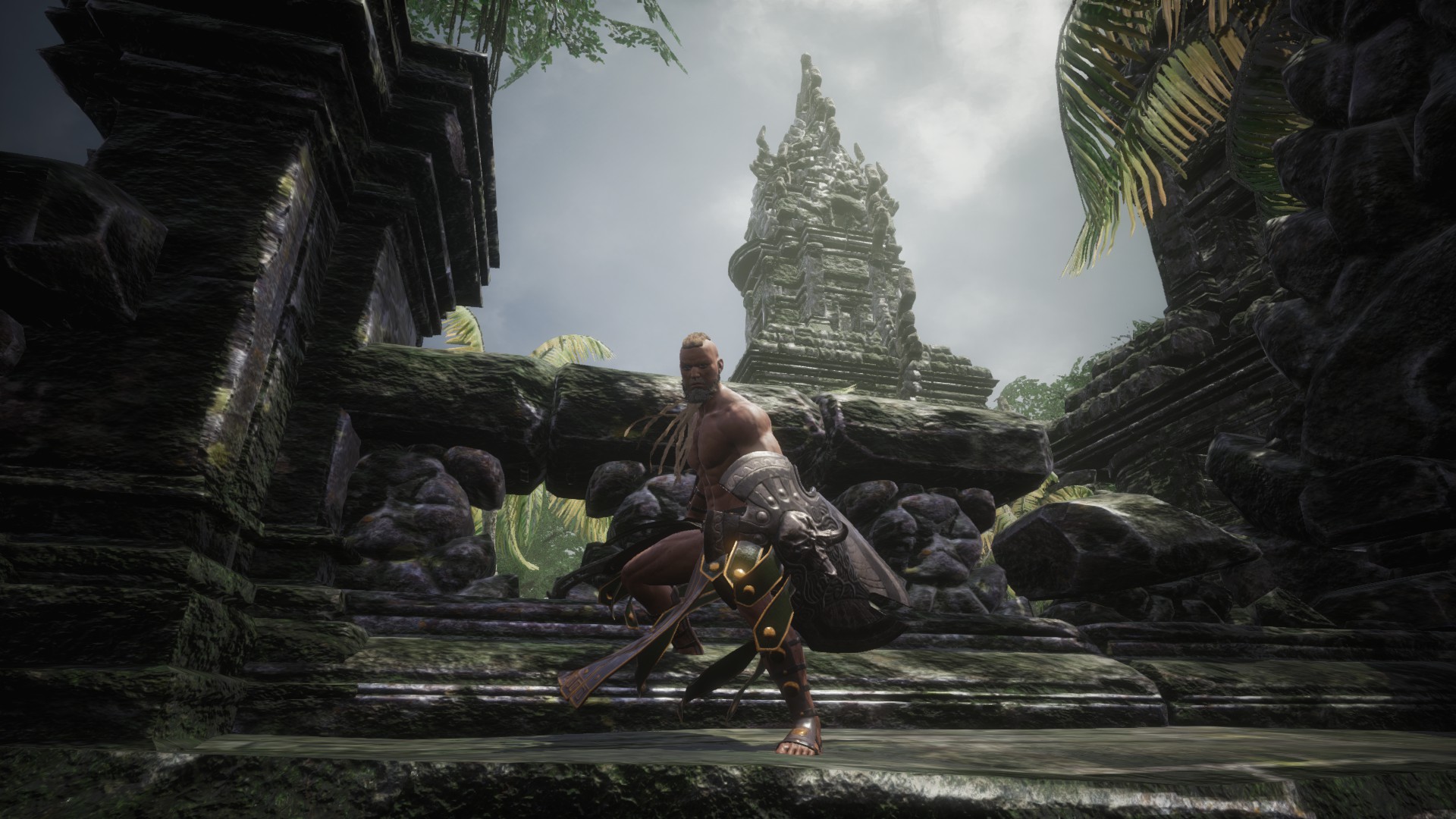 I climbed out of the abyss of naked barbarism to the throne and in that climb I spilt my blood as freely as I spilt that of others. If either of us has the right to rule men, by Crom, it is I! - The Scarlet Citadel
---
I'm going to start off by saying that I am neither a serial reader of mass market/genre fiction or a regular player of survival video games. So topically this month looks like it would have been a failure on both accounts, but by virtue of having a rich setting and talented world architects did I manage to remain enthused about my time in it.
And talk about vastly different beginnings to both! When I opened the book, to my very pleasant surprise it started off with a five stanza poem entitled Cimmeria; an ode to Conan's homeland. As a bit of a poetry nut I was quite happy by this, and the writing at the beginning of the first short story in the book started off quite dramatically and unexpectedly eloquent. It was truly a 'wow!' moment, as I guess I had been prepared to be tied down reading campy yarns this month. For all its later faults, I truly believe that Howard could have been quite a fine writer had circumstances been different - the man had an excellent grasp of vocabulary (dated now) and you could tell that he had probably been a longtime reader of other classics like Shakespeare. His short stories are vivid and energetic, and forcefully so. I suspect that had Howard made Conan a passion project ala Tolkien instead of a simple meal-ticket, his works could have been very different.
On the opposite end of the spectrum, the beginning of the game was completely unimpressive, and I imagine that's where a lot of players tend to wander off for more exciting worlds. You start off watching a mini CGI movie showing Conan rescuing someone tied to a cross, handing the victim an axe, and both of them fighting off monstrous beasts in a heroically savage melee. Conan then just walks off, leaving you to fend for yourself now freed. "Yeah! Right on! Ready to take on this world!," you think, excited by the bloody victory. After you create your own character avatar, you then are summarily plopped down in an empty wasteland of a desert completely naked with nothing to your name and no direction for what you do now. Maybe you pick up a few rocks or branches, or discover that you can take fibers from the sparse patches of grass. If you tinker around, you figure out that you can now latch a rock to a branch with those grass fibers and have yourself a crude hammer. What happened to that cool axe Conan gave you?!
But I have to say that overall, the theme of fighting your way across the world to greatness is probably the most Conan thing to do, as in the original stories you are constantly reminded that our hero pretty much wanders all over the place in nothing but his loincloth, sandals and sword and through sheer physical prowess and force of personality manages to go on to lead armies, become a king, defeat gods, and leave the most desirable women of the world swooning. The violence is gorey and wanton, like the man himself.
Conan is absolutely a male power fantasy in both literary and digital form. To paraphrase my female gaming friend who played along with me: when a male in Conan's world wears a loincloth, it displays his brawn and might, a warning to all who might seek to challenge him. When a female wears a loincloth though, she is merely sexy and something to be conquered.
Now to touch upon the underbelly of things here. Slavery is a fact of life in the Hyborian Age and Conan himself possesses slaves at various points in the original writings by Howard, though they never describe him as mistreating them. In the game, you can literally take a club and a rope and beat other AI human beings into submission - indeed, that's the only way you can craft certain special armors and weapons, by enslaving master craftsmen to your will. There was an ick factor for my friend and I when we started capturing slaves in the game, particularly at the beginning when all the human AIs you face are nearby darker skinned desert dwellers.
And here is the crux of my problem with the original short stories by Howard. There is no mask for the author's personal racism and because Howard wrote all his stories solely for publication to make a living, he wrote what 1920s-30s pulp fiction readers wanted to read. He frequently describes the most attractive women as being white (literally using the word), and the most foul of villains as black. At points he described a black male as having 'thick blubbery lips' and described a woman in Xuthal of the Dark as having 'yellow flesh.' Indeed, the entire story of Valley of Lost Women was one huge snowball of open disgust for black tribesmen, to the point where I set the book down and stayed away from it for a few days.
Thankfully I saw very little of that within the game (aside from the ability to select who you choose to enslave - all races are available for that) but then the game itself is quite light on story. As a player you really have to dig deep to piece together lore, as the main focus is on surviving the barbaric world and conquering the land.
What the books and game do best though is weave tales of heroic fantasy - Conan is in his element while fighting against demonic beasts with impossible odds, and making your way through a dark, half-sunken dungeon carrying a flickering torch in the game is pretty thrilling. Your adrenaline pulses along with the hero's as creatively outlandish foes rise from the depths of hell. That is the shining moment in all of this: the slash of steel, the poisonous fang, the spurting blood and grunts of pain. All vividly described and portrayed.
---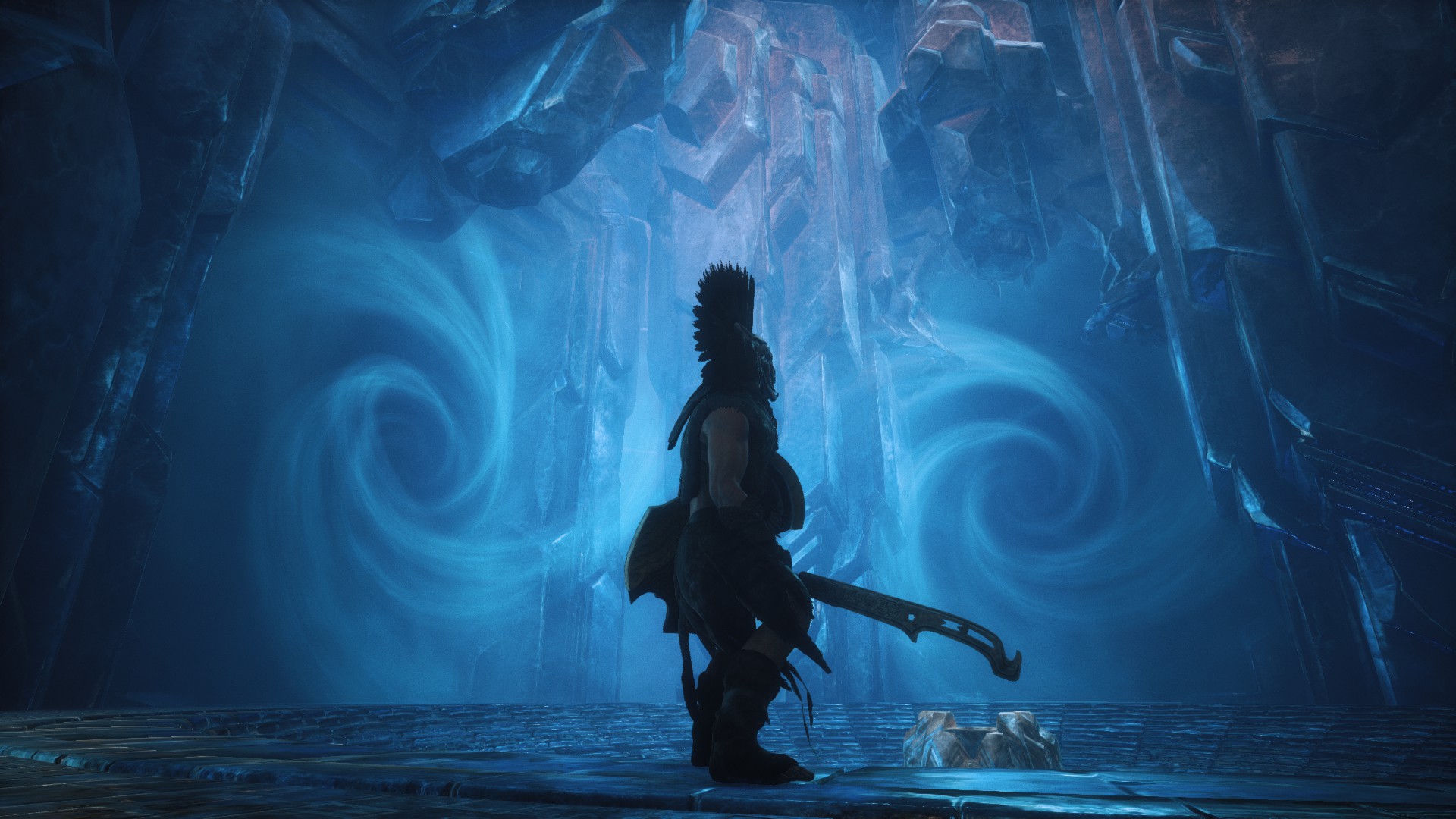 This was no longer battle, but butchery, frantic, bloody, impelled by an hysteria of fury and hate, in which culminated the sufferings of battle, massacre, torture, and fear-ridden, thirst-maddened, hunger-haunted flight. - Iron Shadows in the Moon
---
The most important question: was this worthwhile?
Yes. The book was more time consuming to read than I had expected it to be, mostly because I was going back and forth analyzing all the more questionable themes swirling beneath the otherwise unexpectedly enjoyable writing. At times I literally had to set the book down because it was just too much - and for good or ill, that type of reading always stays with me long after the cover has been closed.
The game is one meant for long-term play and I imagine that it'd be an amazing experience to play with quite a few people on a multiplayer server rather than just duo with one friend as I did, but the atmosphere and sense of exploration and discovery were my favorite parts while in the digitized lands of Hyboria. I do feel that the developers largely captured the feel of Conan the Barbarian.
---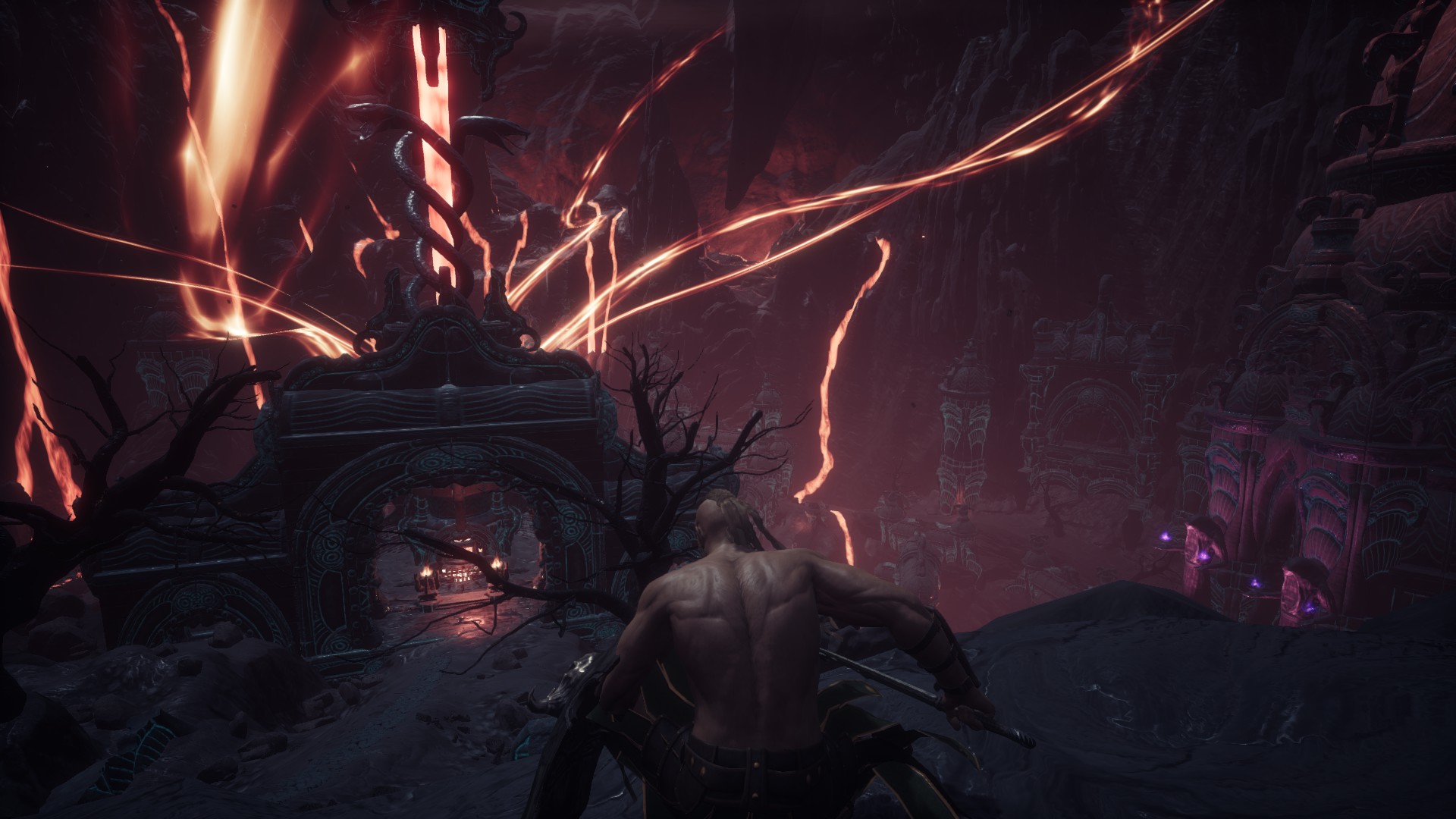 All fled, all done, so lift me on the pyre;
The feast is over and the lamps expire. - Howard's suicide note
Update 22 February
Sorry, this is just a short update this week. My mind's been elsewhere. Been one of those weeks.
Played:
I am officially considering Conan Exiles completed for purposes of the backlog as I have earned every achievement available! However due to its sandbox nature and because my friend still has things she wants to do on the game, I'll be playing it a bit longer as time and whim allows.
Chugged along on Gray Matter as much as I could. The story has become more interesting and I look forward to completion. Also have gotten a few nice screenshots from it - for a point n click there's some nice scenery.
I was gifted Slappy Ass on Valentine's Day (har har) and I played a round of Monster Prom with a friend.
---
Have a great week ahead, Assassins!
Update 15 February
Played This Week:
I took on a new themed challenge for adventure games from another group. Ran into a performance issue with my pick right off the bat though; the game would only recognize my integrated GPU on my laptop in its options, so I had to manually force it through the Nvidia control panel. Still getting poor FPS but since it's only a point n click anyways it's not really a gamebreaker.
Otherwise played a bit of:
---
As I was asked to post an update about my "Bob Ross at home" Valentine's date, here it is!
We followed a very beginner-friendly video, because we were both non-artists. It's called Grey Winter and only uses three colors. You can watch it free on Youtube here. Mine's on the left but as you can see, everyone interprets a scene differently.
Did not use the right supplies, Bob uses oil paints and we used acrylics and the cheapest art supplies possible. Also had to pause the video frequently as Bob moves quickly - though it was only a 27 minute tutorial, we were actually at it for about 2 hours lol.
But it was a blast and I highly recommend it for anyone considering trying something like this, especially if you're willing to just roll with however it turns out. We had a great time laughing at our mistakes and attempts to blend away clumsy globs of paint. Knew we wouldn't be making any masterpieces, so without that pressure it was just a cheap, fun time and Bob himself is a pleasure to listen to.
10/10 would do again if my date is up for a round two. :)
---
EDIT:
Oops. I totally forgot to add this and it's a significant bit of info here.
With all the scams/hijackings going around, I decided I was going to reduce my Steam footprint. I marked my SteamGifts account for deletion as part of that. My account is over 7 years old but frankly I'm not a particularly active member.
Hopefully this won't affect my BLAEO site membership and library, but if something happens then I'll just say thank you all for having me now. Just in case. Cheers!
Update 8 February
Finished out my Monthly Theme game already. Pretty much another Faerie Solitaire style RPG/Solitaire hybrid game. For some reason I can play the holy hell out of card games while on mental autopilot and this was no exception. No bugs that I found, straightforward casual play, not ridiculously challenging, easy to get into. If it was good enough for Felicia Day, it's good enough for me.
Screens showing the "cleaning" theme (or decorating rather):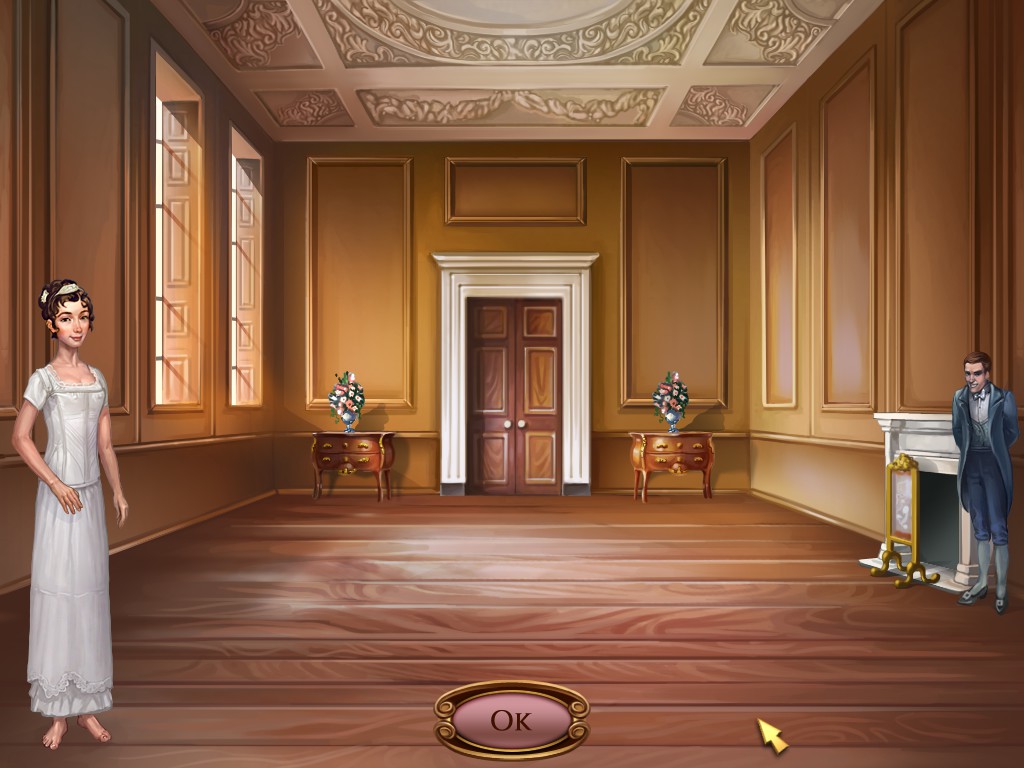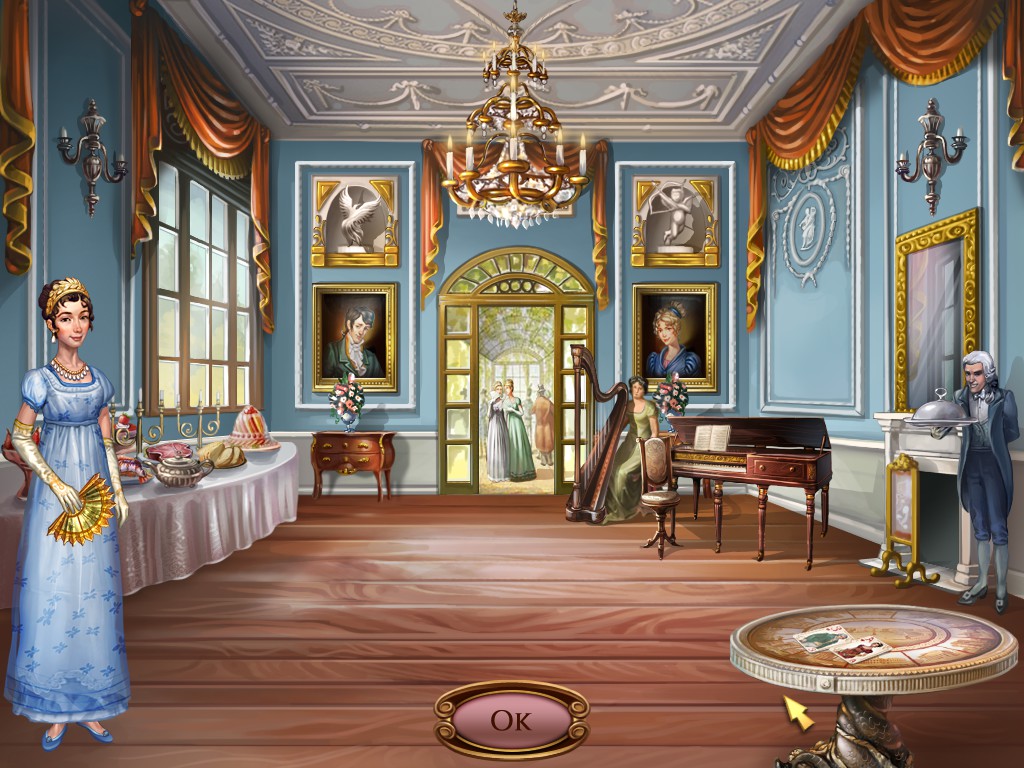 ---
Chugging along very slowly on my February book-game selection, but hopefully that'll pick up momentum now that my Monthly's out of the way.
My book-game potential match up list has grown by leaps and bounds too, and has become a mini research hobby in itself.
---
Hope to get a bit of time on Destiny 2 this weekend to mess around with the Valentine's event. Because nothing says love quite like a hand cannon blast to the face.
Off-topic, I got my Valentine's date sorted out. Going to do a Bob Ross + wine night at home which will be an experience for complete non-artists haha.
"We don't make mistakes, just happy little accidents." - Bob Ross
---
Hope everyone has a great week, a pleasant Valentine's, and lots of fun in your gaming adventures.
Update 1 February
Going to kick off my post with my February 2019 book-game challenge :
| Game | Book |
| --- | --- |
| Conan Exiles | The Coming of Conan the Cimmerian by Robert E. Howard |
Yep, I'm heading straight into another story and setting rife with controversial topics - but hey this one's got swords and sorcery and big scary beasts to slay! So I'll be off to enjoy the ride through Hyboria in both literary and digital forms, and be back here near month's end to wrap up my thoughts on the full experience.
Disclaimer: If you've seen any of my other posts, you know I have already been playing Conan Exiles for several months now so this is not a fresh game to me. However, I am edging towards completion and will be wrapping up play in the near future. I really wanted to get this done as a challenge now before I end my game permanently.
---
BLAEO Monthly Theme pick:
Was really surprised that spring cleaning wasn't a theme for March or April instead. Had expected a romance/heart/sexy theme this month, but I'll work with it!
I didn't feel like playing the oldest unplayed game on my Steam account so I went with the cleaning game theme instead. Dug around in my account and came across Regency Solitaire (of Felicia Day shame fame.) It's about upgrading and decorating a ballroom which is close enough to cleaning for me. Also has romance stuff in it. Being a short month and that I have other stuff to do, a casual game is probably best.
---
Otherwise played this week:
Update 28 January
---
Book-Game Challenge for January 2019
Successful conclusion of my first game-book monthly challenge of the year!
To briefly recap, I chose to play and read this month:
| Game | Book |
| --- | --- |
| Orwell: Keeping An Eye On You | 1984 by George Orwell |
So I decided right off the bat that I would not be doing straight up reviews of either the book or the game. Honestly, thousands of reviews are readily available online and probably by reviewers far more qualified and eloquent than myself. I simply have nothing new to offer in that regard.
Instead, though, I figured my wrap-up post would be focused on how the two forms of media portrayed the same ideas and how they meshed for me personally as a consumer. Did they add a new dimension to my understanding of the theme? Did they manage to enhance or detract from the core idea with their differing incarnations? Most importantly and the underlying purpose here: was the whole thing worthwhile?
---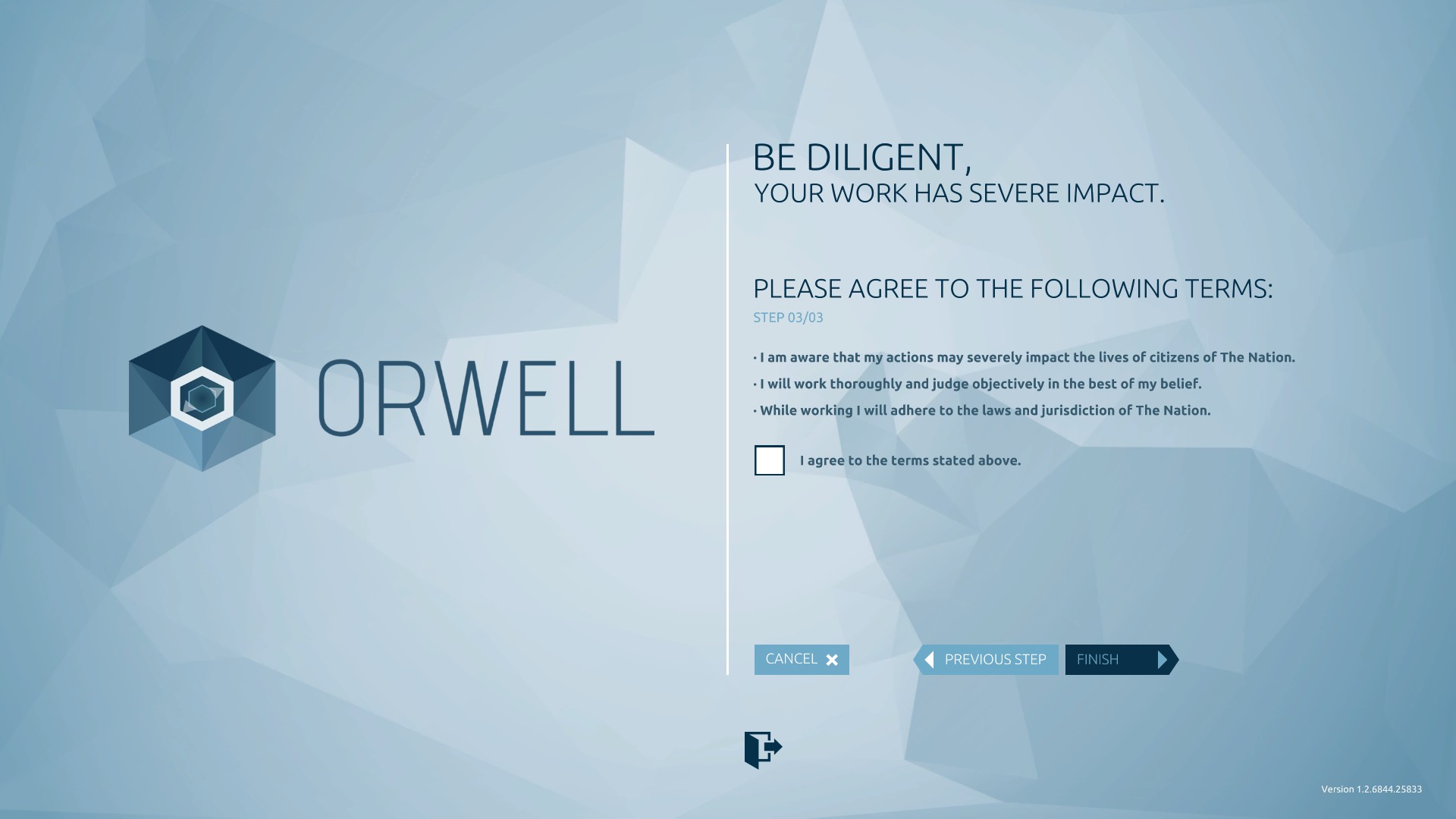 ---
Now just as a quick overview of both products for any reader who is not aware of their basic premise, courtesy of Wikipedia:
1984 is a dystopian novel by English writer George Orwell published in June 1949. The novel is set in the year 1984 when most of the world population have become victims of perpetual war, omnipresent government surveillance and propaganda.
Orwell: Keeping an Eye on You is a series of episodic simulation video games by German indie developer Osmotic Studios in which the player assumes the role of a state operative and monitors surveillance sources to find national security threats. It is named after George Orwell, the author of the dystopian novel Nineteen Eighty-Four, references to which can be found in the game.
---
That out of the way, I wound up reading the book first before I played the game and that was the right call to make as it turned out. I got a lot more from the game as I was able to pick up the copious amounts of references it has to 1984 in particular - from borrowing character names to prominently displaying Orwellian quotes and gratuitous use of phrases from the novel, such as "unperson," meeting in "the place where there is no darkness" and "2 + 2 = 5." Really, the game pretty much beats you over the head with it and you'd be hard pressed to miss the obvious inspiration here.
However I would not say that the game was actually set in Orwell's world in particular but rather drew heavily from that literary base and then modernized it in ways that Orwell, having published 1984 in the 1940s, simply could not anticipate. The single most glaring difference to me was that Orwell's Oceania still relied on only physical forms of information exchange - letters, books, newspapers - all of which could be completely destroyed and erased as the Party wished it. If history needed to be changed, then all old editions of newspapers were simply vaporized and new editions created and distributed. Sort of a controlled Library of Alexandria catastrophe playing out over and over again.
You simply cannot wipe out data at whim in our cloud-based technological era; at least, not without pulling some kind of Walking Dead-esque mass extinction event. As the saying goes, the internet never forgets. One could argue that totalitarian governments such as North Korea have accomplished this, and while they have had obvious success with isolating their wider population, they remain unable to annihilate movements like the 'Flashdrives for Freedom' which smuggles outside media and movies into the country. Once those files are uploaded to someone's laptop, the number of copies that can be replicated are innumerable and it becomes a wonky whack-a-mole operation to stem the black market tide.
The setting of Orwell's book places the populace as already living under a totalitarian government, one that knows it will continue to thrive because it has already 'won.' The populace is largely docile and convinced that this is the only way of life; anything else is quite inconceivable. The rebellion by the character Winston was because he was one of the older generations who remembered an earlier way of life. Once those like him have passed on, and society is completely changed as free thought is curtailed through rewriting history and changing human language, there will be no more questions or uprisings. It is a waiting game. Or rather a planned social evolution by the government.
In the game, we're witnessing a transitioning government. Surveillance has already been sold as a safety measure and approved by a somewhat fearful population heavily influenced by media, but individuals are still able to speak openly about their concerns and even hold peaceful protests. As an investigator, you use mock-ups of various social media profiles and private emails to piece together the threats to the Nation's security and often must weed through quite a bit of open dissension to find the good bits of information to collect. There is never an option to simply delete the mock Facebook accounts of the characters, even if they are counterculture - apparently the characters still have some rights and you have to justify your legal actions, at least to a certain extent.
---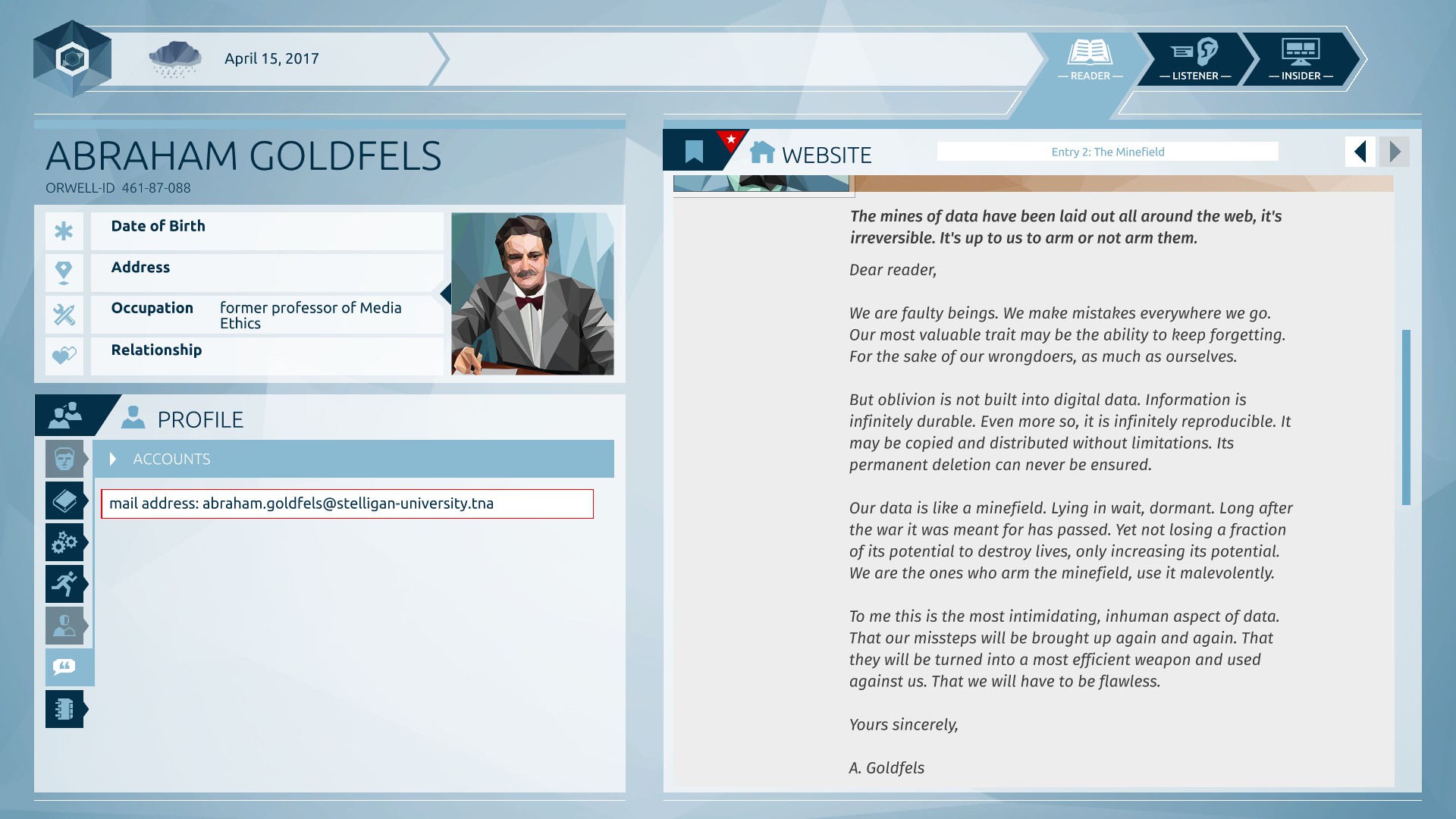 ---
The most important question: was this worthwhile?
Yes. I thoroughly enjoyed both the book and the game and this pairing was spot-on as far as theme. Both forms of media raised questions for me and constantly had me comparing the fictional situations to scenarios in our real world, which is always a personal hallmark to me of mindful entertainment. I wouldn't hesitate to encourage anyone interested in either or both products to pick them up sometime. Luckily, they're both inexpensive to boot!
---
Enough posting for me. Will be back in a few days to announce my February match. Have fun, assassins!
UPDATE 25 January
Is it really the last week of January already?! Man this month flew by lightning fast for me.
---
Played:
As far as Conan, we're in the process of moving our base into the northern highlands and out of the desert area finally. My partner is far better at the building nice looking houses thing than me, so mostly I've just run around harvesting and killing things while she gets her decorating on. I did hit max level on my character and crafted epic armor and weapons for us. With my build and gear set up as of right now I'm sitting at 730 armor, but I'm not ready to try my hand at dragon slaying yet because shields are currently bugged so I can't block damage until it's patched. There's only two of us so we both need to be at our peak for that kind of battle - my friend is an archer/dagger damage build so that makes me the meatshield heh.
Halfway into Orwell for both the Monthly Theme here and my own book-game challenge. I got involved in the story last night and probably would have stayed playing it if I hadn't been pinged by the Conan buddy into Hyboria (not that I mind of course.) Will post a write up as soon as I finish it up!
---
Got to play another offline game this past weekend:
Escape room set up with actual plastic puzzle props. The gist of the game is that one person is literally strapped to a chair with an audibly ticking bomb to their chest while the rest of the players work quickly to defeat the three puzzles containing keys to disarm the bomb. The box says the game is for 2-6 players but I honestly would not attempt to play this with more than 4 people (one bombee and three puzzle solvers) or some are going to sit around bored.
It was interesting to work with actual physical pieces from a boxed game this time, but as you can probably surmise from looking at the product packaging, this game was designed more for children/families than for seasoned adult board game enthusiasts. I think the only slightly challenging part for us was the key cage puzzle, where you had to remove the key using two thin sticks and a fair amount of manual dexterity. So despite the novelty factor the puzzles themselves skewed too easy for us in particular and we were done with it by two playthroughs. Still, probably a fun game for a mixed-age crowd or players who are first-time room escapers.
---
That's all for now.
Have a great week, my friends!