Arbiter Libera
Nothing worse than coming back from an extended break only to have a game barely clocking in couple of hours to show for it, and that's after aborted second playthrough because I realized I don't really care for achievements that much. Game I'm talking about is Viriginia and it certainly made what I like and dislike much clearer. I also got around to finishing a novel on the side, but I think I'll put it in the next update when I have more non-game material to talk about. Little known fact - Arthur Conan Doyle wrote more than just Sherlock Holmes, forsooth.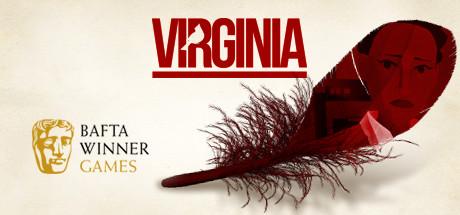 Worst outcome from the entire affair is the more I look into them and play them, less tolerance I have for walking simulators as such. Which is a shame because Virginia is honestly quite a good one. High production values all-around and obvious effort went into this project. It's also a walking simulator seemingly hellbent on setting your pace and putting its intentionally jumbled narrative ahead of everything else it may have had to offer.
So, what's cooking? We step into the shoes of one Anne Tarver, fresh FBI graduate who just got her first case assignment. Paired up with a more experienced partner the two embark to a fictional town of Kingdom where they are to investigate a missing child case. Twist is Anne's superior instructs her to keep a close eye on her new partner, Maria Halperin. She may have some secrets of her own. That's the premise and what we have to work with for a while, but as the game itself quickly reveals, there's more underway and you can't tell WHEN a lot of it is happening. So don't let anyone tell you there's no story in Virginia because there sure is. It's simply told in this fragmented fashion where everything will only click towards the finale as you get context for game's multiple events.
Like I mentioned in the opening Virginia is a walking simulator at heart and you better learn to love its scene transitions and short chapters it employs. And I'm talking mere minutes at times here. Game has so much to actually cover it loves to keep them reins firmly grasped making for "you're riding shotgun, enjoy" experience for the most part. Effect further amplified when you actually have freedom in couple of chapters only to not really know what to do because you expect the game to wrestle said control away from you at any second and push the plot forward. Inconsistent reliance on this design approach endured until the end and I was never comfortable in these shoes I was wearing. Not to mention there's really no such things as puzzles or even voices, although I would give Virginia high marks for omitting the latter while making the narrative work regardless through emoting and circumstances. Which leads me to...
Production values aka one aspect I unabashedly liked. Don't be fooled by this stylized art or lighting saturation because they really gel well together visually. Provided you don't mind the black bars in the effort to simulate being "cinematic". On top of this alone, taking into account there's a quite a lot of other characters you come across and interact with, I can only praise the animation work. Effort went into unique assets for even the most minute of actions, especially so because it's a first-person game taking into account our protagonist is quite corporeal when you look down. Even the music is outstanding and far cry from being filler. Not to say there are no atmospheric tracks in the game, because there are and they're quite evocative, but it's when the pacing ramps up and you get into high-driven tracks that you really feel the blood pumping. Let no one judge a game's soundtrack based on its budget alone.
At this point you may have been lead to believe I'm being disingenuous by proclaiming I don't like Virginia and then largely praising it. Thing is, I do believe it's a good game. I just don't like it and articulating that is really the hardest part. Story which jumps around to excessive degree, keeping the player guessing until the end, little to actually DO in the gameplay department, etc. All of these are slights, minor or major, but I believe my greatest criticism can really be summarized by saying "they really should have made an indie movie instead".
I don't think I'll be able to handle it if there's a backwards speaking dwarf behind that curtain.