Arby's Backlog Hell Arbiter Libera's profile
~ Let's Get Some Games Done ~
An Ongoing Exercise in Clearing the Backlog Extraordinaire
Nothing special here for now, really. Just my updates divided for somewhat navigable lists using the artwork I used when updates were originally published with all now updated to current art assets fitting to match 2019 updates and also easier to click on if you're using mobile. Maybe I'll add more to the "homepage" at some point, but this is serviceable for now.
---
---
2023 rolled around and so has the time for a new Report. This might be the only short game in the near future so it's a good pick-me-up to start the year with. Anyway, I hope you had a great time and this year ends up being even better. Enjoy the read and share thoughts on P&C adventure games that, despite pretty gloomy past when they were considered a dead genre, made a surprising comeback thanks to plenty of small developers.
Blacksad
(
PC –

Adventure –

2019 ) +

TRAILER
---
I have prior familiarity with Blacksad graphic novels, and game generally work just fine on its own. It is considered non-canonical even though it takes place between Volume 2 and 3, seeing the way Blacksad reminisces about a certain actress, for example. That's besides the point as we have a somewhat troubled P&C adventure game to review here so let's get to it.
Taken at face value Blacksad is precisely what it appears to be – a detective story featuring a world set during the 1950's very much like own, except populated by anthropomorphic animals of all varieties where humans would normally be. Our titular character is as black cat and fits that Noir private investigator presentation as accurately as they come. After dealing with the fallout of an adultery gone awry, Blacksad's case proper begins as he's asked by one Sonia Dunn to investigate why her uncle, owner of a local gym, would commit suicide.... if it even was suicide. Needless to say this premise is merely the tip of the proverbial iceberg that goes far deeper than first appears as New York City's more undesirable elements may be involved as well.
Knowing me this is where I would wax poetic about the world and its lore, but Blacksad does this thing where a clearly unreal world of canine police officers, very serious matters of racism between Black and White animals, as well as historical events mimicking our own with more fur or scales involved somehow all come off as perfectly grounded and believable. Game doesn't present any of this as magical, like The Wolf Among Us or Discworld Noir would considering they're both in familiar investigative territory, but rather it's the mundanity of it all that becomes the defining feature. Story also adheres to this principle albeit if you're familiar with mystery stories at large you know very well they thrive on narrative complications and curve balls. Hell, Blacksad himself occasionally ponders on how proper Noir protagonists or stories would turn out in his situation.
Characters themselves are rather important here which makes me all the more confused why game feels like not even putting that much of a spotlight on regulars let alone the side characters. John Blacksad himself is our protagonist and a WW2 veteran which, surprisingly, actually comes up as the war was still fresh on everyone's mind as former soldiers have to get acclimated for better or worse. Blacksad is almost a textbook Noir protagonist with sharp wit, plenty of know-how and number of connections, but at the core you get to decide how much of a heart of gold he has. Both of his regular collaborators, detective Smirnov and report Weekly are present but don't get that much attention which, if there's a single other character I'd shine a spotlight on would have to be Sonia Dunn as she's torn between honoring her father's legacy with the gym, uncovering what happened to him or just giving up altogether. Not really a femme fatale character I expected there to be. Others range from your criminal figures like bookies and enforcers, doctors with shady pasts and plain flawed people trying to make a living while sticking to principles or dealing with mistakes. It's certainly both familiar and varied cast.
Going by the fluff bits above you'd think I rather liked Blacksad even if it does air on the side of genre conventions, and you'd be right. If this wasn't transitioning into gameplay and technical talk which is where we come across some stumbling blocks.
Singular impression I got from the game is how it buckles under the weight of both technical performance and issues. Which is staggering when you realize it's not doing anything extraordinary. Putting aside frequent loading screens, which even with an SSD felt chunky enough, there are some fundamental problems here I have a difficult time excusing given the release date of 2019. What do I mean by that? Game controls like a throwback to those unfortunate yesteryear days when P&C adventures were still figuring out how to work on consoles... which translated to PC in the form of awkward WASD controls while hunting for hotspots you can interact with. This is where Blacksad looks up to Telltale games in a sense it does away with that kind of "pixel hunting", aside from collectible stickers, while also inheriting other negatives as well I'll get into.
Prior to that it's imperative to point out when controls rear their ugly head they really do it with high scores. I dreaded navigating around levels with these cumbersome controls, and total absence of running to go along with it. Our private detective gets caught up on every piece of geometry and after you add invisible walls whenever there's a semblance of one space I was actually happy when the game shifted gears, did away with exploring already tiny locales and just embraced the full on-rails experience as scene transitions do all the moving. There was a level where you have to not only move around in pitch darkness, but also use your flashlight to light up hotspot. Double the control shenanigans, double the chance to miss collectibles you have to shine the light on first to find. Joy.
Negatives I brought up earlier can be summarized in a single fragment – there are no puzzles in Blacksad. I rather like obtuse "get mustache from a cat" insanity genre was once known for, but here devs chose to eschew inventory puzzles altogether. What you get instead is A) greater focus on a dialog system and B) deductions where you combine clues to get new information. Former leans into "your choices matter" style of narrative with endings being dependent on whether one side character lives or not, and how you handle the very finale. I felt neither of these were explored to their full potential and lack of fast forwarding in dialog made me quickly abandon any notion of replaying the game. Which is, admittedly, facilitated by letting you start from any earlier point versus continuing from your autosave.
I had a personal hangup when it came to presentation which was mainly about how Blacksad looks. It took a while for me to get used to the fact his design is just wonky when adapted into a 3D model. Kinda like a painted smooth doll with glued-on cat ears. It grew on me, though. Game itself looks pretty decent with special attention paid to materials of all things. Those suits everyone wore in the '50s definitely look the part. Characters stick to their graphic novel designs aka men have more animal features while women tend to be racier "attractive models with minor features" kind of deal. Putting my prior level geometry concerns aside I do wish we got to explore more of New York City. Soundtrack? Perfectly appropriate Jazz.
Final Thoughts and Rating?
You can almost feel this modern P&C adventure buckling under technical duress. I may be the weirdo here, but Blacksad became a lot better after it [structurally] turned into this on-rails affair and less "cumbersomely navigate levels getting stuck on every object and fight loading screens". I'm not sure if I enjoyed playing it THAT much beyond ties to the source material as it was an awkward reminder of those days when adventure games were figuring out how they would work on consoles as far as control schemes went. Blacksad obviously subscribes to the Telltale formula and makes me wish devs used the deduction system better. Or at least had proper puzzles. End result is a murder mystery that just barely edges into my good graces because I liked the familiar setup.
This Report was supposed to come out about two weeks ago, but my PC decided to check out following a power surge which left my motherboard fried. Then the holidays rolled around, new motherboard was "in expected deliver" from my chosen online store and things just dragged out. So here I am on the very last day of the 2022 putting this hastily together for your enjoyment. Do excuse some fumbling around and enjoy the read.
Tales of Graces f
( PS3 – JRPG – 2012 ) + TRAILER
---
Time for a return to Tales series with Tales of Graces f which just so happens to be an upgraded port of the original Wii title. Aside from usual technical upgrades given the hardware differences an extensive epilogue was added as well. Is the game itself any good, though?
In what turns out to be a welcome surprise game starts out with a rather chunky prologue set during our characters' childhood. Asbel Lhant is the man out of the hour as he accompanies a visiting prince Richard to a nearby meadow only to come across this mysterious older looking amnesiac girl he dubs Sophie. Little could they know the three of them making a friendship pact under a tree would lead to so many unimaginable things. This childhood period ends with quite the downer as all of their lives are upended, and Asbel becoming estranged from his father on top of forsaking the hereditary position of Lord of Lhant in order to become a knight and protect everyone.
Oddest decision here is just how long it takes for story proper to begin in Tales of Graces. What I mean by that is far more of the narrative is dedicated to character relationships themselves as childhood friends re-unite under different circumstances and baggage of their own before any heavy punches come flying at you. And this works in a game where these ties are the most important devices upon which latter story is built upon. It goes hand-in-hand with one of the characters assuming the role of the antagonist threatening to plunge the world into chaos, and it falls on our party to save the day as well as their old friend. Story manages to both play it really safe given the genre filtered through the usual "power of friendship will save the day" you've come to expect all the while being entirely genuine about it.
Since I've brought them up I really should talk more about the characters because so much hinges on them.
None of them really break the mold in any specific way so you have your eccentric genius pulling double duty as zany comedic relief, more experienced and somewhat world weary knight who ends up being a mentor, stoic and mysterious girl herself who peels off more and more layers as story goes, etc. Easily the most important ones are Asbel, Richard and Sophie as there's a direct link between them without anything contrived such as tacked on romance. In my opinion Sophie takes a bit too long to, well, develop a personality beyond a stoic childlike brawler and Richard is spoilerific so I'll shut up. Asbel, though. He's easily the most fleshed out as a person who develops over 40+ hours you spend with him. At first you get this impression he's just a stubborn protagonist with abundance of confidence and some naivety, but then you see him after the time skip as he becomes a lot more nuanced and thoughtful. Asbel never loses his original makings and naturally grows from there. So much so the ending of the game only works out because he takes a gamble driven entirely by his nature and lessons he's learned.
World of Ephinea game takes place on is sadly a place I wish I could tell you better things about, but it really is your familiar JRPG at its finest. You'll trek across lands of grass, sand and ice in sequential order neatly taking boat rides whenever necessary to tackle matters of Valkines, crystal-like structures emitting Eleth which people of the world use as an energy source. In genre tradition "lore" here is basically whatever someone thought was cool and kitchen sink fantasy approach very much applies. If you thought there are going to be SF elements in this fantasy story... well. You get it by now, brother. I was taken aback by how suddenly some plot twists and developments occur later on and characters, who have lived here their entire lives, just accept it all casually. Oh, and Turtlez, traders extraordinaire wearing turtle costumes, are also in.
Alas, there is no conventional overworld in Tales of Graces f, not even after you unlock the customary end game transportation that lets you get anywhere, anytime. What you do have is a sort of compromise where areas between dungeons, towns, etc serve the same function meaning everything is connected in coherent fashion. I consider it a decent alternative as none of the zones are overly big or just plain fillers. Skits aka brief conversations between characters' 2D portraits, are littered everywhere and entirely up to you to activate or skip them, and random encounters aren't a thing as you can engage roaming enemy representations at your convenience. Since I'm on the matter of areas I have to point out my opinion on game's dungeons shifted dramatically as I approached the finale. Starting off as lightweight and progressing to "this feels just right" last few dungeons + epilogue's own inclusions, made me want to rush through them like a maniac. They simply take way too long and puzzles aren't that compelling so they become busywork instead.
As ever skits continue as a method of fleshing out bots you can't dedicate cutscenes to. Also, comedy.
Standout features for me were basically a take on crafting, abilities and cooking. Dualizing lets you create stuff from ingredients you come across, be it weapons, items you'll use for town request missions or just food outside of combat by mixing two items, and games it thankfully kind enough to indicate possible combinations you have. Eleth Mixer, using Eleth you can re-fill in towns or through other means, is how you create food during combat for healing and additional bonuses. You can also use it to generate practically any ingredient or curative provided you have the Eleth and RNG gods bless you. These two systems are not something I'd avoid as game is built with them in mind.
Titles aka primary means of character progression beyond basic levels, are worth discussing on their own, though. Each character has a veritable library of dozens of unlockable Titles with five ranks each. You acquire them through a variety of means; be it story progression, accumulating enough gold, getting poisoned over and over again, using certain Arts X number of times, etc and upgrade them with SP accumulated from battles. What do these Titles do for your characters? Well, since each character plays in their own particular way, like Malik's long range boomerang/sword/thing or Pascal's focus on chanting Artes, you can get a bunch of things even from shared Titles. Some will straight up unlock new attack abilities, very few grant new costumes, but most some form of stat bonuses. All of these stack. Meaning you want to master as many Titles as you can as quickly as you can to power up your characters on top of regular gear they can equip. What I ended up liking about the system is how straightforward it is and doesn't negate characters' uniqueness. Sure, spellcasters have some spells they share, but considering each character has unique ultimate attacks/weapons/approach to combat, they feel distinct.
For reasons only known to myself I always leave combat gameplay for the last, and in this case it's more of that familiar Tales territory of action party combat with four characters engaging in mayhem. Tales of Graces f does away with conventional mana system so next to HP you have Chain Capacity aka CC which is an ever fluctuating pool of points you use to power your A-Artes and B-Artes as primary means of attack. CC starting/maximum values are dependent on level and gear adjustments, and is replenished by guarding or artful dodging. It takes a certain level of acquired skill to stay on the offensive without hugging the guard button, especially as aforementioned two types of attacks can quickly drain your CC reserves given their cost. Taking into account enemies have weaknesses to attack properties these Artes have, be it damage type or status ailment, I'm trying to get across that button mashing with no sense for party cohesion or flow of action will do you little good. Eleth bar exists as well which, once filled, unlocks Eleth Burst mode removing any Artes cost and lets you unleash devastating Mystic Artes. Combat overall feels well put together and fact only boss bottles tend to go over half a minute speaks of its pace the best.
There's also items to use, Strategy menu to give your characters specific direction like focusing on healing or to use only B-Artes, not to mention you can control all the characters and not just Asbel, but combat itself is surprisingly straightforward. Where it somewhat stumbles are loose technical bits. Camera, for example, has trouble keeping the bird's eye view if action is spread out across the entire battlefield. Toward end game effects also become overbearing so you rely more on character audio cues over visuals firing off. Neither of these impacted the game THAT significantly for me, though. What could be a problem if you're coming from latter games where Free Movement became the norm is here you normally run in a straight line to your target while Free Movement is optional and has associated CC cost. I used it precisely twice.
Production would be a good way to end this review since this was originally a Wii title, and PS3 treatment certainly helped even if you can still tell it's a port. Art style itself does a lot of the heavy lifting here and ensures a timeless stylized look. Game also has a handful of fully produced anime scenes selling moments impossible to pull off in-engine. If you were looking to enjoy native Japanese voices that option is sadly absent, but English dub quality is on the level, with usual shenanigans, where even skits are entirely voiced so props for that. Melodrama included.
Final Thoughts and Rating?
Following in established series' fashion, Tales of Graces f takes after the action party route when childhood friends see their lives dramatically changed and brace for the future with a time skip. Straightforward combat with no pointless frills does wonders for keeping Graces accessible with half-dozen playable characters each with their own approach to combat. Cook food to heal yourself, enjoy character banter at save points, do town requests for rewards, and above all engage in battles to unlock and progress character Titles and power them up in a story ultimately about friendship and redemption where much of the experience rides on characters. Rather, how much you enjoy typical stereotypes with protagonist Asbel getting the most character development. Familiar and safe action JRPG.
Christmas came and went by the time I got around to writing this part for my 2022 summary so I hoped you had, and you're about to have a great New Year's celebration as well. Time to bust that vacation open.
My output sank from last year which I attribute to reading more yet again, but some slumps were present. I also got around to playing multiple JRPGs and open world games which tend to be time sinks in their own right, and if anyone asks that's my excuse I'm sticking to! Also, more non-Steam games in my repertoire this time around. As is now the tradition I've linked all the Reports from 2022 below in case you want to peruse them.
Ever get that feeling you're playing too much of the same thing? Well, that's me right about now with open world titles I've tackled in the last few Reports. This had to be done to cap off the "old" Assassin's Creed games as what follows after Syndicate is Ubisoft re-imagining the franchise. This ended up surprisingly favorable considering it does what Unity don't, and the other way around. Two games almost make for complementary experiences. Enjoy the read and share your own thoughts.
Assassin's Creed Syndicate
( PC (Ubisoft Connect) – Action, Stealth – 2015 ) + TRAILER
---
In more than one way Assassin's Creed Syndicate was seemingly an answer to Unity's criticism. With shifted priorities in mind being a final send-off of the established franchise formula that would [supposedly] undergo a retooling for the trilogy that succeeded it. Was the game itself any good, though?
State of things is not good for the Assassin Brotherhood at the tail end of the Industrial Revolution as we step into the shoes of twins Jacob and Evie Frye. London has been purged and Templars are firmly in control lead by Crawford Sterrick with his vision of order over chaos, or rather Templar order because they know best what's in humanity's interest. Faced with such dire circumstances the twins make contact with the only Brotherhood contact left in the capital of the world and set out to liberate it. In Evie's case this also means chasing after artifacts while Jacob is more content building up his own gang called the Rooks in place of Templars' henchmen.
Biggest difference you'll immediately notice is we're working with a deuteragonist setup this time around, meaning both Jacob and Evie are protagonists in their own right. Minute gameplay differences aside, which I'll get into, they have their own approach to things as well as sub-stories to tackle. You want my honest opinion having finished the game as well as the story DLC? Evie should've been the sole protagonist. As opposed to her more intellectual mindset, Jacob is a loud brawler who ends up causing more problems than he actually solves. Narratively they have this friendly sibling rivalry that escalates suddenly towards the very end only to deflate in a disappointing finale. I can only wonder if Ubisoft was afraid what player reaction would've been to a female protagonist, but I think that's entirely unfounded. It does let itself have two actors when there's need for different personalities which is probably preferable to a protagonist that acts however the plot demands, consistency be damned.
Compared to Unity's Paris I found London not much of a character itself. Too gray and grimy, which is period appropriate, with only standout being the Thames as you parkour across moving ships and posts, essentially giving you the first taste of "dynamic landscapes" taking a break from usual buildings. Plenty of mutton chops and mustaches to go around, though. Westminster burrow stands out as being the only noticeable piece of greenery in the city and palace stands apart from the rest of the city. There's a totally-not-secret Rift in Sequence Six that takes you for a brief excursion forward in time, but you don't leave London so much as just man a few AA batteries and call it a day.
I said in the opening Syndicate was an answer to Unity, and narratively I would say it improves upon it in most meaningful ways, but what about gameplay? Well, we're taking a sidestep and some steps back as well in that department. This was the part I was most conflicted over.
Let's just peel the biggest deal breaker off quickly – parkouring has been lobotomized. How you go from what was arguably series' peak to THIS is beyond me. I'm being dishonest because I know how. For all the fans out there, you remember lifts in the series? You run into them and they pretty much momentarily zip you up to the roof they're connected with? Well, Syndicate introduces a zip-line gun not long after the prologue, and that thing is your personal lift albeit with somewhat finicky window of usage. On top of it you can also zip between climb points now. So let me ask you the following: why bother climbing at all when you can just ZIP you're on top of the building followed by another ZIP you're on the adjacent building now? Of course, this addition does not exist in a vacuum as game accounts for it, in fact as much as I was annoyed by its existence the damn thing was just too handy to ignore, but it removes so much of the basic legwork that went into parkour and formed a backbone of franchise' identity. Even what's left has been simplified by losing many animations and reactivity. What would've once been a descent with flourish is now just a sequence of two repeated animations.
Other changes to contend with are more on alteration level rather than fundamental disruptions. For example, gear system still exists, but Ubisoft took a saner approach by removing all extraneous modifiers on equipment and boiled it down to simpler breakdowns. Weapons come in three types + assassin gauntlets and firearms shared by siblings, but their respective armors are unique as Evie has cloaks while Jacob has belts. These DO show on your characters, but it is the outfit of choice that determines your overall look as there are no more individual pants or gloves to mix and match. As was the case the last time economy around gear procurement is tuned for critical path aka if you do any of the side content you'll have stuff that's way beyond what you should have. At the same time some items will remain locked based on how much you engage in particular activities... this time primarily through reputation bars you fill out by doing missions, repeatable or otherwise, for side characters. Fear not because Syndicate will give you enough pity gear through main story progression for this to not be an issue.
Second, and reason why you cannot just buy the best stuff outright if you grind enough Pounds, is the leveling system. Not only does it impact gear and burrow danger level, but acquiring skill points and spending them is the only way to get new skills. Rather than outright locking basic features now you're rather acquiring modifications and improvements, like increasing defense or higher quality resource looting. Jacob and Evie each have few unique skills only one can unlock, former being more combat-centric while latter embraces stealth. Since there is no difficulty choice to speak of and you will eventually get enough points to max out both characters this is difference for flavor's sake.
Taking into account when I'm playing this I was almost unaware just how much DLC was out there. Probably because of main campaign integration which makes me think Syndicate was pretty desolate at launch. The Last Maharaja adds a pretty decent sub-story, The Dreadful Crimes brings back my favorite element from Unity in form of murder mysteries, but it's Jack the Ripper I'll be talking about since it's the beefiest one, and actually a story of its own necessitating separate choice in the menu. Taking place 20 years after the base game, and seeing Evie return to London, right in the middle of Jack murdering prostitutes and taunting the police with his threatening letters all the while Jacob goes missing. Writing quickly blows its load that he has connections with the Assassins while keeping the player in the dark. It takes a series of investigations, going through Jack's informants and even controlling the madman himself before conclusion is reached, and I wish it was better handled. In tangible terms Jack the Ripper re-uses two burrows from the base game, but has its own gear and skills to acquire. Biggest addition would definitely be the Fear system which lets Evie terrify the new gang with fear bomb and spikes. You incapacitate victims and their screams make others run away eliminating them from combat. Odds are technically against the player as enemies out-level you, but you know. I was doing it more for 100% mission synchronization than any real need.
Lastly there's presentation to look at. I already touched upon it when talking about London, but as usual this comes down to how much you enjoy the locale aesthetics. It's a grim city with carriages filling the streets and gaslight illumination by night. I'd say some visual appeal was lost from Unity, but soundtrack was what surprised me having barely noticed it in the game. Then I gave it a listen on its own, and damn if it's not solid.
Final Thoughts and Rating?
Assassin's Creed Syndicate edges into my "solid" category, and solely because all the work it puts into memorable personalities and stories barely nudges it in. Following the uneven Frye twins as they undertake liberation of London from Templar's rational domination there's a mixed package here. Immense decline of parkour thanks to the zip-line gun cannot be overstated enough, but I liked Ubisoft pulling back on the gear system and game overall being more manageable. I was glad to see some features return even if it was in simplified form, like for some controllable allies as Rook gang members or ability to distract with prostitutes in the DLC. On the other hand, making you do missions to fill out reputation bars in order to unlock more goodies didn't sit so well with me. Sign of things to come?
In totally unplanned fashion I went and played Saints Row. No, not the reboot that seems to be getting rather terrible reviews all-around, but the original 360 title that started it all. It's also been two months since my last Report and I accidentally tackled another open world game. These things just happen, I guess. Enjoy the read and share your thoughts if you've had any exposure to Saints Row as a franchise.
Saints Row
( XBox 360 – Action, Adventure – 2006 ) + TRAILER
---
Something immediately evident with Saints Row is how heavily it draws from GTA. Specifically San Andreas when you get into the whole gang warfare for respective territory. Keeping the whole "open world crime action" in mind Saints Row still puts its own spin on things, though. Let's see how it all goes down, playa.
Looking at it strictly from a story standpoint you realize protagonist of Saints Row isn't really a defined character in the style of aforementioned GTA series. You could say it has more common with GTA3 because we're dealing with a de facto mute protagonist who is a really good listener as far as other characters are concerned, but premise itself concerns itself far more with Third Street Saints and their rise to power. So who are they? Well, city of Stillwater is torn between three established gangs and the Saints see how much this is destroying the city so their leader Julius decide to officially form a new gang using a local church as their headquarters. He and others also just so happen to come across the protagonist, save his ass and canonize him into the gang. So begin your adventures pretty much doing what all the other gangs were up to, but looking stylish wearing purple as your colors.
It's a good thing that whatever game finds lacking in protagonist backstory or even story proper to follow it more than makes up for with three story arcs you'll be tackling along the way. As you can surmise, each rival gangs gets their own as well as a handler within the Saints who you'll be interacting with to advance said story. This is where your compatriots' personality comes into play and what a job Volition has done here. It's actually impressive how natural and believable all characters come off as despite their exaggerated natures. Johnny Gat, for example, just wants to whack everyone as his go-to solution, while Lin is working undercover to deal with the Rollerz. They all make for amusing cutscenes while never losing that gangbanger edge because the Saints don't wear kid gloves. Surprisingly enough even antagonists are not portrayed as some over the top inept caricatures, but rather as legitimate threats and you can see how they achieved their status. As missions progress you also see some cutscenes from their end further fleshing their organizations out.
That's enough about the story department as it really isn't a huge focus of the game to get invested in. Each gang gets a dozen or so missions + stronghold takeovers you must undertake for the finale. Last bit I'd like to add is how having a mute protagonist lets other characters shine more through sheer virtue of needing to communicate without pointless banter. As a result it's a very lean script with pinpoint accuracy on what it wants to convey with plenty of personality to go around. None of that political correctness will be found here.
Gameplay-wise we're once again stepping into familiar GTA territory with one distinction that gets the player out there, so to speak – Respect.
Respect is a resource you generate by doing activities in the game, and you use it to begin story missions. In practical terms this means you have complete freedom to go about the game however you want because even simple things like tagging graffiti or assassinating targets grants you Respect. Don't want to hooker snatch missions because Kings blast your car to kingdom come? You don't have to. Sure, you'll miss out on the reward you get for completing all eight of snatch difficulty levels, but you're not forced into it. Saints Row gives the player a nudge and lets him go about however he wants very early on. Given this is a somewhat less than a dead serious game you can get away with shenanigans aplenty.
What can you actually do in this third-person crime shooter? Well, I think you know the answer and just want some specifics. You'll be doing the usual the fare of chasing cars, taking out targets, following people, and some more unique scenarios like using a bulldozer to push cargo into the ocean or driving fast to extract information from a Eurotrash fashion designer. All in all, fun times ahead. There are "mechanics" game doesn't bother with much like robbing stores or customizing your cars, but Saints Row has enough confidence in the player trying things on his own to dope this out. Amusing tidbit is how your entirely customizable character can only be a dude, but you do get rather extensive freedom in how he looks going beyond just body and hair as you have access to clothing, jewelry and tattoos if the price is right. These are not merely cosmetic as they affect the Respect bonus you get. Fittingly, wearing the Saints' color purple nets you a larger bonus.
As is customary, now comes my "everything that's wrong" paragraph.
Biggest problem with Saints Row is it draws heavy inspiration from, at the time, last-gen GTA titles so it's stuck in an awkward transitional period where you have actual aiming while featuring generous auto aim rather than letting the player aim. Mission design also airs on utilitarian side with comparatively few unique scenarios... and those that exist, like taking down an airplane about to take off as enemies fires RPGs at your vehicle, could've used some serious thought. Overall impression is a game that makes use of Xbox 360's technological prowess, but is at times kept in check with PS2 mentality. Not to mention inability to drive anything other than cars when your inspiration offers all modes of transport.
Final Thoughts and Rating?
Heavily inspired by GTA: San Andreas, Saints Row manages to make a mark of its own despite very light offering in almost all things. In effect, you could say this third-person shooter set against a backdrop of urban gang warfare was a testing ground for more to come. What's included, however, is a competent game encouraging the player to go out, do whatever he wants to earn Respect and spend it on progressing through all of three main story lines. Betrayals and shootouts aplenty when rival gangs show up on your turf and cut in on your daily income. Build-your-own protagonist is sadly almost a mute non-entity in the story, but that just makes everyone else have WAY more personality in return and makes his very few lines all the funnier. Playa needs that green for his threads and bling.
I cannot believe I finally get to check off this one. Looking back on the original post I made the optimistic proclamation of getting to Odyssey by 2020, and only now realize what a fool I was made into. In hindsight, I think Rogue may have tampered with my expectations about the size of Assassin's Creed games. Are you up to date with the franchise? Has Ubisoft rightfully laid claim to "open world games" with this stuff? Am I going crazy? Only my readers know these answers.
Assassin's Creed Unity
( PC (Ubisoft Connect) – Action, Stealth – 2014 ) + TRAILER
---
I briefly talked about Assassin's Creed Unity over three years ago and how I was in the middle of playing through it. Well, that took a while to finish with multiple false starts. I'm finally here. Beat the game at long last and amusingly enough a lot of my initial thoughts turned out to be spot-on and opinion on the game steadily sinking.
Continuing to move our setting of choice forward with each game we step into the French Revolution and, if you played Rogue and saw the setup ahead of time, into the shoes of one Arno Dorian during childhood. Here he witnesses his father get killed, meets a tomboy girl destined to become a love interest and get adopted by her father. We fast forward to adulthood where Arno is revealed to be a rogue type of a character not interested in much beyond dalliances and Elise's attention. Alas, tragedy strikes again and his foster father is killed as well revealing the eternal Templars vs Assassins war to Arno as well as both of his fathers' respective ties to their camps. There's more to it, but because of his moment of laziness Arno blames himself for what happened as does Elise leading to their estrangement and our protagonist finding himself involved with the Assassins. Completing a kind of boot camp he sets out to avenge his foster father, clear his name and win back Elise. Order of these priorities shifts depending on how the game feels.
It doesn't take long to hit my first snag with Unity – entire narrative department is just so incredibly weak. From story that's essentially five hours long when you tally it and take out all the optional stuff, to storytelling and pacing that seemingly pull you between events and historical characters with little rhyme or reason, and finally Arno himself. His problem specifically is that he's supposed to be the fleshed out, likable character along the lines of Ezio who is simply never given enough room to breathe and becomes merely a vehicle for the plot to drag along more than a person in his own right. I find it hard to put into words how little I cared for the less than basic premise and execution. Romance subplot does not escape this either, and I have a feeling Unity had a checklist of points I was supposed to accept simply because they're expected to be included.
In almost morbid fashion to balance out the above you have what is possibly the best realized setting in the franchise so far, and finally return to urban locale. Yes, singular because you'll never really get out of Paris in any meaningful fashion... which isn't bad when you take into account Ubisoft truly did the legwork to realize a 18-19th century city. Dense urban zones are perfect for parkour playing up to series' strengths and customary Database returns with all the historical information you could ask for on top of some snarky commentary. Timeline is a bit wonky if you're unfamiliar with events proper, but that's why you can read up and go sightseeing historic sights. I can't do much shower praise here and it truly is a major selling point for Unity with even attention paid to newspapers and pamphlets you can read for added immersion.
Time to get into systems and gameplay because that's where Unity stands out if not necessarily shine. What we have here is both trimming down on "character becomes a walking armory" of Assassin's Creed of yore, and culmination of the familiar formula only upset by couple of major additions I'm divided on personally. Removal of endless counter-kills and general slowing down of combat pacing were things I liked overall, for example. I don't think this really affects the difficulty per-se, but rather it's a design choice I prefer.
Game toys with the idea of exploring other time periods, but it never goes beyond just momentary diversions from the French Revolution.
I was shocked to see how well Unity holds up considering it's a 2014 release. This sometimes comes at the expense of performance hit, though.
There are two major additions, or at least changes, that bear putting a spotlight on – changes to parkour and gear system itself.
I realize former has garnered a somewhat controversial reputation online, but I love how fluid movement became simply by separating UP and DOWN directions. This means by simply altering which button you're pressing Arno navigates across obstacles in ascending or descending manner. Once you master this, as well as distance between objects with functional climb points, you realize what a step forward for the franchise it is. No longer do you have to slowly scale down or drop like a sack of bricks from a building, for example. Add to this the inclusion of more interiors letting you cut through buildings, objects to glide under/over, etc... well, freedom of movement has never been this liberating before.
Sadly, gearing changes were not exactly up my alley. What used to be "buy new gear/weapons as they become available to maximize your health/armor/damage" has now become a convoluted mess without clear direction when in terms of progression. This isn't only the case of having to choose between form and function, but also how difficult it becomes to regular a system like this in Assassin's Creed. There's really nothing preventing you from grinding money and buying the best Legendary gear as soon as you can. Unless it's locked behind co-op missions, or Murder mysteries, or some other form of arbitrary lock-out system. Fortunately, Unity is such an easy game you can wing it and there's too much imaginary finagling with stats or choosing your play style that doesn't matter at all. Maybe for co-op multiplayer, but ironically playing that solo was the most engaging content in the game precisely because you can't just wade through everyone with ease.
To those familiar with the series it's still your familiar setup of reaching high-up synchronization points, revealing collectibles along the way, and gradually completing those "!" marks as game is dead set on drowning you in optional content. In fact, having completed both base game and DLC, as well as about half of chests/cockades/etc, I stood at only 54% completion. Upon realization that a convention was broken and Ubisoft wanted you to buy district maps, as well as other "conveniences" for Helix currency if you wanted EVERYTHING revealed I called it a day as far as completion went. This insidious practice of trying to get your money also creeps into a very integral part of the game with equipment. It's unwarranted because you should be swimming in both currencies you need for purchases and upgrades through normal play, but that option shouldn't have been there to begin with.
Since I brought it up I might as well talk about the only worthwhile DLC game received in the form of Dead Kings as you go to Franciade. Set after the main story and involving a rather trite premise of disillusioned Arno trying to leave France it presents a far manageable playing area with an underground level. Franciade manages to hammer home just how bloated Paris is and dotted with all kinds of distractions. Here you go grave delving for an esoteric artifact, get a new weapon type that functions both as melee and ranged weapon combined and, provided you enjoyed those exquisite Enigmas that have you tracking down runes with only descriptions to go by on, getting your hands on the best weapon in the entire game. You have no reason to skip Dead Kings provided base game hasn't put you off.
What to say in conclusion? Production values are impressive on their own, until you witness just how often Unity buckles under the weight of gliches and performance issues. Multiplayer? It's there, but jumping through hoops is required and you're clearly meant to play with friends. I liked the inclusion of new forms of content like Enigmas and Murder mysteries that did not involve killing everything in sight to progress. I don't know how Syndicate turned out, but couple of highlights barely edged Unity into an average title that came close to sinking for me.
Final Thoughts and Rating?
At the time a next-gen title, Assassin's Creed Unity is a troubled one. Trimming back and refining the formula ends up hampered by ever-expanding bloat elsewhere and textbook design. Arno's revenge story doesn't do much beyond providing a vehicle for the ongoing faction war during the French Revolution where setting is far more interesting than any narrative or characters themselves. It's in the expanded parkour system and well-realized Paris where the game shines the brightest... if only to be balanced out by darker aspects of the ungainly gearing system, underlying monetization and now familiar glitches. End result is sadly an average title I'll probably remember more for its size than anything meaningful even if I did like a variety of non-combat content and pacing of combat itself taking a step back.
Even following up on the game with its DLC this review took way longer to put together than I expected. What can I say? Distractions [Did you know that the critically acclaimed MMORPG Final Fantasy XIV has a free trial, and includes the entirety of A Realm Reborn AND the award-winning Heavensward expansion up to level 60 with no restrictions on playtime?] abound. I'm getting into the JRPG groove once again with another genre entry already on the horizon, but I hope to sneak in something different if time permits.
Celestian Tales: Old North
( PC – JRPG – 2015 ) + TRAILER
---
In unembellished fashion I'd say Celestian Tales: Old North is essentially Game of Thrones meets JRPG. A lot of the former lies in the game's themes and mood. The other half will be more than familiar to any genre fan, though.
Before I briefly discuss the story bits, as I'm usually want to, there is an interesting twist – you get to choose which of the six characters is the primary one. This results in a unique prologue, as bulk of the game is shared, which may be familiar to Dragon Age: Origins players, alongside some self-contained choices throughout as well as the epilogue. In theory this means you should play the game six times to see absolutely everything. In practice you should decide whether it's worth doing so for ~15 minutes of content a pop. I don't know how it panned out, but supposedly these decisions you make should leave a mark in the sequel, though.
We step into the shoes of an ensemble cast comprised of noble youths who travel to city of Levantine in order to pledge their service to lord Alain as his squires in hope of becoming full-fledged knights one day. Befitting customary RPG protagonists the realm is in peril with Enders, warrior people from the north, returning to wreak havoc. Fortunately, there are highly competent generals and bearers of Sacred Swords who will rise to do service to their noble Houses, but that doesn't mean our squires are short of work, much to their frustrations. And yet there are plots brewing as nobles scheme against nobles with commoners caught in the crossfire.
What sets Old North apart is the exhaustive effort that went into expanding the world via all the background info. Only "problem" is most of it is contained under Lore entries when I wish writers found a way to inject into the script more organically. Mind you, this isn't another instance of Final Fantasy 13 where you needed to make up for shoddy storytelling, but rather it feels like a waste when there's so much backstory concerning noble Houses, forbidden magic itself and support cast you'll only get the barest of essentials through obligatory conversations. Like I mentioned in the opening there's a strong Game of Thrones vibe going on and game simply lacks the capacity to explore all of it.
I promise, this will be the last fluff segment and it's appropriate I make it about the characters since our crew is the only constant in the game. Considering you have everyone from a bigoted religious zealot to a sheltered half-elf unfamiliar with human ways you can expect varied reactions based on all the scenarios party find itself in. These characters are not exactly even in their motivations or developments throughout the story, however. Even if you have no interest in replaying the entire game I'd still say check out their prologue at least as it's critical for at least one character.
And now onto everything else. Game stuff which will largely be familiar to JRPG aficionados.
Having more than one portrait to display characters' emotions shows that additional production effort.
I know from experience this is a deal breaker for some people so I'll say it up-front – no random encounters in Old North. Sadly, there's also no way to be (dis)advantaged when engaging them either as game doesn't account for taking enemies by surprise or vice versa. Still, ability to outrun enemy sprite representations without hassle can only be a good thing. Combat itself? Very straightforward turn-based affair with action order indicator and without need to go extensive menu delving for basic actions. Departing from usual MP-based tradition we have Stamina powering up all your special skills. Capped at eight and gained by attacking, defending or consuming curatives, Stamina leads to this particular ebb and flow where being conservative rarely pays off. In fact, considering the game fully restores your health after each encounter it's implicitly encouraged to go all-out whenever possible with one imperative – you really don't want anyone dying on your team because you'll get a Wounded debuff which can only be removed by going to a church or spending an expensive Bright Red Crystal. This, however, is a non-issue because...
Difficulty is a joke. I can't decide whether that's due to developer under-tuning, giving player the freedom to grind whenever they want, while implementing a universal party level so everyone's always on the same level, or simply because you have six characters to work with so you can tackle any situation even if you can only have three in a party. It's really easy to set yourself a HEALER + TANK + DAMAGE without much thought and breeze through the entire thing down to the final boss. Confusing part is Old North truly does give some freedom to character customization even if they never break the role they're supposed to fill. You're meant to pick and choose from an array of abilities/passives acquired through leveling, as you can only have four/two respectively at any time, but I went with what was flavor-appropriate and was never lead astray. Same with equipment you'll find most of locked away in chests, leaving procuring the ingredients to UPGRADE weapons the only real investment on your end which boils down to fighting the right enemy. No 0.1% drop rates here, no sir.
It's only appropriate I talk about the Howl of the Ravager since this DLC is almost the length of the base game and in some aspects outshines it. Narratively we're dealing with a prequel story featuring Severin who was barely in the original as idolized, stern general and see more of his relationship with Alain in their younger days. If you've played as a certain half-elf you already know the outcome as DLC introduces your two other party members, though. As a returning crisis unfolds getting humans and elves to join hands we discover brand new information about the Sacred Swords and their true nature in turn framing the original game's finale in a different light. In gameplay terms HotR answers some of the problems I had. You have only three characters total and, albeit once again perfectly filling archetypal roles, you'll spend an extended time without a healer so there's at least an illusion of danger. Good news is there's now ONE challenging fight in the form of a final boss. Remember I talked about how long this DLC is? Well, that's probably because it throws not one, but two mazes at you and expects backtracking. I was just about done when I realized I had to re-visit that damn forest in the penultimate act. Solid DLC delivering largely more of the same with minor tweaks, like loss of weapon upgrading as you're wielding legendary weapons passed on through history.
Lastly we have production matters. Old North was crowdfunded and you see it best in how scaled back the grandness of the presentation is versus the scope of the conflict they're going for as the entire realm mobilizes for war. Fortunately, this is where beautiful watercolor aesthetic pulls all the weight. World map, and by simply having one game already goes against modern JRPG grain, particularly shows it off nicely while avoiding some perspective shenanigans actual areas suffer here and there. Tiles sometimes don't snap together perfectly and couple of times art assets made me think a ramp wasn't traversable. Nothing major, though. Soundtrack has comparatively few tracks you might expect from the usual genre fare where musical offerings span multiple disks and whatnot, but developers made good mileage with what they have. Fittingly, opening movie and final boss tracks steal the show in setting the note if bombastic was the goal.
Final Thoughts and Rating?
Crowdfunded, turn-based JRPG drawing more inspiration from the likes of Game of Thrones than your usual kitchen sink fantasy, Celestian Tales: Old North is a solid offering. If there are two issues I'd raise they'd be as such; game could've benefited from a difficulty choice as it's way too easy, and choosing one of the six characters as your main one doesn't change much beyond the opening/ending bits and some self-contained choices there for flavor. Latter is excusable given the scope developers had to work with. I also wish this genuinely fleshed out setting had more room to breathe, but end result is a gorgeous watercolor-looking game you can nonetheless finish in under five-six hours. Replaying to see those minute differences that promise to matter in the sequel is always an option, though.
Told you I'd be back faster than usual. I bring you some Batman adventures I never got around to back in the day. You know, it's funny to look back and realize Arkham Knight was released only a year after this, but I still have to play that one as well. With no time to waste I'm back into RPG waters after this. Occasional literary diversions notwithstanding.
Batman: Arkham Origins Blackgate
( PC – Metroidvania – 2014 ) + TRAILER
---
I would hesitate to call Batman: Arkham Origins Blackgate a spin-off in that conventional sense since it's a sequel to Origins, albeit one originally intended to be a handheld experience. Both of these developmental aspects bring their own issues to the table, but that does make the game itself bad?
Set merely three months after events in Origins we have a more low key story with a riot breaking out in Blackgate prison which gets Batman's attention only for him to run into Catwoman for the first time. It ends up as predictably as you can imagine considering her character, but it does result in an interesting dynamic where SHE is your go-to radio handler. I was disappointed to see it's once again the usual rogues' gallery; Joker, Penguin and Black Mask. In hindsight that shouldn't be a surprise since Blackgate is riding the coattails of an existing game for that familiarity.
To stay on the topic there isn't much concerning characters here that you won't see coming nor is there a genuine narrative surprise. I think structural decision may have lead to this because game technically lets you choose the villain dispatch order and who you bring in last actually matters, though. Blackgate also bears the burden of being a Suicide Squad tie-in of all things which may have also affected the character roster you engage in fisticuffs with.
In short, it's a safe and predictable Batman story. If you've played Arkham games up to this point you already know what to except. Only blander.
And now I'm now over and done with what you could construe as a matter of preference. Gameplay is more clear cut if you ask me – adapting the Arkham formula into a 2.5D portable Metroidvania is impressive. On handheld where it was originally released. Keep in mind I'm playing and discussing a touched up version made for PC and consoles. Impressions are less impressive in that particular arena.
Two chief frustrations I have with Blackgate both derive from trying to fit already existing formula into different packaging. Take combat, for example. You still have your reliable "counter telegraphed attacks and specialty enemies", but at the same time combat as such is simplified and scale back to a point it actively distracted me from everything else. Gadgets are now strictly relegated to environmental navigation/puzzle solving and that's where movements takes the hit as we've lost that full 3D control. I have a soft spot for 2.5D games as long as developers execute it in such a manner where it doesn't interfere with the act of PLAYING the game. You tell me if limited movement and camera perspective go along with free-form combat and level navigation. This sometimes results in finagling to get around to higher priority enemies you want to deal with first and overt reliance on in-game map just so you don't get bamboozled by shifting perspectives or context sensitive interactions. That burning corridor in the background doesn't immediately scream "way forward" to me.
Amusingly enough and in stark contrast to other Arkham games I ended up almost not using Detective Vision at all. Why? Because there's a more focused alternative existing alongside which lets you scan objects, usually mandatory if you want to progress so said objects will become functional to Batman. This ended up being more of an annoyance than I expected since you figure things out, but need to jump through hoops first so the game knows YOU know.
Given this is a Metroidvania going back and re-visiting locations is a given with more unlocking as you acquire new gadgets. Entire affair is strictly level-based so no open world to mess around in. I grew steadily annoyed with how progress was arbitrarily locked in the most generic way imaginable with color-coded clearance access cards. Combined with case clues collectibles, if you really want artwork pieces, and lack of easy travel around Blackgate it became a chore to track down all those ?s popping up on my map... only to realize I can't even get all the suits, which are the main draw. Yeah sure, there are various upgrades to find, but game does this thing where depending which of the three villains you tackle last determines the final piece of three possible suits. In essence, you're left with blue balls in two cases and game requires additional playthroughs for completion. I'll pass, thanks.
So that's pretty negative, right? What about production and all that stuff? It's more of the same. Blackgate was undoubtedly an impressive game on 3DS and PS Vita, but even with upgrades it must've underwent for home console/PC re-release those roots still show through. I'm talking character models with rudimentary or lack of animations, blatantly bad textures in places you weren't intended to see with fixed camera angles and animated comic bits oddly clashing stylistically with actual game assets. All of those are technical issues in a game that nails the aesthetic of its bigger brother just right, minus the Christmas vibes.
Final Thoughts and Rating?
Batman: Arkham Origins Blackgate fits into the role of a sidestep that ends up relying too much on the earlier game for inspiration. You could almost say it's a competent game where most of the attention didn't go to Batman's adventure in Blackgate tackling the usual rogues' gallery, but rather adapting the existing Arkham formula for 2.5D Metroidvania format. Story along the lines of what you'd expect, combat surprisingly taking a backseat to even greater focus on level exploration with acquired gadgets, and incessant reliance on manually inspecting objects as if game lacks any confidence in player figuring it out. This is one of those short packages, with intended replay value provided you want to get everything, where Batman holds greater appeal than genre itself.
Is it normal for a ~35 hour game to take over a month to finish? I don't know, but that's one more JRPG checked off of the list. Now it's time to continue where I left my previous game at, and hopefully I'll get around to it faster. Perhaps even share thoughts on the franchise as a whole if you've played it. Hope you enjoy the read.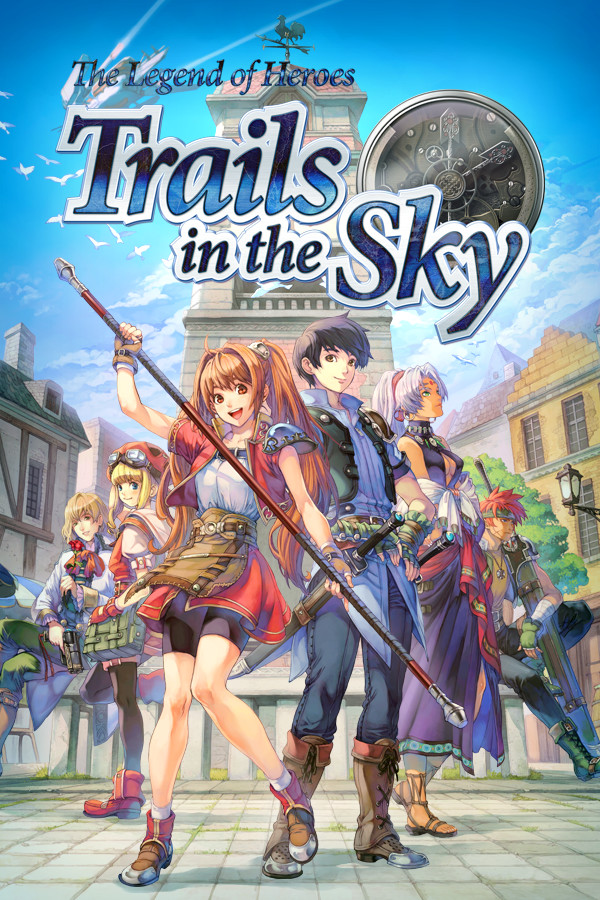 The Legend of Heroes: Trails in the Sky
( PC – JRPG – 2014 ) + TRAILER
---
Putting aside my brief excursion into the Gagharv games with the maligned PSP remakes I've finally decided to check out the Legend of Heroes series in earnestness, and I can say Trails in the Sky did not disappoint. Will it appeal to everyone? Well, I'd say genre fans would be predisposed toward liking it, but even then there are matters to discuss here.
Game opens to a man bringing home a child he's come upon during his adventures much to his daughter's irritation. Man is Cassius Bright, a famous Bracer living in Rolent, and boy Joshua becomes his adopted son dealing with his sister Estelle's friendly shenanigan as two are polar opposites. Story skips forward five years as they're finalizing their own Bracer training just as Cassius seemingly gets caught up in an airliner disappearance. Knowing their father is beyond competent Joshua and Estelle decide to go along with their original plan – get all the recommendations from each of Liberl Kingdom's regions so they can graduate from Junior ranks and become full fledged Bracers in their own right. Thus the adventure begins set against the backdrop of a kingdom in turmoil that's about to celebrate the Queen's 60th birthday.
For a largely story-heavy genre it's refreshing the way Trails in the Sky keeps said story close to its chest. Don't misunderstand because each chapter does have its own arc dealing with new characters and local problems, but it also masterfully weaves in parts of the overall narrative and bits that [seemingly] go beyond this game as well. I can hardly remember many JRPGs where world itself plays such a major role in how it gets fleshed out or how it integrates setting defining elements into every aspect of the world. For example, Orbal Revolution began 50 years earlier and changed how technology works. Player gets to see this as Orbments with all of their technical explanations and real life applications now permeate Liberl. Makes you wonder what other kingdoms are like since they're apparently lagging behind with this new technology making it Liberl's sole edge in their post-war state.
There's one usually overlooked feature in most games – NPCs. I cannot even begin to fathom how extensive game script has to be when almost every single common NPC, almost all of whom are named, comments on unfolding events and even has their own little story going on. This is certainly where point-of-no-return chapter structure helps, I imagine. Sometimes they even have little exchanges with our protagonists, you come across them at a different location later on, discover more about their jobs/life through posted Requests, etc. Phenomenal addition you can entirely ignore and never talk to them, but I'd argue this is the main meat of the game that manages to flesh out the world of Trails in the Sky more than anything else and give the game some identity.
And lastly, leaning onto the above, there are the characters and make no mistake because they're what Trails in the Sky lives or dies by. I haven't mentioned it yet, but game is a slow burn that might put off some people. If you ask me that's almost a necessity to develop characters when so much rides on their shoulders. Estelle and Joshua with their sibling dynamic, comedic relief characters who obviously hide more under the surface, other Bracers on missions you come across who aren't necessarily the nicest of people, etc. If there's one thing I'd slight the game for it would be being too obvious with rubbing the mystery in your face at times. Or was it foreshadowing flying right over my head? Honestly, I was just surprised by how intelligent characters are at putting things together quickly and accurately.
As far as the mechanics and systems go Trails in the Sky is my kind of turn-based JRPG – with transparent combat turns and visible enemies so you can avoid them.
Joshua and Estelle travel from region to region in linear fashion and getting Recommendations from each branch of the Bracers Guilde requires doing Requests. Seeing Bracers are a non-military organization this can be anything from keeping the roads clear from extraordinary monster specimens to helping someone recover their lost pocket watch. Completing these tasks is how you get paid in Mira and earn BP which determines your rank. I was never really starved for money because you can explore some optional areas in every region which lets you net some stuff you'd have to buy otherwise. There is no overworld to speak of as towns are connected by roads where monsters roam and you traverse across as combat zones in their own right. Particular design choice that might annoy some people is Trails in the Sky doesn't really let you customize your party roster until the final chapter and is content to just have our dynamic duo as party fixture with remaining two slots getting filled in by guest characters when story deems it necessary. Oh, you can also cook food as means of recovery/boosting from ingredients you procure as loot or buy.
I mentioned Orbments already, right? Well, unlocking slots with elemental Sepith you gain from combat, and slotting in some quartz is what lets your characters use magic aka Arts. Each character has their own limitations and inherent preferences with these slots, however. There's this entire interplay between slotted quartz and how they interact with lines multiplying their effects and enabling you to cast more advanced Arts. Game doesn't really have an organic way of teaching you this so you're stuck with looking at in-game instruction listing which combinations result in what. On Normal difficulty you can get away with your typical "get some healing, get some damage and minor buffs" to carry you through. On top of that there are character-defining Crafts and ultimate S-Crafts. These are essentially the determining factor for which characters you want in your party and range from AoE attacks, self-heals, debuffs, etc with their associated CP cost you recover through dealing damage and getting damaged. Don't sit on these.
When you boil it down to essentials combat is exactly what you'd expect to find in a turn-based JRPG. There are inclusions I personally like, such as visible turn meter where everyone's action order is visible so you can plan around it, and there's battlefield movement to account for. Not that it really matters beyond getting out of enemy's AoE attacks... which I did all of five times, probably. Attacks come in single, area and line variety which makes formations on both sides meaningful to a degree. Since I played on Normal I can only attest to that level of challenge which is alright. Probably airing on the easy side. Since the game is so finely tuned due to regulating who's in your party at all times it's appropriate only the final dungeon was somewhat tricky. One boss fight you're not supposed to win, but can, notwithstanding. That was pretty much the only fight in the entire game that got me re-thinking my setup.
Looking at Trails in the Sky as a whole I really liked it. Maybe because it really isn't a MODERN title considering original release puts it at 2004 and game wears its sensibilities on a sleeve. Addition of turbo mode is much appreciated and probably shaved off couple of hours for me. Production-wise we are talking about a game that's almost 20 years old at this point, but that's not a problem on its own. 3D levels are on the blocky side and pre-rendered sprites took a while to get used to which made me laugh because that look is back in style looking at some modern titles. Soundtrack? Great if somewhat on the limited side with re-use of emotional tracks, but location-based ones are upbeat. Combat theme was the only one that sounded perhaps a bit too... jazz casual?
Final Thoughts and Rating?
A slow burning JRPG featuring dynamic adventures of siblings Joshua and Estelle as they strive to become full-fledged Bracers, Trails in the Sky wears many narrative hats and somehow does it all successfully. From a coming of age story, extensive world building and underlying political struggles there's a lot here. Mechanically we're looking at a turn-based affair as our duo travels across the kingdom of Liberl and handles guild work via Requests handling shorter story arcs. Some might dislike the way game regulates its structure by cutting off previous chapters or determining who's in your party at any point in time, but I'd say all of that is worth it to experience a world where every NPC is named and has their own comment. That ending! Makes me want to rush to SC, but I'll give FC some time breathe.
I'm back after accidentally 100% completing a game despite not really aiming to. Well, no complaints here. Finishing this just got me pumped up to check out Heart of the Forest at some point in the future. I also got around to re-watching Cowboy Bebop so that took some time as well. Hope you enjoy the read.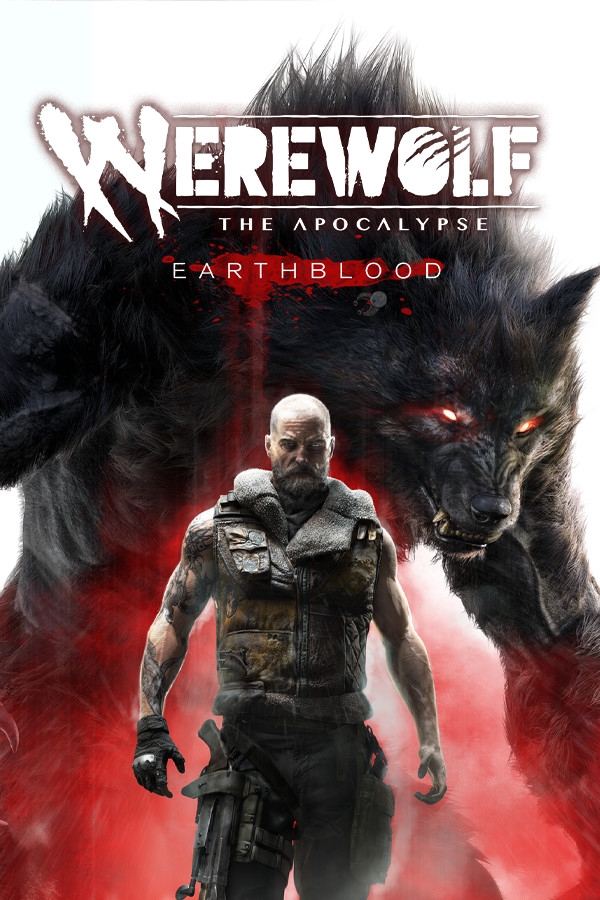 Werewolf: The Apocalypse – Earthblood
( PC – Action, Stealth – 2022 ) + TRAILER
---
Compared to World of Darkness' better known vampire counterpart, Werewolf: the Apocalypse has flown under the radar as far as video games go. Now finally Werewolf: The Apocalypse – Earthblood gets to take center stage. There's a matter of tempering expectations first as Eartblood is not an RPG some were lead to believe, but rather action meets stealth. Was it worth the wait, though?
It doesn't take long for disaster to strike our protagonist Cahal of the Fianna tribe as he loses his wife in a raid on an evil corporation called Endron. This results in him abandoning his own pack as well as his daughter, and going on a five year self-imposed exile after losing himself to Rage. Until he hears they, now operating with human activists, continued to fight the good fight and his daughter Aedana had stepped into her mother's former role – being an inside woman. Looking to redeem himself Cahal returns and if there's a chance he gets to avenge his wife all the better for it.
In this setting werewolves, or Garou, fight to save the world at the behest of its very own spiritual representation called Gaia. This "saving" takes place in many shapes, but is primarily characterized by maintaining the balance between material and spiritual realms. In modern times this tends to effectively mean becoming eco-terrorists who fight polluting corporations, literally or otherwise seeing as everything has a spiritual equivalent in the realm of Umbra, acting under the auspice of less well-meaning spirits. These entities seek to unbalance the status quo for their own benefit all the while Garou serve as Gaia's warriors combating such incursions.
There's a metric TON of lore to all of this and I've given you the cliff notes version which is more than Earthblood does because it aims to keep your focus grounded. This can be somewhat jarring as you get to interact with your pack's spiritual Totem spirit, for example, but still.
What struck me as strange is just how minimal the experience you're getting here is. For example, Cahal's tribe? Game will barely even mention that unless you read the notes scattered about. That's not even getting into his character. He's a gruff and almost stoic type which seems to be at odds with Fianna image of warrior poets or loud braggarts, depending on who's answering. Characters themselves never really get much attention and it's fortunate that goes hand-in-hand with a likewise simple approach to story game has. There's two pillars to it: avenging those you cherish and saving the planet. It just so happens that, be it your hacker Kinfolk or Silver Talon pack leader, everyone can conveniently direct their anger at Endron. I did like how there were some attempts to ambiguity later on, but it's portrayed in such obvious manner you can immediately figure out something is wrong. Only people who may be fooled in this instance, ironically, are fans of the property who know about a certain anti-human tribe's ways.
Enough waffling about the story bits because it's time to get into gameplay. This is where I got blindsided by how the game approaches action and stealth so they work perfectly together. You have three forms to work with, after all.
Stealth in a game driven entirely by turning into Crinos aka hulking wolfman destroyer form dedicated to combat alone, which comes with its own Agile and Heavy stances, is tempered by the presence of Lupus form where you assume the shape of a regular wolf. Now that I think about it Cahal's human form is mainly there to press switches and talk to scant few other characters, it's the action and stealth ones pulling most of the weight. So how does an action game manage to integrate stealth without it feeling tacked on? Simple – by making stealth entirely optional, but beneficial to engage in all the while keeping the doors ajar enough so stealth can always escalate into action. I had a good laugh when the only mission where Cahal is seemingly set for a stealthy approach can just be hacked and slashed through leaving your contact wondering what you're going to do now. Protagonist answers he'll think of something.
I wish Earthblood had more there to work with. For me it boiled down to "stealth became too cumbersome, combat became too annoying" as game kept throwing more obtuse level layouts and enemy compositions at you. Probably not helped by the fact you're largely confined to corridors with plenty of chest high walls to hide behind, cameras to avoid and fuse boxes to sabotage incoming reinforcements with. Reasoning behind why you would want to do SOME stealth has less to do with thinning out enemy ranks, as they'll send waves of reinforcements, and more with building up your Rage which lets you use special abilities. You can also generate it in combat, but why not prepare beforehand? Cahal can also use a crossbow to deal out damage and flasks to increase Rage, but I honestly never found much use for either. On normal difficulty cameras were never an issue because combat isn't really an issue to begin with. Sure, some enemies are trickier as silver damage can limit your max health until you upgrade your skills a bit, but nothing you can't work around with some dodges or target prioritization. I also wish an action game like this had more worthwhile bosses instead of couple I actually remember.
Skills? Yes, I've saved the best or worst for last. Further enforcing the whole "play it your way" is the way in which progression via Spirit points isn't at all tied to how you play. You get some from mission completion, but 90% comes from tracking down vagrant spirits scattered throughout levels. This means regular backtracking throughout the level to find the ones you've missed with your Batman, errr, Umbra vision and Lupus form's detection upgrade should be the first one you buy. These points can then be spent on Tactical or Combat skills. Just keep something in mind – Earthblood doesn't feature level selection. Make sure you get them Spirits as you need them if you want to get ALL the skills by end game.
In conclusion I can say game had me hooked enough to not only collect all the Spirits along the way, but also to replay the final mission to see both endings. Amusingly enough side missions ended up being the most frustrating aspect of a game that teaches you to rely on Umbra vision only to expect you can locate things without reliance on it. As far as soundtrack goes I cannot remember much, but sound effects were crunchy enough even with general lack of gore. I'd say they nailed the overall feeling of Werewolf: the Apocalypse down to how the game ends.
Final Thoughts and Rating?
Werewolf: the Apocalypse – Earthblood manages to marry action and stealth in a manner where neither is slighted, but action is the real deal here. Werewolf Cahal returns to his Pack after five years of exile following a disastrous mission only to see they've gotten in deeper fighting an evil corporation out to endanger the world. Get ready to hunt for spirits throughout levels with magical vision in order to upgrade your skills, skulk around as a wolf and cause havoc in werewolf form once the alarm starts blaring. Story is there with all its "save the planet" glory, but it's the freedom to play your way that sold Earthblood to me. Even if you'll mostly fight similar enemies for a while and monotonous warehouses and office locales. Good pinky dip for the franchise and here's hoping for more.
It is most assuredly NOT my intention to subscribe to monthly Reports, and posting on the very last day of February is entirely accidental. Besides pattern laziness I finally replaced my budget components from ten years ago... with modern budget ones. Some issues persist that would probably require formatting the HDD and fresh Windows install, but I'm unwilling to do either so here we are. Playing a JRPG on the side couldn't have helped, either.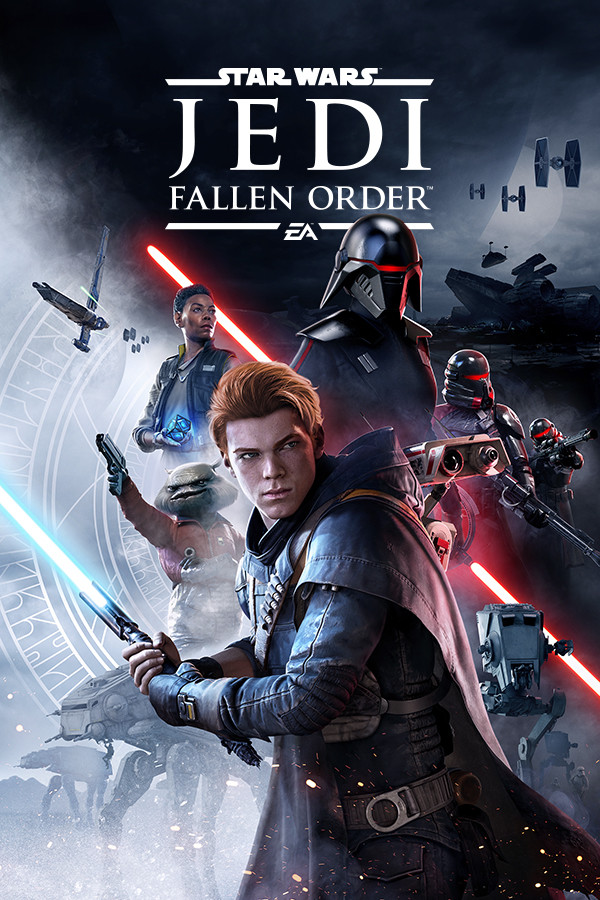 STAR WARS Jedi: Fallen Order
( PC (Origin) – Action, Adventure – 2019 ) + TRAILER
---
Straight out of EA's spice mines of mobile gaming comes something unlikely, but welcome – a solid game. That's precisely what STAR WARS Jedi: Fallen Order turned out to be as far as I'm concerned. By checking all the right boxes while keeping the experience familiar enough, and then applying the Star Wars license on top of it. Playing safe also means coming across issues that should have been fixed since with iterations, though.
We step into the shoes of Cal Kestis as he's trying to make a living scavenging scrap on planet Bracca. Doesn't take long for the game to establish it's set sometime after Order 66 was executed and it takes even less for Cal to expose that he is, in fact, Force sensitive in the process of saving his friend from certain death. Suddenly, Imperial Inquisitors are all over the place hunting down Jedi in hiding and through happenstance our young protagonist gets rescued by a rundown pair looking to restore the Jedi order. Greez and Cere also happen to have a ship capable of getting Cal off-planet so it doesn't take long to convince a man with endangered life and, you know, possibly being the last hope to restore Jedi, the guardians of the Galaxy.
Easily the most confounding aspect of Fallen Order's narrative segment is just how middling it is. I wouldn't call it low stakes or bad, you are after all chasing after a MacGuffin that could decide the future of an entire upcoming generation of the Jedi while the Empire is looking to snuff them out, but the manner in which it is presented to the player and how you interact with it is very sub-par. Entire game essentially boils down to planet hopping as you're gathering clues on how to access the final part. Narratively this means trouble because game gives you a degree of freedom in which order you want to tackle these planets, but as I'll get into later on gameplay limitations prevent you from truly having your way with them. If there's an ominous feeling I had to put into words it would be there's quite a bit missing from Fallen Order, primarily based on how piecemeal story bits feel with threads connecting them. Story comes together albeit in very weak fashion as game gives you only the barest of essentials.
Which is where characters would pick up the slack, right? Well, they kinda do. There are revelations and turning the tables on how you imagine things playing out, but the surprising part is flashbacks and somber moments between characters are standouts here. Greez and Cere are both more than just meets the eye, with one getting to spill the beans of her backstory, but Cal is the one who gets the most attention. In present day he's a surprisingly level-headed individual out to help people despite what happened to him in youth that scarred him for life and lead to life in hiding. I really liked him as a character, but I also wish he had more interactions with other people. Even as primary antagonist sheds her mask and they have a heart-to-heart it never goes beyond surface depth you'd expect from Sith vs Jedi. Hell, there are even hints of awkward romance from a last second party addition. In a way Cal is just a vehicle to carry out the search for the holocron and at times this becomes Cere's story as she tackles her own history and issues.
So what are we looking at in terms of structure and gameplay itself? I have limited experience with Souls games, but this is a take on that formula with deadly combat, mediation points to heal/upgrade/respawn enemies as well as level design laid out so you unlock shortcuts along the way. There is the addition of platforming bits in so it's not just combat all the way, but I would say this is also where dubious inclusion of metroidvania principles rears its ugly head. Why? Because you're never supposed to explore areas entirely upon gaining access as Fallen Order expects you to go back with expanded repertoire of what Cal can do. I'm talking about getting a double jump, ability to scale up walls, underwater breather, etc to traverse through levels as you handy diegetic map points out routes as yet unexplored. It won't remember chests you came across, but were unable to open at the moment.
Far from facing only regular Stormtroopers game will throw quite the variety at you. Yes, even mini-bosses that turn into regular enemies.
Upgrades screen gradually fills up, but many remain locked behind story progression for too long if you ask me.
Fine and dandy if somewhat annoying to me personally had it not been for a design decision to extend this to combat as well, though. This translates to being gimped early on until you get enough experience points to invest into basic things like heavy attack or such. Not a big deal as that's expected of character progression these days, but what I didn't like is how major milestones such as new Force powers or additional combat styles are hard locked behind story progression. When you add to this your trusty BD-1's own upgrades unlocking in the same manner you are quite clearly encouraged to rush to the finale, back off and then re-tread the entire game to locate all the [unmarked] chests and secrets. With so very few planets to visit, and re-visit multiple times as story dictates, I found my motivation sapped. Experience isn't really a problem since enemies re-spawn and you'll have more than plenty from just organically playing through the game.
Might as well talk about combat since we're on topic. In a way it's amazing to me how Jedi Outcast/Academy got lightsaber combat so perfectly right over twenty years ago. Needless to say Fallen Order does not come close since it's just a Star Wars skin job where lightsaber feels like a glowstick. Still, that's not to say what we have is bad. Expect low-scale encounters usually with couple of enemies or strong individuals/weak groups until the game flips the tables on you in the finale and starts throwing encounters comprised of the deadliest enemies Empire has to offer. It felt like a jarring, but welcome switch Cal is perfectly able to deal with at end game. Once you actually finish the game you unlock a challenge mode where you get really out there fights AND ability to create your own for maximum challenge. If there is a strength here it would be genuine enemy variety at hand where each planet brings everything it has. This means you'll fight your Stormtrooper varieties, giant spiders and undead Nightsisters with everything in-between.
Lastly, before I touch upon production values, there remains a matter of customization. It is the primary reason for you to scour across planets looking after chests for BD-1 to unlock and despite allowing extensively customization of the lightsaber hilt, outfit and your ship, I couldn't help but see it as tertiary at best. Character customization is limited to poncho and coverall patterns while with the lightsaber only the color of the blade really matters. Such an odd choice to put so much emphasis on the hilt you only get to see in handful of intense cutscenes. If there's a positive here it's that you're not FORCED to look out for chests to gain a gameplay advantage... until you realize secret golden ones will expand your healing canister capacity.
What to add about the presentation? It's amazing and you can tell both the budget and license were put to incredible use. Everything sounds right and composers did their utmost in recreating what an iconic Star Wars soundtrack should be. Also, The Hu are apparently canonical part of Star Wars now. Likeness of real people were unnecessary when working with a fantastical setting and just drew me out of the experience, though.
Final Thoughts and Rating?
STAR WARS Jedi: Fallen Order is a perfectly solid blend of action adventure, meets Souls, meets metroidvania that perhaps has to wear one hat too many and loses some of its identity in the process, but license and outstanding production values arguably manage to deliver. Young Cal Kestis is dragged from his life of hiding and tasked with recovering the holocron that may well decide the future of the Jedi Order as post-Order 66 Empire's Inquisitors are constantly at his back. This premise is somewhat betrayed by dull moment-to-moment story that could've benefited from more fleshing out to eliminate some of disjointedness. Revisiting planets with new abilities, coming across familiar characters and trying lightsaber combat got me investing some 18 hours into Fallen Order with no regrets.