Arby's Backlog Hell Arbiter Libera's profile
~ Let's Get Some Games Done ~
An Ongoing Exercise in Clearing the Backlog Extraordinaire
Nothing special here for now, really. Just my updates divided for somewhat navigable lists using the artwork I used when updates were originally published with all now updated to current art assets fitting to match 2019 updates and also easier to click on if you're using mobile. Maybe I'll add more to the "homepage" at some point, but this is serviceable for now.
---
---
Don't worry, I haven't been idle in my month long absence. You could make a point I had the exact opposite problem having played plenty of demos and outright free games Steam has to offer. It is precisely the latter I return with in full full force bringing along FOUR reviews for games you can immediately check out for yourself.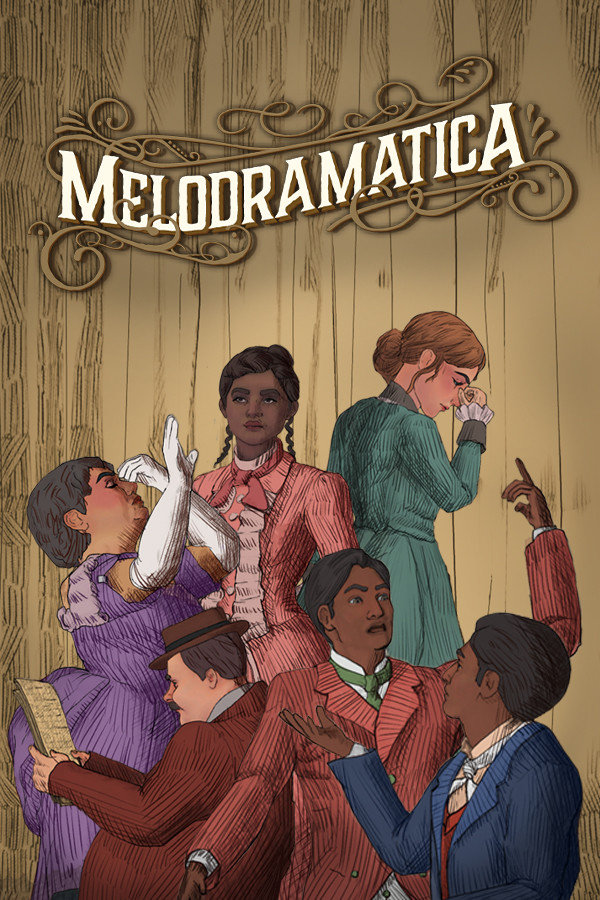 Melodramatica (
PC (Steam) –

Strategy, Simulation –

2021 ) +

TRAILER
I've been partial to management/simulators in the past, but have lapsed in recent... well, decade or so. Managing a Victorian theater was certainly a first which makes it even worse because Melodramatica has some inherent problems that could've been avoided.
First of all, I don't think the chosen control method was the smartest one. Assuming direct control over the heiress as you stride across theater boards to reach your actors, props production, etc doesn't add anything being general busywork and zoomed-in camera perspective. Neither of which is worth the trade-off when it comes to losing that familiar, mouse-driven control associated with management games. Interface itself also suffers from some cramping up on the right side of the screen where your available actors and play currently underway are both listed with expandable sub-windows. It quickly turns into a vertical mess, but this is one of those minor things that could've been averted with further QA that otherwise works.
Game itself is exactly what it says on the tin. Divided into acts you get to choose which play to perform. Managing said feat means mastering your actors aka sending them to appropriate training so they can improve their singing, acting or dancing stat. Trick is you only get X number of days 'til the premiere and with each actor having limited number of energy units to spend daily what you dedicate them to matters. Some planning is required on top of acquiring whichever costumes and backdrops certain plays demand if you want to get scores as those, in turn, determine your initial funds in the next act. And so it goes round and round with little pay-off in performances themselves. I'm talking couple of still shots with some dialog. This ain't The Movies if you were hoping for something more along those lines OR wanted background story, exploration of a historical setting, etc.
I did not like Melodramatica very much and didn't see it through to completion. For a free game and something to expand upon it is praiseworthy, but it's also too rigid and questionably designed from the opening act. I'm not even taking into account dodgy optimization that sent my PC into overdrive for no apparent reason. Something to wet the appetite if you want to try more of the genre. That tush, though.
---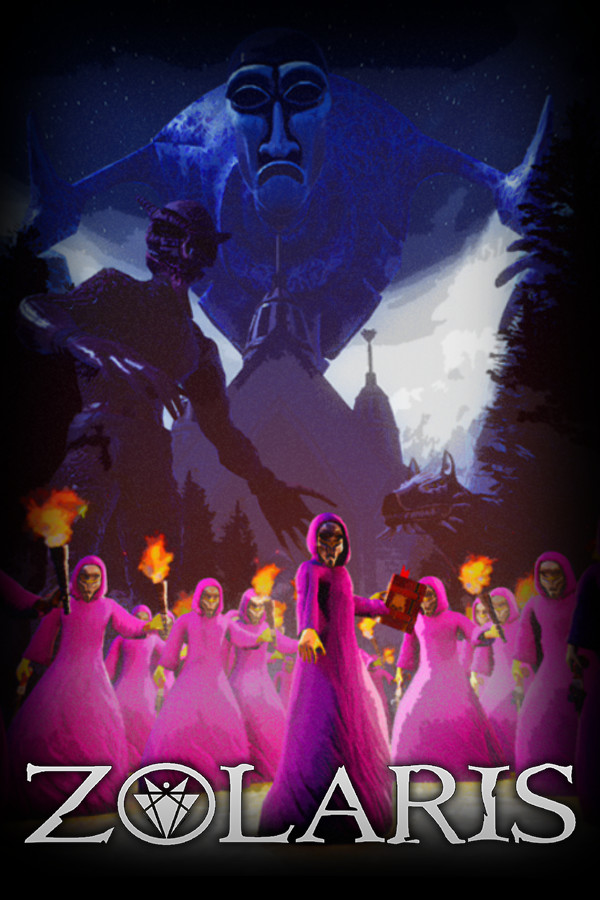 Zolaris (
PC (Steam) –

FPS –

2021 ) +

TRAILER
It pains me to say the following about Zolaris because you can tell its heart was in the right place, but it just so happens to be held back by inexperience and tech problems galore.
Story begins rather intriguingly as you assume control over Valeria, resident gunslinging spirit-dealer, and her chatty incorporeal companion Pike on a mission to, well, "forcefully visit" a local cultist temple with goal in mind to find out what happened to Valeria's sister. Not to mention you're tasked to do so by your village elder because said cultists are clearly up to no good. Entire setup also benefits from game's humble origins in that there are no long preambles on how or why, rather you're left to immediately get into the thick of it. Upon reaching the temple you find out two local spirits, one of Owl and one of Bear, don't much like being usurped and these cultists are trying to summon... something into existence. Each offering their own way to power - stealth or action - and Valeria decides some cleaning up is in order.
But what is Zolaris? A FPS combining guns, magic and stealth executed with all the finesse you'd expect from a free indie title that decided to bite more than it could possibly chew. Maybe it's just my nostalgia for Clive Barker's Undying that paints what's attempted here as charming, though. To game's credit it does have a tutorial section for using each of your powers, ranging from close range shocking attack, directional shield protecting for ranged attacks, etc, but these powers for the most part only work when they feel like it. Whispers meant to distract the enemy was absolute bust for me and aforementioned shield was a 50/50 toss up, for example. Not that enemies can really do much to you beyond swarming, even taking into account you have a pretty pissy eight-round revolver with extremely dodgy rate of fire. Something that pleasantly surprised me was how two spirits offer their own paths to progressing throughout the game. Do you want to sneak around to get tomes of power or straight up destroy obelisks? Considering game is jank incarnate I went with destruction.
I lost count just how many times I had to restart from checkpoints because scripts wouldn't load or level geometry decided it has had enough leaving me stuck in the void. The worst thing was when I had to restart the game altogether because Zolars HAS save support and does, in fact, let you load. Problem being save slots are session-based so they disappear upon quitting.
---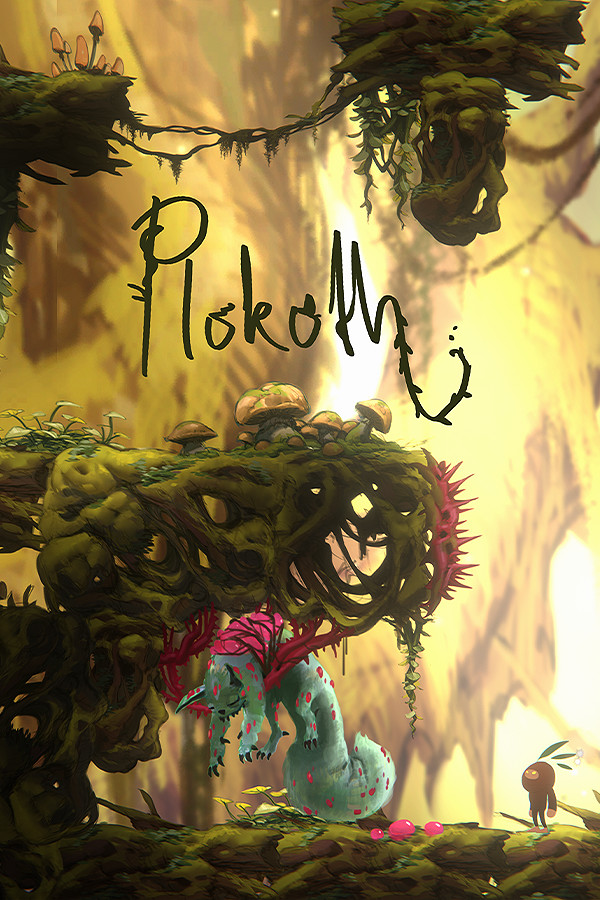 Plokoth (
PC (Steam) –

Platformer –

2021 ) +

TRAILER
Sometimes you want a platformer that means business and Plokoth fills out that role just fine.
Provided the closest comparison is what you're after it would be Super Meat Boy without the level selection or in-your-face absurd story. Breaking down the package further I'd say Plokoth eschew levels as something to overcome individually and is rather structured in a form of a single cohesive world with bite-size sections meant to challenge your platforming skills. End result is very stop-and-go approach to gameplay as you go through primeval jungle where things are gradually getting worse the deeper you go with purple thorns becoming more prominent and acting as instant death spikes. Good news is checkpoints are plentiful and loadings non-existent, meaning you're immediately back in action and usually just a couple of seconds from where you departed.
Aside from some running animation cycle and falling off the edges shenanigans I found controls to be very responsive which kinda matters here. Latter only became an annoyance accidentally when I had to stand still in a specific scenario to get the incoming power up or I wouldn't have even registered it. You're otherwise looking at your usual jumping off walls and sliding down said walls in addition to instantaneous rush forward... when the game feels like letting you have it for story reasons. Of which there's very little and is conveying to you via indirect storytelling. Something's going down in the jungle and our little three leafed guy has to save his girlfriend, I take it? What's there is more context than proper motivation.
Gorgeous 2D visuals do sell Plokoth even when you notice the tileset arrangements. Audio design less so with ambient tracks that could've used more prominence considering there's painfully little happening on the audio side of things given the absence of combat sounds or enemies. For a platformer with some bite I'd say all the moving parts hit the right notes. Give it a look - you can't beat free.
---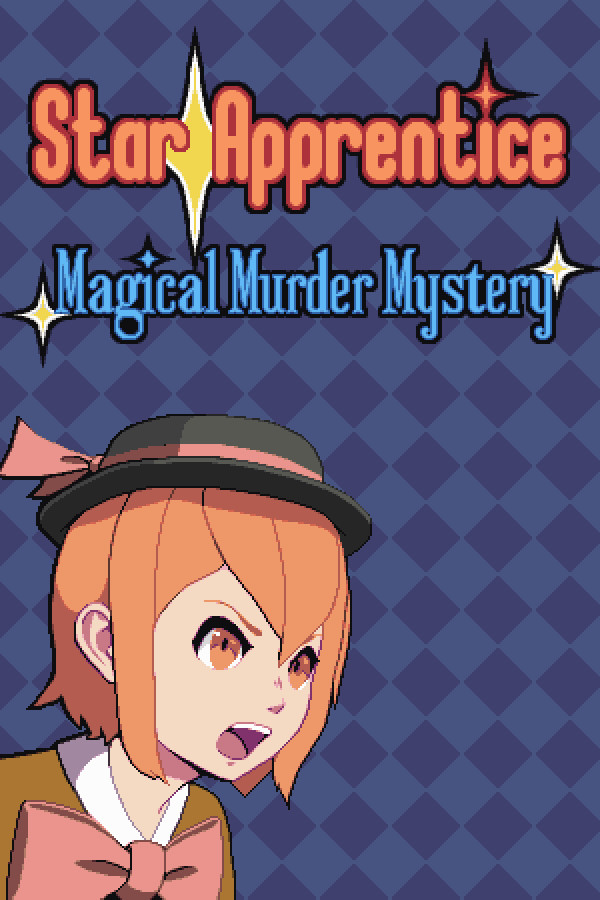 Star Apprentice: Magical Murder Mystery (
PC (Steam) –

Bullet Hell, VN –

2021 ) +

TRAILER
Does it count as cheating if game itself offers the freedom to do so under options? Well, I can't say but I certainly feel that way having finished Star Apprentice Magical Murder Mystery and realizing I most likely could not have done so otherwise.
Ever wanted to play an intense bullet hell game with side of quirky detective mystery? Because that's what you get when you put on Minnie's apprentice detective hat. It just so happens that her mentor gets killed while they're aboard a moving train and you're left with a small, albeit bizarre as all hell, cast that could have potentially done it. Twist? Minnie's method of seeing through inconsistencies and REFUTING them is rather unconventional - completing bullet hell stages and choosing when to drop the truth bomb, figuratively speaking, to reveal the truth.
What actually surprised me is just how lightweight Star Apprentice is when it comes to its narrative or total lack of puzzles beyond rudimentary clue gathering. I actually got its genre the other way around as bullet hell stages were straight out of hell for someone not really that proficient with the genre. In fact, I'm pretty sure you could easily double or triple your play time if you choose to disable unlimited lives game so generously includes. Frustration of playing this the legit way would weight too heavily on me, though. I simply didn't cut it in this case so I held on for just long enough to see the story climax because "screen full of bullets" fails to describe this one appropriately.
I won't hold the fact it was made in RPG Maker against the game seeing as it manages to shine through with pretty decent production. Lines of voice acting, pretty 2D visuals and pumping music all do their job. One thing I would recommend would be using a keyboard rather than mouse to control. A good game even if I'm no good AT it.
I'm usually faster in cranking out a review after beating games, but Evoland 2 took me a while until I got my thoughts in order. By that I mean it wasn't written in an hour immediately after the fact. So, what's new? Well, I guess I found that CRPG crack I was looking for and rather like the taste of it so that's a thing to look for. Way, way down the horizon, though. Enjoy the read and have fun.
Evoland 2
( PC (Steam) – RPG– 2015 ) + TRAILER
---
You like Chrono Trigger? Because Evoland 2 may just be the closest thing to it and not really in combat terms you may think given that tends to be a major component of JRPGs. In fact, I wouldn't even classify Evoland 2 as purely JRPG because varying what it is happens to be one of its chief design pillars. Let's dig in.
I have certain difficulties trying to talk about or around Evoland 2's story precisely because it's so textbook. It's where all the charm comes from mind you, but also translates into a generic tale. Amnesiac protagonist wakes in a peaceful village cared for by a girl who totally doesn't develop the hots for him or anything. It's not long before the mysterious prologue catches up to our boy, default name Kuro, and staying true to game's subtitle some space time shenanigans ensue propelling our duo 50 years into the past where war with Demons still rages on. From that point it's a long and winding road of jumping between time periods and seeing how the world changes while you tackle the looming problem of mysterious bad guys chasing after equally enigmatic Magiliths from the Age of Magi. Along the way Kuro finds friends and perhaps may even uncover his own mysterious past. DUN DUN DUUUUUUN.
Or will he? I ask this because characters don't really go past their one-note personalities so interactions get somewhat basic. For god's sake, Kuro doesn't even have one being a mute protagonist so his companion Fina compensates with BOMBASTIC EXCLAMATIONS to get the point across. To be honest I expected a more fleshed out roster with eventual party of four, but as I fond out Evoland 2 is more geared toward events over characters... which makes a degree of sense after you finish the game and realize how the entire affair is packaged. It wasn't entirely to my satisfaction with plenty of threads left dangling and, without going into spoilers, not resulting in the cheeriest of endings.
Keeping the manner in which game treats key character this has more in common with JRPG approaches of yore where it was less about individual character drama/personality quirks driving the plot forward. Events involve time travel meaning you should expect "do X in past so Y changes in the present" situations reserved for important story beats. I was pleasantly surprised the way game made use of jumping to 3D for a trippy effect in one particular area.
That's already too much regarding the story considering I can't discuss time travel plot points. Let's get to the REAL meat and potatoes of Evoland 2 – game evolution.
In case you never played the original game it was more of a prototype existing to present a gimmick Shiro Games came up with. Not to say the first Evoland wasn't a GAME, but it was also securely in the ballpark of couple of hours given its breakneck pacing where the main draw was to see how technology in these games changed. What does that mean? Well, in the opening game was presented in GameBoy fashion with green monochrome, eventually screen scrolling was introduced, opening chests would add new features like sound, different visual art styles, combat would change to turn-based and action, etc. It was just a really intriguing experiment and almost a presentation on RPG history with callbacks aplenty.
Fast forwarding to a sequel quickly makes something plain as day and that's how Evoland 2 is a far better realized video game in true meaning of the word. All those familiar mechanics and core gimmick are still present as the foundation stone, but greatly expanded upon by given context so they have more room to breathe without simply being a novelty to gawk at anymore.
Not to say all of these gameplay styles and variants were created equal, though.
Baseline Evoland 2 starts with is quite clearly Zelda inspired and functions akin to a default mode it sticks to even as you jump through game's three ages. A good call on developer's end because it remains accessible throughout and I never really had any problems beyond some questionable positional use of companion skills, built up to three levels when you press and hold the attack button. There were some situations, mainly smashing mushrooms, that failed in clearly telegraphing where to use aforementioned skills. Seeing as this is the game's exploration mode as well you'll get to trek the locales, talk to characters and even solve handful of puzzles. Brain teasers generally air on the simple side involving hitting a switch or two, but then you get to Genova library and game turns into an outright puzzle title. That's where I lost about an hour of my life at + change towards the end of the game with reality warping clones. Puzzles of this type are so jarring they clash to such a degree I wonder if it wouldn't have been better to just leave them out.
So I brought up how there's a lot of gameplay variety, but never got around to it. Might as well do it now. There's a ton of it and I couldn't shake mild amusement that a game styled so heavily after Chrono Trigger with "multiple objectives scattered across time you can pursue in your own order" structure and visual takes barely represents it gameplay-wise. ATB combat is in the game and happens to be one of the duller types relegated to a depressing single segment. I went in expecting Evoland 2 to be MORE of a JRPG than its predecessor only to be hit by an onslaught of variety. From SRPG bit where you recruit your army of mooks, brief shmup stages that let you test your TOTALLY SAFE AND RELIABLE FLYING DEVICE™, side scrolling platformer and even some out there ideas like Match-3 and beat 'em up. Game consistently introduced new approaches until the very end and never failed to surprise me. Even more impressive is knowing you have the support of your companions in all of these and their special skills still apply. Makes looking for Maana so you can upgrade them worthwhile. I just wish the game knew when to end some of these because they can drag on. Not helped by relying on players liking all this variety. Not really into card mini-games? Well... you're in luck because said card game is optional after getting introduced.
This is also an instance where I get to talk about the audio-visual part of the game as more than just an afterthought considering so much effort was clearly put here. Re-creating almost all of game's areas in three distinct art styles, accommodating original layouts for that and music tracks to cover all of that stuff is truly monumental. Even more so because the game has an overworld which have sadly fallen out fashion with JRPGs. In fact, it has THREE (3) just to rub it in. If there is a flaw to be mentioned here it would be writing given it maybe hits the references juice a tiny bit too hard. Even beyond that, it goes for including certain well known characters as cameos.
Final Thoughts and Rating?
Refinement over the original game in almost every way Evoland 2 continues the evolving RPG legacy. While its story may be on a somewhat trite side with a mute amnesiac protagonist it draws from all the best Chrono Trigger bits in structure and narrative more than gameplay itself. What starts out as Legend of Zelda homage rapidly evolves into everything from strategy and turn-based RPG, side-scrolling platformer and even a beat 'em brawler in one instance. Plenty of stuff between those as well as our protagonist is joined by trusty companions on a mission to defy time itself and figure out why they were thrown back 50 years into the past. Provided that Evoland 3 ever happens and continues down this path we may be looking at a serious genre contender.
It gives me satisfaction when something I wrote years ago is relevant for a recent piece and that turned out to be the cause, well, right now. There's a link to one of the earlier Reports where I talked about my favorite genres which just so turned out to be adventure games and RPGs, both relevant for The Council review down below. I also got around to posting that SF novel review.
The Council
( PC (Steam) – Adventure, RPG– 2018 ) + TRAILER
---
Being my favorite genres I've waxed nostalgic for, one of the points that's nagged at me was always "how come adventure games and RPGs never had a closer relationship?" and appropriate answers failed to materialize. I'm talking about your Quest for Glory variety where character building has an impact on point & click adventure side of things. One glance at The Council and you may think it's a Telltale copycat, but I'm pleased to report game is more along the lines of what I wanted. Some production caveats notwithstanding.
Premise we're working with is an ingenious one that seems rather obvious initially, but the more you think about the setup the more you realize how well it all feeds in synergistic fashion where narrative and mechanics reinforce each other. Babbling aside – nearing the end of the 18th century Louis and his mother Sarah de Richet, Golden Dawn members who just dealt with the crisis of a certain occult tome, find themselves invited to Lord Mortimer's mysterious island where fate of the world seems to be decided every so often by some of the most prominent figures. Or should I say Sarah is invited, promptly goes missing not long after arrival and so her son receives an invitation in follow-up. Not necessarily to get involved in the talks themselves but to just find out what happened to his spry mother while putting some investigative skills to good use. There's more to the island than meets the eyes, though.
Historical figures game makes use of liberally were probably the biggest draw for me because while their fates are set in stone to follow actual history they're certainly flavored in particular fashion. This also means the whodunit story is somewhat compromised by character limitations, but made up figures balance out that package. Amusingly, George Washington's tooth aches even made it in. The Council is working with limited cast, and some have more screen time due to immediate introductions, so you better not end up disliking many of them.
While I'm on the narrative side of things, which is an overwhelming part of the draw in a game like this, it would only be fair to mention what I perceived as noticeable drop in direction and quality starting with episode four. I'm not sure what went wrong there to make the writers stray from established ideas and regular politicking, but their decision to upset the game board to such a degree made me audibly react when the non-existent TWEEST was revealed. It is truly Shyamalan worthy and it pains I can't discuss it due to spoilers. Penultimate and ultimate episodes were overall much shorter and more focused, something I won't hold against them because The Council made the exact opposite mistake in earlier ones due to non-narrative reasons. Which leads me to...
Gameplay, where you might be pressed to say something along the lines of "it's a point & click adventure game, what GAMEPLAY is there to be had beyond clicking on hotspots?" and surprisingly enough you'd be wrong.
Doing away with classical pixel hunting, substituted to a degree by collectible coin hunting if that's your thing, majority of The Council is spent mastering the game's dialog system and when to use your considerable skills vs limited resources Louis has access to. Entire game is presented in third-person, but there are very few classical puzzles you may be lead to expect considering the genre. That's not to say there aren't other obstacles in the way.
There's outstanding effort put into recreating an opulent manor with all the artwork to go with it. Louis loves to comment, too.
While we're on the subject of dialog and given its importance I should point out how some systems work in the game. At the very start you get to choose some starting skills fitting into one of the three archetypes: Diplomat, Occultist or Detective. No worries because you can pick and choose from all three as you level up throughout the game on per-chapter basis and depending on how many things you managed to accomplish (find items, discovers information about characters, make choices, etc). In an interesting turnaround all of fifteen skills have foremost dialog uses on top of your regular interactions. Game commonly has alternate routes and solutions to accommodate freedom in character building. For example, something like Linguistics can be used to straight up translate an ancient text and to converse about languages. With so many skills I'd be hard pressed to single out any that felt shafted or downplayed, and that is to game's credit. Skill rank also matters because it lowers the Effort cost required to use said skills and if you're spread out too much Effort becomes the bane of your existence since you're tempted to do everything while slowly nipping away at your reserves. Fortunately this is why The Council has restorative items meant to sustain yourself with, make the next skill use free, detect character' weaknesses to make better skill calls, etc.
I got my ending and settled for it, but looking things up after the fact does reveal developers don't subscribe to Telltale school of smoke and mirrors. There ARE tangible choices to be made and I can't allow my letdown closure to tarnish what's being offered. Just keep something in mind – play stupid games, win stupid prizes. Problem seems to be more along the lines of developers' inability to commit to that initial story hook so certain episodes bring very little of long term consequence in terms of choices. Peak action comes in the form of dialog Confrontations that could've been better realized had they not boiled down "reference my journal for character traits = exploit".
Earlier I hinted at some non-narrative issues game has in earlier episodes. I was referring to episodes two and three where developers decided to go full puzzle mode which puts these episodes at odds with the opening and remaining ones. Problem? The Council doesn't actually have many "use X on Y" puzzles and instead goes for cross-referencing and information gathering to make your own calls. With no manual saving and one save per file this ended up being infuriating and I would not be at all surprised if you just decided to look how to open up a certain circular door starved for hands, for example. My point is where later episodes jumped the shark narratively these two episodes ground the game to perfect standstill with their "puzzles". For added effect you have to take into consideration game doesn't let you skip lines until you're replaying episodes.
If there's one aspect of the game for which I have nothing but praise it would be the presentation. Game obviously doesn't aim for realism with character models and I think it nails the slight caricature look. Levels, as limited as they are in number and exhausted by the time you're halfway through, are breathtakingly realized with some of the densest and vibrantly decorated interiors I've ever seen. You're absolutely transported to this island mansion above worldly matters. Soundtrack suffers from general weariness after hearing the same offering while you trudge across the same half dozen rooms, but tracks themselves are very fitting. Plenty of piano pieces.
Final Thoughts and Rating?
This marriage of convenience between point & click adventure and RPG ended up more favorably in my books than it perhaps deserves or would to other people primarily because it was what I yearned for. Story centered on mystery about a young man looking for his mother as she goes missing during an island conference quickly turns into a plot to change the world as we know it in a long play for power. Character skills influencing what Louis can and cannot do are the biggest draw in this dialog-centric game where you end up trading repartee with historical figures the likes of George Washington and Napoleon Bonaparte. Uneven vision in both the narrative with last two episodes and gameplay hampers what could have been an outstanding game down into merely a decent one.
The Dragon Never Sleeps ( Science Fiction – 1988 – 440 pages ) + GOOD READS
---
Not a first for Glen Cook, but it's always interesting to see an author branch out beyond their comfort zone. The Dragon Never Sleeps is not necessarily a stellar [heh] space opera and I'll get into why yet I would also state upfront it's still signature Cook with all the hallmarks you either love or hate depending on what kind of writing style you fancy.
In Canon space Guardships have been the law for millennia. So much so they've become the bogeyman, an out-of-time force no one really understands anymore that manages to keep this universe in check with sheer technological and information superiority despite complete self-sufficiency. When you take into account power hierarchy is one of volatile variety with Great Houses, various Presidencies and their Capitola Primagenia, with Outside's powers constantly looming over the edge you learn to appreciate the fine distinction people have bestowed upon the Guardships - they don't defend Canon, they exterminate Canon's enemies. This mindset has lead to many, many attempts in subverting the established order of things and each of them has utterly failed at the hands of Guardships... conveniently numbered and dubbed after Roman legions of old no one remembers anymore. That's not to say current events, involving some of the most outstanding individuals on both sides of space and even an ancient enemy considered long vanquished, don't threaten to condemn the Guardships to history where many believe they rightfully belong as people should be left to govern themselves...
What makes this premise interesting is you could argue the two sides we focus on could play BOTH the roles of antagonist and protagonist. Which is what they often do to each other and the rest of space. VII Gemina gives us distinct insight into what Guardships are all about and is arguably one of the more balanced ships out there where active crew, Dictat leadership and ship itself exist harmoniously. Inner ship politics notwithstanding. In the opposite corner is House Tregesser doing their own long term con with ever fluid leadership and questionable characters all-around held together by genius Provik as their second-in-command spymaster. Depending on your POV and absentee "let me bash you over the head with morality lessons" you could argue each is doing something worthwhile for different reasons. Hell, primary hero candidate in the novel doesn't take center stage for a good while and even then he's only doing what he was made for. Characters in general have a note they're assigned and they play to it because, as befitting the genre, it's more about the big picture and immersing you in this alien universe that whatever this week's character drama is.
Reading The Dragon Never Sleeps was quite an uneven experience. First you have a "what the hell is going on?" phase because you're jumping between characters without knowing who or what they are, then the middle section where you finally have a grasp on things follow by the final third or so where, in my opinion, book's tendency to have too much going on backfires. What do I mean by that? Well, throughout the book everyone has plans-within-plans and reader operates on a lot of need-to-know basis. Towards the end this escalates so far with some newly introduced players that I frankly lost track exactly what the plan WAS beyond the broadest of strokes. You could say it's the double-edged sword of Cook's writing - that straight-to-the-point, terse style of his works wonders in quickly establishing the narrative via fragmented world building and rapid storytelling, which surprisingly gels together in a science fiction story of this scale, but with information overload it implodes on itself with finer details getting lost. At some point "we came, we saw, we won" cannot substitute a paragraph or two of laying things out, and that pains me to say as someone who is very much inclined toward Cook's particular flair. In fact, I would almost say had someone else written The Dragon Never Sleeps the page count would've likely doubled and as a result there's a whole lot riding on per-page basis.
Overall? I expected more, but as pages ran out I didn't get it. Ending also kinda came out of nowhere in a sense it was rather abrupt yet hopeful. In retrospective all the parts were introduced earlier throughout the book. Solid read if you want some standalone military SF.
I considered giving this a shorter review, but as I kept at writing the damn thing it just grew all on its own. Might as well turn it into a full-fledged one at that point. So yeah, Feudal Alloy is a change of pace after something like Planescape: Torment and that was precisely the reason I chose it. Still in the business of looking into a big RPG to play next. Would be a shame to bite into a 50+ hour epic...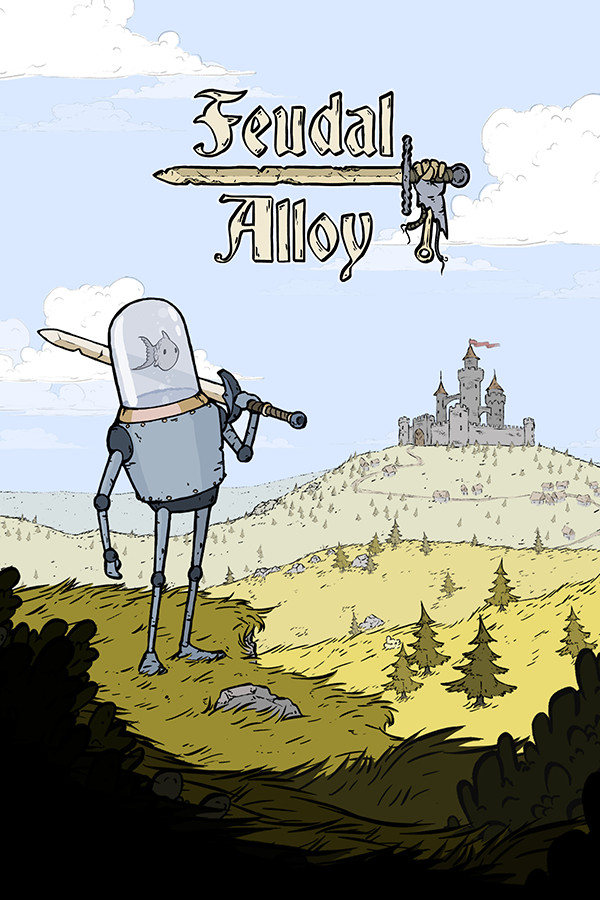 Feudal Alloy
( PC (Steam) – Metroidvania – 2019 ) + TRAILER
---
Being more of an RPG guy I tend to dabble in other genres from time to time to refresh the old palate. Feudal Alloy provided a perfect opportunity to dive into a metroidvania, and smooth experience provided an enjoyable ride with some minor kinks.
If you were hoping there's a story involved in this corridor delving escapade prepare to be let down. We're told who we are - simple robot called Attu who works as a farmer on the outskirts where he watches over elderly robots - until one day some bandits raid the place and steal the life-saving oil. It doesn't take long for Attu to suit up in ancient gear and go after the evildoers. There's no journal entries or anything to come across that would contextualize what you're doing and in a way that's refreshing as nothing (ir)regularly bogs your adventure down. You know, that now worn out "stop what you're doing and listen to audio logs" modern games have embraced as some sort of environmental storytelling solution. Opening and ending cutscenes are only bits of story you get in Feudal Alloy.
Did I forget to mention said robots are actually fishes in small aquariums mounted onto various frame configurations? Well, consider it mentioned.
Gameplay is what you'd expect from a metroidvania with the addition of an overheat gauge. Seeing how Attu is a robot with less than ideal cooling solutions your every attack, regular or handful of special ones you unlock as milestones, temporarily increases this heat gauge. It dissipates naturally over time, but in combat terms this means you cannot go button mashing or you'll just be left incapable of dishing out blows. Speaking of special abilities they're tied to combat as much as to exploration itself which is, arguably, the real meat and potatoes of a metroidvania. It's the usual formula - explore a location, see there are obstacles you cannot go past until you have the ability to do so, re-visit the location after you have the required skill, progress further, rinse and repeat. Even if you have physically FIND maps themselves in order to unlock parts of the usable map I'd say perfectly sensible level layouts do Feudal Alloy justice and act invitingly even for genre novices like myself. Add to that myriad of shortcuts and straight up teleporters as means of faster travel and you'll basically never be left treading over the same ground. Late game levels notwithstanding platforming in Feudal Alloy leans more on simply being aware of your surroundings and exploring every possible route you can over making pixel accurate jumps, even with instant death lasers and spikes you come across towards the end. If anything, it made a couple of brief timed platforming sections a thrill.
Whereas exploration leads-in naturally with the abilities you unlock aka double jump to reach new areas, yellow energy to overcome yellow barriers, etc I've found combat to be the weak point of the game. Game introduces more enemy types and same abilities you use to overcome electrified obstacles, for example, are used as combat solutions as well. Having invested in damaging dealing feats first I found myself spamming special abilities in combination with a coolant item to keep my heat gauge frozen in messy situations, which let me overcome anything. What I'm trying to say is there's a tiny sweet spot where game felt just right in terms of balancing for me. Everything afterwards turned into a breeze with nothing to spend money on because A) I didn't really need curatives and B) you come across plenty of gear organically which really only meant I would buy more to complete sets. Taking into account game has stats on equipment, but never divulges totals to the player puts a layer of separation between you and game systems. Inability to organize your inventory, compare equipped slots and guessing how much juice you'll actually get out of items, be they potions or bombs, leads me to believe this entire progression is here as mandatory feature inclusion rather than something thought out. Not horrible or anything, but basic with absent functionality. Combat as a whole relies more on throwing mixed enemy groups at you rather than singular challenges. With only two bosses in the entire game you'll be left out in the cold if you were looking to test your mettle.
Now, presentation I actually dig a lot. Tilesets are to be expected with what's on hand, but overall style is right up my alley with a cleanly drawn look. You could say backgrounds are mundane. You could also say areas look like they're geographically in plausible proximity so you won't see dozen biomes for its own sake. Soundtrack could've used some more variety and you better believe you'll hear some tracks on repeat. No such complaints about sound effects which felt punchy enough. Slowly chugging potions mid-combat makes you appreciate every goddamn glug Attu makes, though.
Final Thoughts and Rating?
A straightforward metroidvania with splashes of RPG in the form of equipment to go around along with leveling based on how much junk you've collected from felled enemies, Feudal Alloy manages to deliver what I believe it set out to when Attu embarked on his quest to recover that stolen oil supply. Game could have made better use of combat for more challenging scenarios or more bosses, which is a weird thing to say in a game that HAS challenge rooms specifically for that purpose. Inventory also suffers from snags like lack of any sorting or even ability to off-load your unwanted gear at the shop, but Feudal Alloy doesn't require more than remembering to choose your feat at level up and equip whatever you find along the way. Charming visual and limited soundtrack seal the deal.
Now that's what I'm talking about and what's been on the back-burner. Surprisingly, this CRPG classic turned out to be shorter than I expected. Or remember. Which brings me to say this is kind of cheating on my end. I HAVE played the original PS:T, but never got around to the Enhanced Edition following its release and Beamdog's somewhat dubious reputation. One could also make the argument that 20 years is long enough to forget and experiencing the game all over again felt very fresh to me.
Planescape: Torment – Enhanced Edition
( PC (Steam) – CRPG – 2017 ) + TRAILER
---
I found myself playing Planescape: Torment – Enhanced Edition almost 20 years after original's release, give or take a few months. This made for quite an experience mirroring that of the nameless protagonist himself as he half-remembers the world while uncovering true meaning of events past and current along the way. It would be a safe bet to say this resulted in a unique experience all-around... but how does the game fair nowadays?
Major problem arises when trying to discuss story or even characters in this case because the entire thing is couched as a mystery you'll get to resolve by the end. In turn this makes it impossible to really talk about any of those elements in significant manner lest you spoil them even more than usual. To stay as brief and vague as possible – we follow an amnesiac who "wakes up" in a mortuary and gets an earful from a floating skull keen on joking around. Who are you? How did you end up here? How do those warning tattoos on your back relate to the fact you're apparently immortal with untold lives behind you? Maybe your journal would explain some of this if you still had it, but one thing is clear. You're not dead. With that in mind you set out to escape the mortuary, piece together your lost memories and survive in this crazy world of Planescape. Even your name is lost... so you become the Nameless One instead.
Setting itself and how the game is set to make use of it are both worth bringing up, though. Aforementioned Planescape is a canonical D&D setting albeit one that hasn't seen attention in present day edition of the game. Having some degree of familiarity is a two-edged sword in this case and not in that "game messed X up so I can outraged about it", but rather because you get to see just how much it did justice to the source material while telling an original story. I would almost recommend going in completely blind as it gives you another major draw in the form of discovering the world. If you want a simple breakdown it would be that Planescape eschews popular fantasy conventions and marvelously takes advantage of fringe D&D stuff while embracing all of it. I'm talking about running on its own set of bizarre rules heavily based on concepts of belief and alignments. And lots of portals.
Of course, I hold a firm belief none of the above would really matter if not for the glue that holds Planescape: Torment together – terrific writing and freedom of choice.
It cannot be overstated just how much the written word carries the game and if you're not the type content to read through paragraphs and paragraphs of richly written descriptions or dialog, this is not the game for you. No ifs or buts. Provided you are, though, you're in for a work-of-art that has sadly not been matched. Even crazier when you add just how much FREEDOM the game gives you in how your Nameless One handles situations in terms of moral alignment. Why crazy? Because the plot and even the ending itself have to be seen through without relying on that modern "how you respond to key events determines the ending" setup. No, this is more about the Nameless One's personal journey and his deeds on top of interacting with what few companions you get. Who also happen to hide layers within layers of backstory. If there is a constant annoyance that arises from this freedom and verbosity it's a certain level of redundancy game has to adopt purely to ensure all character builds can, in fact, access said information. At times game fails to respond if you already know who Lady of Pain is and will still result in NPCs talking your ear off about her, for example.
As we step into gameplay department I must confess to being somewhat surprised how both aged Planescape: Torment has and how timeless it plays simultaneously. On one hand it's pretty straightforward to look at how other Infinity Engine games tweaked their isometric group combat and basic game logic, primarily helping rogues in the process by rewarding experience points for their actions, but on the other I don't think I've ever played another CRPG before OR since that had integrated narrative and gameplay in such organic fashion where they feed into one another. Even with the most basic fundamentals aka Nameless One is supposed to be immortal so he really is. On death your companions simply drag you to the nearest "checkpoint" and you restore. I've also lost count how many times immortality and regeneration were used in dialog and decision-making. For example, having a boring discussion with a suicidal Dustman about the nature of life and death? Simply snap your own neck and return to make a point about it.
Such mindset permeates the entire game resulting in some of the strangest quests you're liable to play. If your adventure game sense is tingling you're not that far off. More often than not solution to a problem is not to just straight up fight it, but rather procure the needed item which then has to be used in a specific manner. Woe befall anyone who loses plot critical items, especially in a game that doesn't provide you with player storage so you'll have to find that perfect contained to stowaway your unwanted items in. Most of my end game inventory was taken by items I thought were important or were simply leftovers. Read. Item. Descriptions. You'll thank me later after your journal has been cluttered and you need to remember something.
I'm not even talking about stats here and what an impact they make. This is the kind of RPG where you actually want to max out Wisdom, Intelligence and Charisma in order to get the most out of the game. Taking into account you can switch your callings so you're not stuck being a fighter and you're in for quite the dilemma. Mage seemed like the way to go for me and I think it paid off. Wisdom also adds to your experience gains, literal and proverbial, making it a-must. Thankfully there's myriad of odd items used to supplement your stats, neither of which are your classical sets of armor. Magical tattoos, cursed eyes, talkative TEETH, punching daggers, etc. This ain't your daddy's Forgotten Realms.
At this point you may be shocked just how little of the review has been dedicated to technical or gameplay aspect, and yet that's how I always perceived Planescape: Torment. Narrative is its strength, word its weapon of choice. Which makes it worthwhile to talk about the Enhanced Edition as such. I would say UI changes in Beamdog's version alone are worth it. For one, I do not miss the old ring interface and how it dragged down combat ironically making you want to avoid it so you chose to pursue non-combat solutions. Now it actually feels like a choice. There were also some crashes on my end which I'm not sure what to attribute those to. Usually on zone transitions where loading screens got the ax.
Final Thoughts and Rating?
Coming DANGEROUSLY close to a masterpiece, this timeless isometric CRPG about an amnesiac trying to piece together his own past and understand a world where belief defines everything only stands out even more with the passage of time and change genre has seen in two decades. Evocative writing can at times be redundantly verbose, cases of adventure game logic can get in the way of telling an outstanding story, and challenge is overall absent, but the way it uses an alien setting to tackle a mystery where individual parts are lying to you and some even are you hasn't been matched since. It has to be pointed out – this is almost a novel in RPG format with choices aplenty, usually backed extensively by character stats. If you don't enjoy reading my suggestion is to give this one a wide berth.
A redemption Report, if you will. On a more serious note this is simply closing the final chapter on a game I got in a rut with and took a break from. I expected it to turn into a far more negative take compared to what I bring to you. Maybe that break gave me some time to reflect on what almost got me rage quitting, though.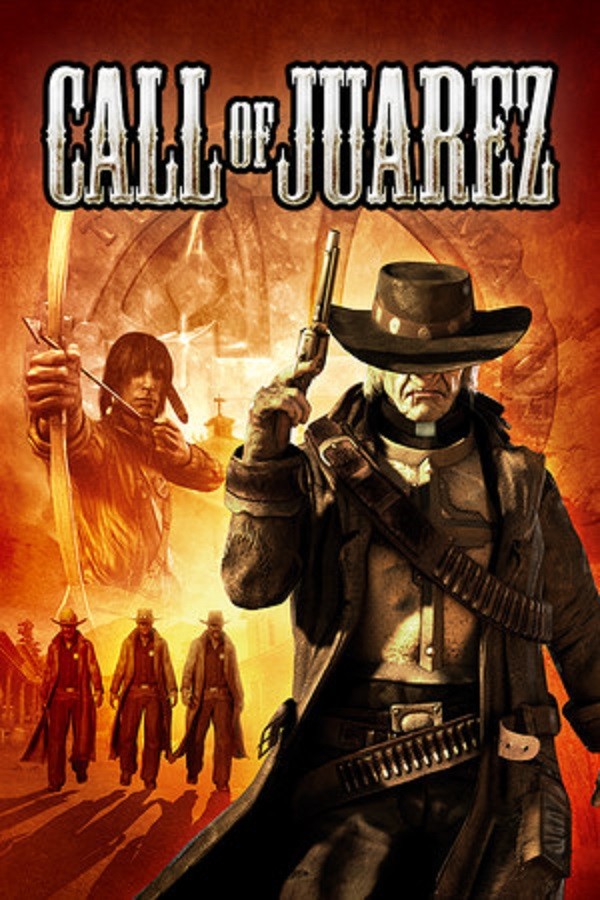 Call of Juarez
( PC (Steam) – FPS – 2007 ) + TRAILER
---
Wild West games have always been rather obscure efforts for some reason with only couple of higher profile names out there hogging the spotlight. I couldn't tell you why this is the case seeing as, unlike with pirate games, they don't really have the "simulations are anathema to mainstream population" justification the latter enjoys. This gave me great pleasure to finally finish Call of Juarez and oh boy, did it leave me conflicted.
Looking back on mid-late '00s when military shooters were all the craze seeing something like this attempting an actual story must've been a treat. What we actually have is a sequence of episodes rotating between two protagonists: evasive fugitive Billy and gunslinger reverend Ray. Or should I say we take control of protagonist as well as his personal antagonist because good old reverend is chasing after Billy after seeing him flee a burning ranch where Ray's own brother and wife were just killed. Billy's mixed heritage already raises flags in this time and place so it doesn't take long for the entire town to chase him out and for reverend to swear revenge.
Even keeping in mind the upcoming series of backstory revelations, character developments and twists, one cannot change his mind just how UNEVEN these two characters are. Maybe I'm biased as I clearly favored one gameplay style over the other, but Billy's incessant "it's not my fault, I gotta run" mentality started to quickly grate on me and his VA didn't help either. He seems out of place and is used as little more than a McGuffin carrier. On the other hand reverend Ray is that guy – gruff zealot who will stop at nothing until he kills his quarry. His episode narration full of fervor is what will unironically stick with me from Call of Juarez. Lord watches over him and he will not fail to monologue said fact along the way.
Since I brought up game structure I have to point out this is where I had a minor issue escalating into quite a distracting one. Even installed on SSD game takes ages to load and just as long to save sometimes. From what I've looked up it has to do with compiling map files as levels load in while saving is related to frame-rate and object physics spazzing out. Issue came and went randomly which is a problem using level setup where you have one big loading for the entire episode followed by smaller ones for sub-levels + autosaves, on top of whatever also affected manual saves you're doing on your end. You could probably remove good 15-20 minutes from my play time due to this, however. I regularly went and made a cup of coffee to pass the time.
So, gameplay. This is a FPS throughout, but developers don't lie when they bring up "adventure" in game's description. This... is not good.
It won't take you long to realize how this works – Billy is the sneaky type while Ray is guns blazing, pray later. This would make for great variety if not for couple of inclusions on Billy's end. I'm talking about platforming. Physics affected platforming. In a first-person shooter clearly not built for it. Let me tell you something – there were episodes where I almost rage quit the game, particularly towards the end where you end up climbing a cliff and relying on finicky whip and dodgy edge detection to pull yourself up. Falling means death and reloading. Another gameplay diversion breaking up the shooting is the ability to ride a horse which is something both characters get to partake in and feeds into timed chases. Surprisingly this didn't turn out to be a problem as long as you maintain vision on your target. Game tripping you up by throwing low visibility turns while you're galloping at full speed did, though.
Good thing is Ray's episodes function just fine because then it turns into a straightforward shooter with health and ammo pickups. He's the type to take guns from fallen enemies because you've used your own so much they broke down. Yes, there's weapon degradation and it made a difference exactly ONCE in the entire game with replacements are aplenty. There are two noticeable bumps with Ray – dueling mini-game at the end of almost every episode and GOD FORSAKEN last few episodes with him. Dueling is just clumsy as you have to manually draw your weapon and pray slow-mo aim is better than the other guy's while frantically leaning to dodge. End of the game drowns you in so many enemies you'll be grateful you're not Billy with your chestplate pulling double duty. And then there's shooting dynamite sticks from mid-air...
In my opinion game leans a bit too heavily on bloom saturation which gets in the way as you're trying to aim at things on the horizon, especially towards the end when you're in perpetual sunset level, but this could be due to playing the DirectX10 version. There's also an attempt at cost cutting by making characters use the same levels until about half-way point while giving each a different route as reverend is on Billy's heels and just barely missing multiple chances to catch him. Flipping the Bible open and seeing it confuse enemies just enough to pop them with akimbo revolvers did put a smile on my face, though.
Final Thoughts and Rating?
Awkward mix of adventure and FPS meets a rarely seen Wild West setting. As we follow runaway Billy and reverend Ray in a game of cat and mouse former's flimsy whip action and scaling cliffs gets him in more trouble than latter's shotgun and Bible thumping ever could. And yet, and yet. Despite this unevenness, as well as technical problems on the most basic level where loading and saving takes ages, I still liked the variety of gameplay styles included and story taking a turn away from revenge as cards are finally placed on the table. Call of Juarez is a game that could have definitely been better REALIZED, but what we got is fleshed out enough to break out of that dreaded "FPS in setting X" formula. It never managed to bore me even if some platforming bits almost had me giving up entirely. A near hit.
I can't help thinking this is a kind of low effort Report when I should be dedicating them to a single, proper review. Beyond tackling three free games that you yourself can play right now and finish in under an hour each, I also binged on some anime by checking out a much acclaimed show I never got around. You could say it's "Isekai done right" from before the entire genre departed into distilled mediocrity. Kept it short this time around, though.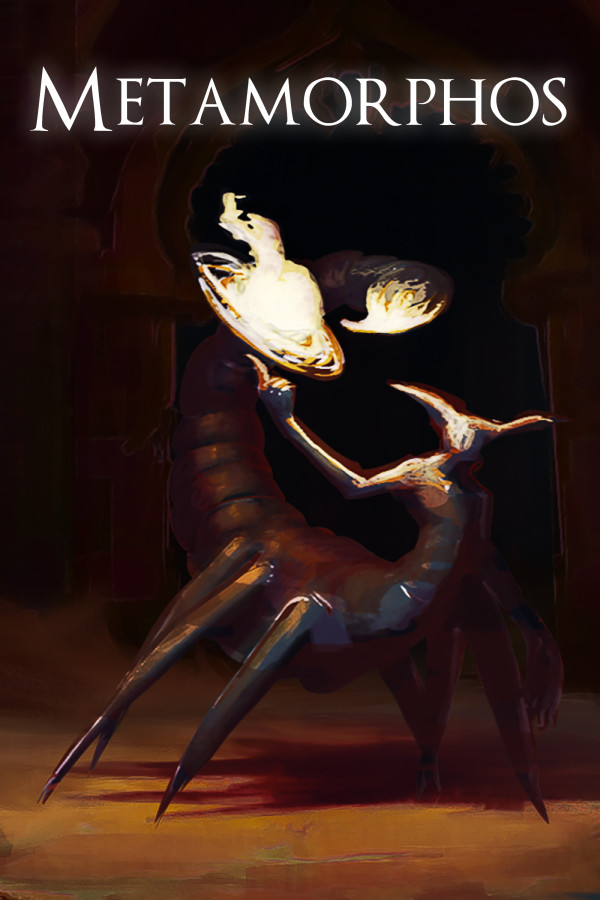 Metamorphos ( PC (Steam) – Action – 2021 ) + TRAILER
Not to be that guy who excuses something for what it is due to external reasons, but considering Metamorphos is a student project it happens to be rather decent. You can see the team is wearing their inspirations on a sleeve for this one and someone really liked Souls games.
Setting we've dealt is one of Arabian fantasy of sorts. Meaning lots of sand and ancient ruins to trudge through with an ambiguous "restore the Oasis" objective ahead of us. Not that such a thing factors heavily into a ~30 minute game, but it's reassuring to have some context. It mainly comes from obelisks bearing inscribed notes.
These are in turn conveniently situated near aforementioned oasis which serve as your save point/restore health and respawn enemies dispensers. Due to linear level layout you're always glad to see one and I wasn't held back by their absence so I'd say they're well placed throughout. Enemies clad in purple, smart color choice to contrast with orange and yellow backdrops, come in few varieties from your basic footman to scorpion-man, but your character sadly lacks many tools to engage them with. RPG elements usually included in these Souls-like types of games are absent in Metamorphos meaning you'll be relying on your quick and slow attacks as well as magical dodge seeing as blocking is out of the equation. I found these served me well and getting caught in geometry was what did me in more than ambushes, though. Just remember – that cliff you think you can roll down to for some secret treasure? There's no inventory system.
Some expected lack of polish and bite-sized package notwithstanding I was pleasantly surprised. That final boss can hold a TED talk on the power of magnets and overly tuned attack range, though. Keep in mind what you're getting into and embrace some jank.
---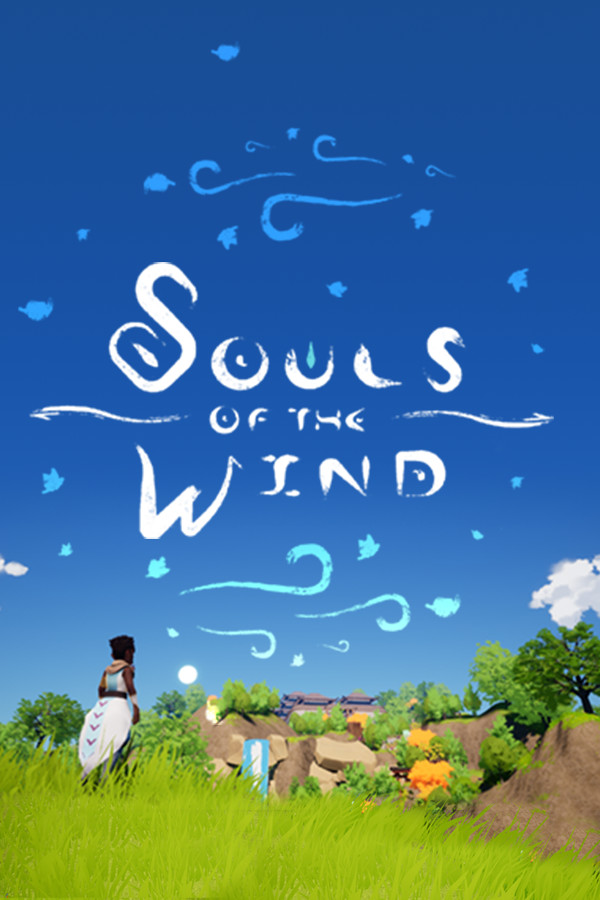 Souls of the Wind ( PC (Steam) – Adventure, Puzzle – 2021 ) + TRAILER
Souls of the Wind is fundamentally not a bad game, but this review comes from a game breaking bug experienced towards the end after which I couldn't in good conscience recommend the game to others even though it may not be something you'll experience for yourself. Which is a shame because this is quite a pleasant platformer/puzzle that, with some tighter QA, could've netted a good hour or two of play time.
We step into the shoes of the latest Guardian of Four Winds who, appropriately enough, embarks on a quest to piece together just what is going on at four temples and why are Spirits failing at their job so the corruption has begun to seep out. Not only within temples, but also into the village you hail from aided by your trusty ethereal companion. Girl has quite the task ahead of her.
This village is your central hub you head out into four separate zones thematically fitting their geographic description. I did find it neat you actually get to talk with select villagers who will divulge some lore tidbits about the world. Most of the communication is one-sided with your cheeky companion, though. So what's the game like? A 3D adventure platformer with greater focus on puzzles. And I do use that word generously from what I've seen because it mainly comes down using powers you gradually unlock to manipulate the world and progress. You use gust of wind to rotate some blocks around so they can propel massive fans which activate rotating platforms, stuff like that. If I had any issues they came from levels not conveying their intent clearly enough. For example, I didn't immediately figure out that putting together a corridor through poisonous mist came secondary to getting a hold of the crystals placed out of sight I'd need to carry THROUGH said corridor. Moment-to-moment gameplay itself could've also benefited from improved aiming accuracy when it comes to using your powers and navigating timed platforms. I used a gamepad, though.
---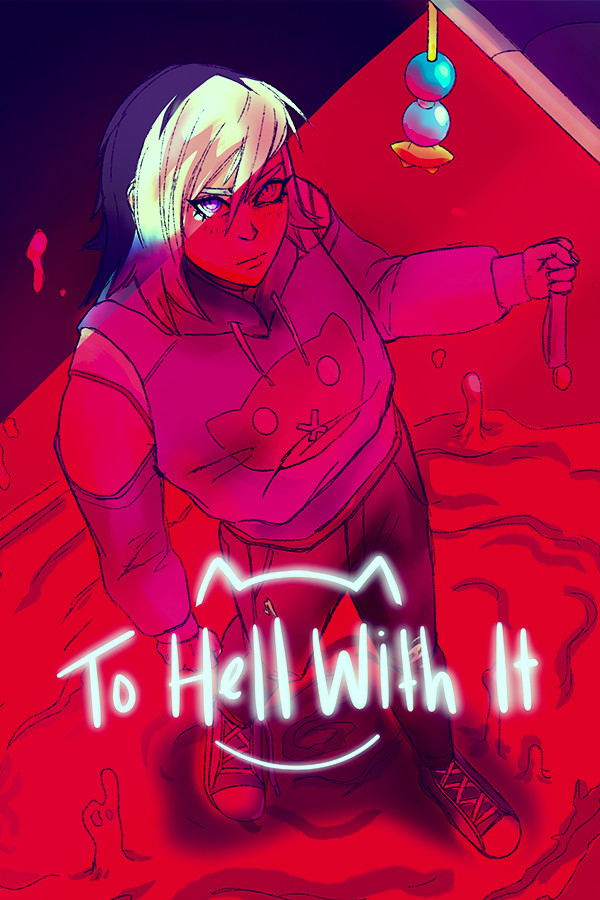 To Hell With It ( PC (Steam) – Action – 2021 ) + TRAILER
There is something to be said about spectacle fighters and how they may require sufficient enough budget to pull off that finely tuned responsiveness.. which may not [entirely] apply here since To Hell With It is more of general action game. I have some negatives to bring up, but for a first effort it is more than commendable.
Premise is about as ridiculous as they come – chilling in the middle of the night Aella sees her cat Purrsephone get dragged into hell through a smartphone screen. Wasting no time she chases right after and so begins a humorous, short-lived adventure in Hell. Turns out they need someone to clear up situations in three instances before head of HR will see Aella and explain what exactly happened to her cat. As you can surmise tone is entirely self-aware and on the level with oddly warm color palette making Hell rather inviting looking.
Speaking of which this is an action game, but I wonder if inclusion of token "climb up these clearly marked sections" was even necessary. Structure we're working with is a tried and true one where you progress through a level, enter an area and can't leave until you clear all enemies. And by "clear" I mean dispatch with extreme prejudice. You have your sword with light/heavy attacks, of which the latter isn't nowhere near SLOW to cramp your style, along with two equippable abilities you unlock from cards and some items I basically never used. Think healing potion, AoE damage, etc. Key issue with the game I brought up earlier is how cumbersome it feels. Attacks seem to lack that OOMPF behind them and even moving around looks like ice skating at times. Not a crippling problem, just something to get used to.
Clocking in at just over an hour this is a bite-sized game that does not overstay its welcome. Hell, I almost wanted more to improve my newly gained abilities further. Not that you'll break a sweat on normal playthrough.
The Twelve Kingdoms ( Fantasy – 2002 – 45 episodes ) + TRAILER
---
I'll spare you the usual wall of text, but holy crap did watching The Twelve Kingdoms again make me realize just how much anime has changed.
Slowly watching over the course of two months may have added to it somewhat. I especially liked how it focuses on introspection and self-reflection with problems getting solved as, surprise surprise, characters actually change and act upon that despite difficult situations at first glance. Cynical part of me kept imagining just how differently Youko's entire journey would be handled in a modern show. She'd probably ass pull some magical power to demolish the entire established order of things because it would be a simplistic "correct thing to do" or something. Effect itself isn't necessarily solely the result of having 45 episodes and focusing primarily on the protagonist, either. Hell, The Twelve Kingdoms even pulls off three parallel stories in its longest arc with two brand new characters who still end up undergoing their own meaningful developments.
If there's a flaw to the show it's the way it sometimes can't decide whether it wants to be about Youko's ascent to position of Queen and status thereof in this fantasy world heavily based on East Asian aesthetics with accompanying celestial bureaucracy to go along where the Heavens seemingly choose rulers of the eponymous kingdoms through their own agents OR have her be shoehorned into entire arcs and act merely as the common element while we're told tangential backstories. If not for setting building value one could almost argue two arcs could've been excised entirely let alone the unnecessary recaps. It is amusing that few standalone episodes were my favorites because they kinda cover what happens between big story arcs. Sadly, I can't comment whether anime is faithful to original novels or not, and you can also say it may be too long for its own good, bur journey here is a lot more important than the final destination you can tell will be reached. I wanted to see a lot more because the show ends just as Youko comes into her own... and is then followed up by recollections of a supporting character.
According to my last Report here it's been... two months? Well damn, time does fly. Probably due to my dabbling in FF14 as I'm want to occasionally and somehow never get past level 20. But seriously, I think the holdup was simply tackling a long ass JRPG and one I wasn't enamored with as it went on. If there's any uplifting news it's my newfound determination to stop buying games beyond what I get from Humble Choice so let's see how that pans out.
There's also a SF novel I managed to finish.
Tales of Zestiria
( PC (Steam) – JRPG – 2015 ) + TRAILER
---
Looking at this review as a whole you might get the idea I'm channeling some of my old Final Fantasy 13 review, but I'd like to disperse that notion. Tales of Zestiria has problems big and small, and yet I believe it could've been greatly improved with some changes in all departments. Just to be on the safe side this isn't a "how I would fix the game" take on the matter, though. Merely my opinions on what I played through.
With the risk that taking couple of breaks may have fuddled my memory I have to say the story aired on the safe side. Not saying that managed to surprise me considering this is Tales of series we're talking about and they hold formulaic anime stories near and dear based on multiple games I've now played. There's this evil force called Malevolence that permeates the world and can infest all beings. Pushed to extreme it can turn them into monsters called Hellions. How do you fight it? Well, that's where the Shepard comes in aka human agreeing to a contract with Seraph, another race of beings living in the world nowadays unseen by normal people, as he can not only purify Malevolence itself but also Hellions. As fate would have it our archaeologist aficionado Sorey becomes the Shepard and along with his best friend Mikleo descends from a life of among the Seraph high in the mountains to embrace his destiny. Maybe even save the world in the process and have fun searching for monoliths. What actually follows is an arduous journey where he realizes there are reasons why Seraph are turning their back on humans and vice versa, why Malevolence is on the rise and who stands to benefit as well as dealing with third-party groups who have their own agendas.
And so we reach my first of two big problems with the game – these characters are unfit for the kind of narrative Tales of Zestiria is intent on keeping. What do I mean by that? Well, I found party members really enjoyable and likable on their own. They all have zany personalities with quirks that manage to endear them; from Sorey & Mikleo's fanboy obsession over ruins and ancient cultures, Lailah's goofy love for puns and sisterly love, Edna's stoic dead pan reactions, etc. Game's skits where 2D portraits have fully voice interaction stole the show for me and manage to flesh out characters like no other. Now imagine these characters having to participate in a story centered around magical depression and very existence itself being in danger, even other Shepards in the past failing to avoid corruption. My point is these characters would be better fit in some comedic game about shenanigans and non-existent stakes. What you end up with are almost bipolar characters who switch 180 on a dime between their normal and grim SRS BSNS behavior when story calls for it. It NEVER clicked with me. That's not getting into how Zestiria ditches a character who is seemingly set up to your second only to replace her with a new character and bend backwards narratively to justify her being. Fortunately, I rather liked the spoilerific character to a point she transcends deuteragonist role, but still.
Departing the narrative lands what was my other big problem? A rather sizable one for a JRPG - combat. Or rather, game systems in general.
My complains here should be taken with a grain of salt because I am well aware Tales of games are essentially made to be played multiple times and preferably on higher difficulties, doubly so if you're aiming for achievement completion. Just like I tend to I played the game on normal. Turns out there's quite an overload of game systems piled on top of the player, but from my own experience you have next to zero reason to engage with them. First thing to keep in mind – leveling has very limited use in Zestiria. Mainly because you're expected to engage with skills from gear. Skills on unreliable gear drops and shop offerings, mind you. Which you're then expected to become proficient in through use, reinforce via Fusion and get the skill composition you want. It's so woefully contrived and arbitrary if you actually want to get the skill ranks you want. On the flip-side this just might be a min-maxer's ideal and way to customize your characters to the extreme for higher difficulties. Artes as form of active abilities you use in combat are back in full force, along with Support Talents along the lines of useful ones (Snack Preparation, Windstepping) and useless ones (Money Finding, Stealthy Feet, etc) unique to each character until they master it and can teach others. Due to how the game is set up you will have barely unlocked a few of these on multiple characters and MAYBE maxed out your starting Talent provided you stuck with it. New Game+ exists where you can continue development.
Arguably learning the WRONG lesson from western RPGs, "overworld" zones in the game are far too expansive for their own good.
We finally reach the combat section where I have to explain how normal mode is too easy without feeling a lick of shame. Only because there ARE fights that were supposed to be challenging yet due to combat design choices they fall on their face. What is the most integral, game defining feature of Zestiria's combat? Beyond being real-time action it's surely Armatization. It's where one of our two main characters "merges" with their Seraph companion and become, well, an elemental Power Ranger for a lack of better description. For example, merging with Mikleo turns you into a water-aligned archer with a separate moveset entirely. Potential to do so is limited by your Blast Gauge which in turn also determines almost all of your heaviest hitting special attacks. With some accidental skill fiddling you'll never find yourself running on empty and as a result Armatization absolutely obliterates everything in your path. Even when you're in human form your regular attacks are only held back in check by SC easily replenished by dodging or holding down the defend button. It will gradually reduce meaning you need to eat food or rest at an Inn to recover, but this is a non issue I barely registered some ten hours in. What I'm poorly trying to convey is there are barely any tangible checks on the player in combat aside from Blast Gauge itself. Unless...
Party AI is supposed to be one because lord have mercy, I learned to love the rare sections when Sorey went at it solo. There are four party members in combat, but this usually means two because Sorey and spoilerific girl enact their Oath and merge with Seraphs. There is a Strategy menu to decide how everyone will act when you're not in manual control seeing as you only control one character in combat but can switch who that is on the fly, and yet despite that I found idiocy cannot be cured. Thankfully they won't use healing items on their own, but final boss in particular drove me up a wall seeing as part of it is a time limited damage race check or he will annihilate the party. You can see how this can be a problem where you lack total control over your party members. Amusingly enough, I found myself not having any problems with other game bosses despite them towering over me by good 10-15 levels. Either you're meant to grind to stay up to snuff or there's an insane safety margin. I've dismissed the possibility of me being just that good for obvious reasons.
Dealing with production values I have to say I downloaded a Community Fix because this PC port ain't that hot. From frame rate issues, odd crashes and weird image filter quality. Beyond that this was quite a right foot forward production for Bandai Namco with plenty of voice acting to go around and even animated cinematics for important bits. Character designs air just a bit too much on the over-accessorized busy side for me. Like other things such as highly melodramatic story and archetypal characters when it matters the most, it's simply part of Anime: the Game package.
Final Thoughts and Rating?
A flawed JRPG experience where some tweaks and shifted priorities could have resulted in tighter, but more meaningful package. Shepard Sorey will find it's not the dangerous Malevolence corrupting people that's the real threat, but rather poorly thought out gear-derived skill systems reliant on grinding to realize "builds" you want yet also being something you can safely ignore on lower difficulty as you power through with random drops. Merging with your Seraph companions into Armatized mode also turns action-based combat into a cinch robbing most of its difficulty in the process. Zany and genuinely likable characters who sadly never really go beyond that one-note personalities are also stupendously poor choices for the kind of dark story Tales of Zestiria has going on.
Embassytown ( Science Fiction – 2011 – 345 pages ) + GOOD READS
---
I imagine Embassytown would be something of a wet dream to a creative language major considering how much of its very core revolves around the nature of linguistics, weaponizing languages as such and identity-defining powers they hold over societies. It should speak in novel's favor when I say despite having little beyond cursory interest in such topics, and debates over them sometimes slowing the narrative to a crawl, idea as a whole STILL managed to keep my interest strong to see it through. Additional observation worth pointing out is I can't recall another instance of a novel making such a heel turn at exactly halfway point when all hell breaks loose and alternating past/present chapters get dropped in favor of a linear fixed narrative.
Continuing author's weird fiction twists we now take to science fiction territory as we follow one Avice Benner Cho from her childhood days in a small town called, well, Embassytown on planet Arieka seeing things from her point of view along the way. You might imagine this leads to a "girl wants to leave her hometown and go to a big city" kind of scenario and you'd be right if not for couple of things. Terre and other races are allowed to have a colony of Embassytown by natives of this planet, whom all others have affectionately dubbed Hosts, and due to how their Language works there's this privileged group of people called Ambassadors who are the only ones capable of open communication. Our girl Avice would have been just one of frontier residents had the Hosts not used her to embody a simile and thus forever immortalizing her as part of their Language. Looking back on the novel as a whole this is the pretty much the only elements making her important in subsequent events otherwise way above her pay grade. On a fringe world where language and those who ply its trade are so important even her relatively exclusive status of a Terre immerser aka someone who navigates hyperspace of sorts, is treated as a curio rather than something admirable after she makes her return and ends up embroiled in massive societal changes as new mysterious Ambassadors arrive alongside her. Turns out everyone has an agenda in this place, especially those furthest from it.
Even if execution of this particular premise where you see aliens change after continual exposure to something like a language changes was at times protracted and protagonist herself almost ended up being a go-between until very late into the story, where she figures out things others must have considered earlier and decided otherwise, I have to say the setting definitely did not fail to pique my interest. First half of Embassytown is almost testing you to see for just how long you can go without air as it throws terminology and ideas you're eventually less so explained and more left to your own devices to piece together with context later on. From the fact this is the Third Universe, begging the question what happened to first two, entirely bio-engineered "technology" of the Ariekai like battery-beasts and living buildings that can get chemically addicted, to general weirdness where mentioning "there are other alien races beyond two most prominent ones" is almost an inconsequential side note when you look at the bigger picture. It gripped and sustained me when whatever was going on did not. Impression I got was one of very divisive nature - on one hand there's inventive and almost esoteric SF backstory I wanted to immerse myself in, while on the other the equivalent of an airline pilot involved in debates regarding the living nature of languages with experts on the matter high on their own farts. I found one far more engaging over the other, as you can probably tell.
This is where I would talk about characters, but I don't think there is much to say in this particular case because I'd be hard pressed to remember much about Avice herself. It says something when we get more about her as a person from childhood parts than when she returns as an adult after X kilohours had passed. Other than her having multiple husbands and a wife before this current relationship. In her own words I would describe her as unsurprising. If this was a lesser work I would almost assume she's one of those horrible self-insert and forgettable type of female protagonists. Other, support, characters are firmly on Ambassador side of things as primary conduit to the Hosts. Latter surprisingly get almost nothing until the very last quarter of the novel, but I think it adds to their alienness so I approve.
These Reports are once again starting to take a month between releases, and I have a JRPG on the side to finish that's probably going to take a while as it is. Good news is I bring six short reviews for you to peruse + that novel I finally got around to. I really need to stop trying out walking simulators seeing as they obviously aren't my jam.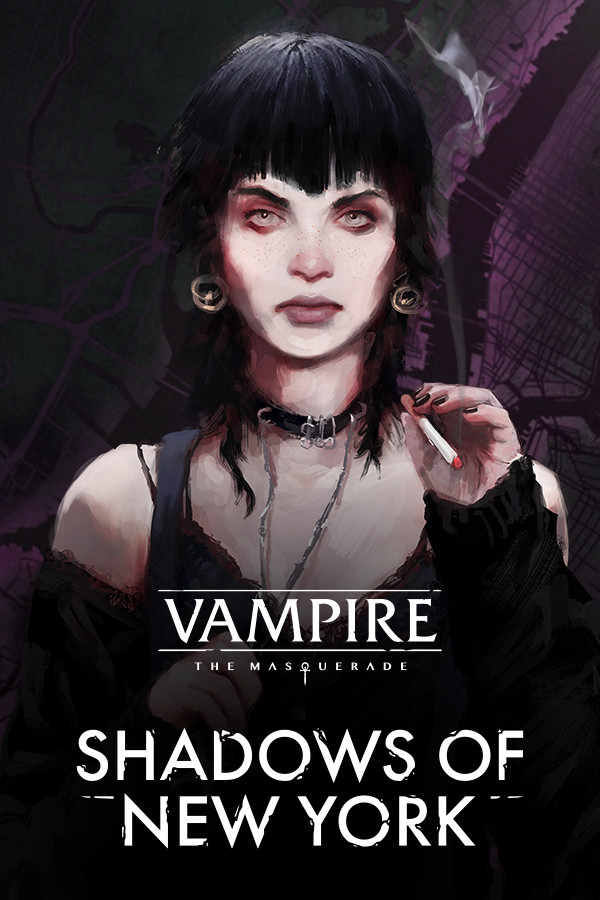 Vampire - Shadows of New York ( PC (Steam) – Visual Novel – 2020 ) + TRAILER
Coming back for seconds after not being impressed by Coteries of New York does sound like me, but in this case I was pleasantly surprised by Shadows of New York. I think playing more to its strengths as a Visual Novel was what ended up working in game's favor. Top shelf production for the genre notwithstanding, of course.
Following her stint as a very mortal journalist we see Julia Sowinski get embraced into a newly-minted Camarilla clan Lasombra. Provided you have any familiarity with Vampire: the Masquerade this is already a hook beyond belief seeing as clan switched allegiances and narratively you're a solitary Turncoat in New York. What follows is Julia getting assigned a task to resolve a murder mystery of a disliked elder and seemingly set up for failure by the Prince. I wouldn't say playing the previous game is mandatory, but you'll strongly benefit if you have seeing as almost all characters make a return and current crisis is set after Coteries. If anything it's once again a showpiece of Camarilla politics and World of Darkness itself.
So what actually sets Shadows of New York above the last game for me? How it really isn't trying to deliver crunch-based mechanics only to half-ass them in the attempt. Protagonist is fixed and has a fleshed out personality of her own. Not that I'm a fan of this whole "alternative, whiny millennial" mindset, but it grounds a character who has a lot to say about the contemporary world. Strawberry jam aka Hunger mechanic is a non-issue here which in turns leads to more liberal use of Disciplines and not worrying about feeding crippling your options. I was surprised by how decisions you make throughout the game actually build up to one of the two endings, though. This time around endings truly ARE meaningfully different.
Some surprising callbacks to Redemption of all games perhaps endeared Shadows of New York to me more than it deserves, but in a sense it embodies the new roleplaying edition rather well – an intimate journey with your own shadows.
---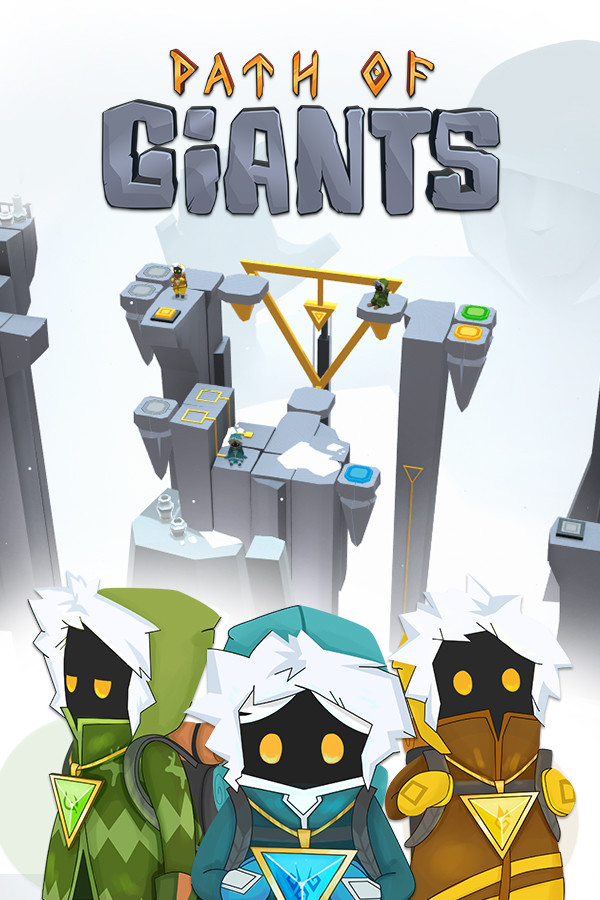 Path of Giants ( PC (Steam) – Puzzle – 2020 ) + TRAILER
One can't help but wonder if this is perhaps one of those cases where being a puzzle game novice of sorts helps in place of someone more experience who could see faults with ease. Be as it may, I had my fun with Path of Giants and what it had in store atop its wintry peaks.
Lightweight semblance of a story is quickly conveyed to the player via party banter – three intrepid adventurers find themselves climbing up and delving through while striving to reach the top of a mountain where a certain treasure is kept. That's it and game never really expands which ended up rather refreshing. Hell, even the ending is pretty much just Bern, Matchi and Totch walking away following a very natural conclusion to this narrative. No curve balls in sight.
Which really translates to Path of Giants living or dying based on gameplay. Well, some pretty chill and calming atmosphere does its fair share of lifting, but PUZZLES are the reason you'll hopefully end up stay playing for. Twelve regular areas, normally with three levels contained within, of getting your three fur-backed dudes to tiles matching their own color pattern. Deceptively simple when you take into account structure is tile-based and reflexes don't count for much, but one element to keep in mind is entire affair is cooperative. Our adventurers need to give each other a leg up or help going down from elevated blocks so foresight is mandatory. Later on the game will introduce novelties such as weight-based elevators to balance, additional buttons you stand on to activate the likes of extendable platforms, etc. Good news is that a simple undo function is readily available and despite employing full 3D graphics game never makes use of terrain obfuscation for obtuse results. If anything, and being inexperienced in puzzle games as I professed previously, I found myself having minimal trouble through the entire game. At parts it was the Pipe Mania-style mini-game which annoyed me more than following otherwise perfectly logical orders of priorities and color sequences.
---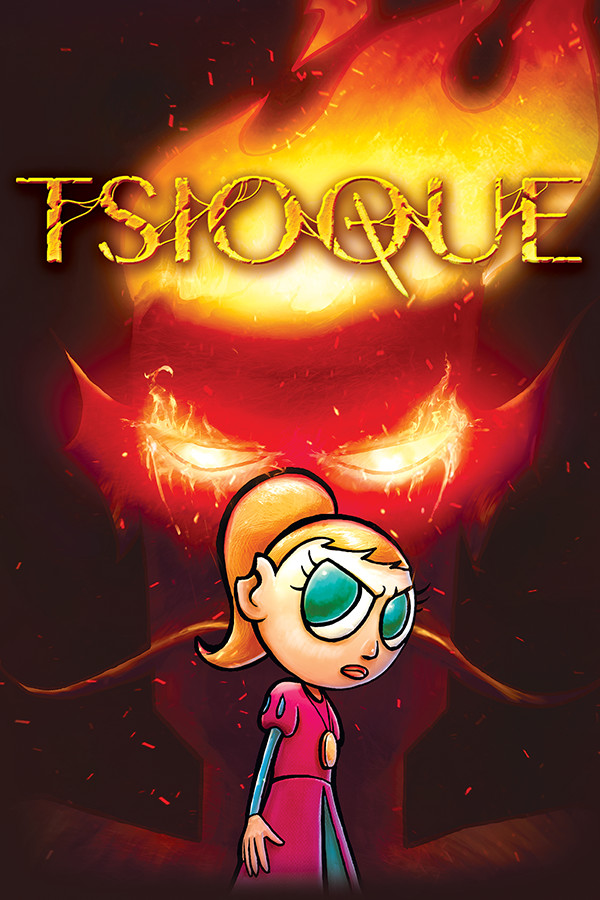 TSIOQUE ( PC (Steam) – Point & Click, Adventure – 2018 ) + TRAILER
Hand-painted 2D animation is seemingly all but impossible to come by these days and yet it is precisely that visual flair which developers used to make TSIOQUE stand apart. Not to say that's all there is on offer with this one, though.
We're rooted firmly in fantasy land for this one, lads. Good Queen, who also happens to be of the warrior queen sort, sets out to protect her land as dire crisis arises leaving her young daughter back at the castle. It is precisely at this time that Dark Wizard strikes and corrupts the land as his evil-toothed minions take over. They also lock princess Tsioque and throw away the key as wizard just wants some peace and quiet to finish his great endeavor. Needless to say, our girl won't take it and after using a sewer monster to free herself she's out to cause a ruckus. Despite how goofy evil minions come off with their exaggerated gibber-talk I like how they're still very sinister and real threat from princess' own POV. She herself is rather no-nonsense and not above violence, but being a kid still comes across in her interactions. Befriending animals was neat.
I guess it's a good thing puzzles in this adventure game are rather solid. Entire thing starts off very straightforward, albeit to game's credit it never resorts to highlighting hotspots/having an in-built guide so it relies on players' intelligence to work it out, but once you reach mindpoint or so you'll be dealing with your usual "collect seemingly unrelated items, prepare to use them during end game". Only rarely did I find myself stumped and that was due to transitioning from a linear sequence of events to structure opening up with more freedom to go around. This IS still a fantasy adventure game and while being no Discworld in terms of obtuseness if you have very low tolerance you might want to steel yourself.
Spoilers are obviously no-go for me, but I have to point out the entire degradation thing didn't click for me. I think developers making a message about what an unsafe prospect game development is interfered with TSIOQUE's own story.
---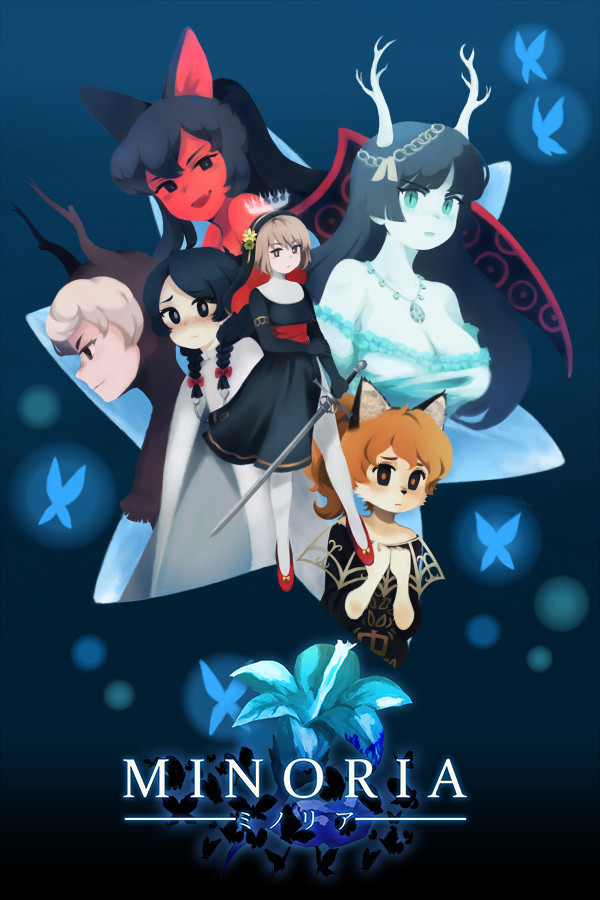 Minoria ( PC (Steam) – Metroidvania – 2019 ) + TRAILER
I found myself enjoying Minoria. Not that it breaks any new grounds or has major problems as such. Rather, how certain choices in the presentation/narrative departments took me by surprise. Let's see how this light metroidvania does things.
The gist of things is you're controlling Sister Semilla as she's sent to kingdom of Ramezia where witches are running rampant. Needless to say, there's heresy and you're sent to cleanse the land as well as save the two missing princesses. Keep in mind this IS a lightweight story with your acting support Fran having doubts whether what Sacred Office is doing is justified. Tone was what really astounded me, though. Despite cutesy looking characters setting-building and story are both very seriously presented with fanatics on both sides believing they're in the right and justified.
Metroidvania? In this case it's a matter of interconnected areas parts of which are initially locked off until you find requisite abilities to progress. Minoria is surprisingly sparse on navigation as a whole and offers little more than few keys to find before you get to advance. Some rooms hidden behind fake walls notwithstanding, but with a trusty map it's a non-issue. What it does have greater focus on is the combat... and not for the better, sadly. Keeping in mind you get access to couple of swords and crapload of Incenses which are game's magic used for ranged damage dealing and limited healing, actual problem is how reliant on counters the entire thing is once button mashing gets old. With a generous response window it kinda trivializes the entire affair down to few bosses. You could beat the game with nothing more than initial outfit.
At the end of the day I'd say Minoria works largely because it knows when to end things. Decent entry if you're interested in getting to know the genre more, though. Responsive controls and good overall pacing go a long way in sustaining interest, although replaying it for the heretical ending never crossed my mind. Once was enough.
---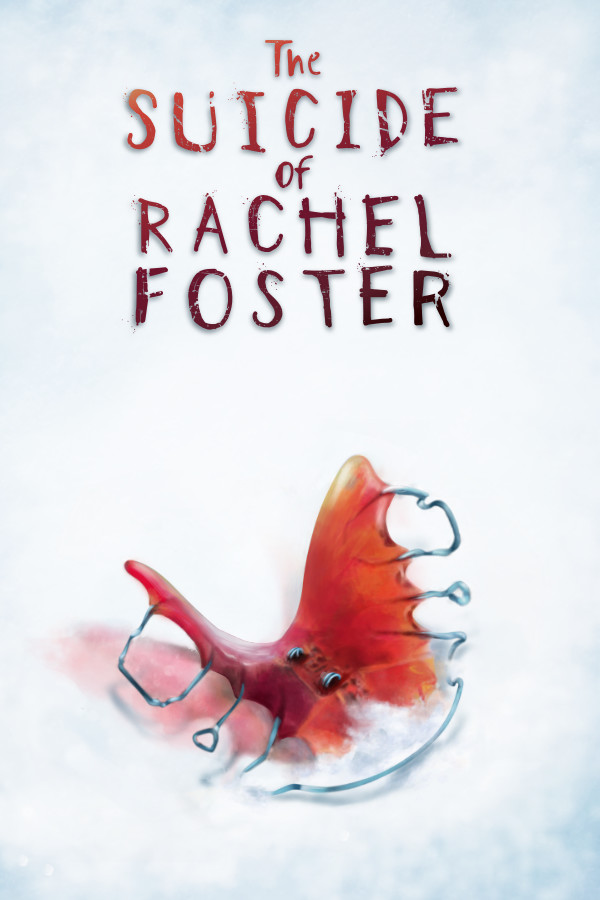 The Suicide of Rachel Foster ( PC (Steam) – Walking Simulator – 2020 ) + TRAILER
If there's a silver lining in this story it's the fact that The Suicide of Rachel Foster being a walking simulator means you more or less know EXACTLY what you're getting when you sign up. It also means part of it grew on with me while I barely tolerated the other. I just wish these games embraced more interactivity beyond "rotate carefully detailed objects".
Story is the main draw here so I'll keep it minimal. Being the last of kin our protagonist returns to her family's hotel, one that has seen better days, amidst the storm of a century as she has to decide the fate of the place. Nicole is definitely hell bent on selling as quickly as possible before getting out of there due to painful memories, but circumstances conspire with the aforementioned snowstorm as she ends up stranded. Luckily, a FEMA agent gets in radio contact and so begins her survival while Nicole unravels more of her forgotten past tying into the very title. Much to my own shock, game managed to pull a complete 180 with the protagonist seeing she started out as absolutely intolerable and I considered dropping the game if that was what awaited me. Which is good news because Nicole and Irving are effectively the only two characters meaning their interactions propel the story. Story-wise you can tell there's more here than meets the eye so I don't think I'm exactly foreshadowing any radical revelations here. Coincidences abound for you to not pick up on them REAL fast and, albeit cliche, I enjoyed the ride as it unraveled. Part of me wishes devs didn't go so heavy handed with story beats, though.
Doubly so when you consider they opted for terrifically atmospheric hotel as locations of choice with plenty of subtle storytelling. By the end I could navigate the place with my eyes closed and games expects you to be able to because there are no quest markers leaving a fixed map as your go-to solution. In terms of controls and, well, playing the game, we're talking slow walks over a believably realized hotel and yet it defaults to walking. There are also customary bits of "too much exposition for a small area" which stops you dead in the tracks before you're allowed to interact again.
---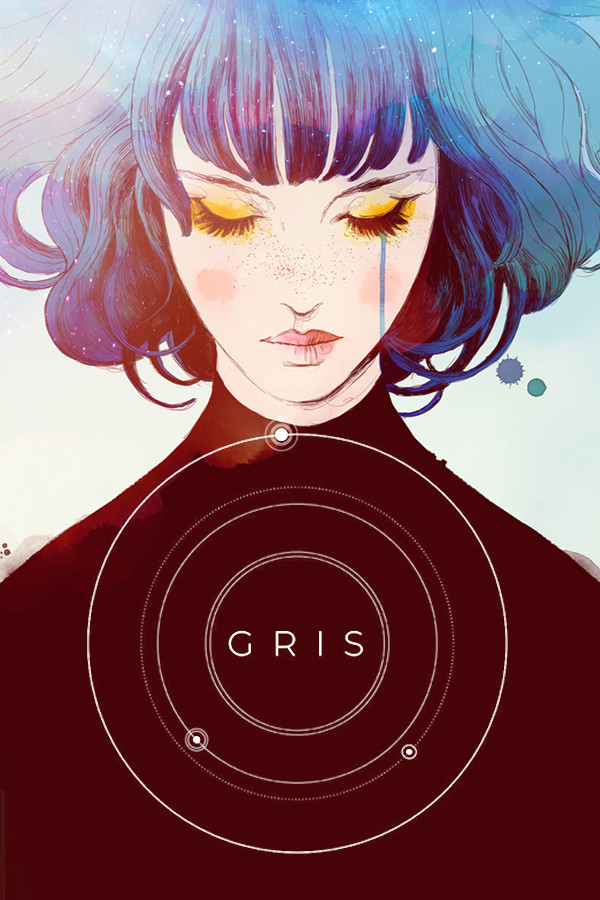 Gris ( PC (Steam) – Platformer – 2018 ) + TRAILER
Boiling it down to barest essentials GRIS is just a pretty 2D platformer that doesn't falter in any individual segment. Yet, I'd say presentation overall is that edge game employs to lift it above myriad of other platformers vying for attention.
Absence of in-depth story is obviously by design in this case. There is a narrative of our protagonist losing her voice and seemingly going through an inner journey to recover it, but this is left unsaid and is for you intuit on your own. Almost a poster child for not needing to hammer the point home and having some faith in your players' intelligence. Not to say this approach to storytelling can't have appropriately dramatic highs of tension or swell of emotions because nothing could be further from the truth. Especially all the buildup to a well-earned ending.
Playing has you going through multiple worlds unlocking "colors" and restoring life. With each completion you also get new powers and these reflect game's short length as there are mere handful. From turning your cloak to stone for weighty destruction, diving and gliding, all are introduced organically and given space to shine before mixing it up. Seeing as there is no combat your primary form of engagement is collecting, well, starlight game uses to unlock forecoming areas. Part of me wishes there were more "boss encounters" comparable to what the game throws at you because those were moments of action an atmospheric platformer like this needs from time to time. Challenge is not the main draw here, though.
I have to talk visuals/audio, both of which are stunning. You don't need a graphics budget comparable to small country's income in order to make a lasting impression. Vibrant and dynamic use of coloring as well as clear shapes avoiding clutter really sold GRIS to me. Standout animation certainly didn't harm it, either. Audio is very much in the same category. Appropriately enough as story reaches climax sound becomes more prominent with humming taking central stage.
Greybeard ( Science Fiction, Post-Apocalypse – 1964 – 237 pages ) + GOOD READS
---
As opposed to more immediate world-ending apocalyptic events I found Greybeard's take on the matter refreshingly laid back. Essentially, current generation of people is set out to be the last one as there are no more children being born. In practical terms this means our protagonist Algernon Timberlane is one of the last few young people by the time story starts in 2030s. And by "young" I mean he is in his fifties and has only childhood memories of what the world was like before "the Accident" in the '80s which altered the world making not only humans incapable of successful procreation, but also many mammals in generals with few exceptions. While the novel explains what happened through flashbacks and recollections, which are spoilers so I won't go into them, I can safely say the causes that lead to this slowly dying world don't really matter because the story isn't about them or trying to fix the impossible. World is what it is leaving Algy and his wife Martha to find their way as years inexorably go on.
Structure we're working here is alternating chapters - present day followed by flashback at various points in time. I particularly liked the one set after things really started falling apart in England so military steps in to assume control. Makes you realize this entire story could've taken a drastically different direction then and there. Amusing bit for me was how a pivotal chapter explaining Algy's reasoning as to why he initially joins DOUCH(E), organization meant to safeguard humanity's future... in a way, fell completely flat. Additional points as the man himself confirms that very thing towards the end of the book. But lest I type things randomly those are the parts meant to flesh out the world-that-was. If you ask me the body of work are present-day chapters dealing with how our little group survives. You never get the impression it's some epic adventure or anything, but rather senior citizens who still have to contend with circumstances beyond their control and other people being idiots as effective post-apocalypse brings the worst out of them. You're on the run with nowhere to go? Come across a secluded makeshift village and stay there for almost fifteen years, why not. Rich descriptions of this new existence go a long way to successfully selling it, though. By god, I believed they were sailing down Thames for most of the book and bustling wildlife coming to reclaim its rightful place as few holdouts of decrepit humanity start becoming more out there with age.
We come to my problem with Brian Aldiss that I keep complaining about despite reading his books anyway. He cannot write characters conversing with one another without coming off as incredibly stilted or expository. I think Greybeard suffers from it in particular because all those scenes between Martha and Algy when they talk about what childhood memories spurred the latter to become the man he is now or what the former feels she's missing as there are no children in the world all sound very dry as presented. Then again that particular type of rapport is Aldiss' preferred. Even with other characters like their religious friend Charles or certain cult leader they come across, for example. Everyone is uttering dialog relevant to their personality, but final result is lack of character itself.
Impression I could not shake while reading Greybeard was one of meandering series of pit-stops along the road to nowhere as there's no clear-cut objective. Novel also pulls the rug from under you in the last fifteen pages or so by revealing the great mystery that has been continually skirted along. You can probably guess what it is, but the abrupt manner in which it's handled just did not sit well with me.
It was definitely not my plan to review a game so similar to my last one, but I guess things just happen. Looking at them both it's obviously I have a preference for more RPG than action. I'm also seriously lagging behind Spiders' release schedule and it's been educational to see them polish the formula with time. In any case, I hope 2021 is turning out better for you and have fun reading my walls of text at least here if not on Steam because of Review limitations.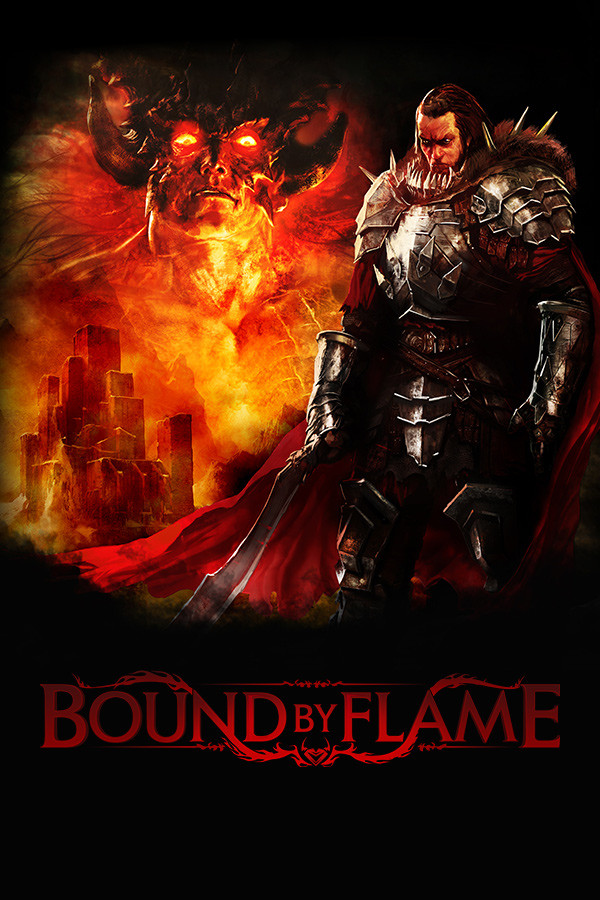 Bound by Flame
( PC (Steam) – Action, RPG – 2014 ) + TRAILER
---
On one hand it's reassuring to see that Bound by Flame shows developers have stayed true to their own brand of RPG, as previously expounded upon in my reviews of both Mars: War Logs and Of Orcs and Men, and yet I think increased scope and ambitions in this particular case really put a spotlight on what doesn't work for Spiders and their formula.
We have a doomed world of Vertiel where Ice Lords lead armies of dead walkers set on destroying civilization and become supreme overlords of the frozen hell that would remain. Last-ditch resistance comes in the form of a scholarly order known as Red Scribes. Their objective is to attend an ancient Temple and enact a ritual supposed to infuse them with power to match Ice Lord's own so they can end the struggle, achieving what everyone else has seemingly failed at. It is for this purpose that they hire the Freeborn Blades mercenaries who are in turn supposed to guard their back while the long ritual is underway As befitting every quality RPGs things don't go exactly according to plan leaving our protagonist aka company's powder master Vulcan to inherit the mysterious power and after fending off a surprise attack by the Deadwalker army it is quickly revealed he now has a fiery demon residing within as sort of split personality. One that's desperate to take over and realize his own agenda. By all accounts this jacked as hell demon appears to have some ownership over the world and old grudges to settle with Ice Lords themselves.
While I'm on the subject of Vulcan I was surprised to see our lead is actually customizable. Not only visually, but also in the male or female department. Considering there are four romancable companions in the game it would appear the split goes 2/2 plus one weird immortal corpse-looking dude that doesn't count. Part of me almost wishes I played as a female because male Vulcan has this weird, I don't know how to describe it honestly, edgy doofus quality to him. Someone playing up the "hardass mercenary in a grim dying world" act without necessarily having the emotional range or direction to guide the voice acting performance. There are moments of brilliance with Vulcan vs Demon interplay and how during some scenes you can't exactly tell who's in charge, though.
I'll get around to my problems with companions and how they tie into game's lack of certain systems as such later on, but they weren't created equal narratively either. Your "normal" side has a cute mage, outcast ranger and stoic warrior to fill the niches you can imagine on your lonesome and they're not BAD in any real sense. They simply don't have much to work with beyond the archetype along with their blink-and-miss-them side quests. On the "weird" side you have a wild mage and aforementioned immortal spirit/thing/being currently inhabiting a decrepit body. Edwen and Mathras respectively are way more interesting simply due to their knowledge of relevant matters going beyond the immediate "oh no, Lords of Ice are going to kills us!" panic mode. Also, if you wanted even bitchier Morrigan you'll be pleased to hear our silver-haired witch fits the role. Regardless of whether you like the cast or not you'll realize they run out of things to talk about real fast and devolve into enemy distractions.
As far as the story and plot structure are concerned I have to echo the same thoughts you'll hear throughout the rest of the review – it simply suffers due to there not being enough of it. You have to keep in mind this was, more or less, an action take on Dragon Age and having ~15 hours to work with just isn't enough. Prologue and Chapter 1 are alright as after a bombastic opening you're left in the swamp to gather your bearings, learn about the world, pick up most of the characters, etc. As you move forward you can tell on a gut level things were cut or fast forwarded through. If not for some side missions and enemy roadblocks Bound by Flame could almost be finished in under ten hours. This is ESPECIALLY obvious as you reach the final Chapter when game starts throwing earlier bosses as regular enemies at you and there's barely any story threads to follow up on before you're in front of the penultimate bad guy to whoop his ass with ease. Then you reach the final boss and... well, that should be reserved for a talk about mechanics.
With previous experience with Spiders' game design in mind I can say it's still in the same ballpark. You have your light and heavy charge attack, but this is the kind of combat system where button mashing is discouraged simply due to over-committing usually ending up badly, especially early on when you lack statistical benefits of investing in skill trees. Doubly so when you factor in clear enemy types to dispose off. Archers are almost always a priority if only because they go down easily, but the likes of sword & board shield users ended up being the bane of my existence because they just won't die. Speaking of which you have three skill trees to work with; Warrior, Ranger and Pyromancer. Whichever you choose just keep in mind no matter what you're still in the thick of it wading among enemies. This isn't really the type of game where you stay back nuking while leaving your companions to occupy enemies. Unless you really enjoy burning through mana potions and leaving them on guard duty hoping specialized enemies don't wreck them. Problem being you can give your companions instructions on how to act, but that's it. There's a lack of fine, direct control over their abilities/equipment so they are what you see in terms of combat capabilities. Usually I was content with just setting them in defensive mode if they kept dying too often. Spellcasters were generally more useful for their gimmicks. This is one of those things that could be game altering on high difficulty with levels usually leaning on somewhat tight quarters only rarely open enough for positioning to factor in and dagger-based "stealth" merely functioning as a free opening attack, though.
Somewhat controversial decision game went with was to only include cumbersome two-handed weapons and lightning-fast daggers as options beyond pyromancy and crossbow, for those once-in-a-blue-moon situations. On my own end I made a conscious choice that hopefully hasn't embittered the game to me when I choose poorly. Basically, daggers are superior and it took me until the finale to realize that fact after I'd already mastered the Warrior tree. Whether you go with great swords, warhammers or axes it's never fast enough compared to stabby-stabby combined with poisons and crazy critical rates. I dread to think what a fully upgraded Ranger tree is like so maybe there's replay potential there? This feeds into what I mentioned earlier about the final boss and how I almost threw my controller across the room. He's like nothing you've faced in the game up to that point and seemed like a counter build for my great sword wielding half-demon Vulcan. I ultimately remembered I was, in fact, the powder master and smoked his ass with some previously built traps.
So yeah, there's crafting and much to my own surprise it's actually meaningful. Outside of health and mana potions on top of bolts and traps, you will primarily be using crafting to modify weapons and armor pieces. Seeing as there are visible as well as property changes this is indeed neat and makes it truly YOUR gear. I got the impression it was sufficient to increase damage/armor on normal difficulty to get by, but the potential to really customize your character is there as integral part of the game's gear progression system. You won't be swimming in loot and weight limit ensures you'll be doing away with excess whether by recycling or selling off. This does raise an interesting ongoing question – do I keep my upgraded stuff or replace it with newfangled finds considering they're so rare? Number crunching usually resulted in replacing so I could subsequently upgrade those bits, but being bleeding edge wasn't top priority. Which sadly also made shopping a distant afterthought.
Far from being an ugly game when you factor when it came out and all, I'd say certain uneven elements bring the overall impression down. Where lip sync fails dramatic action cutscenes don't, for example. Standout participant for me would have to be the soundtrack, though. From acoustic atmospheric tracks to vocal showstoppers played at vital parts they all manage to give, as kids nowadays say, soul to Bound by Flame. If wishes were horses I'd ask for more tracks overall.
Final Thoughts and Rating?
Worthwhile action RPG offering continuing developer's efforts to do Bioware with mere fraction of their budget. Bound by Flame is definitely not perfect making this a middling recommendation because I still liked the overall package. As Ice Lords rampage across the world and last hope to resist goes bust our unlikely protagonist gets the power of an ancient demon to stem the tide. Real question is who controls whom and what does "saving the world" mean. Combat built upon the foundation of methodically wearing enemies down versus button mashing and extensive gear customization for that personal flair are diminished by game's rushed story that needed more time to breathe. Companions getting more than token mentions at the finale would have helped as well.