Arby's Backlog Hell Arbiter Libera's profile
~ Let's Get Some Games Done ~
An Ongoing Exercise in Clearing the Backlog Extraordinaire
Nothing special here for now, really. Just my updates divided for somewhat navigable lists using the artwork I used when updates were originally published with all now updated to current art assets fitting to match 2019 updates and also easier to click on if you're using mobile. Maybe I'll add more to the "homepage" at some point, but this is serviceable for now.
---
---
After a somewhat disastrous string of poor decisions on what to play next, putting multiple open world games on pause and just life getting in the way here I am with a new Report. Tackling Assassin's Creed Origins at long last all the while putting my old estimate of "being done with the new trilogy by 2020" to even further shame. I hope to write another one before the year is over, but no promises. Enjoy the read and share your own thoughts if you've stuck with the franchise for this long.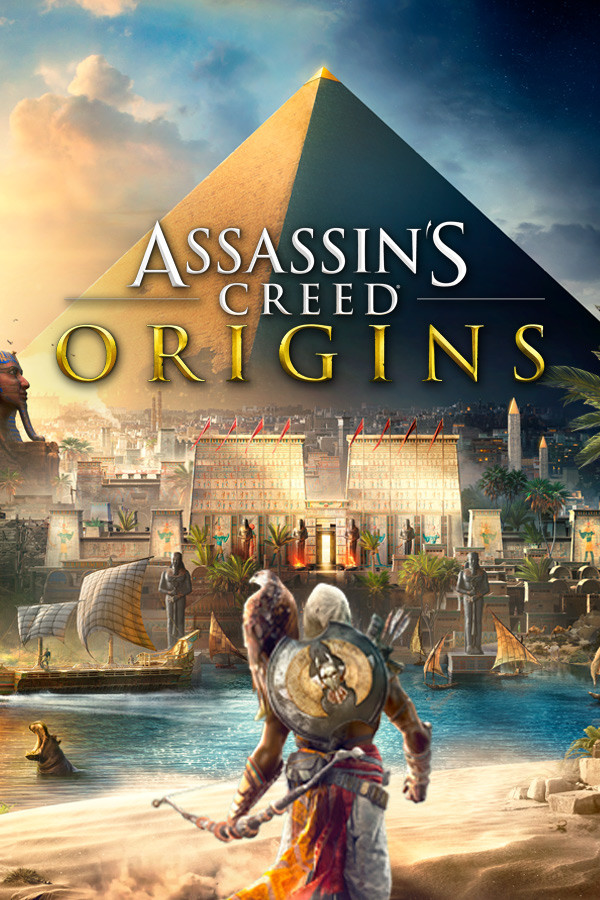 Assassin's Creed Origins
(
PC (Ubisoft Connect) –

Action, Adventure –

2017 ) +

TRAILER
---
It's hard to deny that 2017 was a notable year as it marked a major retooling for the franchise and Assassin's Creed Origins was the outcome. If you ask me I'd say the results were mixed, but I'll get into it proper with my ramblings below based on exactly 80 hours played total.
Breaking the series' convention, Origins goes back in time to Ancient Egypt as we follow Bayek of Siwa and his journey of revenge after a massacre took place in his village, resulted in his son getting killed and certain faction revealed itself just enough for Bayek to follow their trail. He's not in this alone as his wife Aya is pursuing the same goal off-screen, albeit more enveloped in higher level players that can affect all of Egypt and beyond. I'll get to Aya in due time, though. Needless to say this group of proto-Templars is up to no good and it falls on proto-Assassins to take them out with some nuance to who's right and who's wrong. Possibly because neither is really the modern equivalent familiar to us from franchise at large and, as you may have guessed by now, this IS an origin story.
Now we get to my problem with story – I lean more towards not liking it when observed as a whole. Bayek is no big damn hero you might expect from other Assassin's Creed titles. He's a Medjay, protector of the people in service of the true Pharaoh, which goes hand-in-hand with constant pleas for help you'll be getting from people as sidequests. Also has a very clear goal of avenging his son and clearing immediate corruption in the process, but doesn't see the big picture. That's where Aya steps in as game wrestles control away from you and forces her as a playable character for milestone moments which end up being more spectacular and engaging than the mundane "track the target, do some side missions, kill the target" routine. Problem? I don't care for Aya as the protagonist nor can you alter her equipment from a mechanical standpoint. Not to mention you can clearly tell she's getting in just a bit over her head without realizing it. Which left me conflicted because I liked seeing her story beats and even gameplay, reminiscent of the old ways franchise did things with more handcrafted parkour or stealth sections, but she never earned any of it and just ended up disrupting my time with Bayek where I wish some of it went to instead.
Since I'm on narrative and storytelling I might as well cover the characters. Bayek himself fits into this "living mythology" world where Gods have many facets and their praise is in the open wherever you look. As a Medjay he's almost akin to a handyman albeit one where martial prowess and skills of deduction are most valued. Personality-wise our protagonist definitely has layers. Sorrow over his son, at times barely contained rage and sense of humor are all mixed together for a believable character. Which is good since most others aren't that fleshed out or get lost in the shuffle. Historical figures like Cleopatra, Caesar and lesser known ones notwithstanding. Aya comes across as, ironically, more suited to being the protagonist if only she had the screen time. A domineering personality with a long-term plan and clearly pushing Bayek's button to prod him along. I was slightly amused when 60+ hours towards the finale game gets some key people together and expects me to remember who they are when I maybe had twenty minutes tops with them. Less said about intrusive modern day segments and Layla as the new POV the better.
Before I get into gameplay and other subjects I'd like to point absence of traditional Database included in every other game. I suppose it makes sense considering we're working with ancient history and Ubisoft most likely took some liberties, but to offset this they introduced historical tours and readable notes aplenty you come across in the game. I quickly lost interest in both.
If I had to easily summarize changes in design of Assassin's Creed Origins compared to earlier entries it would be sacrificing parts of its identity to become a more familiar action RPG. Said genre re-alignment comes from Ubisoft's self-proclamation. However, this also means one thing – Origins has stepped into the arena with acclaimed action RPGs the likes of The Witcher 3, etc. all the while coming across as unprepared.
I suppose the biggest change is a structural one as Origins feels like this "evolved" version of franchise's take on open world where you have greater freedom when it comes to the order in which you tackle assassination targets. Sure, there are level recommendations, but since you have side chores activities and side quests to tackle along the way I was never lagging behind. Now that I think about it I'd regularly over-level every piece of content in the game simply by playing all the stuff leading to it. I'd loudly argue Origins has too many zones for its rate of progression and had I not intentionally wanted to complete everything I could've easily skipped about half of them. Which is a big problem since that loop of clearing out maps is the bulk of what you'll be doing. Essentially, the more you build your game around the idea of only following the critical path the more redundant everything else begins to feel, doubly so when your game is too big for its own good, TRIPLE so when you have a trusty eagle that can just scout everything for you pinpointing it on the compass. Just keep in mind you're still unlocking chests and climbing towers to uncover the map no matter how much they've tried to cover it up. Not to mention game runs headlong into dumbing down its signature parkour system and then further aggravates the matter by mostly taking place in deserts, swamps and shanty villages. Occasionally sliding down a pyramid doesn't redeem general absence of places to clamber across.
Chief reason Ubisoft likely branded the game as an action RPG is because it goes well beyond what series did when it came to power progression. Not only is there an extensive gear system included, but Bayek's advancement also comes in the form of unlockable abilities to choose from as you level up. Better invest in automatic looting whenever you kill enemies or you'll be pressing that loot button a whole lot since there's absolute loot bonanza going on. You know the drill – various weapon types with all the usual rarity color coding to go along. With seven weapon types, ranging from fast dual swords to heavy maces, you get some genuine variety to work with. Add to that four bow types with their own gimmick, on top of a shield you always carry, and there's a decent selection to mix and match from. Much to my surprise Origins doesn't go too heavy on stats and is more about getting those perks included on specific gear pieces. As there is no way to reclaim sold or salvaged equipment I'd suggest keeping all legendary stuff as you can upgrade it and potentially see it as more useful later down the road. Alas, armor itself is solely cosmetic as it brings no bonuses to the table. As is your trusty steed, be it camel or horse. Although...
What do you actually use all that for? Why, for combat, of course.
Combat is the second major system that got overhauled for Origins. Now you have two bows/weapons equipped and can switch between them freely, plus the addition of a ranged tool on top of it. Developers have decided to go with rather popular Souls-like system by binding offensive/defensive functionality to trigger buttons, but retaining lack of challenge at its core. You'll learn to be vary of enemies based on their level more than anything else since that little number is the biggest factor in whether you can instantly stealth kill them or if you have to go through the rigors of dull combat. Enemies can charge their attacks, but so can you now to break through their defensive posture. It's a decent change to an old system that really needed more dangerous and engaging enemies to shine. Sadly, aside from the occasional aggressive dual wielder easily handled with a smoke bomb you won't find any of it here. Besides elephant bosses.
Duat is one of the Afterlife realms you get to visit in the DLC for a change of locale.
What else can I talk about.... ah yes, the DLC. There are two worthwhile ones and I did get 15-ish hours out of them. I'll start with The Hidden Ones as it picks up some time following the end of the main story and the Roman threat has not gone away. In fact their power endures in Sinai where the eponymous group now operates in secret by aiding the local resistance leader. Sadly, not everything is as clear cut as Bayek embraces his new role. The Hidden Ones is largely more of the same. If you liked taking out underling targets so far think of this as couple of small zones providing what you want. Second notable DLC is also far grander in both execution and design as The Curse of the Pharaohs takes Bayek to Thebes at an even later date. I think this is either some serious hallucination material or just non-canonical, but it involves rising mummies, visiting Egyptian afterlives and chasing down a familiar artifact to all the fans of the first game. This is the REALLY chunky addition to the game as it not only adds way more areas to explore, but also raises the level cap and allows further equipment upgrades via new supernatural material. Out of the two I would heavily recommend the latter although it will heavily depend on your tolerance for the base formula. Personal advice is to do the story and explore along the way organically so as to avoid retreading the same areas.
Lastly I get to wax poetic about the production values because they really are up there. An open world game from 2017 should not look this good, but I believe Ubisoft had already shown off their capabilities with Unity... so much so that game required extensive support to run decently. Visuals were always there and they remain there. With Origins we've shifted from dense urban locales to sweeping desert dunes, colossal temples and murky swamps festering with crocodiles. Let's not even talk about Greek and Egyptian cultural differences present everywhere as they blend together. Soundtrack might not be everyone's cup of tea, though. Not to say it doesn't have memorable or bombastic tracks because it dies, but where it truly shines are subdued environmental pieces building atmosphere as you trek in the shadow of the pyramid and see something shimmering in the distance...
Final Thoughts and Rating?
Assassin's Creed Origins left me rather lukewarm and I don't think it's my expectations that are to blame. What we got feels more like a sidegrade than a momentous shift in design Ubisoft touted as they proclaimed this as their proud entry to the action RPG arena. Bayek's mission of revenge to track down his son's killers, birth of the Assassins as we know them and exploration of Ancient Egypt has left Origins with one hat too many to balance. Add to that a combat overhaul, reduction of parkour's traditional importance and "built for longevity" warehouses of loot to sort through may not be everyone's favorite combination given what we've come to expect, but I think stellar presentation, solid story when it clicks and sheer size of the game will ensure it holds your attention for a while.
It would appear I've once again bit more than I can chew with big aka open world titles taking way too long to finish. That's with taking into account I've paused some as well. Fortunately, this time I've come prepared with shorter games or those I'd be hard pressed to make a full length review out of. Extra points for ¾ being free so you can check it out any time for yourself, but there are no screenshots or score at the end. Handy opportunity to drag out one of my old formats.
Enjoy the read and have fun.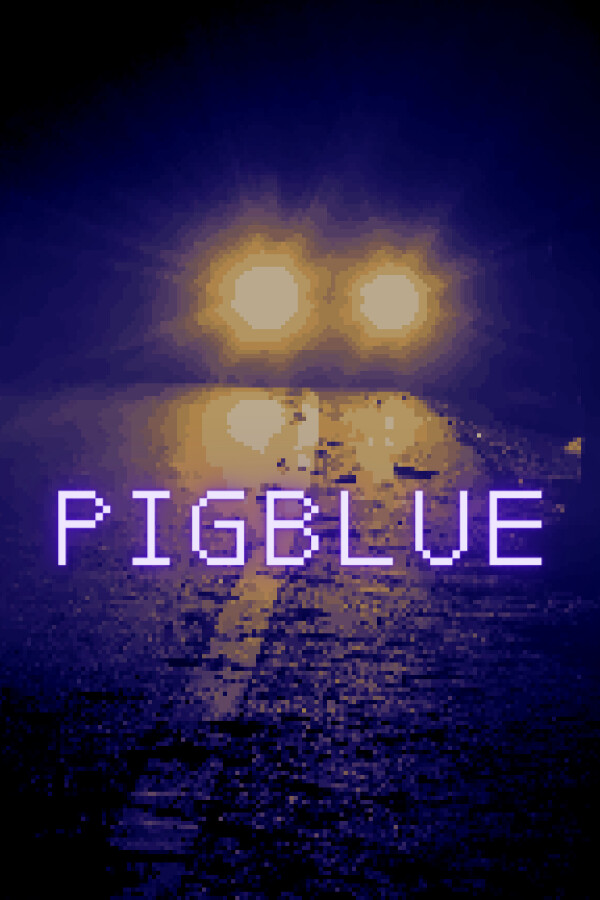 PIGBLUE ( PC (Steam) – Adventure – 2023 ) + TRAILER
Text-based adventures tend to not invest heavily in visuals which makes Pigblue stand out as it uses both written word and pixel art in tandem to carry its story. Developer does put a disclaimer in the opening, but be forewarned this takes an extremely dark turn.
Our protagonist seems to be dazed as he drives aimlessly in the middle of the night. He's struggling to piece together who he is when voice on the radio seems to speak to him directly with a vengeance. That is, until his car runs out of gas and, well, stops dead smack in the forest. Half-remembering it's been a while since he last saw a gas station he has no idea what to do next, but walk until coming across a boy in the middle of the road. Not long after silhouette of a motel appears and he stops for the night...
Like I said in the opening accompanying pixel art does wonders for already evocative writing, some misspellings aside as it acts as bread and butter of the experience, with both working tirelessly to establish a sinister outlandish atmosphere. Story intentionally presents the protagonist's struggle as one between reality and delusions where the player is constantly left wondering precisely what is going on. Nightmares seem to creep into memories. Subjective narrative aspects aside I was honestly surprised there WERE actual puzzles in a short game like Pigblue since modern adventures/VNs/etc tend to forsake those as relics of the past. I even got stuck on one for good fifteen minutes because I'm a dumb-dumb who can't read or recognize musical notes. Don't expect the age old "use cat to get a mustache" variety here so much as inferring information by carefully reading couple of notes and paying attention to your surroundings.
This is pretty heavy psychological experience and sudden ending revelation might be too much if you're squeamish. Game does give you recourse to answer in kind, though. Major compliments for what is a free, one-man project.
---
Regenesis ( PC (Steam) – TRPG – 2023 ) + TRAILER
Before judging it too harshly one should keep in mind Regenesis is not only free, but also a student affair. I think both are on display with potential for improvement in future projects.
Earth has fallen on hard times with apocalyptic ecological event driving humanity underground to survive the onslaught of mutated plant life, and other dangers. Our party of three survivors makes subway their home base with support team in tow backing their missions through freshly crafted weapons and bought supplies. I've told you the story in about as many words as the game does and you can forget lore tidbits or fancy descriptions to glean meaning from. Narrative isn't really Regenesis' strong suit, but nor is it a requirement regardless.
What is on display is a rather basic SRPG backed by the closest equivalent to a system seen in Grandia aka there's a timeline at the bottom where both your characters' as well as enemies' activity is shown on. When icons move from left to their rightmost mark characters input and activate their commands. Unlike in the aforementioned JRPG there's no actively delaying enemies by attacking them. What you see is what you get, and without stats or anything that would let you see why someone is acting faster than everyone else you're left to experiment. Which wouldn't be a problem if all combat scenarios weren't boss battles that get tweaked a bit for later levels past the first two. What I'm not-so-subtly saying here is you'll see everything Regenesis has to offer in under an hour and you'll wonder why it even has a crafting system before realizing character abilities are tied to their weapon as each subsequent upgrade switches out one of the four available ones. This leaves your characters with options to move, use ability, use item and, well, wait as you tick down available number of points they get to spend per-turn. Circumventing numerical advantage you have on bosses by giving them cheap movement so they can get to you from anywhere on the map was not my idea of fun, though. Game does have some neat features like Events happening during battles that can change the tide, like wind blowing and sliding everyone by a single tile. Which can potentially knock characters into obstacles and stun them for a while.
What do you have at the end of the day? A very short game that can be completed in under an hour if you just want 100% achievements, but under the hood it's an SRPG that needs way more meat on its bones compared to what it has. If you want difficulty I'd say Regenesis airs on the easy side.
---
Green Reaper ( PC (Steam) – Action, Platformer – 2023 ) + TRAILER
Having played Green Reaper impression I was left with was one of textbook action platformer, and subsequently discovering it's a student project went hand-in-hand with that newfound knowledge. Not to say that's a slight against the game, though.
As we're slowly drip fed while playing the greenhouse is danger and Goddess invokes Rubin's help to save them all. Needless to say, that's our literal rose-haired protagonist's cue to take the fight to evil purple fungoids investing the place. As you vanquish them you turn twisted landscape into peaceful greens yet again.
What I said in the opening holds true - you have your somewhat floaty movement with basic light + special attack combat, accompanied by customary dodge roll. It's all well-trodden and instantly familiar with any tacked on "progression" systems games are so fond of including these days. There's really no need to pad out a fifteen minute game with such contrivances. What you see is what you get. Only three enemy types are fitting inclusion as well with standout being they'll telegraph every attack they make which took me a second to get accustomed. As a result you're paying less attention to wind up animations, big guys at the end notwithstanding, and more at exclamation marks popping over their head. I'd say simple combat stakes claim to about 3/4 quarters of Green Reaper with the remaining quarter belonging to rudimentary platforming. Landing on rose flows to propel yourself up high is about as complex as it gets. Sadly, there's no narrative big bead to handle at the finale, but rather a gauntlet of enemies to slash through with your scythe.
All of the above might come across as somewhat negatively tinted and yet that's not my intention. This is simply a case of "what you see is what you get" at its most distilled. Game did get my GPU fans spinning something fierce beyond what these visuals should be capable of which might be attributed to Unity engine powering it as I have experienced it before.
---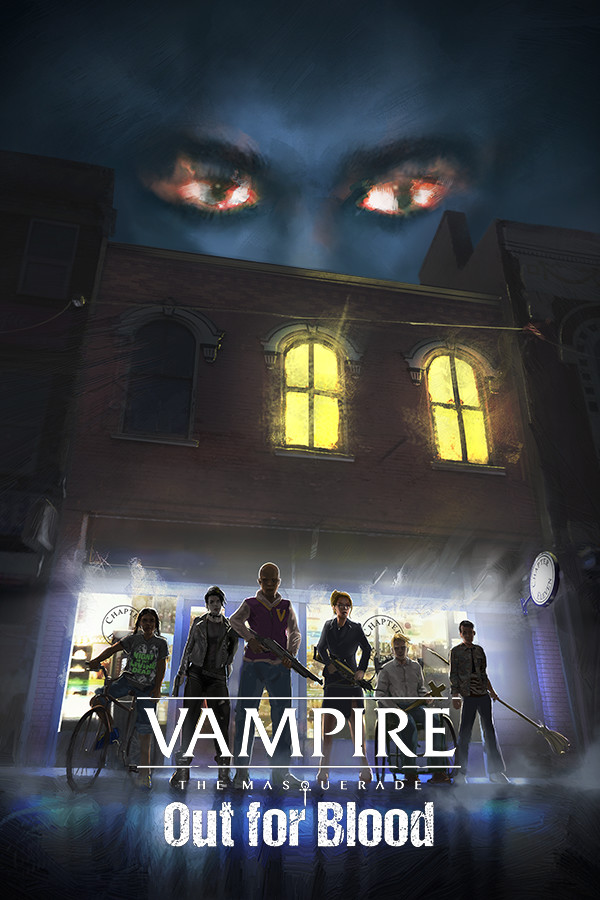 Vampire: The Masquerade - Out for Blood ( PC (Steam) – CYOA – 2021 ) + TRAILER
I haven't played many CYOAs as far as video games go, but I am familiar with the concept from various books tackling the very thing over the decades. Backed by Vampire: the Masquerade's license, which seems to have thrived insofar as CYOA titles go, Out for Blood has to be intentionally miscategorized. This is no Vampire game, but rather a Hunter one. Something to keep in mind if you're going into this with certain power fantasies... which may yet be realized.
Our story takes place in Jericho Heights, town with under 20 000 residents as our [INSERT NAME HERE] protagonist returns having received the news that his grandfather had died, and left you a store as inheritance. Cutting a long story short you'll rekindle old friendships, discover that something has subtly gone wrong in this quaint town, and depending on what kind of a character you build will have impact on HOW you go about it. Since this is exclusively a text-centric affair, baring some pieces of art for characters and chapter titles, it means author's imagination and responsiveness to your choices are only limited by the word count. And yes, there are certainly limits here as you're not working within a sandbox scenario aka there's a fixed mystery to unravel, but what tidbits you discover will depend on your choices/type of character. To put things into perspective - there are TWELVE endings to a game that lacks manual saving and only one autosave slot. Expect replays aplenty if you want to discover all the hidden angles or hunt for achievements. Twice was enough for me and even then some parts I didn't even get a whiff of with my second character.
Something I was extremely pleased to see was implementation of a proper tabletop character sheet you not only get to make full use of during character creation, but also add to as you accumulate experience. Needless to say you will be using said Attributes, Skills and Backgrounds while playing the game although I wish it was more transparent in how exactly they're being employed. You see what's used in a specific action, such as STR + Combat, but you have no idea what chance you actually have at succeeding as you cannot see what you're rolling against. In essence you'll want to keep an eye on your character sheet and concept you're going with in mind before committing to choices. There's also a matter of ever-fluctuating relationship points you have with characters, both allies and antagonists, which come into play at certain points. As well as Paths your character can adhere to. And no, for Vampire: the Masquerade aficionados out there these are not the Paths you're thinking about. Out for Blood is hellbent on being a foremost narrative experience so you have to enable the Storyteller Mode just to see actual numerical values shift or you'd have no way to know that, for example, bringing up a certain topic increases Salem's stress. Not showing the player how it all works under the hood probably culminates in endings themselves. Some obvious factors like deaths or major choices aside, they end up being a combination of exactly those things game has decided to keep hidden from you.
So, would I recommend this one? CYOA holds limited appeal considering games are a visual medium, but I enjoyed the writing quite a bit. I was honestly surprised how much unique content my smooth talking faith-based character had. In comparison my second run with a pugilist marksman landed me a more straightforward deal, although I also fared better in situations I had to carefully tread in diplomatically before. There's a beautiful pin drop moment when realization hits the group and protagonist goes something along the lines of "they all have to die", and I was inclined to agree. Your mileage may vary.
That was quite a break I took there, huh? As much as I'd like to say it was entirely due to a massive JRPG that wouldn't be entirely truthful. Still, looking at 60+ hours it took without even doing everything game has to offer this is definitely a big 'un that threw a wrench in my plans. I now also have a hankering to play more like it.
As usual, enjoy the read.
Xenoblade Chronicles: Definitive Edition
( Nintendo Switch – JRPG – 2020 ) + TRAILER
---
Before I tackle Xenoblade Chronicles: Definitive Edition proper I should point out this is a remaster, albeit one that remains faithful to the original game. Despite some character art being debated fiercely in the community regarding which style reigns supreme. I've played some of the original all the way back when player outcry got it translated via Operation Rainfall initiative, but this got me finishing it at long last.
In ancient times two titans fought – Bionis and Mechonis – until they came to a standstill after wounding each other and just stopped surrounded by endless sea. Over the course of ages life sprang and evolved all over these colossal beings where parts of their bodies form ecosystem and regions unto themselves. Sadly, it seems animosities of founding fathers carried onto their descendants as biological and mechanical life respectively continued the conflict. A year ago hero Dunban and his company stopped the final Mechon assault in Sword Valley, but paid a heavy price for that seemingly shaky stalemate. While he's recuperating under his sister's care in far removed Colony 9, counted among the few Homs bastions still left, our protagonist Shulk gets caught up in the mystery of the sword Monado that allowed Dunban to become the hero, and it also seems Mechons have further designs of their own. Perhaps even to nullify their weakness to Monado itself...
I generally hold the opinion that JRPGs tend to not have very thought out or engaging stories as much as they have emotionally packed moments and sympathetic characters easy to be entertained by, but with Xenoblade Chronicles I'd say it's more about the scale of the story itself. On top of the positives I've touched upon, that is. This is very much your friendship saving the day and fighting God setup where both cornerstones are well executed. It also has the added benefit of a fresh setting where you don't know what to expect around the corner even accounting for "kitchen sink fantasy" genre is known for. I would still argue game would've benefited had it stuck to straightforward revenge angle it held onto for a while before stakes went up exponentially. Xenoblade Chronicles would've worked just fine even if it was entirely a Homs-centric story and Shulk's visions paving the way.
Characters tend to wear personality and agendas on their sleeves. Shulk may be somewhat atypical because he fancies himself a researcher of Monado and scientist, but when push comes to shove he's your fiery protagonist, while his best buddy and walking meme extraordinaire Reyn is blunt a protector always there for his friends both mechanically and narratively. There are more who join your party like Dunban and his sister Fiora, sniper/healer Sharla, etc. but I'm saddened to report the non-Homs characters end up being little more than archetypes game forgets about the moment it becomes convenient. For example, Melia is an overly mature and reserved type pivotal to gaining High Entia support and even throws more than few hints she has feelings for Shulk, but both end up swept under the rug. Which is still better than Heropon Riki who joins the party to flee from debts in his village only to become no more than comedic relief. These points will be (overly)corrected in the DLC I'll talk about later, though. If anything it's the spoilerific antagonists who end being the mysterious ones you're constantly second guessing, but if you ask me game takes too long to reach the point when all the cards are on the table. Good thing is key characters have existing ties from before events of the game start so you never get the impression it's a pack of strangers herded together by plot convenience. They HAVE a very valid reason to do what they're doing, and defined characters are instrumental in carrying that notion across which they absolutely succeed at.
Something irregular about Xenoblade Chronicles is the manner in which I found it to be rather fresh when it comes to game design. Familiar while also taking some modern gaming lessons to heart with Qualify of Life features and few decisions purposefully going against established JRPG norms. Essentially, there's more to talk about here than you'd think at a glance.
Biggest departure is how the game handles zones. Not adhering to worn out and frankly annoying modern notion of "open world" Xenoblade Chronicles opts instead for straight up massive areas that perplexed everyone how the damn thing even ran back on the old Wii. Less impressive today, but still noteworthy due to how impressive they are visually and custom-made for taking vista screenshots. Locales vary dramatically with each being carefully handcrafted and ranging from vast plains to neon foundries. Peppered with landmarks you can fast travel to, secret locations to discover, and extremely handy map as well as mini-map ensure you'll never feel lost or inconvenienced after you've explored it already. Alas, there is no faster form of travel to acquire besides a faster movement gem you can equip so you better get used to jogging around. You'll need it to avoid the insanely high level enemies game likes to sprinkle here and there either to make certain parts of lower level zones remain off limits, targets for future quests or just to keep you on your toes. And speaking of which...
Combat is something of an odd, cooldown-based take on real-time eschewing notions of separate battle screens. There's auto attack system for regular attacks which characters perform as long as they're within range of the enemy, but actual bread and butter are their Battle Arts which you also get to upgrade and assign to a limited number of "hotbar" slots. Only Shulk has enough slots for all the Arts which means you'll be picking and choosing what everyone else has access to in a fight. While characters broadly fit into that familiar trinity role as long as you have healing and reliable way to induce Break → Topple → Daze upon enemies you'll be fine. There's no resource management here other than cooldown time and characters automatically heal between battles. Additional mechanics come into play like Tension affecting overall performance in battle, Party Gauge which lets you string up Chain Attacks, and Talent Bar for each character's unique gimmick. Moving parts aplenty when you read about them like so, but Xenoblade Chronicles actually not only has effective pop-up tutorials you can always reference, but will also gradually introduce new features to the player. Major props.
While I'm on the subject of putting a spin on something familiar there's the matter of Shulk's visions. They're not just a plot device in the background, but rather an active element of the game. Enemy is about to use a powerful attack? Shulk gets a combat vision and timer starts that lets you counter said move. You come across unrelated collectibles in the world? Shulk gets a vision that someone in near future might require precisely that for their quest and you now know not to trade it. Naturally, it plays a major role in the story on top of that. Since equipment actually shows up on characters, another uncommon feature for JRPGs, developers also kept that in mind as flashbacks remember what characters wore at the time.
Finally we reach that truly divisive feature of Xenoblade Chronicles you'll love or hate – quests. Gorgeous zones require content and fighting enemies/collecting materials is what you'll be doing with missions giving you context. Due to the Affinity system in the game you have to work through annoying chores and talk to NPCs with their own time-dependent schedules to build the relationship network, raise your rating for that particular social circle and unlock more missions as you go along. There are tidbits of story here and even some ongoing arcs, but for the most part they're easy experience as just killing enemies under your level has diminishing returns. You may be tempted to skip seemingly ENDLESS number of these whenever you reach new areas, some clearly just there as padding, and it would seem natural because you will end up over-leveled for the main story on top of gear rewards being something you'll naturally come across anyway. However. There is a drop-off point towards the end where you lose easy sources of experience unless you fancy grinding, which game expects you to do to some degree as there are quests with higher levels involved than even the final boss. There is payoff to doing quests if you intend to complete the game through and through as much as they might tempt you to quit the game altogether.
Even if you're returning to a game you already finished all those years ago there's Future Connected aka epilogue story included in Definitive Edition. It took me under ten hours to finish and your mileage will most definitely vary. My biggest problem with it, other than reworking and reusing existing material, is how unstable tonally it comes across. You have somber Melia dealing with her people losing their capital with a new danger driving them out... and then that's contrasted with two Nopon siblings, Nene and Kino, who just cannot stop quipping and acting cutesy. If you liked Nopon to begin with this is amazing, but mechanically they're just differently flavored Reyn and Sharla. Chain Attacks are also gone replaced with even more Nopons in the form of prospector brigade lending you their aid after you've found them all. It's a lightweight story overall providing closure to the High Entia arc if you really wanted one, and giving Melia some attention after being sidelined. I do wish other characters were featured as well.
Kino feeling it too!
As I'm usually want to I left the production aspect for last.
Putting some model debates aside I think it's impossible to deny that Definitive Edition looks incredible as so many assets were reworked while retaining the original appeal. Let's be honest, character faces taking the anime route seems to be a big point of contention while for me it was more about different level of expressiveness. It's different, but just as good. Voice acting is another high point of contention even more so than your customary English dub vs Japanese original. This time we have the Brits voicing characters and it ends up being one of those aspects that define the entire experience, let alone all the meme community got out of it. Plenty of voice acting to go around in the game as well, too.
Soundtrack hits all the familiar notes you'd expect, but even more so than epic orchestrations or fist pumping action it's the atmospheric zone tracks that left the biggest impression on me. Given there's a day cycle in the game each zone has a respective daytime and nighttime track which accompanies changing of enemies and mission availability. If you actually listen to game audio it becomes second nature to know where you are simply by audio.
Final Thoughts and Rating?
Xenoblade Chronicles: Definitive Edition tackled the very fundamentals of JRPG and somehow clung to them while simultaneously doing plenty differently. Endless war between Bionis and Mechonis rages on as our hero Shulk researches the ancient sword Monado until the latter seemingly chooses him to end the status quo. As story of Homs survival is seen through, our party venture across vast zones, get mired in endless quests you'll be tempted to skip all along fighting enemies in real-time with cooldown-based abilities. Not even equipment showing on characters, conveniences like fast travel or emotionally packed story could get me to overlook game's questionable pacing or sudden revelation reserved for the very ending, though. Made me step away from giving it higher rating.
Here we go again with a shorter game taking longer than expected due to external reasons. Better late than never, I suppose. Maybe I'm reaching a point where I need a break. How do you deal with slumps when it comes to your hobbies and interests? As usual, enjoy the read and share your thoughts.
Eiyuden Chronicle: Rising
( PC – Action, Adventure – 2022 ) + TRAILER
---
A companion piece for the upcoming Hundred Heroes, Eiyuden Chronicle: Rising is a spin-off title meant to wet the appetite for the setting and characters more than anything mechanical. I hesitate to call it a Metroidvania because it doesn't exactly delve deeply into "use your abilities to access previously locked areas" as fundamental building block. Is the Giant Lens worth looking for, though?
We step into the shoes of the intrepid Scavenger CJ embarking on a quest from her home town with a simple goal in mind – don't return until you've found a treasure more impressive than the one your father brought home. So CJ comes to New Nevaeh, village with a peculiar situation where locals are allowing adventurers, mercenaries, and the like to take their chances with dangerous nearby locales like the Great Forest... as long as they pay for the license and taxes, as enforced by Acting Major Isha. It doesn't take long for our heroine to realize she doesn't have the money to outright buy the license so she settles for a stamp system where every assistance to locals means she's one step closer to getting approved. Along the way she comes across beastfolk called Garoo as they go after mysterious rumors of a Giant Lens, more potent version of a device letting people cast magic. Perhaps there is more to discover in this waylaid village, though.
I'll cut the usual preamble short and outright tell you story isn't Rising's strong suit. Yes, it eventually goes beyond just a treasure hunt as personal stakes get involved, certain developments hint at a bigger picture involving the League of Nations and their rival Galdean Empire, but I think where the most personality stems from are characters. It's kinda jarring to see couple of definitive sideshows or glorified shopkeeps get a dedicated "whoa, this character matters" info screen, but you have to keep in mind this is laying down the groundwork for the upcoming Hundred Heroes set to be a JRPG taking after its spiritual predecessor – Suikoden.
Even though you don't unlock all three characters at once I'd say it's not really a spoiler since they're plastered over promo art. CJ is your GOTTA GO FAST Scavenger with an easy going personality primarily driven by need to find treasure and willingness to help with people's small problems out of pure goodness. In comparison our mercenary Garoo is probably the most complex one as he slowly reveals there's more to him than "gruff merc barely tolerating everyone's nonsense" given it's him of all people who diffuses tense situations. And lastly, Isha. Acting Major of the village capable of casting magic without a Lens, making her an oddity, she goes from being an aloof bureaucratic obstacle to discovering her own past and working for the benefit of New Nevaeh even as it sometimes puts her at odds with village elders.
Beyond those three playable characters there's also named villagers, some with portraits marking them as important, who bring their own antics to play as you interact with their missions. I'll get into those below, but as far as fluff goes it was nice to see most of these background characters get some semblance of personality and even tiny stories of their own. Like the on-going gambling matter between two characters, or an old geezer constantly challenging CJ to see who can catch higher quality fish, etc. It's the small touches that make the game come to life provided you care about such things.
Like I hinted at in the opening this is an action adventure game with some rudimentary platforming. There are no special abilities to buy in traditional sense, though. Our trio's advancement primarily comes from upgrading gear, conferring both statistical upgrades and few ability-equivalents like longer float time, double jump, improved dashing, etc. Why I'd say there's only traces of Metroidvania design here is because those abilities aren't really vital for progression. In fact, your way is barred only by obstacles in the form of elemental pillars cordoning sections of levels until you've found the appropriate Rune and slotted it to proceed forward. Naturally, this is mandated by the plot as you trek to five distinct locales in linear fashion. And believe me, you will be revisiting them often from the central hub of New Nevaeh.
CJ, Garoo and Isha each bring their own style of gameplay; fast-attacker, heavy tank and spellcaster, thus covering all the archetype bases. In practice you only need Garoo to bust some rock walls... and parry.. and deflect projectiles back at enemies. I'm sure you'll find your own favorite, but CJ's mad criticals as she hits enemies with her pickaxes are hard to dislike. Isha is your ranged attacker with charged ability AND projectiles changing type depending on slotted Rune. Rising adheres to an interesting control scheme where each character is keyed to one button effectively making switching between a breeze. On the flipside there's little nuance here to speak of beyond switching characters mid-attack for a combo chain. DMC this is not.
And now for the negatives because they could impact your reception of the game since they're so instrumental to its structure.
Eiyuden Chronicle: Rising is Chores: the Game. I refuse to call them quests or missions because, in the attempt to get those aforementioned stamps, villagers will send you on your merry way to do their bidding. In most cases this means revising the same locations over and over and over again to gather resources or kill something. Just to give you context for my complaining: keeping in mind some main scenario objectives will also net you a stamp, there's a total of 160 stamps to get your hands on. Let me just say you'll be praying for the uninspired "character X wants you to talk to character Y" because at least that won't take you to the Great Forest for the hundredth time. I'm not even taking into account all the post-game chores game showers you with because you clearly wanted more recycled content.
In essence the real issue is that Rising is simply too long for how little [unique] content it has to offer. Looking at my total playtime having finished the game, completed the adventurer's card with all the stamps, and beaten the bosses on hard mode, I'd say probably good five hours could be shaved off if devs chose depth over breadth. However, they couldn't because there's a village development aspect at work aka various shopkeepers open up stores and have missions taking you out into the world to expand those stores, hence offering improved stock. It's a cycle that makes sense in a vacuum, but not in an inherently short title like Rising should be. Did we really need a dedicated store to get new mining/fishing/hunting tools, or a store that just sells better backpacks to increase your carry capacity when dungeon delving, or an Inn that lets you take a bath for stat bonuses? That's really up to you, but I have a feeling this was also a test run for Hundred Heroes like some other features in the game.
Lets end this with a production overview. Which is good because we're looking at another 2D HD project subscribing to an art style that's become all the rage recently. Combining 2D character sprites with 3D levels. I don't mind it as Rising doesn't revel in its pixels, but rather has pretty spruced up sprites and background assets edging more into PS2 era of geometry. If you ask me it looks better in motion with snow levels in particular being standouts. Due to how the game re-uses areas you'll sadly be subjected to same few tracks constantly further hampering an already limited soundtrack. Notable tunes end up being used almost too sparingly for my taste.
Final Thoughts and Rating?
Embracing 2D HD visuals, Eiyuden Chronicle: Rising is a Metroidvania-lite and meant to serve as appetizer for developer's upcoming JRPG. Step into the shoes of our intrepid trio lead by a noble Scavanger CJ as they embark to not only find the Giant Lense, treasure above all treasures, but also restore a troubled village of New Nevaeh along the way. Restore? Well, as you repeatedly go to same few dungeons over and over again people will also open up shops in the village, and CJ is there to facilitate. Side action combat with one attack button per-character, basic statistics alterable by upgradeable gear and Rune Lenses to spice up your attacks elementally form the basics of a game that well overstays its welcome due to numerous side missions. Still, I can't say I disliked it.
2023 rolled around and so has the time for a new Report. This might be the only short game in the near future so it's a good pick-me-up to start the year with. Anyway, I hope you had a great time and this year ends up being even better. Enjoy the read and share thoughts on P&C adventure games that, despite pretty gloomy past when they were considered a dead genre, made a surprising comeback thanks to plenty of small developers.
Blacksad
( PC – Adventure – 2019 ) + TRAILER
---
I have prior familiarity with Blacksad graphic novels, and game generally work just fine on its own. It is considered non-canonical even though it takes place between Volume 2 and 3, seeing the way Blacksad reminisces about a certain actress, for example. That's besides the point as we have a somewhat troubled P&C adventure game to review here so let's get to it.
Taken at face value Blacksad is precisely what it appears to be – a detective story featuring a world set during the 1950's very much like own, except populated by anthropomorphic animals of all varieties where humans would normally be. Our titular character is as black cat and fits that Noir private investigator presentation as accurately as they come. After dealing with the fallout of an adultery gone awry, Blacksad's case proper begins as he's asked by one Sonia Dunn to investigate why her uncle, owner of a local gym, would commit suicide.... if it even was suicide. Needless to say this premise is merely the tip of the proverbial iceberg that goes far deeper than first appears as New York City's more undesirable elements may be involved as well.
Knowing me this is where I would wax poetic about the world and its lore, but Blacksad does this thing where a clearly unreal world of canine police officers, very serious matters of racism between Black and White animals, as well as historical events mimicking our own with more fur or scales involved somehow all come off as perfectly grounded and believable. Game doesn't present any of this as magical, like The Wolf Among Us or Discworld Noir would considering they're both in familiar investigative territory, but rather it's the mundanity of it all that becomes the defining feature. Story also adheres to this principle albeit if you're familiar with mystery stories at large you know very well they thrive on narrative complications and curve balls. Hell, Blacksad himself occasionally ponders on how proper Noir protagonists or stories would turn out in his situation.
Characters themselves are rather important here which makes me all the more confused why game feels like not even putting that much of a spotlight on regulars let alone the side characters. John Blacksad himself is our protagonist and a WW2 veteran which, surprisingly, actually comes up as the war was still fresh on everyone's mind as former soldiers have to get acclimated for better or worse. Blacksad is almost a textbook Noir protagonist with sharp wit, plenty of know-how and number of connections, but at the core you get to decide how much of a heart of gold he has. Both of his regular collaborators, detective Smirnov and report Weekly are present but don't get that much attention which, if there's a single other character I'd shine a spotlight on would have to be Sonia Dunn as she's torn between honoring her father's legacy with the gym, uncovering what happened to him or just giving up altogether. Not really a femme fatale character I expected there to be. Others range from your criminal figures like bookies and enforcers, doctors with shady pasts and plain flawed people trying to make a living while sticking to principles or dealing with mistakes. It's certainly both familiar and varied cast.
Going by the fluff bits above you'd think I rather liked Blacksad even if it does air on the side of genre conventions, and you'd be right. If this wasn't transitioning into gameplay and technical talk which is where we come across some stumbling blocks.
Singular impression I got from the game is how it buckles under the weight of both technical performance and issues. Which is staggering when you realize it's not doing anything extraordinary. Putting aside frequent loading screens, which even with an SSD felt chunky enough, there are some fundamental problems here I have a difficult time excusing given the release date of 2019. What do I mean by that? Game controls like a throwback to those unfortunate yesteryear days when P&C adventures were still figuring out how to work on consoles... which translated to PC in the form of awkward WASD controls while hunting for hotspots you can interact with. This is where Blacksad looks up to Telltale games in a sense it does away with that kind of "pixel hunting", aside from collectible stickers, while also inheriting other negatives as well I'll get into.
Prior to that it's imperative to point out when controls rear their ugly head they really do it with high scores. I dreaded navigating around levels with these cumbersome controls, and total absence of running to go along with it. Our private detective gets caught up on every piece of geometry and after you add invisible walls whenever there's a semblance of one space I was actually happy when the game shifted gears, did away with exploring already tiny locales and just embraced the full on-rails experience as scene transitions do all the moving. There was a level where you have to not only move around in pitch darkness, but also use your flashlight to light up hotspot. Double the control shenanigans, double the chance to miss collectibles you have to shine the light on first to find. Joy.
Negatives I brought up earlier can be summarized in a single fragment – there are no puzzles in Blacksad. I rather like obtuse "get mustache from a cat" insanity genre was once known for, but here devs chose to eschew inventory puzzles altogether. What you get instead is A) greater focus on a dialog system and B) deductions where you combine clues to get new information. Former leans into "your choices matter" style of narrative with endings being dependent on whether one side character lives or not, and how you handle the very finale. I felt neither of these were explored to their full potential and lack of fast forwarding in dialog made me quickly abandon any notion of replaying the game. Which is, admittedly, facilitated by letting you start from any earlier point versus continuing from your autosave.
I had a personal hangup when it came to presentation which was mainly about how Blacksad looks. It took a while for me to get used to the fact his design is just wonky when adapted into a 3D model. Kinda like a painted smooth doll with glued-on cat ears. It grew on me, though. Game itself looks pretty decent with special attention paid to materials of all things. Those suits everyone wore in the '50s definitely look the part. Characters stick to their graphic novel designs aka men have more animal features while women tend to be racier "attractive models with minor features" kind of deal. Putting my prior level geometry concerns aside I do wish we got to explore more of New York City. Soundtrack? Perfectly appropriate Jazz.
Final Thoughts and Rating?
You can almost feel this modern P&C adventure buckling under technical duress. I may be the weirdo here, but Blacksad became a lot better after it [structurally] turned into this on-rails affair and less "cumbersomely navigate levels getting stuck on every object and fight loading screens". I'm not sure if I enjoyed playing it THAT much beyond ties to the source material as it was an awkward reminder of those days when adventure games were figuring out how they would work on consoles as far as control schemes went. Blacksad obviously subscribes to the Telltale formula and makes me wish devs used the deduction system better. Or at least had proper puzzles. End result is a murder mystery that just barely edges into my good graces because I liked the familiar setup.
This Report was supposed to come out about two weeks ago, but my PC decided to check out following a power surge which left my motherboard fried. Then the holidays rolled around, new motherboard was "in expected deliver" from my chosen online store and things just dragged out. So here I am on the very last day of the 2022 putting this hastily together for your enjoyment. Do excuse some fumbling around and enjoy the read.
Tales of Graces f
( PS3 – JRPG – 2012 ) + TRAILER
---
Time for a return to Tales series with Tales of Graces f which just so happens to be an upgraded port of the original Wii title. Aside from usual technical upgrades given the hardware differences an extensive epilogue was added as well. Is the game itself any good, though?
In what turns out to be a welcome surprise game starts out with a rather chunky prologue set during our characters' childhood. Asbel Lhant is the man out of the hour as he accompanies a visiting prince Richard to a nearby meadow only to come across this mysterious older looking amnesiac girl he dubs Sophie. Little could they know the three of them making a friendship pact under a tree would lead to so many unimaginable things. This childhood period ends with quite the downer as all of their lives are upended, and Asbel becoming estranged from his father on top of forsaking the hereditary position of Lord of Lhant in order to become a knight and protect everyone.
Oddest decision here is just how long it takes for story proper to begin in Tales of Graces. What I mean by that is far more of the narrative is dedicated to character relationships themselves as childhood friends re-unite under different circumstances and baggage of their own before any heavy punches come flying at you. And this works in a game where these ties are the most important devices upon which latter story is built upon. It goes hand-in-hand with one of the characters assuming the role of the antagonist threatening to plunge the world into chaos, and it falls on our party to save the day as well as their old friend. Story manages to both play it really safe given the genre filtered through the usual "power of friendship will save the day" you've come to expect all the while being entirely genuine about it.
Since I've brought them up I really should talk more about the characters because so much hinges on them.
None of them really break the mold in any specific way so you have your eccentric genius pulling double duty as zany comedic relief, more experienced and somewhat world weary knight who ends up being a mentor, stoic and mysterious girl herself who peels off more and more layers as story goes, etc. Easily the most important ones are Asbel, Richard and Sophie as there's a direct link between them without anything contrived such as tacked on romance. In my opinion Sophie takes a bit too long to, well, develop a personality beyond a stoic childlike brawler and Richard is spoilerific so I'll shut up. Asbel, though. He's easily the most fleshed out as a person who develops over 40+ hours you spend with him. At first you get this impression he's just a stubborn protagonist with abundance of confidence and some naivety, but then you see him after the time skip as he becomes a lot more nuanced and thoughtful. Asbel never loses his original makings and naturally grows from there. So much so the ending of the game only works out because he takes a gamble driven entirely by his nature and lessons he's learned.
World of Ephinea game takes place on is sadly a place I wish I could tell you better things about, but it really is your familiar JRPG at its finest. You'll trek across lands of grass, sand and ice in sequential order neatly taking boat rides whenever necessary to tackle matters of Valkines, crystal-like structures emitting Eleth which people of the world use as an energy source. In genre tradition "lore" here is basically whatever someone thought was cool and kitchen sink fantasy approach very much applies. If you thought there are going to be SF elements in this fantasy story... well. You get it by now, brother. I was taken aback by how suddenly some plot twists and developments occur later on and characters, who have lived here their entire lives, just accept it all casually. Oh, and Turtlez, traders extraordinaire wearing turtle costumes, are also in.
Alas, there is no conventional overworld in Tales of Graces f, not even after you unlock the customary end game transportation that lets you get anywhere, anytime. What you do have is a sort of compromise where areas between dungeons, towns, etc serve the same function meaning everything is connected in coherent fashion. I consider it a decent alternative as none of the zones are overly big or just plain fillers. Skits aka brief conversations between characters' 2D portraits, are littered everywhere and entirely up to you to activate or skip them, and random encounters aren't a thing as you can engage roaming enemy representations at your convenience. Since I'm on the matter of areas I have to point out my opinion on game's dungeons shifted dramatically as I approached the finale. Starting off as lightweight and progressing to "this feels just right" last few dungeons + epilogue's own inclusions, made me want to rush through them like a maniac. They simply take way too long and puzzles aren't that compelling so they become busywork instead.
As ever skits continue as a method of fleshing out bots you can't dedicate cutscenes to. Also, comedy.
Standout features for me were basically a take on crafting, abilities and cooking. Dualizing lets you create stuff from ingredients you come across, be it weapons, items you'll use for town request missions or just food outside of combat by mixing two items, and games it thankfully kind enough to indicate possible combinations you have. Eleth Mixer, using Eleth you can re-fill in towns or through other means, is how you create food during combat for healing and additional bonuses. You can also use it to generate practically any ingredient or curative provided you have the Eleth and RNG gods bless you. These two systems are not something I'd avoid as game is built with them in mind.
Titles aka primary means of character progression beyond basic levels, are worth discussing on their own, though. Each character has a veritable library of dozens of unlockable Titles with five ranks each. You acquire them through a variety of means; be it story progression, accumulating enough gold, getting poisoned over and over again, using certain Arts X number of times, etc and upgrade them with SP accumulated from battles. What do these Titles do for your characters? Well, since each character plays in their own particular way, like Malik's long range boomerang/sword/thing or Pascal's focus on chanting Artes, you can get a bunch of things even from shared Titles. Some will straight up unlock new attack abilities, very few grant new costumes, but most some form of stat bonuses. All of these stack. Meaning you want to master as many Titles as you can as quickly as you can to power up your characters on top of regular gear they can equip. What I ended up liking about the system is how straightforward it is and doesn't negate characters' uniqueness. Sure, spellcasters have some spells they share, but considering each character has unique ultimate attacks/weapons/approach to combat, they feel distinct.
For reasons only known to myself I always leave combat gameplay for the last, and in this case it's more of that familiar Tales territory of action party combat with four characters engaging in mayhem. Tales of Graces f does away with conventional mana system so next to HP you have Chain Capacity aka CC which is an ever fluctuating pool of points you use to power your A-Artes and B-Artes as primary means of attack. CC starting/maximum values are dependent on level and gear adjustments, and is replenished by guarding or artful dodging. It takes a certain level of acquired skill to stay on the offensive without hugging the guard button, especially as aforementioned two types of attacks can quickly drain your CC reserves given their cost. Taking into account enemies have weaknesses to attack properties these Artes have, be it damage type or status ailment, I'm trying to get across that button mashing with no sense for party cohesion or flow of action will do you little good. Eleth bar exists as well which, once filled, unlocks Eleth Burst mode removing any Artes cost and lets you unleash devastating Mystic Artes. Combat overall feels well put together and fact only boss bottles tend to go over half a minute speaks of its pace the best.
There's also items to use, Strategy menu to give your characters specific direction like focusing on healing or to use only B-Artes, not to mention you can control all the characters and not just Asbel, but combat itself is surprisingly straightforward. Where it somewhat stumbles are loose technical bits. Camera, for example, has trouble keeping the bird's eye view if action is spread out across the entire battlefield. Toward end game effects also become overbearing so you rely more on character audio cues over visuals firing off. Neither of these impacted the game THAT significantly for me, though. What could be a problem if you're coming from latter games where Free Movement became the norm is here you normally run in a straight line to your target while Free Movement is optional and has associated CC cost. I used it precisely twice.
Production would be a good way to end this review since this was originally a Wii title, and PS3 treatment certainly helped even if you can still tell it's a port. Art style itself does a lot of the heavy lifting here and ensures a timeless stylized look. Game also has a handful of fully produced anime scenes selling moments impossible to pull off in-engine. If you were looking to enjoy native Japanese voices that option is sadly absent, but English dub quality is on the level, with usual shenanigans, where even skits are entirely voiced so props for that. Melodrama included.
Final Thoughts and Rating?
Following in established series' fashion, Tales of Graces f takes after the action party route when childhood friends see their lives dramatically changed and brace for the future with a time skip. Straightforward combat with no pointless frills does wonders for keeping Graces accessible with half-dozen playable characters each with their own approach to combat. Cook food to heal yourself, enjoy character banter at save points, do town requests for rewards, and above all engage in battles to unlock and progress character Titles and power them up in a story ultimately about friendship and redemption where much of the experience rides on characters. Rather, how much you enjoy typical stereotypes with protagonist Asbel getting the most character development. Familiar and safe action JRPG.
Christmas came and went by the time I got around to writing this part for my 2022 summary so I hoped you had, and you're about to have a great New Year's celebration as well. Time to bust that vacation open.
My output sank from last year which I attribute to reading more yet again, but some slumps were present. I also got around to playing multiple JRPGs and open world games which tend to be time sinks in their own right, and if anyone asks that's my excuse I'm sticking to! Also, more non-Steam games in my repertoire this time around. As is now the tradition I've linked all the Reports from 2022 below in case you want to peruse them.
Ever get that feeling you're playing too much of the same thing? Well, that's me right about now with open world titles I've tackled in the last few Reports. This had to be done to cap off the "old" Assassin's Creed games as what follows after Syndicate is Ubisoft re-imagining the franchise. This ended up surprisingly favorable considering it does what Unity don't, and the other way around. Two games almost make for complementary experiences. Enjoy the read and share your own thoughts.
Assassin's Creed Syndicate
( PC (Ubisoft Connect) – Action, Stealth – 2015 ) + TRAILER
---
In more than one way Assassin's Creed Syndicate was seemingly an answer to Unity's criticism. With shifted priorities in mind being a final send-off of the established franchise formula that would [supposedly] undergo a retooling for the trilogy that succeeded it. Was the game itself any good, though?
State of things is not good for the Assassin Brotherhood at the tail end of the Industrial Revolution as we step into the shoes of twins Jacob and Evie Frye. London has been purged and Templars are firmly in control lead by Crawford Sterrick with his vision of order over chaos, or rather Templar order because they know best what's in humanity's interest. Faced with such dire circumstances the twins make contact with the only Brotherhood contact left in the capital of the world and set out to liberate it. In Evie's case this also means chasing after artifacts while Jacob is more content building up his own gang called the Rooks in place of Templars' henchmen.
Biggest difference you'll immediately notice is we're working with a deuteragonist setup this time around, meaning both Jacob and Evie are protagonists in their own right. Minute gameplay differences aside, which I'll get into, they have their own approach to things as well as sub-stories to tackle. You want my honest opinion having finished the game as well as the story DLC? Evie should've been the sole protagonist. As opposed to her more intellectual mindset, Jacob is a loud brawler who ends up causing more problems than he actually solves. Narratively they have this friendly sibling rivalry that escalates suddenly towards the very end only to deflate in a disappointing finale. I can only wonder if Ubisoft was afraid what player reaction would've been to a female protagonist, but I think that's entirely unfounded. It does let itself have two actors when there's need for different personalities which is probably preferable to a protagonist that acts however the plot demands, consistency be damned.
Compared to Unity's Paris I found London not much of a character itself. Too gray and grimy, which is period appropriate, with only standout being the Thames as you parkour across moving ships and posts, essentially giving you the first taste of "dynamic landscapes" taking a break from usual buildings. Plenty of mutton chops and mustaches to go around, though. Westminster burrow stands out as being the only noticeable piece of greenery in the city and palace stands apart from the rest of the city. There's a totally-not-secret Rift in Sequence Six that takes you for a brief excursion forward in time, but you don't leave London so much as just man a few AA batteries and call it a day.
I said in the opening Syndicate was an answer to Unity, and narratively I would say it improves upon it in most meaningful ways, but what about gameplay? Well, we're taking a sidestep and some steps back as well in that department. This was the part I was most conflicted over.
Let's just peel the biggest deal breaker off quickly – parkouring has been lobotomized. How you go from what was arguably series' peak to THIS is beyond me. I'm being dishonest because I know how. For all the fans out there, you remember lifts in the series? You run into them and they pretty much momentarily zip you up to the roof they're connected with? Well, Syndicate introduces a zip-line gun not long after the prologue, and that thing is your personal lift albeit with somewhat finicky window of usage. On top of it you can also zip between climb points now. So let me ask you the following: why bother climbing at all when you can just ZIP you're on top of the building followed by another ZIP you're on the adjacent building now? Of course, this addition does not exist in a vacuum as game accounts for it, in fact as much as I was annoyed by its existence the damn thing was just too handy to ignore, but it removes so much of the basic legwork that went into parkour and formed a backbone of franchise' identity. Even what's left has been simplified by losing many animations and reactivity. What would've once been a descent with flourish is now just a sequence of two repeated animations.
Other changes to contend with are more on alteration level rather than fundamental disruptions. For example, gear system still exists, but Ubisoft took a saner approach by removing all extraneous modifiers on equipment and boiled it down to simpler breakdowns. Weapons come in three types + assassin gauntlets and firearms shared by siblings, but their respective armors are unique as Evie has cloaks while Jacob has belts. These DO show on your characters, but it is the outfit of choice that determines your overall look as there are no more individual pants or gloves to mix and match. As was the case the last time economy around gear procurement is tuned for critical path aka if you do any of the side content you'll have stuff that's way beyond what you should have. At the same time some items will remain locked based on how much you engage in particular activities... this time primarily through reputation bars you fill out by doing missions, repeatable or otherwise, for side characters. Fear not because Syndicate will give you enough pity gear through main story progression for this to not be an issue.
Second, and reason why you cannot just buy the best stuff outright if you grind enough Pounds, is the leveling system. Not only does it impact gear and burrow danger level, but acquiring skill points and spending them is the only way to get new skills. Rather than outright locking basic features now you're rather acquiring modifications and improvements, like increasing defense or higher quality resource looting. Jacob and Evie each have few unique skills only one can unlock, former being more combat-centric while latter embraces stealth. Since there is no difficulty choice to speak of and you will eventually get enough points to max out both characters this is difference for flavor's sake.
Taking into account when I'm playing this I was almost unaware just how much DLC was out there. Probably because of main campaign integration which makes me think Syndicate was pretty desolate at launch. The Last Maharaja adds a pretty decent sub-story, The Dreadful Crimes brings back my favorite element from Unity in form of murder mysteries, but it's Jack the Ripper I'll be talking about since it's the beefiest one, and actually a story of its own necessitating separate choice in the menu. Taking place 20 years after the base game, and seeing Evie return to London, right in the middle of Jack murdering prostitutes and taunting the police with his threatening letters all the while Jacob goes missing. Writing quickly blows its load that he has connections with the Assassins while keeping the player in the dark. It takes a series of investigations, going through Jack's informants and even controlling the madman himself before conclusion is reached, and I wish it was better handled. In tangible terms Jack the Ripper re-uses two burrows from the base game, but has its own gear and skills to acquire. Biggest addition would definitely be the Fear system which lets Evie terrify the new gang with fear bomb and spikes. You incapacitate victims and their screams make others run away eliminating them from combat. Odds are technically against the player as enemies out-level you, but you know. I was doing it more for 100% mission synchronization than any real need.
Lastly there's presentation to look at. I already touched upon it when talking about London, but as usual this comes down to how much you enjoy the locale aesthetics. It's a grim city with carriages filling the streets and gaslight illumination by night. I'd say some visual appeal was lost from Unity, but soundtrack was what surprised me having barely noticed it in the game. Then I gave it a listen on its own, and damn if it's not solid.
Final Thoughts and Rating?
Assassin's Creed Syndicate edges into my "solid" category, and solely because all the work it puts into memorable personalities and stories barely nudges it in. Following the uneven Frye twins as they undertake liberation of London from Templar's rational domination there's a mixed package here. Immense decline of parkour thanks to the zip-line gun cannot be overstated enough, but I liked Ubisoft pulling back on the gear system and game overall being more manageable. I was glad to see some features return even if it was in simplified form, like for some controllable allies as Rook gang members or ability to distract with prostitutes in the DLC. On the other hand, making you do missions to fill out reputation bars in order to unlock more goodies didn't sit so well with me. Sign of things to come?
In totally unplanned fashion I went and played Saints Row. No, not the reboot that seems to be getting rather terrible reviews all-around, but the original 360 title that started it all. It's also been two months since my last Report and I accidentally tackled another open world game. These things just happen, I guess. Enjoy the read and share your thoughts if you've had any exposure to Saints Row as a franchise.
Saints Row
( XBox 360 – Action, Adventure – 2006 ) + TRAILER
---
Something immediately evident with Saints Row is how heavily it draws from GTA. Specifically San Andreas when you get into the whole gang warfare for respective territory. Keeping the whole "open world crime action" in mind Saints Row still puts its own spin on things, though. Let's see how it all goes down, playa.
Looking at it strictly from a story standpoint you realize protagonist of Saints Row isn't really a defined character in the style of aforementioned GTA series. You could say it has more common with GTA3 because we're dealing with a de facto mute protagonist who is a really good listener as far as other characters are concerned, but premise itself concerns itself far more with Third Street Saints and their rise to power. So who are they? Well, city of Stillwater is torn between three established gangs and the Saints see how much this is destroying the city so their leader Julius decide to officially form a new gang using a local church as their headquarters. He and others also just so happen to come across the protagonist, save his ass and canonize him into the gang. So begin your adventures pretty much doing what all the other gangs were up to, but looking stylish wearing purple as your colors.
It's a good thing that whatever game finds lacking in protagonist backstory or even story proper to follow it more than makes up for with three story arcs you'll be tackling along the way. As you can surmise, each rival gangs gets their own as well as a handler within the Saints who you'll be interacting with to advance said story. This is where your compatriots' personality comes into play and what a job Volition has done here. It's actually impressive how natural and believable all characters come off as despite their exaggerated natures. Johnny Gat, for example, just wants to whack everyone as his go-to solution, while Lin is working undercover to deal with the Rollerz. They all make for amusing cutscenes while never losing that gangbanger edge because the Saints don't wear kid gloves. Surprisingly enough even antagonists are not portrayed as some over the top inept caricatures, but rather as legitimate threats and you can see how they achieved their status. As missions progress you also see some cutscenes from their end further fleshing their organizations out.
That's enough about the story department as it really isn't a huge focus of the game to get invested in. Each gang gets a dozen or so missions + stronghold takeovers you must undertake for the finale. Last bit I'd like to add is how having a mute protagonist lets other characters shine more through sheer virtue of needing to communicate without pointless banter. As a result it's a very lean script with pinpoint accuracy on what it wants to convey with plenty of personality to go around. None of that political correctness will be found here.
Gameplay-wise we're once again stepping into familiar GTA territory with one distinction that gets the player out there, so to speak – Respect.
Respect is a resource you generate by doing activities in the game, and you use it to begin story missions. In practical terms this means you have complete freedom to go about the game however you want because even simple things like tagging graffiti or assassinating targets grants you Respect. Don't want to hooker snatch missions because Kings blast your car to kingdom come? You don't have to. Sure, you'll miss out on the reward you get for completing all eight of snatch difficulty levels, but you're not forced into it. Saints Row gives the player a nudge and lets him go about however he wants very early on. Given this is a somewhat less than a dead serious game you can get away with shenanigans aplenty.
What can you actually do in this third-person crime shooter? Well, I think you know the answer and just want some specifics. You'll be doing the usual the fare of chasing cars, taking out targets, following people, and some more unique scenarios like using a bulldozer to push cargo into the ocean or driving fast to extract information from a Eurotrash fashion designer. All in all, fun times ahead. There are "mechanics" game doesn't bother with much like robbing stores or customizing your cars, but Saints Row has enough confidence in the player trying things on his own to dope this out. Amusing tidbit is how your entirely customizable character can only be a dude, but you do get rather extensive freedom in how he looks going beyond just body and hair as you have access to clothing, jewelry and tattoos if the price is right. These are not merely cosmetic as they affect the Respect bonus you get. Fittingly, wearing the Saints' color purple nets you a larger bonus.
As is customary, now comes my "everything that's wrong" paragraph.
Biggest problem with Saints Row is it draws heavy inspiration from, at the time, last-gen GTA titles so it's stuck in an awkward transitional period where you have actual aiming while featuring generous auto aim rather than letting the player aim. Mission design also airs on utilitarian side with comparatively few unique scenarios... and those that exist, like taking down an airplane about to take off as enemies fires RPGs at your vehicle, could've used some serious thought. Overall impression is a game that makes use of Xbox 360's technological prowess, but is at times kept in check with PS2 mentality. Not to mention inability to drive anything other than cars when your inspiration offers all modes of transport.
Final Thoughts and Rating?
Heavily inspired by GTA: San Andreas, Saints Row manages to make a mark of its own despite very light offering in almost all things. In effect, you could say this third-person shooter set against a backdrop of urban gang warfare was a testing ground for more to come. What's included, however, is a competent game encouraging the player to go out, do whatever he wants to earn Respect and spend it on progressing through all of three main story lines. Betrayals and shootouts aplenty when rival gangs show up on your turf and cut in on your daily income. Build-your-own protagonist is sadly almost a mute non-entity in the story, but that just makes everyone else have WAY more personality in return and makes his very few lines all the funnier. Playa needs that green for his threads and bling.
I cannot believe I finally get to check off this one. Looking back on the original post I made the optimistic proclamation of getting to Odyssey by 2020, and only now realize what a fool I was made into. In hindsight, I think Rogue may have tampered with my expectations about the size of Assassin's Creed games. Are you up to date with the franchise? Has Ubisoft rightfully laid claim to "open world games" with this stuff? Am I going crazy? Only my readers know these answers.
Assassin's Creed Unity
( PC (Ubisoft Connect) – Action, Stealth – 2014 ) + TRAILER
---
I briefly talked about Assassin's Creed Unity over three years ago and how I was in the middle of playing through it. Well, that took a while to finish with multiple false starts. I'm finally here. Beat the game at long last and amusingly enough a lot of my initial thoughts turned out to be spot-on and opinion on the game steadily sinking.
Continuing to move our setting of choice forward with each game we step into the French Revolution and, if you played Rogue and saw the setup ahead of time, into the shoes of one Arno Dorian during childhood. Here he witnesses his father get killed, meets a tomboy girl destined to become a love interest and get adopted by her father. We fast forward to adulthood where Arno is revealed to be a rogue type of a character not interested in much beyond dalliances and Elise's attention. Alas, tragedy strikes again and his foster father is killed as well revealing the eternal Templars vs Assassins war to Arno as well as both of his fathers' respective ties to their camps. There's more to it, but because of his moment of laziness Arno blames himself for what happened as does Elise leading to their estrangement and our protagonist finding himself involved with the Assassins. Completing a kind of boot camp he sets out to avenge his foster father, clear his name and win back Elise. Order of these priorities shifts depending on how the game feels.
It doesn't take long to hit my first snag with Unity – entire narrative department is just so incredibly weak. From story that's essentially five hours long when you tally it and take out all the optional stuff, to storytelling and pacing that seemingly pull you between events and historical characters with little rhyme or reason, and finally Arno himself. His problem specifically is that he's supposed to be the fleshed out, likable character along the lines of Ezio who is simply never given enough room to breathe and becomes merely a vehicle for the plot to drag along more than a person in his own right. I find it hard to put into words how little I cared for the less than basic premise and execution. Romance subplot does not escape this either, and I have a feeling Unity had a checklist of points I was supposed to accept simply because they're expected to be included.
In almost morbid fashion to balance out the above you have what is possibly the best realized setting in the franchise so far, and finally return to urban locale. Yes, singular because you'll never really get out of Paris in any meaningful fashion... which isn't bad when you take into account Ubisoft truly did the legwork to realize a 18-19th century city. Dense urban zones are perfect for parkour playing up to series' strengths and customary Database returns with all the historical information you could ask for on top of some snarky commentary. Timeline is a bit wonky if you're unfamiliar with events proper, but that's why you can read up and go sightseeing historic sights. I can't do much shower praise here and it truly is a major selling point for Unity with even attention paid to newspapers and pamphlets you can read for added immersion.
Time to get into systems and gameplay because that's where Unity stands out if not necessarily shine. What we have here is both trimming down on "character becomes a walking armory" of Assassin's Creed of yore, and culmination of the familiar formula only upset by couple of major additions I'm divided on personally. Removal of endless counter-kills and general slowing down of combat pacing were things I liked overall, for example. I don't think this really affects the difficulty per-se, but rather it's a design choice I prefer.
Game toys with the idea of exploring other time periods, but it never goes beyond just momentary diversions from the French Revolution.
I was shocked to see how well Unity holds up considering it's a 2014 release. This sometimes comes at the expense of performance hit, though.
There are two major additions, or at least changes, that bear putting a spotlight on – changes to parkour and gear system itself.
I realize former has garnered a somewhat controversial reputation online, but I love how fluid movement became simply by separating UP and DOWN directions. This means by simply altering which button you're pressing Arno navigates across obstacles in ascending or descending manner. Once you master this, as well as distance between objects with functional climb points, you realize what a step forward for the franchise it is. No longer do you have to slowly scale down or drop like a sack of bricks from a building, for example. Add to this the inclusion of more interiors letting you cut through buildings, objects to glide under/over, etc... well, freedom of movement has never been this liberating before.
Sadly, gearing changes were not exactly up my alley. What used to be "buy new gear/weapons as they become available to maximize your health/armor/damage" has now become a convoluted mess without clear direction when in terms of progression. This isn't only the case of having to choose between form and function, but also how difficult it becomes to regular a system like this in Assassin's Creed. There's really nothing preventing you from grinding money and buying the best Legendary gear as soon as you can. Unless it's locked behind co-op missions, or Murder mysteries, or some other form of arbitrary lock-out system. Fortunately, Unity is such an easy game you can wing it and there's too much imaginary finagling with stats or choosing your play style that doesn't matter at all. Maybe for co-op multiplayer, but ironically playing that solo was the most engaging content in the game precisely because you can't just wade through everyone with ease.
To those familiar with the series it's still your familiar setup of reaching high-up synchronization points, revealing collectibles along the way, and gradually completing those "!" marks as game is dead set on drowning you in optional content. In fact, having completed both base game and DLC, as well as about half of chests/cockades/etc, I stood at only 54% completion. Upon realization that a convention was broken and Ubisoft wanted you to buy district maps, as well as other "conveniences" for Helix currency if you wanted EVERYTHING revealed I called it a day as far as completion went. This insidious practice of trying to get your money also creeps into a very integral part of the game with equipment. It's unwarranted because you should be swimming in both currencies you need for purchases and upgrades through normal play, but that option shouldn't have been there to begin with.
Since I brought it up I might as well talk about the only worthwhile DLC game received in the form of Dead Kings as you go to Franciade. Set after the main story and involving a rather trite premise of disillusioned Arno trying to leave France it presents a far manageable playing area with an underground level. Franciade manages to hammer home just how bloated Paris is and dotted with all kinds of distractions. Here you go grave delving for an esoteric artifact, get a new weapon type that functions both as melee and ranged weapon combined and, provided you enjoyed those exquisite Enigmas that have you tracking down runes with only descriptions to go by on, getting your hands on the best weapon in the entire game. You have no reason to skip Dead Kings provided base game hasn't put you off.
What to say in conclusion? Production values are impressive on their own, until you witness just how often Unity buckles under the weight of gliches and performance issues. Multiplayer? It's there, but jumping through hoops is required and you're clearly meant to play with friends. I liked the inclusion of new forms of content like Enigmas and Murder mysteries that did not involve killing everything in sight to progress. I don't know how Syndicate turned out, but couple of highlights barely edged Unity into an average title that came close to sinking for me.
Final Thoughts and Rating?
At the time a next-gen title, Assassin's Creed Unity is a troubled one. Trimming back and refining the formula ends up hampered by ever-expanding bloat elsewhere and textbook design. Arno's revenge story doesn't do much beyond providing a vehicle for the ongoing faction war during the French Revolution where setting is far more interesting than any narrative or characters themselves. It's in the expanded parkour system and well-realized Paris where the game shines the brightest... if only to be balanced out by darker aspects of the ungainly gearing system, underlying monetization and now familiar glitches. End result is sadly an average title I'll probably remember more for its size than anything meaningful even if I did like a variety of non-combat content and pacing of combat itself taking a step back.
Even following up on the game with its DLC this review took way longer to put together than I expected. What can I say? Distractions [Did you know that the critically acclaimed MMORPG Final Fantasy XIV has a free trial, and includes the entirety of A Realm Reborn AND the award-winning Heavensward expansion up to level 60 with no restrictions on playtime?] abound. I'm getting into the JRPG groove once again with another genre entry already on the horizon, but I hope to sneak in something different if time permits.
Celestian Tales: Old North
( PC – JRPG – 2015 ) + TRAILER
---
In unembellished fashion I'd say Celestian Tales: Old North is essentially Game of Thrones meets JRPG. A lot of the former lies in the game's themes and mood. The other half will be more than familiar to any genre fan, though.
Before I briefly discuss the story bits, as I'm usually want to, there is an interesting twist – you get to choose which of the six characters is the primary one. This results in a unique prologue, as bulk of the game is shared, which may be familiar to Dragon Age: Origins players, alongside some self-contained choices throughout as well as the epilogue. In theory this means you should play the game six times to see absolutely everything. In practice you should decide whether it's worth doing so for ~15 minutes of content a pop. I don't know how it panned out, but supposedly these decisions you make should leave a mark in the sequel, though.
We step into the shoes of an ensemble cast comprised of noble youths who travel to city of Levantine in order to pledge their service to lord Alain as his squires in hope of becoming full-fledged knights one day. Befitting customary RPG protagonists the realm is in peril with Enders, warrior people from the north, returning to wreak havoc. Fortunately, there are highly competent generals and bearers of Sacred Swords who will rise to do service to their noble Houses, but that doesn't mean our squires are short of work, much to their frustrations. And yet there are plots brewing as nobles scheme against nobles with commoners caught in the crossfire.
What sets Old North apart is the exhaustive effort that went into expanding the world via all the background info. Only "problem" is most of it is contained under Lore entries when I wish writers found a way to inject into the script more organically. Mind you, this isn't another instance of Final Fantasy 13 where you needed to make up for shoddy storytelling, but rather it feels like a waste when there's so much backstory concerning noble Houses, forbidden magic itself and support cast you'll only get the barest of essentials through obligatory conversations. Like I mentioned in the opening there's a strong Game of Thrones vibe going on and game simply lacks the capacity to explore all of it.
I promise, this will be the last fluff segment and it's appropriate I make it about the characters since our crew is the only constant in the game. Considering you have everyone from a bigoted religious zealot to a sheltered half-elf unfamiliar with human ways you can expect varied reactions based on all the scenarios party find itself in. These characters are not exactly even in their motivations or developments throughout the story, however. Even if you have no interest in replaying the entire game I'd still say check out their prologue at least as it's critical for at least one character.
And now onto everything else. Game stuff which will largely be familiar to JRPG aficionados.
Having more than one portrait to display characters' emotions shows that additional production effort.
I know from experience this is a deal breaker for some people so I'll say it up-front – no random encounters in Old North. Sadly, there's also no way to be (dis)advantaged when engaging them either as game doesn't account for taking enemies by surprise or vice versa. Still, ability to outrun enemy sprite representations without hassle can only be a good thing. Combat itself? Very straightforward turn-based affair with action order indicator and without need to go extensive menu delving for basic actions. Departing from usual MP-based tradition we have Stamina powering up all your special skills. Capped at eight and gained by attacking, defending or consuming curatives, Stamina leads to this particular ebb and flow where being conservative rarely pays off. In fact, considering the game fully restores your health after each encounter it's implicitly encouraged to go all-out whenever possible with one imperative – you really don't want anyone dying on your team because you'll get a Wounded debuff which can only be removed by going to a church or spending an expensive Bright Red Crystal. This, however, is a non-issue because...
Difficulty is a joke. I can't decide whether that's due to developer under-tuning, giving player the freedom to grind whenever they want, while implementing a universal party level so everyone's always on the same level, or simply because you have six characters to work with so you can tackle any situation even if you can only have three in a party. It's really easy to set yourself a HEALER + TANK + DAMAGE without much thought and breeze through the entire thing down to the final boss. Confusing part is Old North truly does give some freedom to character customization even if they never break the role they're supposed to fill. You're meant to pick and choose from an array of abilities/passives acquired through leveling, as you can only have four/two respectively at any time, but I went with what was flavor-appropriate and was never lead astray. Same with equipment you'll find most of locked away in chests, leaving procuring the ingredients to UPGRADE weapons the only real investment on your end which boils down to fighting the right enemy. No 0.1% drop rates here, no sir.
It's only appropriate I talk about the Howl of the Ravager since this DLC is almost the length of the base game and in some aspects outshines it. Narratively we're dealing with a prequel story featuring Severin who was barely in the original as idolized, stern general and see more of his relationship with Alain in their younger days. If you've played as a certain half-elf you already know the outcome as DLC introduces your two other party members, though. As a returning crisis unfolds getting humans and elves to join hands we discover brand new information about the Sacred Swords and their true nature in turn framing the original game's finale in a different light. In gameplay terms HotR answers some of the problems I had. You have only three characters total and, albeit once again perfectly filling archetypal roles, you'll spend an extended time without a healer so there's at least an illusion of danger. Good news is there's now ONE challenging fight in the form of a final boss. Remember I talked about how long this DLC is? Well, that's probably because it throws not one, but two mazes at you and expects backtracking. I was just about done when I realized I had to re-visit that damn forest in the penultimate act. Solid DLC delivering largely more of the same with minor tweaks, like loss of weapon upgrading as you're wielding legendary weapons passed on through history.
Lastly we have production matters. Old North was crowdfunded and you see it best in how scaled back the grandness of the presentation is versus the scope of the conflict they're going for as the entire realm mobilizes for war. Fortunately, this is where beautiful watercolor aesthetic pulls all the weight. World map, and by simply having one game already goes against modern JRPG grain, particularly shows it off nicely while avoiding some perspective shenanigans actual areas suffer here and there. Tiles sometimes don't snap together perfectly and couple of times art assets made me think a ramp wasn't traversable. Nothing major, though. Soundtrack has comparatively few tracks you might expect from the usual genre fare where musical offerings span multiple disks and whatnot, but developers made good mileage with what they have. Fittingly, opening movie and final boss tracks steal the show in setting the note if bombastic was the goal.
Final Thoughts and Rating?
Crowdfunded, turn-based JRPG drawing more inspiration from the likes of Game of Thrones than your usual kitchen sink fantasy, Celestian Tales: Old North is a solid offering. If there are two issues I'd raise they'd be as such; game could've benefited from a difficulty choice as it's way too easy, and choosing one of the six characters as your main one doesn't change much beyond the opening/ending bits and some self-contained choices there for flavor. Latter is excusable given the scope developers had to work with. I also wish this genuinely fleshed out setting had more room to breathe, but end result is a gorgeous watercolor-looking game you can nonetheless finish in under five-six hours. Replaying to see those minute differences that promise to matter in the sequel is always an option, though.