Trilled Meow
Acquisitions
If you're interested in this, gamebillet has it for like $12.90. It's leaving early access and the price will increase in a few days.
Challenge Me!
20% never played
20% beaten
60% completed
Katamari Damacy REROLL
Achievement Clean Up Cool-looking Favorites Japan LMAO Noticeably Good Music Quirky
Here's some Katamari music to get you in the right mindset (the soundtrack is great, btw). It fit the monthly theme, so I played it right away. The Steam release came up in a discussion with a sibling during the holidays, and this game is so memorable that even our mother (who thinks games are poorly written and therefore for children, and so never paid much attention to what we were playing) said "Is that the one where you roll a ball?" when she heard Katamari. And why not? After all, the King of All Cosmos remains one of the most quotable video game characters of all time. Katamari makes me feel like I have all the 90s kids' infomercial stuff like Amazing Elastic Plastic and Floam all at the same time.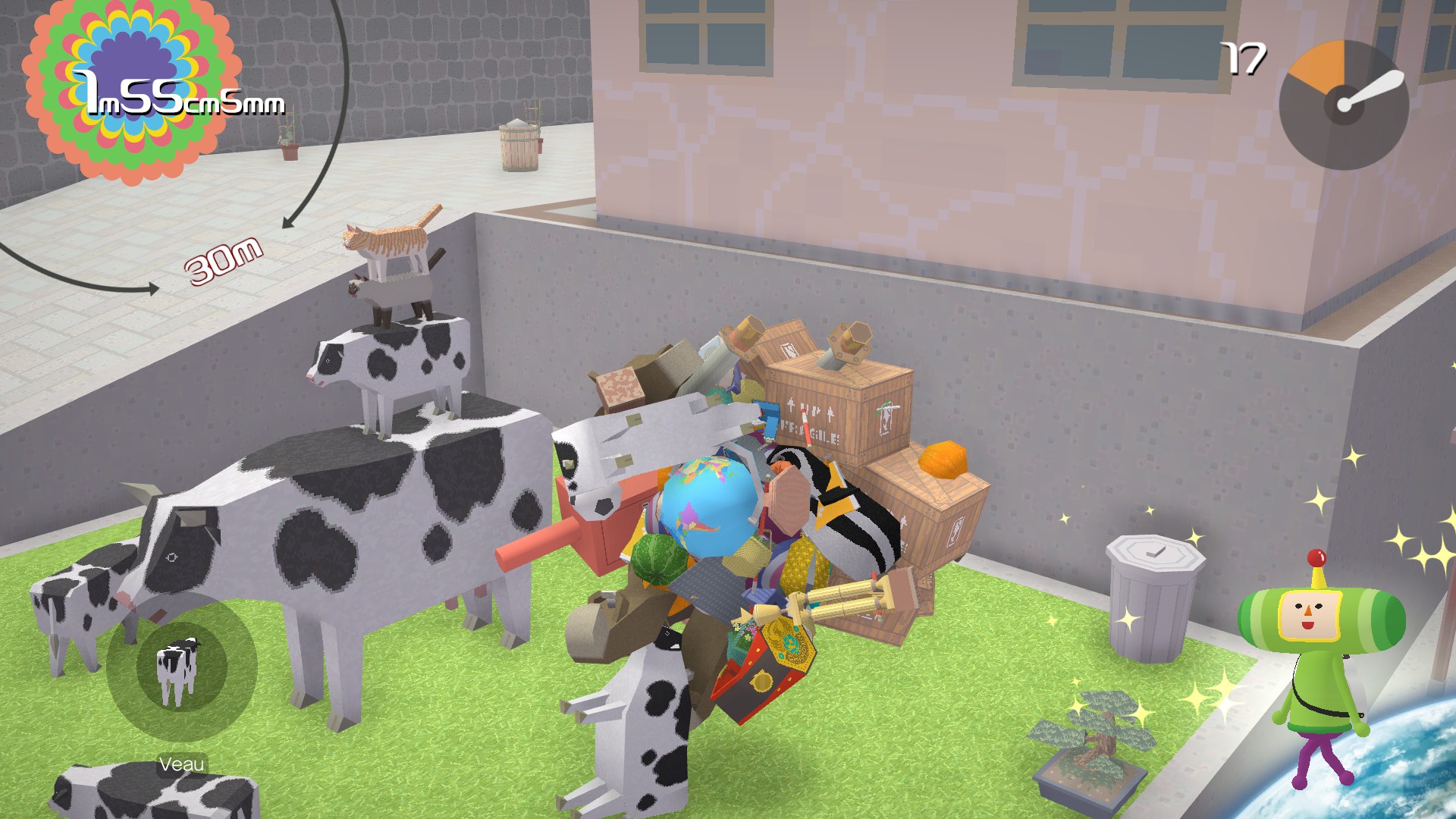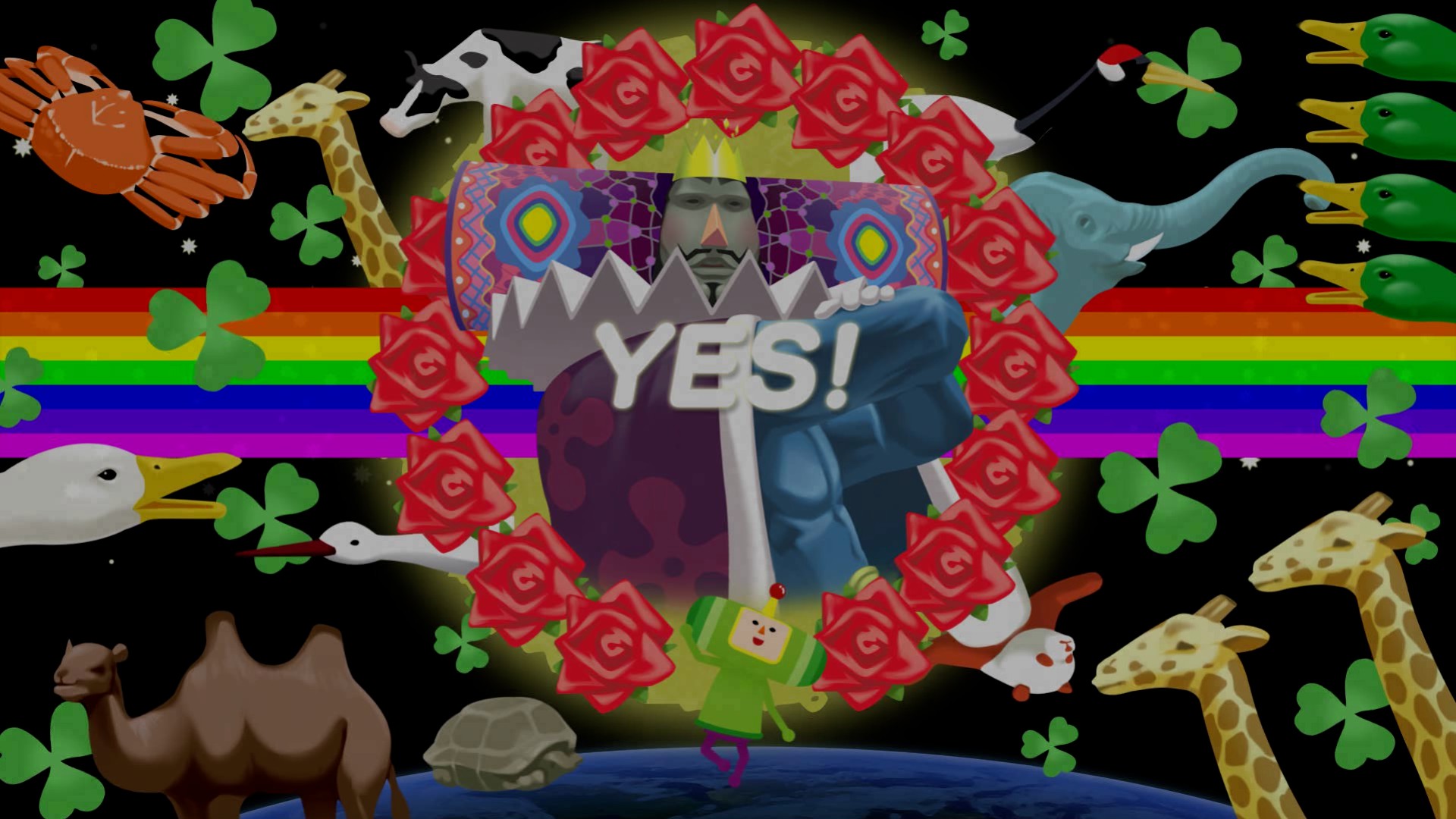 I'm so in love with you. I wanna wad you up into my life. Let's roll up to be a single star in the sky.
So, yeah. The King of All Cosmos, your father, accidentally destroyed the cosmos, so you need to replace stars, constellations, and even the moon by rolling everything you see on Earth into a progressively larger ball as he alternatively belittles you and shows you affection. There are various levels with different requirements. It's satisfying to start out barely being able to roll up a small tack to being able to roll up that dog that chased you around, or even the house that dog lived in.
I love everything about this game, but I forgot how short it is. Technically you can spend a lot more time trying to collect every item, present, and cousin (you can't play as other cousins in single player in this one). I spent some time doing that, and some people claim it comes naturally, but it really doesn't. They screwed up on the port by not letting you change to full screen until you finish the tutorial and get to the options, so hopefully they fix that, but you only have to deal with it the first time you start the game. I saw some posts that said they couldn't use a controller until after the tutorial, but I was able to use mine fine (it's an XBOX 360 one...I don't know what the others had).
Purrfect Date
Achievement Clean Up Detectives! Mystery! Murder! Good Reads Kitty Cats Literary Ties Make Believe - Simulated Lives Pirates & the High Seas Quirky Time Travel and Loops Won on SteamGifts
Short Play or Pay game and SG win. I had a blast playing this and looked forward to finding out more about what was going on every time I played. So you play a series of characters who go to an island of cats to intern as a research assistant for a short term. You can choose to get to know one cat per character while carrying out research and gathering information (all visual novel/text based--I don't mean to imply it's more than it is). Honestly, this could have easily accomodated more exploration with maybe hidden cats to catalog. The "romance" is really more light-hearted close affinity than actual romance (thank god), even though I thought that was still weird. I guess there's enough reason in the context of the story to justify it. Despite its amusing appearances, the story can get pretty serious and sad when its not funny, examining the way humans mistreat animals, even unintentionally. That's part of the reason I haven't finished the bad endings/choices yet, but honestly the larger part is because this game doesn't have a skip feature. The developer promised he had something ready to release in the next update...over a year ago.
Fortune-499
Challenge Me! and SG win. Good concept, but it's more of a puzzle game than an RPG. You play as a witch named Cassandra. While most magic users have flashier abilities, Cassie is only a clairvoyant, and her co-workers doubt the usefulness of her abilities. In Greek mythology, a woman named Cassandra had a similar problem, and this character was, evidently, inspired by her to good effect. The puzzle aspect of the game adds some difficulty but can make you restart the day if you get too low on health to fight a boss, or if you mess something else up. It was actually pretty fun because of the spin it put on turn-based RPG battles...despite not actually being an RPG. Cassie can predict the likliehood of an enemy using a certain type of move by drawing cards, so you can counter appropriately (via rock, paper, scissors). I would have liked to have more freedom building my deck, but then the puzzles wouldn't have been puzzles.