Quisty's Backlog Ramblings - Continued Quisty's profile
---
March 8
I picked up Dungeon of the Endless for the monthly theme, an old sg win that I had already tried, liked and dropped for reasons I cannot remember. I'm really enjoying this game. It's a roguelike meets tower defense meets dungeon crawler thingie. Didn't pay much attention to the story (if there even is one), I didn't unlock all of the characters yet (apparently some have special dialogues if in party), but it seems that I've crash landed on a planet and must kick some alien ass to get out of the pod while protecting a crystal.
I love the fact that I can take my time and think where I build structures and position my heroes, also I can pause whenever I want. I failed miserably the first few tries, on easy mode. Eventually I went with Too Easy and now that feels too easy an Easy is so hard >.<
Read some more of Cat President, Frisky's route (for which I got the bad ending) and started Thunderpaw's, but my husband asked me out for coffee and that's a million times better than this boring drivel. I was hoping for a feline version of Hatoful Boyfriend.
I made some more progress in My Time at Portia. I got to the bottom of the deepest ruins, which was yawn inducing. The combat is just button mashing, guess that's ok for a kid friendly game if the kid is 3. I also hosted a party to see what that's all about and it's pretty much pay for reputation with the Portians. I have too much food and ingredients hoarded anyway. People come, sit at the party table and stuff their faces with food. That's all.
I was in the mood for a HOG this evening so I started Queen's Quest since I already had it installed for the ABC Challenge I dropped on letter O due to finding the controls annoying in Octodad which was a gift and I feel like the worst human being on Earth
Oh, I forgot to mention Forget me Not - My Organic Garden. How could I? It was an addictive clicker game that I got through quite fast. Really interesting story and premise, literally growing organs. Got really grindy by the end and to get the last quest to pop for the true ending I had to leave the game idle for a few hours. Genius idea from the devs to get a quest to trigger after certain time spent (per save), it soured my experience a bit.
[]Feb 26[]
Played waaay too much Portia today. I'm on the second playthrough and near the end of the storyline. I finally got married. Phyllis is the unlucky one cause I'm gonna divorce her as soon as I get her hearts to max. :( What horrible things I do to npcs for Steam achievements.
Hello, everyone! Happy holidays!
Just posting some more progress on the ABC Challenge, I'm done with letters D, E, F and G. And I also played some casual games on the side. I'll just say a bit about them cause I don't like making long posts and putting thoughts into words is not my strongest point.
Daily Chthonicle: Editor's Edition was my least favorite of the bunch. It's a mystery text based adventure with RPG elements. The premise is running a newspaper in a universe filled with bizzare monsters who wreak havoc in the city. You have to send your reporters to investigate murders and oddities and write articles. That's how you make money to hire people, upgrade reporters' starting items and buy stuff that will help with encounters. I won't get into that topic, there are reviews that explain it better.
The game is fun for a while but the randomness of the encounters can end your gameplay. I tried to beat all the challenges for the achievements but gave up. The sad thing is the developer is probably too busy herding geese (seriously) to balance his game a bit. Even he didn't manage to beat his own game.
Edna & Harvey: The Breakout - an OK Daedalic point&click about a girl and her stuffed bunny trying to escape a mental asylum. I relied heavily on a walkthrough from the second half of the game to advance the story, there was too much backtracking to do and I got a bit annoyed with the puzzles. The best part of the game for me was trying all the possible item combinations and using different actions on objects. Characters reactions were hilarious.
Fairy Bloom Freesia - I don't usually play beat 'em ups, I got this in a bundle a very long time ago because it looked cute.
I have mixed feelings about Fairy Bloom Freesia, the whole purpose of the game is mashing buttons to kill blobs, the little story bits were boring and the other characters kinda dumb. But I enjoyed hitting my keyboard while Freesia was making little girl karate sounds. I find it weird that I had fun playing it. In short intervals, cause my poor fingers couldn't handle more than 10 levels at a time.
It is a bit challenging to get all the achievements, but they are doable.
Gemini Rue - finally I got to play a Wadjet Eye game. They always popped up in recommend me some good story or point and click threads and Gemini Rue didn't disappoint. The story was interesting, the store description is enough to read without spoiling the plot. The puzzle parts were logical, but I did peek at a walkthrough just because I was curious to see what happened next.
I would recommend this one to all adventure game fans.
Other beaten games:
So I decided to take part in the ABC challenge, late to the party, I know but I was busy the past months.
I finished the first four games which I decided to play in order, numbers, A, B and C.
12 Labours of Hercules IV: Mother Nature

Agatha Christie - The ABC Murders

Brushwood Buddies

Californium
12 Labours of Hercules IV: Mother Nature - this one was pretty much like any other 12 LoH title. A simple resource management game with a little bit of story told at the beginning of each stage. Nothing special, but it was a good time waster during work breaks.
Agatha Christie - The ABC Murders - As an Agatha Christie fan I put off playing this game for a long time because I feared the voice acting would disappoint, also I kinda had to due to the name of this challenge.
I never watched a Poirot movie but I read all the books so I created my own version of him in my mind with a certain accent and tone of speech. I do that for all the characters in books (is that weird? I'm sure I'm not the only one) or games that are not voice acted. Also poor voice acting is a big no, I abandoned games before because of that.
To go straight to the point, Poirot's voice actor did a pretty decent job but for the fact that he didn't say "little gray cells" as in the subtitles, but "brain cells". I'm not sure if the script was written like that or he just decided to be a smartass. Kinda insulting to the fans in my opinion, it's one of Poirot's mannerisms. Blasphemy! But the game itself was ok. The puzzles were more on the easy side while still requiring a bit of thinking and clue searching. I didn't need to use a guide. The story can be enjoyed even if you never read an Agatha Christie novel. One playthrough took me 6 hours, I played it twice for the missed achievements.
It was okay, I'm just mad at the voice actor.
Brushwood Buddies - now this was a hidden gem and the best one of the bunch. I never played a "crafting game" before. Really, all you do is craft. I've seen people comparing it to Doodle God which is a bit more known.
You get different biomes which spawn specific objects. Every level has a certain item that needs to be created in order to move forward and they get progressively more complex. Some critters (buddies) will join you and you have to keep them happy in order to be able to craft. The trick is that some get sad or happy when you destroy or craft an item so you have to find out what their likes and dislikes are and manage them.
I had fun playing it, especially hunting for the achievements. I like it when developers give players something fun to do after finishing the game.
Californium - I almost added it to the pile of abandoned games due to horrible, laggy mouse control.
I think it could be called a walking sim but with a bit of object searching. You play as a writer who shifts between different realities. Each chapter takes place in one and you have to find and activate hidden symbols to, uhmm… tear the reality, I guess I could say. But these are not always in plain sight, and this is where I almost gave up on finishing it. Some would spawn while you are facing away and you would have to turn away quickly and click on them. I tried different sensitivity settings, turned off anti aliasing and in the end decided to put the graphics on low. That did the trick, but took away from the enjoyment of Californium's strongest point, the visuals. Pity.
In the end I didn't fully understand what I just played but it was still an interesting experience. I will play again on February 12. I don't mess with my clock for cheevos
Yeah, still playing more than I talk. Here's a bunch of finished games:
Masochisia

WORLD END ECONOMiCA episode.01

Epistory - Typing Chronicles

Incredible Dracula: Chasing Love Collector's Edition

Solitaire Christmas. Match 2 Cards
Games I've started or still playing:
Finished games:
Started playing / still playing:
It's been a while since the last post. I tried to write an update a week ago but it said if I'm the admin something something…
Finished games:
The Silent Age

The Secret Order 2: Masked Intent

The Secret Order 3: Ancient Times

Kingdom Rush

The Bridge
Most of these were for the August monthly theme.
The Silent Age was a short point & click with easy puzzles. Try silly item combinations and you will get sarcastic remarks from the protagonist.
The Secret Order 2 & 3 - these games continue the story of the first which is not yet on Steam, but they are hidden object, people don't really play those for the story (right?). Average HOGs, with the same bad voice acting Artifex Mundi got us used to.
Kingdom Rush - Cheevo hunters, beware! To get the Iron and Heroic achievements you have to play it at least on normal mode. I had to play it twice since the description doesn't specify that :/
Good tower defense game, high variety of towers, monsters and heroes. I normally stick to the tank when there are heroes in TDs, it's not the case in this one. Every hero has unique abilities which can make your life easier on certain maps, and funny lines. This game is full of references.
The Bridge - I din't think I'd finish this one, but I kinda forced myself cause it's a sg win. It's a good physics puzzle game, it's just not for me. I enjoyed parts of it though.
Started playing / still playing:
Stardew Valley - still grinding for achievements
Scribblenauts Unmasked - I had the Scribblenauts games wishlisted since forever and I managed to win this on sg. Maybe I shouldn't have started with Unmasked cause I'm missing on Maxwell's background and this game hints on the previous one. But it's still fun and Super cute (badum tsss). Maxwell can create any object by writing it in his notebook and can add adjectives to almost every thing in the world.
Appointment With FEAR - is a choose your own adventure, first time playing this kind of game. I've been hoarding some of these from bundles and I knew they would be just my cup of tea. You start as a superhero, you get to choose your power and your silly name and have three days to stop the criminal organization FEAR from having a meeting to take over the world. It requires multiple playthroughs and you are encouraged to try different places and superpowers to gather enough information. I still haven't managed to stop them.
Alice's Patchwork - very nice looking jigsaw puzzle based on Alice in Wonderland. Ignore the hour count, I mostly play it during work breaks and I leave it open when away.
The Long Dark - Good bye real life! I think I just got a new addiction. Just a few hours in and I can say this is the best game I won on steamgifts.

I didn't want to post a status update because I played so much during the past two weeks and yet made so little progress.
Only two games beaten, both are for the monthly theme.
Crystals of Time was one of the worst HOGs I ever played, I couldn't wait to be done with it. I am probably spoiled by the better looking Artifex Mundi games. The story is meh and there is too much backtracking, they should have added a map for fast travel between locations.
This rock is probably the best part of the game.
I really enjoyed Life is Strange, but I was expecting something good with all the positive reviews. The characters felt real and there were moments where I had to take a break and think about the choices I was about to make.
I am replaying it for the missing achievements and to see what happens when I choose different routes.
Started playing/ still playing:
The Bridge is a sg win that I started playing for the monthly theme. It's a physics puzzle game. The first four chapters were relatively easy and I figured out the solutions to everything except the last two in chapter four. But the "mirrored" chapters are a pain in the ass. I can't pass the first one even with a guide, I have to use momentum to slide a damn ball on a certain platform. I'm just not good with games that require me to press a button in a specific moment. No platformers and first person shooters for me.
This is not my idea of fun and I might give up on it. Sorry :(
I started playing Brothers to try out our new big ass tv. I didn't make it far in the game (mines), but it's really good so far, even for someone who sucks at platformers like me. Beautiful world and fairly easy puzzles. Too bad it can't be played with two controllers.
Still grinding for achievements in Stardew Valley. I managed to beat Journey of the Prairie King. But wait, there's more. I also have to beat the game without dying and that is gonna be extremely difficult.
Also, I married Alex and I have no ragrets.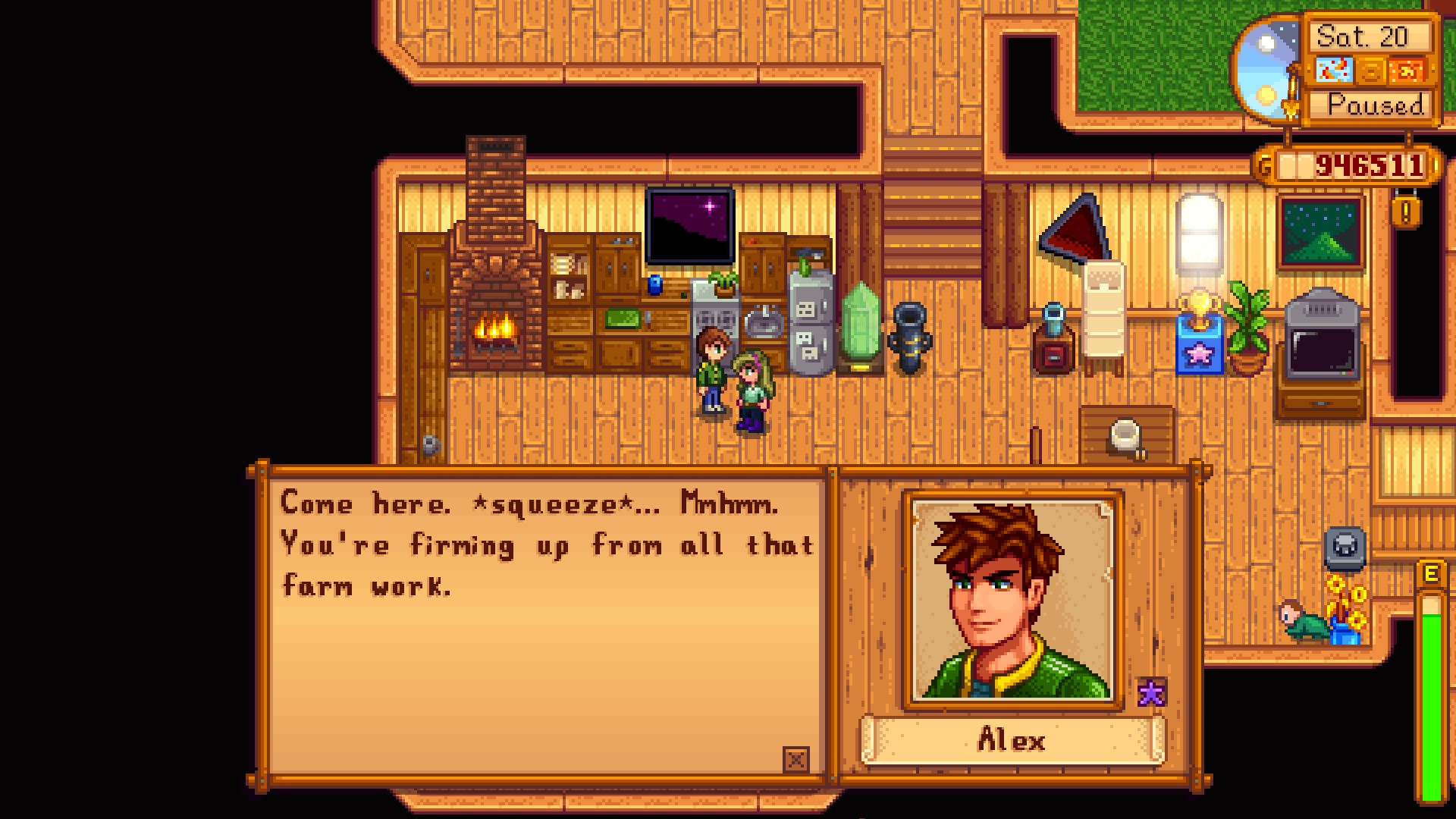 I was dying to play a tower defense game after a discussion I had with someone in a giveaway for the second game, so I picked up Kingdom Rush. I had to change difficulty to the easiest, this game is really challenging.
Abandoned games:
Ben and Dan feel like a dumber version of Beavis and Butthead. I tried to play one of the games for the monthly theme but my eyesight is bad and couldn't make it run in full screen. Did I mention it was dumb?
I won't be wasting my time with these games especially if there are no achievements.
Hello, dear assassins! I'm baaack.
I was a bit jelly checking the site on my phone while on vacation, I missed playing video games. I did play some Strata and Stardew Valley when I had a moment to rest in the hotel room, but not enough to feed my appetite.
I finished two of the games I had started for the previous monthly theme.
12 Labours of Hercules III: Girl Power - for some reason I did not enjoy this game as much as the previous two. I feel it doesn't add anything new, so I got kinda bored of doing the same thing every level. I won't be playing 4 and 5 anytime soon.
Strata - this was a very simple puzzle game where you have to weave colored strips in certain patterns. I played it until I got all the achievements, although there were many puzzles left. Too many puzzles and each felt the same, so I got bored again.
I'm currently playing Stardew Valley and Life is Strange.
Stardew Valley - I started it for the previous monthly theme (and because I was excited to get it in the summer sale), but the game is too big to finish in such a short amount of time. Right now I am grinding for the remaining achievements, especially beating that minigame. If I could beat TBoI I can damn well beat Journey of the Prairie King.
Planning to get married (in rl as well), but it's difficult to pick the least lame guy. I'll probably go for Abigail.
Life is Strange - I couldn't get into the game the first hours because I couldn't relate to the whole high school teenage drama, but it got interesting after a while. My detective senses started tingling, looking forward to playing it when I get back from work. I'm still on the first episode.
I'm going on vacation! Woohoo!!!
Since the last post I started playing Strata and made Stardew Valley work. I figured after my refund request got rejected I could at least submit my crash reports. So I installed the game again and jokingly called my farm Crashfest Farm. That seemed to work :p Nah, probably something was messed with the previous save file. It's really addictive. Still had some issues with the game freezing at some point and had to Alt+F4 and restart the day.
Don't buy it yet! Wait for patches.
Bye bye now! See you in two weeks :)