PLANTS franplants' profile
I like playing games!
I also like buying games… bargain-hunting… buying bundles… organizing and admiring my Steam library…
and daydreaming about the day that I no longer have a backlog (let's be real, I'll die before that happens).
I'm looking forward to using BLAEO's more visual tools to track the games I play and finish!
(I love a good pie chart.)
You can check my achievement stats here: https://completionist.me/steam/profile/76561198216481631
–
Currently Playing (March 2023):
Cozy Grove (Steam Deck)
Higurashi Ch. 2 (Steam Deck)
Patch Quest (Steam Deck)
The Case of the Golden Idol (Steam Deck)
Meteor World Actor (non-Steam game on Deck)
A list of games I'm looking forward to playing this year.
(Image by upklyak on Freepik)
---
---
2022 Year In Review
Y'all, it took me a MILLION years to put this post together (and I learned a lot about HTML along the way). I figured out how to make my own collapsible review boxes! Kinda. It didn't end up quite how I was imagining, but it works. Yay, me!
I've been wanting to make a year-in-review post for a while, but kept putting it off because for some reason trying to write concise reviews always makes me feel anxious! I was going to post it on r/12in12 (some of you may be familiar with that subreddit), but now that I've joined BLAEO, I'd rather post here instead. Because (a) pretty post-making tools and (b) there is much more engagement from the community!
2022 was a weird year for me in the gaming realm. In January, I returned from living overseas for a year and ended up setting up my laptop (which I normally used for gaming) as my work computer, since I didn't really have space for my whole desktop PC. This resulted in me not playing anything for the first few months of the year, because I had no desire to sit at my computer all day and then continue doing so to play games in the evening. So I just lazed around and watched Xena: Warrior Princess and a lot of Elden Ring streams for a good while.
Around March, thanks to a friend who planted the idea in my head that I should maybe buy a 3DS due to the announcement of the eShop closing (glares at friend), I plunged headfirst into an extremely sudden and rather expensive retro game-collecting habit. I didn't just buy a 3DS. I ended up getting almost every different model of 3DS/DS (for science, ya know, I had to see how the design evolved over the years), as well as multiple GBAs, a Wii, a WiiU, and many, MANY physical games for 3DS, DS, GBA, Wii/WiiU, and Switch. And accessories too, like carrying cases and all that.......yeah, I'm kind of an all-or-nothing person XD I never owned any of these game systems as a kid, so it was a sort of rectification of my missed childhood, lol.
At some point during the summer, I also finally caved and got myself an Xbox Series S, so I started using Game Pass much more regularly. And then my Steam Deck came in August and everything else was pretty much left in the dust. Truly, the Steam Deck has been a game-changer for me. I love that thing!! As you'll see once I get into the games list, I tend to "dabble" a lot and often find it difficult to finish games. In no small part, thanks to choice paralysis and getting distracted by my absurdly large library. The Deck has really helped me focus on playing just a few games at a time and actually finishing them. I officially completed the longest game I've ever played!
ANYWAY! Here we go. I promise most of my posts won't be this long, lol. I sorted the games I played in 2022 into 3 categories:
Finished:

Games that I either 100% completed, or finished the story, or otherwise felt I had a complete experience with

Played:

Games that I played more than "a little while," but didn't finish

Sampled:

Games that I only tried briefly
| amazing— 5 | really good— 4 | good— 3 | okay— 2 | bad— 1 |
| --- | --- | --- | --- | --- |
Xbox Game Pass
Legend of Tianding: Cool beat-'em-up platformer set in Japan-occupied Taiwan that I'd like to play more of. Awesome art style.
Little Witch in the Woods: Wanted to play this around Halloween, then realized since it's in early access it's still missing story content, so I decided to wait.
Unsighted: Tried briefly before it left XGP, and while the combat might be too challenging for me, I still kinda want it. Reminded me of CrossCode.
Assassin's Creed Odyssey: Tried it on a whim, but let's be honest, I'll probably never actually play an AC game. Esp not the later ones.
Flynn: Son of Crimson: Cute Zelda-ish(?) 2D side-scroller about saving the world (naturally). You also have a dog!
The Outer Wilds: I KNOW, this game is AMAZING (says everyone). Tried to start it but it didn't really click. Already have it on Steam so I'll definitely go back to it.
Steam
Strange Horticulture: Cats? Plants? Witches? This game is, like, made for me. So why haven't I played it yet? The human brain works in mysterious ways.
Dome Keeper: Got caught up in the hype, bought it around release, played it once, and then somehow psyched myself out of playing anymore. For now.
Portal: Thought it would be fitting to play this as one of the first games on my Steam Deck, but I just...wasn't into it. I'll try again someday.
Other Platforms
Elden Ring (XBox): Again got caught up in hype and wanted to try it even though I knew I'd be terrible at it. Spoiler alert: I am terrible at it.
Super Mario Galaxy (Wii): One of the few games from my summer retro rampage that I actually played for more than a few minutes. I liked it a lot!
Shin Megami Tensei 3 Remaster (Switch): Never played an SMT game before this, but I dig the weirdness and will definitely play more.
Fire Emblem: Three Houses (Switch): Really like this one too, but there is aLOT to digest here. Played for like 5 hours and barely got out of the tutorial.
| Top Games of 2022 | Honorable Mention |
| --- | --- |
| 1. CrossCode | 6. Echo Generation |
| 2. Beacon Pines | 7. Ooblets |
| 3. Spiritfarer | 8. Chicken Police |
| 4. AI: The Somnium Files | 9. Hades |
| 5. Nobody Saves The World | 10. Boneraiser Minions |
Progress Report #1: January 2023
Time for my first monthly progress report! :-)
I only finished one game in January, but it was a big one (for me)... Vampire Survivors!! I had played it for about 10 hours previously during early access, so that means I spent ~76 hours playing the 1.0 release. NOT too shabby for a game that only cost me about $5 total for base+DLC. I was starting to get a little frustrated toward the end, as I had to grind a bit to finish out the achievements, and was also trying to unravel the dev's esoteric riddles for unlocking the secret characters (some of them are pretty ridiculous)—so I think it hit 100% completion at just the right time.
It was a blast playing through the full release and getting to experience all the new content, and I had a few really memorable runs. Like somehow getting over 100k kills on my first run with Menya, a new DLC character. Or getting trapped in a cave in the new Mt. Moonspell and being completely overrun by Oni, but through sheer force of will and some nimble maneuvering, my pal Yatta Cavallo managed to survive to the very end. And of course, I'll never forget my very first win! For a while, I thought I'd never hit that 30-minute mark.
There are tons of "VS-likes" out there now capitalizing on this newly popularized genre, and I've played a handful of them (Boneraiser Minions, Brotato, 20 Minutes Till Dawn, and Spellbook Demonslayers so far). While these are all shaping up to be great games in their own right (and to be fair, all of them are still in early access), playing the full release of VS really impressed upon me how truly polished and creative it turned out to be. Every music track is an absolute banger, a steady pace of unlocks keeps the dopamine flowing, and the dev's wonderful sense of humor is the cherry on top. For me, only Boneraiser Minions comes close right now to the fun I had with VS.
All in all, I had a great time playing Vampire Survivors 1.0, and any additional DLC that comes out will likely be a day-one purchase for me. And I didn't finish finding all the secret characters in the end, so that will give me a little something extra to look forward to whenever new content comes out.
, 10/10, 100% recommend, go buy this game RIGHT NOW if you haven't already!!!! Or else!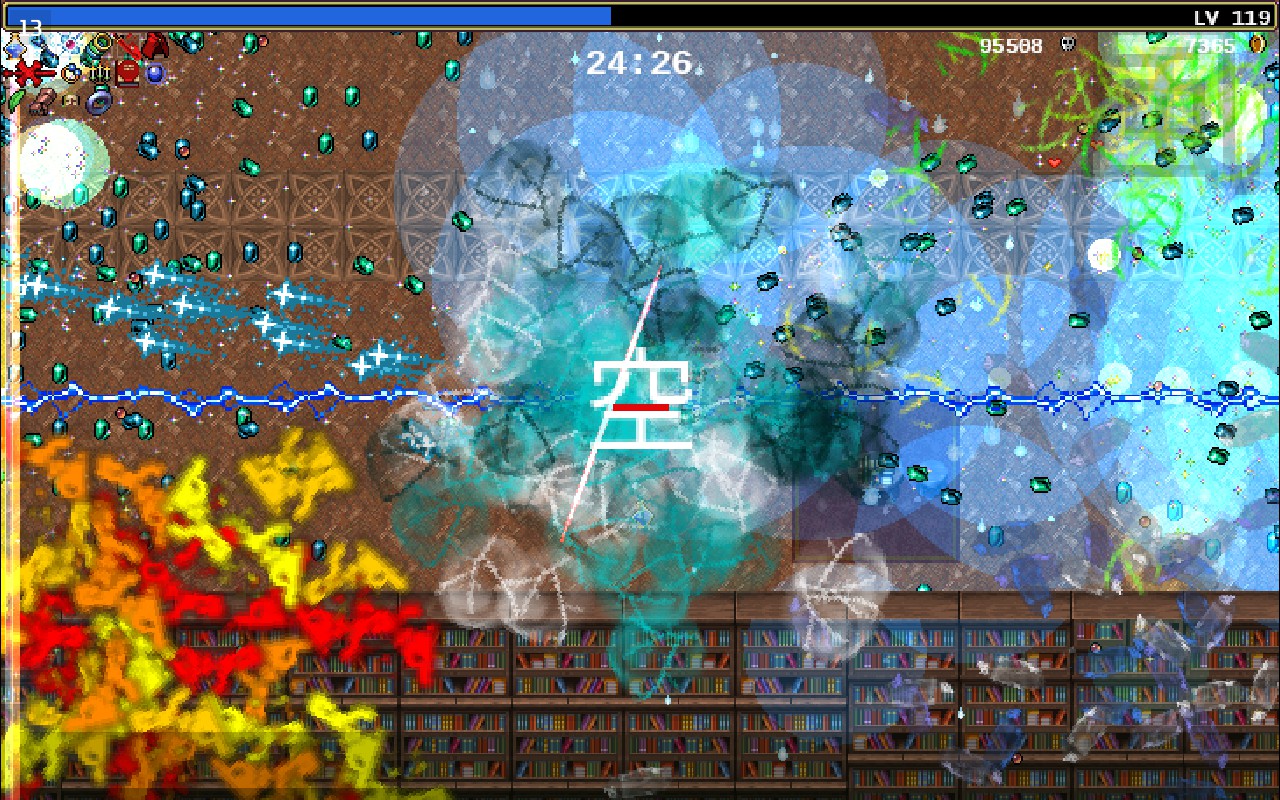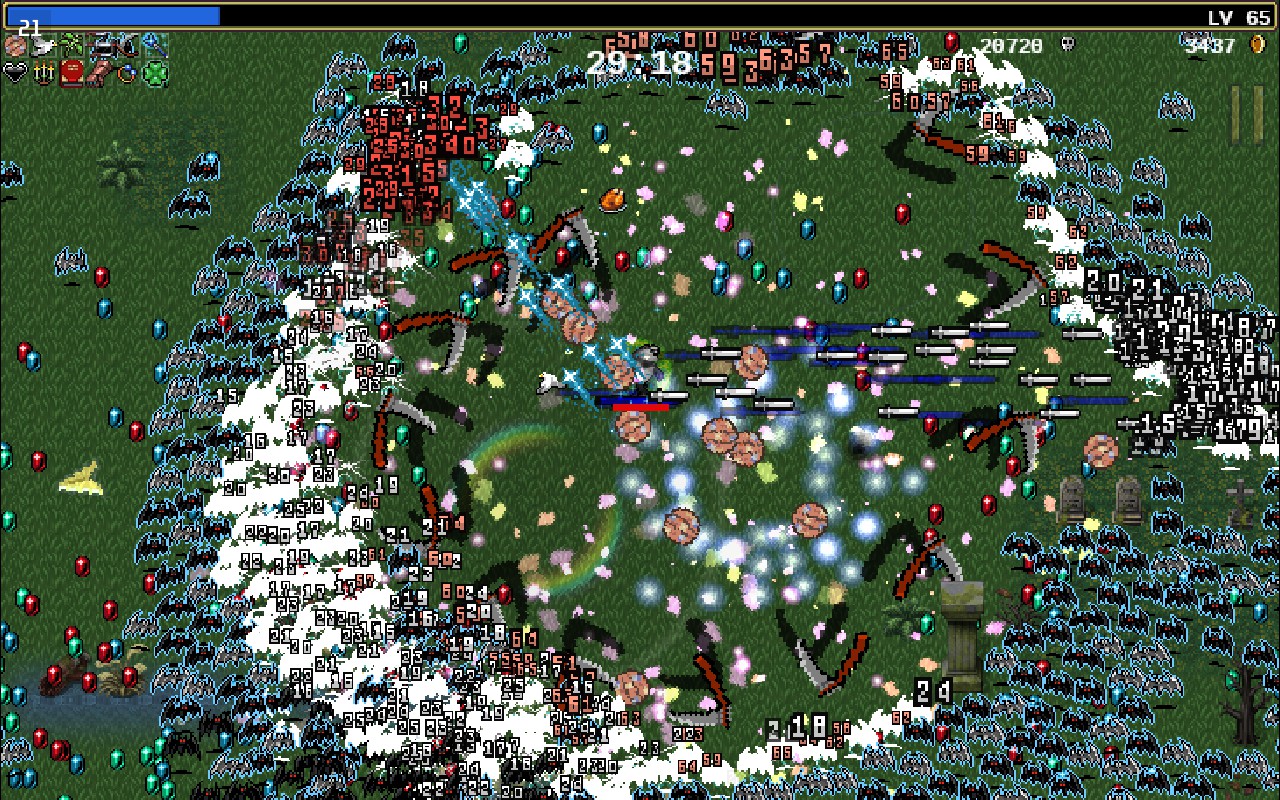 After completing Vampire Survivors, I started a few other games and also played a bunch of demos (the demo backlog in my Steam library is a whole other thing lol). I did a mass redemption of unclaimed game keys, so my library grew quite a bit (I made a list of games added to my library in Dec/Jan here) (don't judge me).
I've been playing Return of the Obra Dinn with my dad (a FANTASTIC game), and also started Meteor World Actor, a science-fantasy detective VN. I had tried the demo for its sequel on Steam, so I decided to look into getting the first game. Turns out it's not available on Steam because (long story short) it was rejected due to "adult content." It's only available on a website called Johren. Apparently there are some romance/sex scenes between the protagonist and several of the female characters. From what I read, most people don't feel it adds much to the story. I was interested enough in the setting from the demo that I decided to go ahead and give it a shot. After navigating a veritable obstacle course of payment issues, I finally secured my copy and have been playing it via Steam Deck as a non-Steam game. The translation so far has been excellent, and it's pretty highly praised for its unique jazzy soundtrack. I'm kind of hoping I can skip quickly through the h-scenes as I'm not really interested in that stuff, but I'm a sucker for a good detective story! Although I'll be honest, the protag is shaping up to be quite insufferable and I'm really curious as to how he's going to get anyone to sleep with him.
I also checked out Live A Live on Switch from my local library (I know, right? That's a thing!) and was pretty quickly able to finish the "Near Future" chapter. I really enjoyed it and the story hooked me! It involved giant mech robots, a god, mad scientists, an orphanage, and a gang of street thugs. In a typical fashion of Japanese games, it's completely over-the-top and goofy, but honestly I love that. The combat brings some fun and unique features to standard turn-based battles, and I thought the voice acting was good too. I started my next chapter (Wild West) but have since gotten distracted by other games, so I hope to get back to it soon. Apparently the characters in the distinct chapters all turn out to be linked together somehow, and I'm curious to see how that plays out.
Earlier in the month, I was playing Yonder: The Cloud Catcher Chronicles for a while. But for some reason I suddenly lost interest, even though I was enjoying myself! I don't really know why that happens, haha. I'm content to set it aside for now, and maybe I'll go back to it when the right mood strikes. Although it does shows its age a bit (it was released in 2017), it's truly a lovely and relaxing experience, and you get to explore some surprisingly beautiful landscapes. There's also nearly unlimited inventory space, which, as a hoarder, I very much appreciate.
Finally, I also played a bit of Luck Be A Landlord. It was a pleasant surprise to find it had released from early access, since for some reason I thought the 1.0 version was already out. I got a good 8 hours of fun, but burned out on it pretty quickly and will set it aside for now. I feel it's best played in short bursts every now and then.
That's all for January! See you next month.
~franplants


Hello BLAEO!
Hi everyone! I just set up my account here a couple weeks ago and don't really have any game progress to report yet, but I'm way too excited to play around with these beautiful post generator tools and make some pretty lists :-D So I figured I'd make my first post about the games that I'd like to play in 2023. I don't really think I'll end up getting through all of them, and I won't feel bad about it if I don't. I've learned that my interests and tastes change frequently, new games will get added to my library, and sometimes my drive to finish a game will peter out quickly even if I'm enjoying myself. But as long as I'm having fun, I'm happy!
secret blank line bc I don't know how to code
I love talking about indie games and giving recommendations based on a person's tastes or genre interests, so please leave a comment if there's any game-things you'd like to chat about! I think the coolest aspect of BLAEO vs. other backlog tracking sites is that there's a ready-made community here and we can all just share whatever thoughts we have and join in the cozy discussion environment at our leisure :-)
I'll figure it out later
With all that said, I made a list of Games I'd Like to Play in 2023, and here they are (I kinda tried to sort them vaguely by genre):
maybe
From this list, I'm currently playing through Return of the Obra Dinn with my dad, but it's slow going because he only comes over 1-2 times a week. It's truly an amazing game, though. We've solved 15/60 fates so far! I hope to potentially finish it in February. I've got a few games going on other platforms as well, so I'm not sure yet which one of these I'll focus on next. Might try to knock out some of the shorter ones first.
Okay, now maybe I should stop making lists of games and get around to actually playing them! Thanks for reading!
~franplants